Zusammenfassung
Ziel
Mit der Ballondilatation wurde ein neues und minimalinvasives Verfahren zur Therapie der chronischen Tubenbelüftungsstörung etabliert. Im Rahmen der vorliegenden Untersuchung wurde der Stellenwert der Methode weltweit erstmals an einem größeren Kollektiv von Kindern mit therapieresistenter Tubenbelüftungsstörung, bei denen eine Raumforderung als Ursache ausgeschlossen werden konnte, untersucht.
Studiendesign
Es handelt sich um eine retrospektive Auswertung.
Methoden
Retrospektiv wurden die Krankenunterlagen von 66 Kindern (Durchschnittsalter: 8,12 Jahre, Spannbreite: 4 –14 Jahre) ausgewertet, bei denen eine Ballondilatation der Eustachischen Tube unter Verwendung des Bielefelder Ballonkatheters erfolgte.
Ergebnisse
Es gab keine Komplikationen während der Operation. Die Ballondilatation führte bei mehr als 80 % der Patienten zu einer Verbesserung der klinischen Symptome. Eine Zunahme der Beschwerden wurde von keinem Patienten berichtet. Von den an der Studie teilnehmenden Eltern waren mehr als 80 % mit dem Behandlungserfolg sehr zufrieden oder zufrieden.
Schlussfolgerung
Die Ballondilatation stellt ein schnelles, einfaches und sicheres Behandlungsverfahren zur Behandlung von Erwachsenen und Kindern mit therapieresistenten Tubenventilationsstörungen dar. Weitere, am besten multizentrische Studien zur Optimierung der Indikationsstellung und ggf. Indikationserweiterung für dieses Verfahren sind nach unserer Einschätzung zur Etablierung der Methode bei Kindern mit therapieresistenter chronischer Tubenbelüftungsstörung notwendig.
Abstract
Objective
Balloon dilation of the Eustachian tube has recently been introduced as a novel and minimally invasive method for treating chronic obstructive Eustachian tube dysfunction. For the first time worldwide, we assessed the role of this technique in a large cohort of children with Eustachian tube dysfunction that did not respond to other treatments and in whom a tumor could be ruled out as the cause.
Study design
This study is a retrospective analysis.
Methods
We retrospectively analyzed the medical records of 66 children (mean age 8.12 years, range 4–14 years) who underwent balloon dilation of the Eustachian tube using the Bielefeld balloon catheter.
Results
There were no complications during surgery. Clinical symptoms improved in more than 80 % of the patients. No patient reported a deterioration of symptoms. Of the participating parents, over 80 % were very satisfied or satisfied with the treatment outcome.
Conclusion
Balloon dilation is a rapid, simple, and safe method for treatment of both adults and children with Eustachian tube dysfunction that does not respond to other treatments. Further studies, ideally multicenter studies, are required in order to optimize the definition of existing and potential new indications for this treatment approach, as well as to establish this treatment in the management of children with refractory chronic Eustachian tube dysfunction.
Access options
Buy single article
Instant access to the full article PDF.
USD 39.95
Price excludes VAT (USA)
Tax calculation will be finalised during checkout.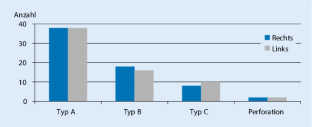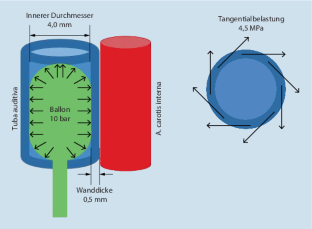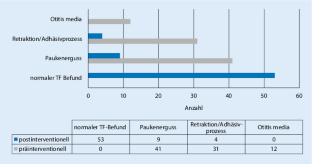 Literatur
Bluestone CD, Klein JO (2007) Physiology, pathophysiology and pathogenesis. Otitis media in infants and children, 4. Aufl. B.C. Decker, Hamilton, S 41–72

Bluestone CD, Rood SR, Swarts D (1998) Anatomy and Physiology of the Eustachian Tube. In: C W CWC (Hrsg) Cummings Otolaryngology – Head & Neck Surgery, 3. Aufl. Elsevier Mosby, Philadelphia, S 3004–3005

Bluestone CD (2005) Chapter 2: Anatomy. In: Bluestone MB (Hrsg) Eustachian tube: structure, function, role in otitis media. BC Decker, Hamilton, Lewiston, NY, S 42

Böckers A (2013) Anatomie der Tuba Eustachii. HNO 61(6):462–466

Caffier PP, Sedlmaier B, Haupt H, Goktas O, Scherer H, Mazurek B (2011) Impact of laser eustachian tuboplasty on middle ear ventilation, hearing, and tinnitus in chronic tube dysfunction. Ear Hearing 32(1):132–139

Cunsolo E, Marchioni D, Leo G, Incorvaia C, Presutti L (2010) Functional anatomy of the Eustachian tube. Int J Immunopathol Pharmacol 23(1 Suppl):4–7

DiMartino E, Thaden R, Krombach GA, Westhofen M (2004) Funktionsuntersuchungen der Tuba Eustachii. HNO 52:1029–1040

DiMartino E, Walther LE, Maneschi P, Westhofer M (2006) Endoskopische Untersuchungen der Eustachi-Röhre. HNO 54(2):85–92

Gluth MB, McDonald DR, Weaver AL, Bauch CD, Beatty CW, Orvidas LJ (2011) Management of eustachian tube dysfunction with nasal steroid spray: a prospective, randomized, placebo-controlled trial. Arch Otolaryngol Head Neck Surg 137(5):449–455

Griffin G, Flynn CA (2011) Antihistamines and/or decongestants for otitis media with effusion (OME) in children. Cochrane Database Syst Rev 9:CD003423

Jenckel F, Kappo N, Gliese A, Loewenthal M, Lorincz BB, Knecht R et al (2014) Endonasal dilatation of the eustachian tube (EET) in children: feasibility and the role of tubomanometry (esteve) in outcomes measurement. Eur Arch Otorhinolaryngol (Epub ahaed of print)

Klein JO (1999) Review of consensus report on management of acute otitis media. Pediatr Infect Dis 19(18):1152–1155

Kujawski OB, Poe DS (2004) Laser Eustachian Tuboplasty. Otol Neurotol 25(1):1–8

Ockermann T, Reineke U, Upile T, Ebmeyer J, Sudhoff HH (2010) Balloon dilation eustachian tuboplasty: a feasibility study. Otol Neurotol 31(7):1100–1103

Ockermann T, Reineke U, Upile T, Ebmeyer J, Sudhoff HH (2010) Balloon dilatation eustachian tuboplasty: a clinical study. Laryngoscope 120(7):1411–1416

Pau HW (2011) Eustachian Tube and Middle Ear Mechanics. HNO 59(10):953–963

Poe DS, Grimmer JF, Metson R (2007) Laser eustachian tuboplasty: two-year results. Laryngoscope 117(2):231–237

Poe DS, Hanna BM (2011) Balloon dilation of the cartilaginous portion of the eustachian tube: initial safety and feasibility analysis in a cadaver model. Am J Otolaryngol 32(2):115–123

Poe DS, Silvola J, Pyykko I (2011) Balloon dilation of the cartilaginous eustachian tube. Otolaryngol Head Neck Surg 144(4):563–569

Schröder S, Reineke U, Lehmann M, Ebmeyer J, Sudhoff H (2013) Chronic obstructive eustachian tube dysfunction in adults: long-term results of balloon eustachian tuboplasty. HNO 61(2):142–151

Sheer FJ, Swarts JD, Ghadiali SN (2012) Three-dimensional finite element analysis of eustachian tube function under normal and pathological conditions. Med Eng Phys 34(5):605–616

Simpson SA, Lewis R, van der Voort J, Butler CC (2011) Oral or topical nasal steroids for hearing loss associated with otitis media with effusion in children. Cochrane Database Syst Rev 5:CD001935

Sudhoff H, Ockermann T, Mikolajczyk R, Ebmeyer J, Korbmacher D, Garten D et al (2009) Klinische und experimentelle Untersuchungen zur Physiologie der Tuba Eustachi. HNO 57(5):428–435

Sudhoff H, Schröder S, Reineke U, Lehmann M, Korbmacher D, Ebmeyer J (2013) Therapie chronisch obstruktiver Funktionsstörungen der Tuba Eustachii. HNO 13(6):477–482

Sudo M, Sando I (1996) Developmental changes in folding of the human eustachian tube. Acta Otolaryngol 116(2):307–311

Tisch M, Maier S, Hecht P, Maier H (2013) Beidseitige Tubendilatation beim Kleinkind. HNO 61:492–493

Tisch M, Maier S, Maier H (2013) Die Tubendilatation mit dem Bielefelder Dilatationssystem. HNO 61:483–487

Tisch M, Störrle P, Danz B, Maier H (2013) Zum Stellenwert der Bildgebung vor Tubendilatation mit dem Bielefelder Tubenkatheter. HNO 6(6):488–491

Yanez C (2010) Cross-hatching: A novel technique for Eustachian tuboplasty. Preliminary report. Otolaryngol Head Neck Surg 142(5):688–693
Ethics declarations
Interessenkonflikt
S. Maier, H. Maier und M. Tisch geben an, dass kein Interessenkonflikt besteht.
Alle beschriebenen Untersuchungen am Menschen wurden mit Zustimmung der zuständigen Ethik-Kommission, im Einklang mit nationalem Recht sowie gemäß der Deklaration von Helsinki von 1975 (in der aktuellen, überarbeiteten Fassung) durchgeführt. Von allen beteiligten Patienten liegt eine Einverständniserklärung vor.
Additional information
Redaktion
P.K. Plinkert, Heidelberg
B. Wollenberg, Lübeck
Herrn Prof. Heinz Maier zum Ruhestand gewidmet.
About this article
Cite this article
Maier, S., Tisch, M. & Maier, H. Einsatz der Ballondilatation der Eustachischen Röhre bei chronisch obstruktiven Tubenventilationsstörungen im Kindesalter. HNO 63, 686–697 (2015). https://doi.org/10.1007/s00106-015-0050-5
Published:

Issue Date:

DOI: https://doi.org/10.1007/s00106-015-0050-5
Schlüsselwörter
Keywords