Abstract
Emotional stress is a constant companion of tinnitus patients, since this phantom sound can unfortunately be a very effective stressor. However, the mechanism of stress contribution to the onset or progression of tinnitus remains unknown. Here, we review the pathways induced by emotional stress and the outcome of their induction: corticosteroid-dependent changes in gene expression, epigenetic modulations, and impact of stress on neuronal plasticity and neurotransmission. Using clinical examples, we demonstrate the presence of emotional stress among tinnitus patients and we present methods to measure the degree of stress. The evidence causally linking emotional stress with tinnitus is still indirect—the main difficulty lies in the inaccessibility of human auditory tissues and the inability to directly measure tinnitus-induced psychological distress in animal models. However, we believe that translational research is the future way of filling this gap, finding the answers, and thereby improving both the diagnosis and treatment of tinnitus patients.
Zusammenfassung
Emotionaler Stress ist ein wesentliches Begleitsymptom von Tinnituspatienten, da dieser Phantomton oder dieses Phantomgeräusch ein direkter effektiver Stressfaktor sein kann. Der Mechanismus – Stress –, der zur Entstehung oder Progression von Tinnitus beiträgt, ist jedoch bis jetzt nicht komplett aufgeklärt. Die durch emotionalen Stress induzierten Signalwege und deren Folgen sind: kortikosteroidabhängige Veränderungen in der Genexpression, epigenetische Modulationen, Auswirkungen auf die neuronale Plastizität und Neurotransmission. Anhand klinischer Beispiele ließ sich das Vorliegen von emotionalem Stress bei Tinnituspatienten zeigen. In diesem Zusammenhang sind besonders Methoden zur Messung des Stressgrads im diagnostischen Setting sehr wichtig. Kausale Beweise, die emotionalen Stress mit Tinnitus verknüpfen, sind weiterhin indirekt – die Hauptschwierigkeit liegt zum einen im fehlenden Zugang zum menschlichen auditorischen Gewebe und zum anderen in der mangelnden direkten Übertragbarkeit der Grundlagenaspekte aus der tierexperimentellen Forschung auf den Menschen. Gerade deshalb ist die translationale Forschung der zukünftige Weg, um diese Wissenslücke zu schließen und Antworten zu finden sowie damit letztendlich Diagnostik und Behandlung von Tinnituspatienten auch im Hinblick auf die Stressexposition zu verbessern.
This is a preview of subscription content, log in to check access.
Access options
Buy single article
Instant access to the full article PDF.
US$ 39.95
Tax calculation will be finalised during checkout.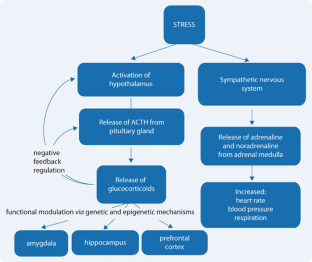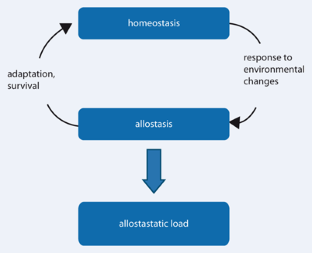 References
1.

Cannon WB (1926) Physiological regulation of normal states: some tentative postulates concerning biological homeostatics. In: Pettit A (ed) Éditions Médicales. Paris, p 91

2.

Borraccia V, Sblano S, Carabellese F et al (2012) Stress-related temporary hearing loss—evaluation of bio-humoral parameters: forensic and criminological applications. J Forensic Sci 57:946–951

3.

Simoens VL, Istok E, Hyttinen S et al (2007) Psychosocial stress attenuates general sound processing and duration change detection. Psychophysiology 44:30–38

4.

Rosenberg SL, Miller GE, Brehm JM, Celedon JC (2014) Stress and asthma: novel insights on genetic, epigenetic and immunologic mechanisms. J Allergy Clin Immunol 134(5):1009–1015

5.

Steptoe A, Kivimaki M (2013) Stress and cardiovascular disease: an update on current knowledge. Annu Rev Public Health 34:337–354

6.

Peters EM, Liezmann C, Klapp BF, Kruse J (2012) The neuroimmune connection interferes with tissue regeneration and chronic inflammatory disease in the skin. Ann N Y Acad Sci 1262:118–126

7.

Kim-Fuchs C, Le CP, Pimentel MA et al (2014) Chronic stress accelerates pancreatic cancer growth and invasion: a critical role for beta-adrenergic signaling in the pancreatic microenvironment. Brain Behav Immun 40:40–47

8.

Mazurek B, Haupt H, Olze H, Szczepek AJ (2012) Stress and tinnitus-from bedside to bench and back. Front Syst Neurosci 6:47

9.

Groeneweg FL, Karst H, Kloet ER de, Joels M (2011) Rapid non-genomic effects of corticosteroids and their role in the central stress response. J Endocrinol 209:153–167

10.

Datson NA, Morsink MC, Meijer OC, Kloet ER de (2008) Central corticosteroid actions: search for gene targets. Eur J Pharmacol 583:272–289

11.

Wang C, Li YJ, Zheng YQ et al (2012) Glucocorticoid decreases airway tone via a nongenomic pathway. Respir Physiol Neurobiol 183:10–14

12.

Adcock IM, Caramori G (2001) Cross-talk between pro-inflammatory transcription factors and glucocorticoids. Immunol Cell Biol 79:376–384

13.

Zirke N, Goebel G, Mazurek B (2010) Tinnitus and psychological comorbidities. HNO 58:726–732

14.

Zirke N, Seydel C, Arsoy D et al (2013) Analysis of mental disorders in tinnitus patients performed with Composite International Diagnostic Interview. Qual Life Res 22:2095–2104

15.

Daniele A, Divella R, Paradiso A et al (2011) Serotonin transporter polymorphism in major depressive disorder (MDD), psychiatric disorders, and in MDD in response to stressful life events: causes and treatment with antidepressant. In Vivo 25:895–901

16.

Deniz M, Bayazit YA, Celenk F et al (2010) Significance of serotonin transporter gene polymorphism in tinnitus. Otol Neurotol 31:19–24

17.

Quax RA, Manenschijn L, Koper JW et al (2013) Glucocorticoid sensitivity in health and disease. Nat Rev Endocrinol 9:670–686

18.

Ragnarsson O, Glad CA, Berglund P et al (2014) Common genetic variants in the glucocorticoid receptor and the 11beta-hydroxysteroid dehydrogenase type 1 genes influence long-term cognitive impairments in patients with Cushing's syndrome in remission. J Clin Endocrinol Metab 99:E1803–E1807

19.

Derijk RH (2009) Single nucleotide polymorphisms related to HPA axis reactivity. Neuroimmunomodulation 16:340–352

20.

Richardson BD, Brozoski TJ, Ling LL, Caspary DM (2012) Targeting inhibitory neurotransmission in tinnitus. Brain Res 1485:77–87

21.

Maddox SA, Schafe GE, Ressler KJ (2013) Exploring epigenetic regulation of fear memory and biomarkers associated with post-traumatic stress disorder. Front Psychiatry 4:62

22.

Yehuda R, Flory JD, Bierer LM et al (2014) Lower methylation of glucocorticoid receptor gene promoter 1 in peripheral blood of veterans with posttraumatic stress disorder. Biol Psychiatry

23.

Reynolds RM (2006) Glucocorticoid excess and the developmental origins of disease: two decades of testing the hypothesis—2012 Curt Richter Award Winner. Psychoneuroendocrinology 38:1–11

24.

Kadner A, Pressimone VJ, Lally BE et al (2006) Low-frequency hearing loss in prenatally stressed rats. Neuroreport 17:635–638

25.

Hougaard KS, Barrenas ML, Kristiansen GB, Lund SP (2007) No evidence for enhanced noise induced hearing loss after prenatal stress or dexamethasone. Neurotoxicol Teratol 29:613–621

26.

Church MW, Adams BR, Anumba JI et al (2012) Repeated antenatal corticosteroid treatments adversely affect neural transmission time and auditory thresholds in laboratory rats. Neurotoxicol Teratol 34:196–205

27.

Hossain A, Hajman K, Charitidi K et al (2008) Prenatal dexamethasone impairs behavior and the activation of the BDNF exon IV promoter in the paraventricular nucleus in adult offspring. Endocrinology 149:6356–6365

28.

Chen FQ, Schacht J, Sha SH (2009) Aminoglycoside-induced histone deacetylation and hair cell death in the mouse cochlea. J Neurochem 108:1226–1236

29.

Sun Z, Wu Y, Ordog T et al (2014) Aberrant signature methylome by DNMT1 hot spot mutation in hereditary sensory and autonomic neuropathy 1E. Epigenetics 9:1184–1193

30.

Karpova NN (2014) Role of BDNF epigenetics in activity-dependent neuronal plasticity. Neuropharmacology 76 Pt C:709–718

31.

Hubert GW, Li C, Rainnie DG, Muly EC (2014) Effects of stress on AMPA receptor distribution and function in the basolateral amygdala. Brain Struct Funct 219:1169–1179

32.

Timmermans W, Xiong H, Hoogenraad CC, Krugers HJ (2013) Stress and excitatory synapses: from health to disease. Neuroscience 248:626–636

33.

Kolb B, Gibb R (2011) Brain plasticity and behaviour in the developing brain. J Can Acad Child Adolesc Psychiatry 20:265–276

34.

Deppermann S, Storchak H, Fallgatter AJ, Ehlis AC (2014) Stress-induced neuroplasticity: (Mal)adaptation to adverse life events in patients with P. Neuroscience 283:166–177

35.

Eggermont JJ (2014) Tinnitus and Neural Plasticity (Tonndorf lecture at XI International Tinnitus Seminar, Berlin, 2014). Hear Res

36.

Eggermont JJ, Roberts LE (2004) The neuroscience of tinnitus. Trends Neurosci 27:676–682

37.

Nicolaides NC, Charmandari E, Chrousos GP, Kino T (2014) Circadian endocrine rhythms: the hypothalamic-pituitary-adrenal axis and its actions. Ann N Y Acad Sci 1318:71–80

38.

Meltser I, Cederroth CR, Basinou V et al (2014) TrkB-mediated protection against circadian sensitivity to noise trauma in the murine cochlea. Curr Biol 24:658–663

39.

Jaggi AS, Bhatia N, Kumar N et al (2011) A review on animal models for screening potential anti-stress agents. Neurol Sci 32:993–1005

40.

Eggermont JJ, Roberts LE (2014) Tinnitus: animal models and findings in humans. Cell Tissue Res

41.

Mazurek B, Haupt H, Joachim R et al (2010) Stress induces transient auditory hypersensitivity in rats. Hear Res 259:55–63

42.

Singer W, Zuccotti A, Jaumann M et al (2013) Noise-induced inner hair cell ribbon loss disturbs central arc mobilization: a novel molecular paradigm for understanding tinnitus. Mol Neurobiol 47:261–279

43.

Kapoula Z, Yang Q, Le TT et al (2011) Medio-lateral postural instability in subjects with tinnitus. Front Neurol 2:35

44.

Kreuzer PM, Landgrebe M, Schecklmann M et al (2012) Trauma-associated tinnitus: audiological, demographic and clinical characteristics. PLoS One 7:e45599

45.

Tyler RS (2000) Tinnitus handbook. Singular, [South] Africa

46.

Canlon B, Theorell T, Hasson D (2013) Associations between stress and hearing problems in humans. Hear Res 295:9–15

47.

Gomaa MA, Elmagd MH, Elbadry MM, Kader RM (2014) Depression, anxiety and stress scale in patients with tinnitus and hearing loss. Eur Arch Otorhinolaryngol 271:2177–2184

48.

Zirke N, Seydel C, Szczepek AJ et al (2013) Psychological comorbidity in patients with chronic tinnitus: analysis and comparison with chronic pain, asthma or atopic dermatitis patients. Qual Life Res 22:263–272

49.

Heinecke K, Weise C, Schwarz K, Rief W (2008) Physiological and psychological stress reactivity in chronic tinnitus. J Behav Med 31:179–188

50.

Heinecke K, Weise C, Rief W (2009) Psychophysiological effects of biofeedback treatment in tinnitus sufferers. Br J Clin Psychol 48:223–239

51.

Kim DK, Chung DY, Bae SC et al (2014) Diagnostic value and clinical significance of stress hormones in patients with tinnitus. Eur Arch Otorhinolaryngol 271:2915–2921

52.

Hebert S, Paiement P, Lupien SJ (2004) A physiological correlate for the intolerance to both internal and external sounds. Hear Res 190:1–9

53.

Hebert S, Lupien SJ (2007) The sound of stress: blunted cortisol reactivity to psychosocial stress in tinnitus sufferers. Neurosci Lett 411:138–142

54.

Simoens VL, Hebert S (2012) Cortisol suppression and hearing thresholds in tinnitus after low-dose dexamethasone challenge. BMC Ear Nose Throat Disord 12:4

55.

Hasson D, Theorell T, Bergquist J, Canlon B (2013) Acute stress induces hyperacusis in women with high levels of emotional exhaustion. PLoS One 8:e52945
Compliance with ethical guidelines
Conflict of interest. B. Mazurek, A.J. Szczepek, and S. Hebert state that there are no conflicts of interest. All national guidelines on the care and use of laboratory animals have been followed and the necessary approval was obtained from the relevant authorities.
About this article
Cite this article
Mazurek, B., Szczepek, A. & Hebert, S. Stress and tinnitus. HNO 63, 258–265 (2015). https://doi.org/10.1007/s00106-014-2973-7
Keywords
Emotional stress

Tinnitus

Translational research

Homeostasis

Auditory system
Schlüsselwörter
Emotionaler Stress

Tinnitus

Translationale Forschung

Homöostase

Auditorisches System