Zusammenfassung
Hintergrund
Das Frey-Syndrom bezeichnet Schwitzen der Haut der Wange, evtl. mit Schwellung, Rötung und Parästhesien im Bereich des N. auriculotemporalis bei Nahrungsaufnahme infolge von Eingriffen an der Gl. parotis. Pathogenetisch verantwortlich ist vermutlich eine Fehlinnervation der Schweißdrüsen durch parasympathische sekretorische Fasern. Die Inzidenzangaben des Frey-Syndroms nach Parotidektomie liegen zwischen 1,7 und 97,6%. Ziel der vorliegenden Studie ist es, die tatsächliche Inzidenz zu ermitteln.
Patienten und Methode
Alle Patienten mit Parotidektomie zwischen 07/2005 und 07/2008 erhielten einen Fragebogen und wurden eingeladen, an einer Nachuntersuchung und einem Jod-Stärke-Test nach Minor teilzunehmen.
Ergebnisse
135 Patienten (61%) sandten den Fragebogen zurück. 82 Patienten nahmen an der Nachuntersuchung und am Minor-Test teil. Die Nachbeobachtungszeit betrug 2,8 Jahre (15–51 Monate). 54% der Patienten waren subjektiv beschwerdefrei. Gustatorisches Schwitzen wurde von 23% der Patienten beklagt. Der Minor-Test war in 62,2% der Fälle positiv, darunter bei allen, die gustatorisches Schwitzen angegeben hatten (klinische Form), und bei 22 (27% der nachuntersuchten) Patienten ohne subjektive Beschwerden (subklinische Form). Ein positiver Minor-Test zeigte keine statistisch signifikante Relation zu Alter, Geschlecht, histologischer Diagnose oder Art der Parotidektomie.
Fazit
Die klinische Inzidenz des Frey-Syndroms beträgt 23%, dagegen lag ein positiver Minor-Test in 62% der Fälle vor. Man kann folglich von einer symptomatischen oder klinischen und einer asymptomatischen oder subklinischen Form des Frey-Syndroms sprechen. Es zeigt sich keine Abhängigkeit der Manifestation des Frey-Syndroms von anderen epidemiologischen Daten.
Abstract
Background
Frey's syndrome (FS) is defined as facial sweating due to gustatory stimuli following surgery or trauma of the parotid gland. Concomitant symptoms may occur in the area of the auriculotemporal nerve: swelling, facial flushing, and paresthesia. A misguided re-innervation of perspiratory glands by secretory parasympathetic fibres is likely responsible in the pathogenesis. The reported incidence in the literature varies considerably from 1.7% to 97.6%. The present study aims to clarify the incidence of FS.
Patients and methods
A questionnaire was sent to 221 consecutive patients who underwent parotidectomy between 07/2005 and 07/2008. No selection for type of parotidectomy or histological result was made. Patients were invited to undergo a follow-up examination including Minor's iodine starch test.
Results
A total of 135 of 221 (61%) questionnaires were available for evaluation. In all, 82 patients took part in the follow-up, with a follow-up period of 2.8 years (15–51 months). According to the questionnaire, 54% of patients claimed to be free of symptoms. Sweating following gustatory stimuli was reported by 23% of patients. Of the 82 Minor's tests performed, 62.2% were positive. All patients with subjective presence of FS had a positive Minor's test. In 27%, Minor's test was positive although patients did not suffer from facial sweating subjectively ("subclinical FS"). In all, 39% had no subjective complaints and Minor's test was also negative. Cases with a positive Minor's test showed no statistically significant relation to the patients' age, gender or to the histological diagnosis or type of parotidectomy.
Conclusion
The clinical incidence of FS in our study is 23%, although a positive Minor's iodine starch test was observed in 62% of cases. Therefore, it seems justifiable to differentiate between a symptomatic or clinical FS and a merely asymptomatic or subclinical FS. No correlation was observed between epidemiological factors and the occurrence of FS.
Access options
Buy single article
Instant access to the full article PDF.
US$ 39.95
Tax calculation will be finalised during checkout.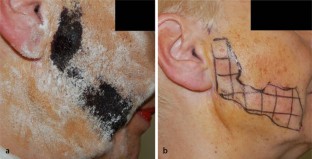 Literatur
1.

Bremerich A, Eufinger H, Rustemeyer J et al (2001) Frey-Syndrom. Mund Kiefer Gesichtschir 5:33–36

2.

Drivas EI, Skoulakis CE, Symvoulakis EK et al (2007) Pattern of parotid gland tumors on Crete, Greece: A retrospective study of 131 cases. Med Sci Monit 13:CR136–CR140

3.

Drobik C, Laskawi R, Schwaab S (1995) Die Therapie des Frey-Syndroms mit Botulinumtoxin A. HNO 43:644–648

4.

Duphenix M (1957) Observations sur les fistules du canal salivaire de Stenon. I. Sur une playe compliquée à la joue où le canal slivaire fut déchiré. Mem Acad R Chir 3:431–437

5.

Ford FR, Woodhall B (1938) Phenomena due to misdirection of regenerating fibers of cranial, spinal and automatic nerves. Arch Surg 38:480–496

6.

Frey L (1923) Le syndrome du nerf auriculo-temporal. Rev Neurol 30(2):97–104

7.

Gardner WJ, McCubbin JW (1956) Auriculartemporal syndrome: gustatory sweating due to misdirection of regenerated nerve fibres. J Am Med Assoc 160:272–276

8.

Guntinas-Lichius O, Gabriel B, Klussmann JP (2006) Risk of facial palsy and severe Frey's syndrome after conservative parotidectomy for benign disease: analysis of 610 operations. Acta Otolaryngol 126:1104–1109

9.

Hüttenbrink KB, Hüttenbrink B (1986) Das gustatorische Schwitzen nach Parotidektomie. Frey'sches Syndrom. Z Laryngol Rhinol Otol 65:130–134

10.

Koch M, Zenk J, Iro H (2010) Long-term results of morbidity after parotid gland surgery in benign disease. Laryngoscope 120:724–730

11.

Küttner C, Berens A, Tröger M et al (2001) Frey-Syndrom nach lateraler Parotidektomie. Mund Kiefer Gesichtschir 5:144–149

12.

Laage-Hellmann JK (1958) Gustatory sweating and flushing. Aetiological implications of latent period and mode of development after parotidectomy. Acta otolaryngol 49:306–314

13.

Laccourreye O, Muscatelo L, Bonan B et al (1998) Botulinum toxin type A for Frey's syndrome: A preliminary prospective study. Ann Otol Rhinol Laryngol 107:52–55

14.

Laskawi R, Ellies M, Röder R et al (1999) Gustatory sweating: clinical implications and etiologic aspects. J Oral Maxillofac Surg 57:642–648

15.

Linder T, Huber A, Schmid S (1997) Frey's syndrome after parotidectomy: A retrospective and prospective analysis. Laryngoscope 107:1496–1501

16.

Minor V (1927) Ein neues Verfahren zu der klinischen Untersuchung der Schweißabsonderung. Zentralbl Ges Neurol Psychiatr 47:800–803

17.

Mohammed F, Asaria J, Payne RJ et al (2008) Retrospective review of 242 consecutive patients treated surgically for parotid gland tumours. J Otolaryngol Head Neck Surg 37:340–346

18.

Moltrecht M, Michel O (2004) The woman behind Frey's syndrome. Laryngoscope 114:2205–2209

19.

Nitzan D, Kronenberg J, Horowitz Z et al (2004) Quality of life following parotidectomy for malignant and benign disease. Plast Reconstr Surg 115:1060–1067

20.

Rustemeyer J, Eufinger H, Bremerich A (2008) The incidence of Frey's syndrome. J Craniomaxillofac Surg 36:34–37

21.

Upton DC, McNamar JP, Connor NP et al (2007) Parotidectomy: ten year review of 237 cases at a single institution. Otolaryngol Head Neck Surg 136:788–792
Interessenkonflikt
Der korrespondierende Autor gibt an, dass kein Interessenkonflikt besteht.
About this article
Cite this article
Neumann, A., Rosenberger, D., Vorsprach, O. et al. Inzidenz des Frey-Syndroms nach Parotidektomie. HNO 59, 173–178 (2011). https://doi.org/10.1007/s00106-010-2223-6
Schlüsselwörter
Frey-Syndrom

Gl. parotis

Parotidektomie

Inzidenz

Minor-Test
Keywords
Frey's syndrome

Parotid gland

Parotidectomy

Incidence

Minor's iodine starch test