Zusammenfassung
Hintergrund
Für Kinder im Vorschulalter mit entzündungsfreier Tonsillenhyperplasie wird in jüngster Zeit anstelle der Tonsillektomie die Tonsillotomie empfohlen, wobei als indikationsentscheidend eine tonsillitisfreie Krankheitsvorgeschichte gilt. Wir stellten uns die Frage, ob und in welchem Grad die Anamnese mit dem histologischen Tonsillenbefund korreliert.
Patienten und Methode
In einer prospektiven Studie wurden 59 zur Tonsillektomie eingewiesene Kinder entsprechend ihrer Tonsillitisanamnese in 3 Gruppen eingeteilt: Gruppe 1: keine Tonsillitis; Gruppe 2: bis zu 2 Tonsillitiden pro Jahr; Gruppe 3: mehr als 2 Tonsillitiden pro Jahr. Diese Gruppen wurden mit dem histologischen Tonsillenbefund verglichen, wobei 4 histologische Kategorien klassifiziert wurden: 1) reine Hyperplasie; 2) chronische Tonsillitis; 3) Mischbild aus Hyperplasie und chronischer Entzündung und 4) mit peritonsillärer Vernarbung.
Ergebnisse
In Gruppe 1 (n=23) wurde die reine Hyperplasie nur bei 2 Kindern gefunden, während alle anderen Tonsillen auch oder nur chronisch-entzündliche Veränderungen aufwiesen. In den beiden anderen Gruppen zeigten die Tonsillenpräparate überwiegend chronisch-entzündliche Veränderungen, jedoch bei 5 Kindern auch entzündungsfreie Hyperplasien.
Schlussfolgerung
Die Krankheitsvorgeschichte bei zur Tonsillektomie eingewiesenen Kindern korreliert nicht mit dem histologischen Ergebnis. Daher kann anhand der Anamnese nicht zwischen entzündungsfreier Hyperplasie und chronischer Tonsillitis unterschieden werden. Daraus folgt, dass eine Tonsillotomie durchaus chronisch-entzündliches Tonsillengewebe zurücklassen kann. Eine entsprechende Aufklärung der Eltern erscheint erforderlich.
Abstract
Background
In pre-school children suffering from pure non-inflammatory hyperplasia of the tonsils, tonsillotomy has recently been recommended in preference to tonsillectomy. Absence of inflammatory tonsillitis in the previous medical history is accepted as evidence that tonsillotomy is indicated. In this study, we therefore examine whether and to what degree the medical history correlates with the histological findings.
Patients and Method
In a prospective study 59 children admitted to our department for tonsillectomy were each allocated to one of three groups according to how many episodes of acute tonsillitis they had been suffering from per year prior to admission: group 1 0 episodes of tonsillitis/year; group 2 1 or 2 episodes/year; group 3 >2 episodes/year. These groups were then compared with the diagnoses yielded by histological examination of the excised tonsils, which were classified into (1) pure hyperplasia; (2) chronic inflammatory tonsillitis; (3) hyperplasia and chronic inflammatory hyperplasia; and (4) chronic inflammation with peritonsillar scarring.
Results
In group 1 (n=23) pure hyperplasia was found in only 2 cases, while the tonsils of all other children were affected by chronic inflammatory tissue changes, either alone or in association with hyperplasia. In groups 2 und 3 most tonsillar specimens showed histological characteristics of chronic inflammation, but non-inflammatory hyperplasia alone was also found in 5 cases.
Conclusion
There is no correlation between the medical history of children undergoing tonsillectomy and the histological diagnosis. In other words, the medical history does not appear to be an appropriate way of reaching a differential diagnosis between non-inflammatory hyperplasia and chronic tonsillitis. This means that tonsillotomy may well leave remnants of chronically inflamed tonsillar tissue in place. Appropriate counselling of the parents seems to be necessary.
Access options
Buy single article
Instant access to the full article PDF.
US$ 39.95
Tax calculation will be finalised during checkout.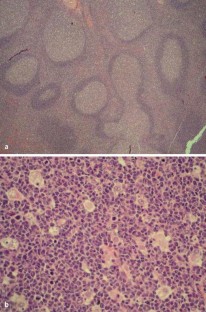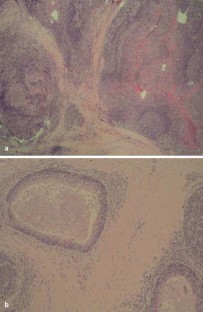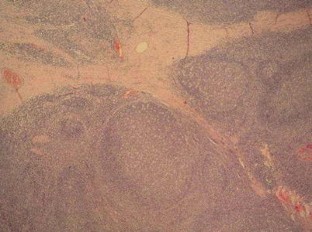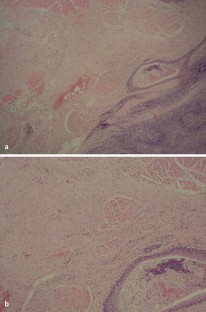 Notes
1.

Herrn Prof. Dr. Cyrus Tschahargane, Direktor des Pathologischen Institutes an den Städt. Kliniken Neuss, Lukaskrankenhaus GmbH sei an dieser Stelle herzlich gedankt, dass er die Durchführung dieser Vergleichsstudie an seinem Institut gestattet hat.
Literatur
1.

Densert O, Desai H, Eliasson A et al. (2001) Tonsillotomy in children with tonsillar hypertrophy. Acta Otolaryngol 121: 854–858

2.

Eckert-Möbius A (1953) Diskussionsbemerkung. Arch Ohren-Nasen-Kehlkopfheilkd 163: 514

3.

Gronau S, Fischer Y (2005) Tonsillotomy. Laryngorhinootologie 84: 685–690

4.

Günzel T, Zenev E, Heinze N, Schwager K (2004) Tonsillektomienachblutungen im Zeitraum von 1985 bis 2001 und Erfahrungen bei der Anwendung der Lasertonsillotomie bei Kleinkindern. Laryngorhinootologie 83: 579–584

5.

Helling K, Abrams J, Bertram WK et al. (2002) Die Lasertonsillotomie bei der Tonsillenhyperplasie des Kleinkindes. HNO 50: 470–478

6.

Huber K, Sadick H, Maurer JT et al. (2005) Tonsillotomie mit der argonunterstützten, monopolaren Nadel – erste klinische Erfahrungen. Laryngorhinootologie 84: 671–675

7.

Hultcrantz E, Linder A, Markstrom A (1999) Tonsillectomy or tonsillotomy? – A randomized study comparing postoperative pain and long-term effects. Int J Pediatric Otorhinolaryngol 51: 171–176

8.

Ilgen F (2005) Die Lasertonsillotomie bei der obstruktiven Schlafapnoe aufgrund adenotonsillärer Hyperplasie im Kindesalter – Ergebnisse aus der Praxis. Laryngorhinootologie 84: 665–670

9.

Jahnke K (2005) Laser-Tonsillotomie, Wissensstand und offene Fragen. Laryngorhinootologie 84: 651–652

10.

Linder A, Markstrom A, Hultcrantz E (1999) Using carbon dioxide laser for tonsillotomy in children. Int J Pediatric Otorhinolaryngol 50: 31–36

11.

Scherer H (2003) Tonsillotomie versus Tonsillektomie. Laryngorhinootologie 82: 754–755

12.

Schmidt W (1950) Hat die Mandelkappung (Tonsillotomie) noch eine Berechtigung? Med Klein 45: 303–304

13.

Unkel C, Lehnerdt G, Metz K et al. (2004) Langzeitverlauf nach Laser-Tonsillotomie bei symptomatischer Tonsillenhyperplasie. Laryngorhinootologie 83: 466–469
Interessenkonflikt
Es besteht kein Interessenkonflikt. Der korrespondierende Autor versichert, dass keine Verbindungen mit einer Firma, deren Produkt im Artikel genannt ist, oder einer Firma, die ein Konkurrenzprodukt vertreibt, bestehen. Die Präsentation des Themas ist unabhängig und die Darstellung der Inhalte ist produktneutral.
Additional information
Auszugsweise vorgetragen bei der 76. Jahresversammlung der Deutschen Gesellschaft für Hals-Nasen-Ohren-Heilkunde, Kopf- und Hals-Chirurgie in Erfurt, 04.–08.05.2005
About this article
Cite this article
Ripplinger, T., Theuerkauf, T. & Schultz-Coulon, HJ. Wertigkeit der Anamnese bei der Indikationsstellung zur Tonsillotomie. HNO 55, 945–949 (2007). https://doi.org/10.1007/s00106-007-1544-6
Schlüsselwörter
Tonsillotomie

Indikation

Anamnese

Histologie
Keywords
Tonsillotomy

Indications

Medical history

Histology