Zusammenfassung
Hintergrund
Es sollte die Wirksamkeit und Verträglichkeit eines homöopathischen Kombinationsarzneimittels (Cinnabaris Pentarkan H: Cinnabaris D3, Echinacea D1, Hydrastis D3, Kalium bichromicum D3) bei akuter Rhinosinusitis untersucht werden.
Patienten und Methoden
144 Patienten mit akuter Rhinosinusitis wurden im Rahmen einer randomisierten, doppelblinden Studie mit einem homöopathischen Präparat (n=72) oder Placebo (n=72) behandelt. Zu den Kontrolluntersuchungen, jeweils nach 7, 14 und 21 Tagen, wurden 5 sinusitistypische Einzelsymptome jeweils mit Punkten von 0 (nicht vorhanden) bis 4 (sehr stark ausgeprägt) bewertet. Die Veränderung des Summenscores der sinusitistypischen Symptome (max. 20 Punkte) während des Behandlungsverlaufs diente als primäres Zielkriterium.
Ergebnisse
In der Homöopathiegruppe sank der durchschnittliche Summenscore von 12,1±1,6 auf 5,9±2,0 Punkte nach 7 Tagen, in der Placebogruppe von 11,7±1,6 auf 11,0±2,9 Punkte (p<0,0001). Die homöopathische Behandlung führte bei 90,3% der Patienten zu vollständiger Beschwerdefreiheit und bei weiteren 8,3% zu einer meist deutlichen Besserung. In der Placebogruppe hingegen waren die Beschwerden bei 88,9% der Patienten unverändert geblieben oder hatten sich verschlechtert. Nur bei einem Patienten in der Placebogruppe trat ein unerwünschtes Ereignis auf.
Schlussfolgerung
Das homöopathische Präparat ermöglicht eine wirksame und gut verträgliche Behandlung der akuten Rhinosinusitis.
Abstract
Background
The efficacy and tolerability of a homeopathic combination remedy for the treatment of acute rhinosinusitis was investigated.
Patients and methods
A total of 144 patients with acute rhinosinusitis were treated in a randomized, double-blind study either with a homeopathic remedy (n=72) or placebo (n=72). At the control examinations after 7, 14 and 21 days, five sinusitis-typical symptoms were measured with scores from 0 (absent) to 4 (very strong). The change of sum score of the sinusitis-typical symptoms (max. 20 points) during the treatment served as the primary efficacy criterion.
Results
In the homeopathic treatment group, the average sum score dropped from initially 12.1±1.6 to 5.9±2.0 points after 7 days. In the placebo group it decreased from 11.7±1.6 to 11.0±2.9 points (p<0.0001). The homeopathic treatment resulted in freedom from complaints in 90.3% of the patients and improvement in a further 8.3%, whereas in the placebo group, the complaints remained unchanged or became worse in 88.9% of the patients. Only one adverse event occurred in one patient from the placebo group.
Conclusion
The homeopathic product allows an effective and tolerable treatment of acute rhinosinusitis.
Access options
Buy single article
Instant access to the full article PDF.
US$ 39.95
Tax calculation will be finalised during checkout.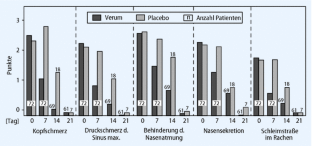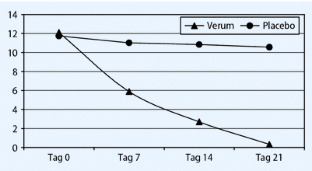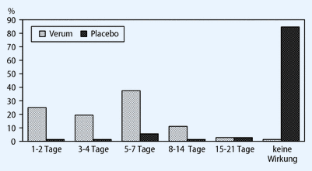 Literatur
1.

Bachert C, Hörmann K, Mösges R et al. (2003) Empfehlungen zur Diagnose und Therapie der Sinusitis und Polyposis nasi. Allergologie 26: 52–71

2.

Brunton SA (2003) Managing acute maxillary sinusitis in the family practice. J Fam Pract [Suppl]: S4–S11

3.

Federspil P, Federspil PA (2005) Antibiotikatherapie in der Hals-Nasen-Ohren-Heilkunde. HNO 53: 11–28

4.

Federspil R, Wulkow R, Zimmermann T (1997) Wirkung von Myrtol standardisiert bei der Therapie der akuten Sinusitis – Ergebnisse einer doppelblinden, randomisierten Multicenterstudie gegen Placebo. Laryngorhinootologie 76: 23–27

5.

Fickweiler U, Fickweiler K (2005) Erregerspektrum der akuten bakteriellen Rhinitis/Sinusitis und Resistenzlage. HNO 53: 735–740

6.

Fokkens W, Lund V, Bachert C et al. (2005) EAACI Position paper on rhinosinusitis and nasal polyps. Executive summary. Allergy 60: 583–601

7.

Hansen JG, Dahler-Eriksen BS (2000) C-reactive protein and infections in general practice. Ugeskr Laeger 162(17): 2457–2460

8.

Hytönen M, Atula T, Pitkäranta A (2000) Complications of acute sinusitis in children. Acta Otolaryngol [Suppl] 543: 154–157

9.

Iro H, Wurm J, Zenk J (2004) Komplikationen bei entzündlichen Erkrankungen der Nasennebenhöhlen. HNO 52: 395–408

10.

Kim HJ, Kyungwon L, Yoo J-B et al. (2006) Bacteriological findings and antimicrobial susceptibility in chronic sinusitis with nasal polyp. Acta Otolaryngol 126: 489–497

11.

Lehmacher W, Wassmer G (1999) Adaptive sample size calculations in group sequential trials. Biometrics 556: 1286–1290

12.

Linde K, Clausius N, Ramirez G et al. (1997) Are the clinical effects of homoeopathy placebo effects? A meta-analysis of placebo-controlled trials. Lancet 350: 834–843

13.

Neubauer N, März RW (1994) Placebo-controlled randomized double-blind clinical trial with Sinupret sugar coated tablets on the basis of a therapy with antibiotics and decongestant nasal drops in acute sinusitis. Phytomedicine 1: 177–181

14.

Pocock SJ (1977) Group sequential methods in the design and analysis of clinical trials. Biometrika 64: 191–199

15.

Tang A, Frazee B (2003) Group antibiotic treatment for acute maxillary sinusitis. Annals of Emergency Medicine 42(5): 705–708

16.

Weiser M, Clasen BPE (1994) Randomisierte plazebokontrollierte Doppelblindstudie zur Untersuchung der klinischen Wirksamkeit der homöopathischen Euphorbium compositum-Nasentropfen S bei chronischer Sinusitis. Komplementärmed Klass Naturheilkd 1: 251–259

17.

Williams JW, Aguilar C, Cornell J et al. (2003) Antibiotics for acute maxillary sinusitis. The Cochrane Database of Systematic Reviews 2003, Issue 2. Art No: CD000243. DOI: 10.1002/14651858.CD000243

18.

Wustrow TPU (2005) Naturheilkundliche Therapie der akuten Otitis media. Eine Alternative zum primären Antibiotikaeinsatz. HNO 53: 728–734
Interessenkonflikt
Es besteht kein Interessenkonflikt. Der korrespondierende Autor versichert, dass keine Verbindungen mit einer Firma, deren Produkt in dem Artikel genannt ist, oder einer Firma, die ein Konkurrenzprodukt vertreibt, bestehen. Die Präsentation des Themas ist unabhängig und die Darstellung der Inhalte produktneutral.
About this article
Cite this article
Friese, KH., Zabalotnyi, D.I. Homöopathie bei akuter Rhinosinusitis. HNO 55, 271–277 (2007). https://doi.org/10.1007/s00106-006-1480-x
Schlüsselwörter
Akute Rhinosinusitis

Randomisierte, placebokontrollierte Studie

Homöopathisches Kombinationspräparat

Sinusitistypische Symptome

Wirksamkeit
Keywords
Acute rhinosinusitis

Randomized, placebo-controlled study

Homeopathic combination product

Sinusitis-typical symptoms

Efficacy