Zusammenfassung
Veränderungen der Mund- und Rachenschleimhaut können durch Haut- bzw. Systemerkrankungen entstehen. Sind sie ulzerierend, so können Infektionskrankheiten, Autoimmunerkrankungen, Granulomatosen und Neoplasien die Ursache sein. Oft erscheinen Läsionen in der Mundhöhle, im Oro- und Hypopharynx, bevor sie an anderen Lokalisationen auftreten. Dem HNO-Arzt kommt aus diesem Grund eine besondere Bedeutung zu. Er kann zur rechtzeitigen Diagnosesicherung beitragen und den Patienten entsprechenden Fachabteilungen zuweisen. In der Zusammenarbeit mit Dermatologen, Hämatologen, Gastroenterologen und Mund-, Kiefer- und Gesichtschirurgen kann der Patient dann einer zielgerichteten Therapie zugeführt werden. Anhand des Fallberichts einer Patientin mit ungewöhnlichem Verlauf einer ulzerierenden Stomatitis soll eine Orientierungshilfe bei der Differenzialdiagnostik pathologischer Mundschleimhautveränderungen gegeben werden.
Abstract
Many systemic diseases have oral and/or pharyngeal manifestations. Mucosal lesions in the upper aerodigestive tract may be caused by granulomatous inflammations, and infectious, autoimmune and neoplastic diseases before they appear systemically or otherwise. ENT specialists can play a decisive role in identifying patients with pathological mucosal changes and transfer them to dermatology, hematology, gastroenterology or maxillofacial surgery in order to assure the best possible treatment. This article presents the case of an elderly female patient with a history of necrotising severe stomatitis that turned out to be a rare B-cell lymphoma. In the second part of the article, we present a number of common and rare diseases that may be encountered in ENT practice with an overview of clinical manifestations and current diagnostic modalities.
Access options
Buy single article
Instant access to the full article PDF.
USD 39.95
Price excludes VAT (USA)
Tax calculation will be finalised during checkout.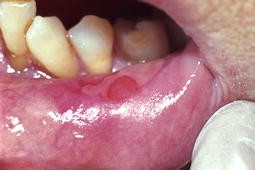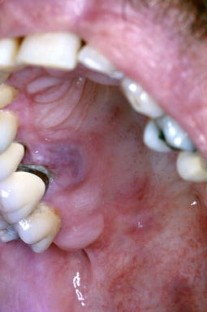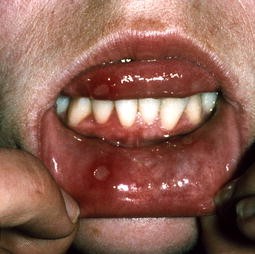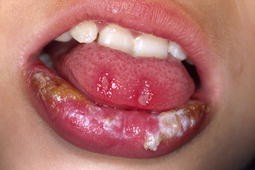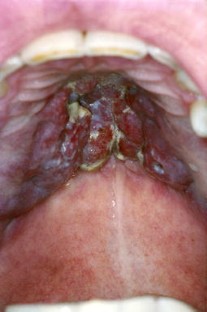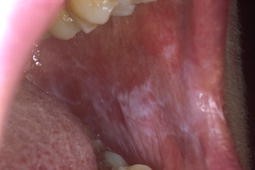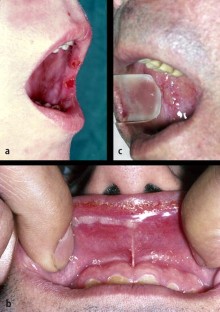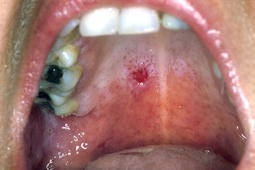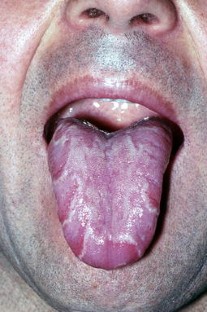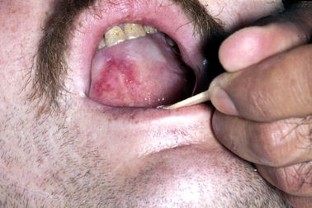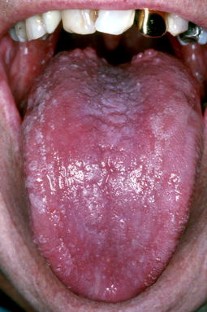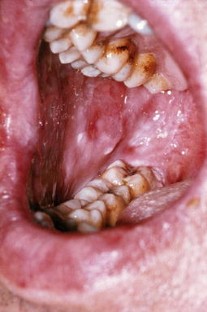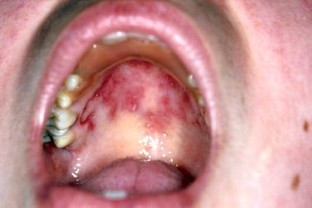 Literatur
Alawi F (2005) Granulomatous diseases of the oral tissues: differential diagnosis and update. Dent Clin North Am 49(1): 203–221

Baier G, Zillikens D (2002) Blasenbildende Erkrankungen der Mund- und Rachenschleimhaut. HNO 50(11): 1017–1027

Hinds EC, Kent JN (1971) Oral lesions. Am J Gastroenterol 55(3): 225–236

Kuhn J, Constantinidis J, Iro H, Dill-Müller D, Pahl S (1999) HNO 43(3): 2002–2003

Laskaris G (1996) Oral manifestations of infectious diseases. Dent Clin North Am 40(2): 395–423

Long RG, Hlousek L, Doyle JL (1998) Oral manifestations of systemic diseases. Mt Sinai J Med 65(5–6): 309–315

Papadimitraki ED, Kyrmizakis DE, Kritikos I, Boumpas DT (2004) Ear-nose-throat manifestations of autoimmune rheumatic diseases. Clin Exp Rheumatol 22(4): 485–494

Zenner H-P (2006) Praktische Therapie von Hals-Nasen-Ohren-Krankheiten, 2. Aufl. Schattauer, Stuttgart
Interessenkonflikt:
Es besteht kein Interessenkonflikt. Der korrespondierende Autor versichert, dass keine Verbindungen mit einer Firma, deren Produkt in dem Artikel genannt ist, oder einer Firma, die ein Konkurrenzprodukt vertreibt, bestehen. Die Präsentation des Themas ist unabhängig und die Darstellung der Inhalte produktneutral.
About this article
Cite this article
Gaugel, D., Klein, A. & Plinkert, P.K. Ulzerierende Gingivostomatitis und Parodontitis. HNO 54, 157–165 (2006). https://doi.org/10.1007/s00106-006-1382-y
Issue Date:

DOI: https://doi.org/10.1007/s00106-006-1382-y
Schlüsselwörter
Keywords