Zusammenfassung
Ausgehend von der Diskrepanz zwischen einer gelegentlich aus Unkenntnis erfolgten Einstufung der Septumplastik als eine einfache Operation einerseits und der relativ hohen Misserfolgs- bzw. Komplikationsquote andererseits wird auf besondere Schwierigkeiten bei den einzelnen Operationsschritten der plastischen Septumkorrektur und auf Möglichkeiten der Komplikationsprophylaxe hingewiesen. Die große Bedeutung optimaler Sichtverhältnisse — am besten Operationsmikroskop — wird hervorgehoben. Die wichtigsten Maßnahmen zur Verhinderung der klassischen postoperativen Komplikationen (Redeviation, Einsattelung des knorpeligen Nasenrückens, Septumdefekt) sind: konsequente subperichondrale Präparation ohne Knorpelverletzung, Nutzung der sog. Cottle-Tunnel, ausreichende Mobilisation und spannungslose Geradestellung des vorderen Septumknorpels, stabiler Wiederaufbau des dorsalen Septums mittels Knorpel- bzw. Knochenreimplantation nach selektiver Resektion oder Begradigung deviierter Anteile, Refixierung der "swinging-door" am Periost der Spina nasalis anterior und evtl. Primärnaht intraoperativ gesetzter bilateraler Schleimhautperforationen. Sind postoperative Komplikationen wie Septumhämatom, Sattelbildung oder Schleimhautdehiszenzen bereits postoperativ erkennbar, so lohnt sich die Frührevision des Septums.
Abstract
There is a discrepancy between the occasionally heard opinion that septoplasty is an easy operation and its relatively high failure and complication rates. Here we discuss the specific difficulties and possible pitfalls of functional reconstructive septoplasty. The significance of optimal vision using a binocular operating microscope is emphasized. Most of the important measures needed to avoid postoperative complications such as redeviation, pseudo-hump nose or nasoseptal defect are painstaking subperichondrial dissection without injuring the septal cartilage, use of the so-called Cottle-tunnels, sufficient mobilisation and exact straightening of the anterior septal cartilage without remaining tension, stable reconstruction of the posterior septum with cartilaginous and/or bony fragments after selective resection of deviated septal parts, re-fixation of the mobilized anterior cartilage ("swinging-door") to the periosteum of the anterior nasal spine and, perhaps, primary suture of iatrogenic perforations of the mucoperichondrium during the operation. If postoperative complications such as septal hematoma, septal perforation or saddling of the nose are recognized during the first postoperative week, immediate revision surgery is recommended.
This is a preview of subscription content,
to check access.
Access this article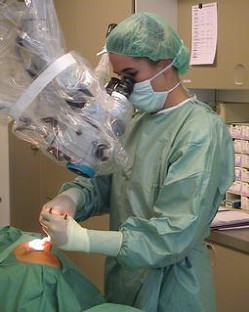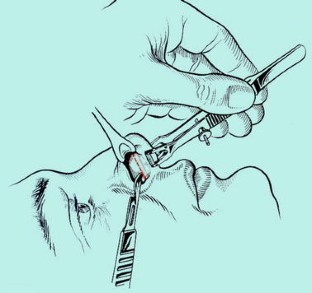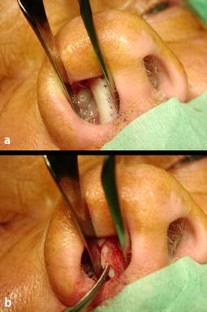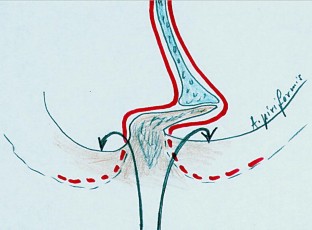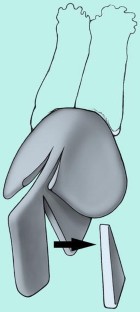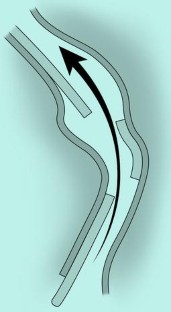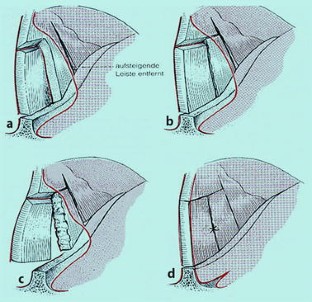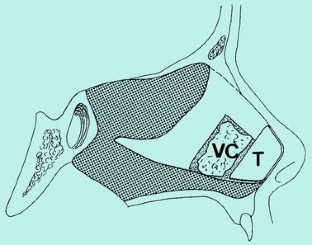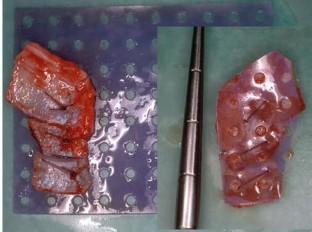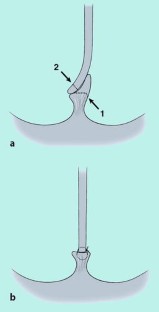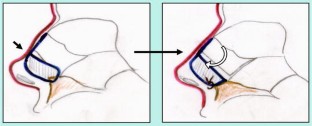 Literatur
Bewarder F, Pirsig W (1978) Spätergebnisse nach submuköser Septumresektion. Laryngol Rhinol Otol (Stuttg) 57: 922–930

Boenisch M, Mink A (2000) Clinical and histological results of septoplasty with a resorbable implant. Arch Otolaryngol Head Neck Surg 126: 1373–1377

Boenisch M et al. (2003) Influence of polydioxanone foil on growing septal cartilage after surgery in an animal model: new aspects of cartilage healing and regeneration (preliminary results). Arch Facial Plast Surg 5: 316–319

Cottle MH (1950) Modified nasal septum operations. Eye Ear Nose Throat 29(9): 480–484

Cottle MH et al. (1958) The maxilla-premaxilla approach to extensive nasal septum surgery. Arch Otolaryngol. 68(3): 301–313

Fjermedal O et al. (1988) Septoplasty and/or submucous resection? 5 years nasal septum operations. J Laryngol Otol 102: 796–798

Haraldsson PO et al. (1987) Long-term results after septal surgery — submucous resection versus septoplasty. ORL J Otorhinolaryngol Relat Spec 49: 218–222

Heermann H (1958) Über endonasale Chirurgie unter Verwendung des binocularen Mikroskopes. Arch Ohren Nasen Kehlkopfheilkd 171: 295–297

Hellmich S (1973) Das Problem der Knorpelverbiegung in der Nasenchirurgie. HNO 21: 223–226

Huizing EH, de Groot JAM (2003) Functional reconstructive nasal surgery. Thieme, Stuttgart

Marshall AH et al. (2004) Principles of septal correction. J Laryngol Otol 118: 129–134

Masing H (1971) In: Theissing G: Kurze HNO-Operationslehre. Thieme, Stuttgart, S 13–68

Masing H (1974) Versorgung frischer Nasenverletzungen und Chirurgie der inneren Nase. In: Naumann HH (Hrsg) Kopf- und Hals-Chirurgie, Thieme, Stuttgart, Bd 2, S 323–410

Muhammad IA, Nabil-ur Rahman (2003) Complications of the surgery for deviated nasal septum. J Coll Physicians Surg Pak 13: 565–568

Onerci TM et al. (2004) Two consecutive cases of cerebrospinal fluid rhinorrhea after septoplasty operation. Am J Otolaryngol 25: 354–356

Paulsen K (1976) Wie wichtig ist die Anlage unterer Tunnel für die Septumplastik nach Cottle? HNO 24: 106–107

Paulsen K (1995) Endonasale Mikrochirurgie. Thieme, Stuttgart New York

Schultz-Coulon HJ (1983) Die Korrektur ausgeprägter Deformitäten des ventrokaudalen Septumabschnittes beim Kind. HNO 31: 6–9

Schultz-Coulon HJ (1989) Das Brückenlappenkonzept zum Verschluss großer Septumdefekte. HNO 37: 123–127

Schultz-Coulon HJ (1994) Endonasale Brückenlappentechniken für den Septumdefektverschluss. HNO 42: 510–520

Schultz-Coulon HJ (2005) Three-layer repair of nasoseptal defects. Otolaryngol Head Neck Surg 132(2): 213–218

Stoksted P (1969) Long-term results following plastic septum surgery. Int Rhinol (Leiden) 7: 53–61
Interessenkonflikt:
Es besteht kein Interessenkonflikt. Der korrespondierende Autor versichert, dass keine Verbindungen mit einer Firma, deren Produkt in dem Artikel genannt ist, oder einer Firma, die ein Konkurrenzprodukt vertreibt, bestehen. Die Präsentation des Themas ist unabhängig und die Darstellung der Inhalte produktneutral.
About this article
Cite this article
Schultz-Coulon, HJ. Anmerkungen zur Septumplastik. HNO 54, 59–71 (2006). https://doi.org/10.1007/s00106-005-1355-6
Issue Date:

DOI: https://doi.org/10.1007/s00106-005-1355-6
Schlüsselwörter
Keywords