Zusammenfassung
Hintergrund
Zur Therapie des Lagophthalmus bei Fazialisparese kommen unterschiedliche Implantate zum Einsatz. Die Implantation von Lidgewichten (Lidloading) aus Gold oder Platin hat sich zunehmend durchgesetzt. Systematische Untersuchungen histologischer Veränderungen der Implantatkapsel im Rahmen einer Explantation der Lidgewichte sind bisher nicht erfolgt.
Material und Methoden
Von 26 entfernten Implantaten konnten 18 Implantate von 17 Patienten aus dem Zeitraum von 1997 bis 2004 lichtmikroskopisch nachuntersucht werden. Wir bewerteten dabei semiquantitativ die Dichte des Entzündungsinfiltrats und erfassten das Auftreten von Fremdmaterial im Gewebe. Zusätzlich wurde zur Charakterisierung der zellulären Zusammensetzung des Entzündungsinfiltrats eine immunhistochemische Untersuchung durchgeführt.
Ergebnisse
Bei der semiquantitativen Bewertung der Dichte des Entzündungsinfiltrats zeigte sich bei den Goldimplantaten in 60% ein mäßig dichtes oder dichtes Entzündungsinfiltrat. Bei den Platinimplantaten kam es nur in 12,5% zu einer mäßig dichten entzündlichen Infiltration. Bei der immunhistochemischen Untersuchung zeigte sich ein gemischtes lymphozytäres Entzündungsinfiltrat mit tendenziellem Überwiegen von B-Lymphozyten (humorale Abwehr).
Fazit
Sowohl Gold als auch Platin sind als Implantatmaterialien zur Therapie des Lagophthalmus geeignet. Im Vergleich zu Gold besitzt Platin allerdings eine höhere Dichte und bessere Biokompatibilität.
Abstract
Background
Various implants are used to treat lagophthalmos in facial paralysis. The implantation of gold or platinum eyelid weights (lid loading) is being used increasingly. Histological changes have not yet been systematically examined in the implant capsule during explantation of the eyelid weight.
Material und methods
Of 26 explanted implants, 18 implants in 17 patients were followed-up using light microscopy from 1997 to 2004. We semi-quantitatively evaluated the density of the inflammatory infiltrate and recorded the occurrence of foreign bodies in the tissue. The inflammatory infiltrate was also immunohistochemically examined to characterize cellular composition.
Results
In the semi-quantitative examination of inflammatory infiltration density, 60% of the gold implants showed a moderately dense or dense inflammatory infiltrate, while there was moderately dense infiltration in only 12.5% of the platinum implants. The immunohistochemical examination revealed a mixed lymphocytic inflammatory infiltrate which tended to a preponderance of B lymphocytes (humoral response). This is typical of unspecific chronic inflammation.
Conclusions
Both gold and platinum are suitable for treating lagophthalmos, however, platinum has a higher density and better biocompatibility than gold.
Access options
Buy single article
Instant access to the full article PDF.
USD 39.95
Price excludes VAT (USA)
Tax calculation will be finalised during checkout.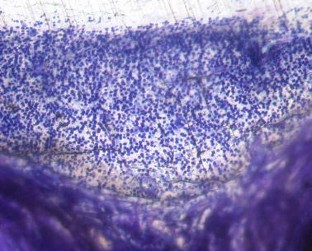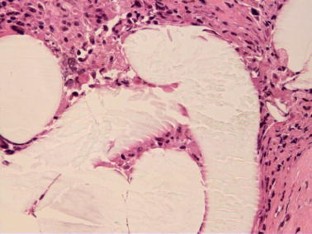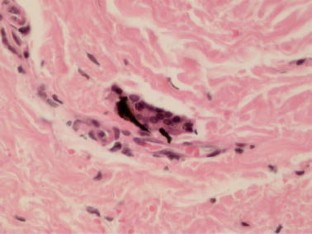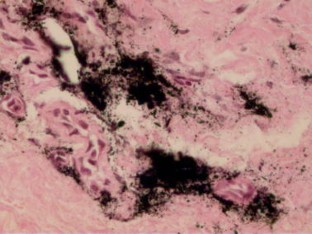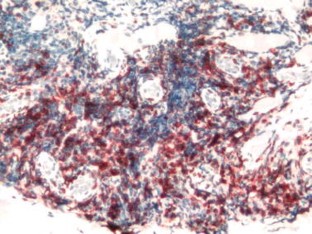 Literatur
Abke J (2003) Verbesserung der Biokompatibilität metallischer Implantate durch kovalente Anbindung einer quervernetzten Kollagenschicht. Dissertation, Institut für Chemie und Pharmazie der Universität Regensburg

Arepalli S, Bezabeh S, Brown S (2002) Allergic reaction to platinum in silicone breast implants. J Long Term Eff Med Implants 12(4): 299–306

Arion H (1972) Dynamic closure of the lids in paralysis of the orbicularis muscle. Int Surg 57: 48–50

Bair R, Harris G, Lyon D, Komorowski R (1995) Noninfectious inflammatory response to gold weight eyelid implants. Ophthalmic Plast Reconstr Surg 11: 209–214

Bar S, Hammer U, Struck H, Stein A, Holzhausen H, Duncker G (2000) Foreign body granuloma after lower eyelid avulsion and surgical revision with silicone tube splint. Klin Monatsbl Augenheilkd 216(4): 232–234

Beyer T, Sinha S (1991) Eyelid pain after magnetic resonance imaging-induced palpebral spring vibration. Arch Ophthalmol 109: 1503

Berghaus A, Neumann K, Schrom T (2003) The platinum chain: a new upper-lid implant for facial palsy. Arch Facial Plast Surg 5(2): 166–170

Brunner F (1993) Implant materials-what is applicable where and when? Eur Arch Otorhinolaryngol [Suppl] 1: 311–336

Dost P (2000) Biomaterialien in der rekonstruktiven Mittelohrchirurgie. Laryngorhinootologie 79 [Suppl]: S53–S72

Fallopius G (1600) Opera omnia Francofurti. Wecheli A 1–16

Foster J, Perry J, Cahill K, Holck D, Kugler L (2004) Processed human pericardium barrier for gold weight implantation. Ophthal Plast Reconstr Surg 20(2): 107–109

Harrison W, Shambough G, Kaplan J, Derlacki E (1959) Prosthetics in the middle ear. Arch Otolaryngol 69: 661–666

Heumann H, Steinbach E, Seuffer E (1982) Über die Anwendbarkeit von Paukenröhrchen aus Edelmetall. Laryngorhinootologie 61: 17–19

Himi T, Igarashi M, Kataura A (1988) Temporal bone histopathology over 15 years post-stapedectomy. Acta Otolaryngol Suppl 447: 126–134

Illig K (1958) Eine neue Operationsmethode gegen Lagophthalmus. Klin Monatsbl Augenheilkd 32: 410–411

Jahnke K, Dost P, Schrader M (1996) Biocompatibility studies of implants for reconstructive middle ear surgery. In: Portmann M (ed) Transplants and implants III. Kugler, Amsterdam, pp 41–46

Jansen C (1970) Homo- and heterogenous grafts in reconstruction of the sound conduction system. Acta Oto Rhino Laryngol Belg 24: 60–65

Kartush J, Linstrom C, Mc Cann P, Graham M (1990) Early gold weight eyelid implantation for facial paralysis. Otolaryngol Head Neck Surg 103: 1016–1023

Kuntheseth S (1999) Reanimation of the lagophthalmos using stainless steel weight implantation; a new approach and prospective evaluation. Int J Lepr Other Mycobact Dis 67(2): 129–132

Lehner R (1997) Implantatmaterialien für Mittelohr und Mastoid. HNO 10: 745–748

Linder T, Pike V, Linstrom C (1996) Early eyelid rehabilitation in facials nerve paralysis. Laryngoscope 106: 1115–1118

Maas C, Merwin G, Wilson J, Frey M, Maves M (1990) Comparison of biomaterials for facial bone augmentation. Arch Otolaryngol Head Neck Surg 116(5): 551–556

Maurer J, Madani M, Mann W (1997) Erfahrungen mit Oberlid-Gold-Implantaten bei Fazialisparese. Laryngorhinootologie 76: 106–109

May M, Mester S, Shapiro A, Kanal E (1993) Gold weight or spring implants and MRI. Laryngoscope 103(8): 930

Merget R, van Kampen V, Bruning T (2003) Immediate type allergies due to metal compounds: platinum salts. Pneumologie 57(10): 606–611

Mohr A (1997) Prätarsale Platin-Iridium-Implantate zur Therapie des Lagophthalmus bei Fazialisparese — Vorläufige Ergebnisse. Ophthalmologe 94: 600–602

Morel-Fatio D, Lalardrie J (1964) Palliative surgical treatment of facial paralysis: the palpebral spring. Plast Reconstr Surg 33: 446–456

Mühlbauer W, Segeth H, Viessmann A (1973) Restoration of lid function in facial palsy with permanent magnets. Chir Plast 1: 295–304

Müller-Jensen K, Jansen M (1997) 6jährige Erfahrung mit reversibler und operativer Oberlidbeschwerung beim Lagophthalmus. Ophthalmologe 94: 295–299

Palva T, Palva A, Kärjä J (1973) Ossicular reconstruction in chronic ear surgery. Arch Otolaryngol 98: 340–348

Plester D (1968) Die Anwendung prothetischen Materials im Mittelohr. Monatsschr Ohrenheilkd Laryngo Rhinol 102: 105–109

Plester D, Cousins V (1986) Otosclerosis: its modern surgical management. Br J Clin Prac 40: 401–403

Robison M (1974) Stapes prosthesis: stainless steel vs. Teflon. Laryngoscope 84: 1982–1995

Rossi F, Incorvaia C, Mauro M (2004) Hypersensitivity reactions to chemotherapeutic antineoplastic agents. Recenti Prog Med. 95(10): 476–481

Schimanski G (1997) Die Arrosion und Nekrose des langen Amboßschenkels nach Otoskleroseoperation. HNO 45: 682–689

Schoeller T, Gschnitzer C, Wechselberger G, Otto A, Hussl H, Piza-Katzer H (2000) Chronic recurrent, locally destructive siliconomas after breast augmentation by liquid silicone oil. Chirurg 71(11): 1370–1373

Schrom T, Goldhahn A, Neumann K, Berghaus A (1999) Risiken der Oberlidgoldimplantation bei periphere Fazialisparese. HNO 47: 262–268

Schrom T, Goldhahn A, Stange T, Berghaus A (2000) Implantate zur operativen Therapie des Lagophthalmus. J DGPW 22: 46–47

Schrom T, Goldhahn A, Berghaus A, Stange T (2000) The platinum chain as a new implant for lid loading. Eur Arch Otorhinolaryngol 257: 104–105

Schubert K (1968) Erfahrungsbericht über den Goldstapes. Monatsschr Ohrenheilkd Laryngol Rhinol 102: 59–63

Schuknecht H, Oleksiuk S (1960) The metal prosthesis for stapes ankylosis. Arch Otolaryngol 71: 287–295

Seiff S, Sullivan J, Freeman L, Ahn J (1989) Pretarsal fixation of gold weights in facial nerve palsy. Ophthalmic Plast Rekonstr Surg 5(2): 104–109

Seiff S, Chang J (1993) The staged management of ophthalmic complications of facial nerve palsy. Ophthalmic Plast Reconstr Surg 9: 241–249

Sheehan J (1950) Progress in correction of facial palsy with tantalum wire and mesh. Surgery 27: 122–125

Steinemann S (1980) Corrosion of surgical implants. In vivo and in vitro tests. In: Winter G, Leray J, Groot K ed (eds) Evaluation of biomaterials. Wiley, New York, pp 1–33

Townsend D (1992) Eyelid reanimation for the treatment of paralytic lagophthalmos: historical perspectives and current applications of the gold weight implant. Ophthalmic Plast Reconstr Surg 8(3): 196–201

Wullstein H (1953) Die Tympanoplastik als gehörverbessernde Operation bei Otitis media chronica und ihre Resultate. In: Gerlings P, Struben W (Hrsg) Kongressbericht des fünften internationalen Kongresses für Otorhinolaryngologie. Amsterdam, S 104–118
Interessenkonflikt:
Keine Angaben
About this article
Cite this article
Schrom, T., Taege, C., Wolf, G. et al. Histopathologie nach Implantation von Lidgewichten. HNO 54, 591–598 (2006). https://doi.org/10.1007/s00106-005-1346-7
Issue Date:

DOI: https://doi.org/10.1007/s00106-005-1346-7
Schlüsselwörter
Keywords