Access options
Buy single article
Instant access to the full article PDF.
US$ 39.95
Tax calculation will be finalised during checkout.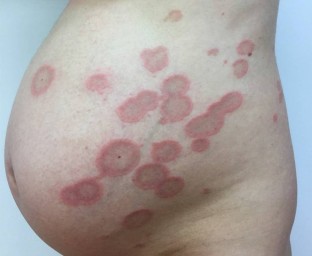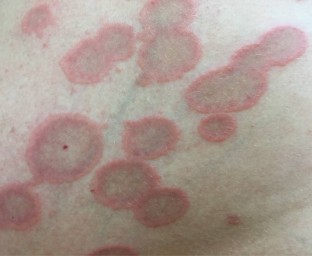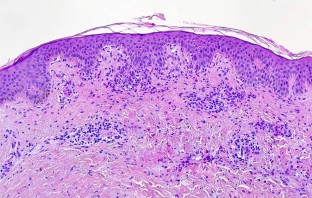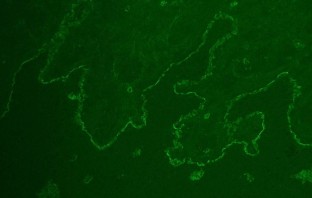 Literatur
1.

Al Saif F, Jouen F, Hebert V et al (2017) Sensitivity and specificity of BP180 NC16A enzyme-linked immunosorbent assay for the diagnosis of pemphigoid gestationis. J Am Acad Dermatol 76:560–562

2.

Ambros-Rudolph CM, Sticherling M (2017) Spezifische Schwangerschaftsdermatosen. Hautarzt 68:87–94

3.

Arakawa M, Ohata C, Tsuruta D et al (2016) A severe and prolonged case of pemphigoid gestationis successfully treated with combination therapies. Br J Dermatol 174:925–927

4.

Chi C‑C, Wang S‑H, Charles-Holmes R, Ambros-Rudolph C et al (2009) Pemphigoid gestationis: early onset and blister formation are associated with adverse pregnancy outcomes. Br J Dermatol 160:1222–1228

5.

Daniel BS, Murrell DF (2019) Review of autoimmune blistering diseases: the pemphigoid diseases. J Eur Acad Dermatol Venereol 33:1685–1694

6.

Genovese G, Derlino F, Cerri A et al (2020) A systematic review of treatment options and clinical outcomes in pemphigoid gestationis. Front Med 20(7):604945

7.

Hofmann SC, Juratli HA, Eming R (2018) Bullöse Autoimmundermatosen. J Dtsch Dermatol Ges 16(11):1339–1360

8.

Marker M, Derfler K, Monshi B, Rappersberger K (2011) Successful immunoapheresis of bullous autoimmune diseases: pemphigus vulgaris and pemphigoid gestationis. J Dtsch Dermatol Ges 9:27–31

9.

Oms E, Tronnier M (2020) Pemphigoid gestationis bei Eizellspende. Hautarzt 71:223–226

10.

Sadik CD, Lima AL, Zillikens D (2016) Pemphigoid gestationis: toward a better understanding of the etiopathogenesis. Clin Dermatol 34:378–382

11.

Shornick JK, Black MM (1992) Secondary autoimmune diseases in herpes gestationis (pemphigoid gestationis). J Am Acad Dermatol 26:563–566

12.

Soares KS, Lehmann PM, Hofmann SC (2018) Pemphigoid gestationis mit letaler fötaler Fehlbildung und postpartaler Persistenz. J Dtsch Dermatol Ges 16:775–777

13.

Tourte M, Brunet-Possenti F, Mignot S, Gavard L, Descamps V (2017) Pemphigoid gestationis: a successful preventive treatment by rituximab. J Eur Acad Dermatol Venereol 31(4):e206–e207
Ethics declarations
Interessenkonflikt
S.-N. Burmann, S. Lausch, F. Oellig, A.-L. Michalowitz und A. Kreuter geben an, dass kein Interessenkonflikt besteht.
Für diesen Beitrag wurden von den Autoren keine Studien an Menschen oder Tieren durchgeführt. Für die aufgeführten Studien gelten die jeweils dort angegebenen ethischen Richtlinien. Für Bildmaterial oder anderweitige Angaben innerhalb des Manuskripts, über die Patienten zu identifizieren sind, liegt von ihnen und/oder ihren gesetzlichen Vertretern eine schriftliche Einwilligung vor.
Additional information
Alle Autoren hatten vollen Zugang zu den publizierten Daten und tragen die Verantwortung für deren Richtigkeit. Alle Autoren haben bei der Erstellung des Manuskriptes mitgewirkt.
About this article
Cite this article
Burmann, SN., Lausch, S., Oellig, F. et al. Schwangere Frau mit juckenden urtikariellen Plaques am Abdomen. Hautarzt (2021). https://doi.org/10.1007/s00105-021-04838-w