Zusammenfassung
Hintergrund
Eine therapiebegleitende rückfettende Basistherapie wird gemäß der aktuellen S3-Leitlinie der AWMF (Arbeitsgemeinschaft der Wissenschaftlichen Medizinischen Fachgesellschaften e. V.) zur Psoriasis empfohlen. Die Evidenz hierfür ist jedoch limitiert.
Patienten und Methodik
Wir führten daher eine prospektive Beobachtungsstudie eines multifunktionalen Emolliens, das 10 % Urea, Ceramide, Glycerin und Glyceryl Glucoside beinhaltet, bei Patienten mit milder bis mittelschwerer Psoriasis vulgaris mit mindestens 12 Wochen zuvor stabiler medikamentöser antipsoriatischer Vorbehandlung durch. Diese Begleittherapien (topisch, Phototherapie oder Systemtherapie) wurden während des Studienbehandlungszeitraums fortgeführt.
Ergebnisse
Nach einer begleitenden täglichen Anwendung des Emolliens über 4 Wochen kam es zu einer signifikanten Verbesserung der Lebensqualität um 35 % (p < 0,001) sowie des klinischen Bildes um 19 % (p = 0,001), gemessen mittels DLQI (Dermatology Life Quality Index) (von 5,8 ± 5,3 zu 3,8 ± 4,3) und des lokalen PASI (Psoriasis Area and Severity Index) (von 7,5 ± 1,5 auf 6,1 ± 2,3).
Schlussfolgerung
Die Studie zeigt somit, dass eine begleitende tägliche rückfettende Basistherapie die Lebensqualität sowie die therapeutischen Effekte einer antipsoriatischen Lokal- und Systemtherapie bei milder bis mittelschwerer Psoriasis verstärken kann.
Abstract
Background
Guidelines generally recommend an adjuvant treatment with emollients for patients suffering from psoriasis. However evidence for this purpose is limited.
Patients and methods
We performed a prospective observational study with an emollient containing 10% urea, ceramides, glycerin and glyceryl glucoside in patients suffering from mild to moderate psoriasis. The patients had to be stable for at least 12 weeks on prior antipsoriatic therapy including topical therapy, systemic treatment or phototherapy which was continued during the trial.
Results
A 4-week daily application of the emollient resulted in significant improvement regarding quality of life (measured by DLQI, Dermatology Life Quality Index) and clinical outcome (measured by local PASI, Psoriasis Area and Severity Index) among the treated patients.
Conclusion
The trial results show that a daily adjuvant treatment with emollients can support a basic antipsoriatic therapy both in aspects of clinical efficacy and quality of life in mild to moderate patients suffering from psoriasis.
Access options
Buy single article
Instant access to the full article PDF.
USD 39.95
Price includes VAT (USA)
Tax calculation will be finalised during checkout.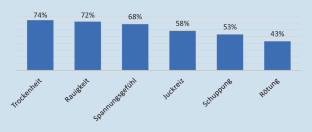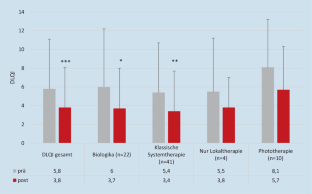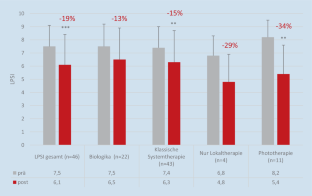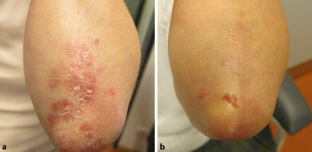 Literatur
1.

Augustin M, Eissing L, Langenbruch A et al (2016) The German National Program on Psoriasis Health Care 2005–2015: results and experiences. Arch Dermatol Res 308:389–400

2.

Augustin M, Wilsmann-Theis D, Körber A et al (2018) Positionspapier: Diagnostik und Therapie der Xerosis cutis. J Dtsch Dermatol Ges 4:3–35

3.

Elmets C, Korman N, Prater E et al (2021) Joint AAD-NPF Guidelines of care for the management and treatment of psoriasis with topical therapy and alternative medicine modalities for psoriasis severity measures. J Am Acad Dermatol 84:432–470

4.

Fluhr J, Cavallotti C, Berardesca E (2008) Emollients, moisturizers, and keratolytic agents in psoriasis. Clin Dermatol 26:380–386

5.

Friedman A, von Grote E, Meckfessel M (2016) Urea: a clinically oriented overview from bench to bedside. J Drugs Dermatol 15:633–639

6.

Gip L, Lundberg M (1985) A double-blind controlled trial of a new antipsoriatic cream containing urea and sodium chloride. Curr Ther Res 37:797–804

7.

Grether-Beck S, Felsner I, Brenden H et al (2012) Urea uptake enhances barrier function and antimicrobial defense in humans by regulating gene expression. J Invest Dermatol 132:1561–1572

8.

Hagemann I, Proksch E (1996) Topical treatment by urea reduces epidermal hyperproliferation and induces differentiation in psoriasis. Acta Derm Venereol 76:353–356

9.

Harcharik S, Emer J (2014) Steroid-sparing properties of emollients in dermatology. Skin Therapy Lett 19:5–10

10.

Jacobi A, Mayer A, Augustin M (2015) Keratolytics and emollients and their role in the therapy of psoriasis: a systematic review. Dermatol Ther 5:1–18

11.

Jung K, Buck B, Benner G et al (2015) 10 % urea-containing body lotion improves subjective and objective symptoms of patients suffering from mild to moderate psoriasis: results of a 4-weeks-treatment in vivo study. 23rd World Congress of Dermatology, Vancouver

12.

Körber A, Wilsmann-Theis D, Augustin M et al (2019) Topische Therapie bei Psoriasis vulgaris – ein Behandlungspfad. J Dtsch Dermatol Ges 4:3–14

13.

Langenbruch A, Radtke M, Jacobi A et al (2016) Quality of psoriasis care in Germany: results of the national health care study "PsoHealth3". Arch Dermatol Res 308:401–408

14.

Lew B, Cho Y, Kim J et al (2006) Ceramides and cell signaling molecules in psoriatric epidermis: reduced levels of ceramides. J Korean Med Sci 2:95–99

15.

Lin TY, See LC, Shen YM et al (2011) Qualitiy of life in patients with psoriasis in northern Taiwan. Chang Gung Med J 34(2):186–196

16.

Liu M, Li X, Chen X et al (2015) Topical application of a linoleic acid-ceramide containing moisturizer exhibit therapeutic and preventive benefits for psoriasis vulgaris: a randomized controlled trial. Dermatol Ther 28:373–382

17.

Loden M (2003) Role of topical emollients and moisturizers in the treatment of dry skin barrier disorders. Am J Clin Dermatol 4:771–788

18.

Luger T, Seite S, Humbert P et al (2014) Recommendations for adjunctive basic skin care in patients with psoriasis. Eur J Dermatol 24:194–200

19.

Meckfessel M, Brandt S (2014) The structure, function, and importance of ceramides in skin and their use as therapeutic agents in skin-care products. J Am Acad Dermatol 71:177–184

20.

Motta S, Monti M, Sesana S et al (1993) Ceramide composition of the psoriatic scale. Biochim Biophys Acta 1182:147–151

21.

Mrowietz U, Kragballe K, Reich K et al (2011) Definition of treatment goals for moderate to severe psoriasis: a European consensus. Arch Dermatol Res 303:1–10

22.

Nast A, Amelunxen L, Augustin M et al (2018) S3-Leitlinie zur Therapie der Psoriasis vulgaris Update – Kurzfassung Teil 1 – Systemische Therapie. J Dtsch Dermatol Ges 16:645–670

23.

Pan M, Heinecke G, Bernardo S et al (2013) Urea: a comprehensive review of the clinical literature. Dermatol Online J 19:20392

24.

Ros S, Puig L, Carrascosa J (2014) Cumulative life course impairment: the imprint of psoriasis on the patient's life. Actas Dermosifiliogr 105:128–134

25.

Seite S, Khemis A, Rougier A et al (2009) Emollient for maintenance therapy after topical corticotherapy in mild psoriasis. Exp Dermatol 18:1076–1078

26.

Stein Gold L, Corvari L (2007) The roles of safety and compliance in determining effectiveness of topical therapy for psoriasis. Cutis 79(1 Suppl 2):32–38

27.

Stern R, Nijsten T, Feldman S et al (2004) Psoriasis is common, carries a substantial burden even when not extensive, and is associated with widespread treatment dissatisfaction. J Investig Dermatol Symp Proc 9:136–139

28.

Thaçi D, Augustin M, Krutmann J et al (2015) Importance of basic therapy in psoriasis. J Dtsch Dermatol Ges 13:415–418

29.

Thouvenin M, Dalmon S, Theunis J et al (2020) Tolerance and efficacy of a new celastrol-containing balm as adjunct care in psoriasis. J Eur Acad Dermatol Venereol 6:10–16

30.

Watsky K, Freije L, Leneveu M et al (1992) Water-in-oil emollients as steroid-sparing adjunctive therapy in the treatment of psoriasis. Cutis 50:383–386

31.

Weber T, Kausch M, Rippke F et al (2012) Treatment of xerosis with a topical formulation containing glyceryl glucoside, natural moisturizing factors, and ceramide. J Clin Aesthet Dermatol 5:29–39
Förderung
Die Studie (Nr. 001.2017DE) wurde von der Beiersdorf AG gefördert.
Ethics declarations
Interessenkonflikt
S. von Martial gibt an, dass kein Interessenkonflikt besteht. G. Nippel, L. Schmidt, A. Sammain, A. Schölermann und S. Presto sind Mitarbeiter der Beiersdorf AG. A. Tsianakas ist Prüfarzt der klinischen Prüfung.
Alle beschriebenen Untersuchungen am Menschen oder an menschlichem Gewebe wurden mit Zustimmung der zuständigen Ethikkommission, im Einklang mit nationalem Recht sowie gemäß der Deklaration von Helsinki von 1975 (in der aktuellen, überarbeiteten Fassung) durchgeführt. Von allen beteiligten Patienten liegt eine Einverständniserklärung vor. Für Bildmaterial oder anderweitige Angaben innerhalb des Manuskripts, über die Patienten zu identifizieren sind, liegt von ihnen und/oder ihren gesetzlichen Vertretern eine schriftliche Einwilligung vor.
About this article
Cite this article
von Martial, S., Nippel, G., Schmidt, L. et al. Einfluss einer adjuvanten Basistherapie mit 10 % Urea, Ceramiden, Glycerin und Glyceryl Glucoside bei Patienten mit Psoriasis vulgaris. Hautarzt 72, 892–899 (2021). https://doi.org/10.1007/s00105-021-04833-1
Accepted:

Published:

Issue Date:
Schlüsselwörter
Emolliens

Psoriasis Area and Severity Index

Rückfettende Basistherapie

Lebensqualität

Klinisches Bild
Keywords
Emollients

Psoriasis Area and Severity Index

Basic therapy

Quality of life

Clinical pictures