Zusammenfassung
Die malignen Adnextumoren der Haut sind eine heterogene Gruppe seltener Malignome mit ekkriner, apokriner, sebozytärer und follikulärer Differenzierung. Wichtige Handlungsempfehlungen für das allgemeine Management dieser Tumorerkrankungen werden vorgestellt. Außerdem werden spezifische evidenzbasierte Erkenntnisse bezüglich der Diagnostik, Therapie und Nachsorge von Porokarzinomen, Talgdrüsenkarzinomen sowie mikrozystischen Adnexkarzinomen erläutert.
Abstract
Malignant adnexal neoplasms of the skin are a heterogeneous group of rare malignancies with eccrine, apocrine, sebaceous and follicular differentiation. Essential clinical practice recommendations for the overall management of these cancers are presented. Moreover, specific evidence-based findings according to diagnosis, therapy and follow-up of porocarcinoma, sebaceous carcinoma and microcystic adnexcarcinoma will be explained.
Access options
Buy single article
Instant access to the full article PDF.
US$ 39.95
Tax calculation will be finalised during checkout.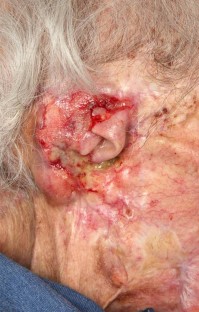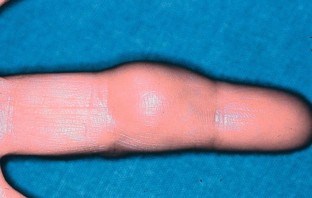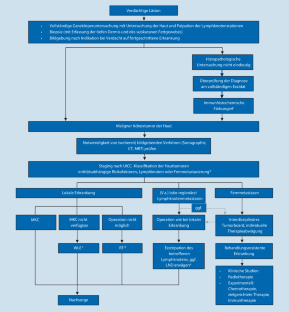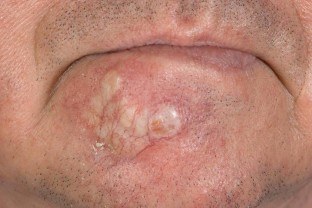 Literatur
1.

Weltgesundheitsorganisation (2018) WHO classification of skin tumours. International Agency for Research on Cancer, Lyon

2.

Stam H, Lohuis PJ, Zupan-Kajcovski B et al (2013) Increasing incidence and survival of a rare skin cancer in the Netherlands. A population-based study of 2,220 cases of skin adnexal carcinoma. J Surg Oncol 107:822–827

3.

Tanese K, Nakamura Y, Hirai I et al (2019) Updates on the systemic treatment of advanced non-melanoma skin cancer. Front Med 6:160

4.

Jandali DB, Ganti A, Al-Khudari S et al (2019) Prognostic factors and survival outcomes for head and neck cutaneous adnexal cancers. Am J Otolaryngol 40:110–114

5.

Waqas O, Faisal M, Haider I et al (2017) Retrospective study of rare cutaneous malignant adnexal tumors of the head and neck in a tertiary care cancer hospital: a case series. J Med Case Rep 11:67

6.

Abbate M, Zeitouni NC, Seyler M et al (2003) Clinical course, risk factors, and treatment of microcystic adnexal carcinoma: a short series report. Dermatol Surg 29:1035–1038

7.

Blake PW, Bradford PT, Devesa SS et al (2010) Cutaneous appendageal carcinoma incidence and survival patterns in the United States: a population-based study. Arch Dermatol 146:625–632

8.

De Giorgi V, Salvati L, Barchielli A et al (2019) The burden of cutaneous adnexal carcinomas and the risk of associated squamous cell carcinoma: a population-based study. Br J Dermatol 180:565–573

9.

Harwood CA, Mcgregor JM, Swale VJ et al (2003) High frequency and diversity of cutaneous appendageal tumors in organ transplant recipients. J Am Acad Dermatol 48:401–408

10.

Lanoy E, Dores GM, Madeleine MM et al (2009) Epidemiology of nonkeratinocytic skin cancers among persons with AIDS in the United States. AIDS 23:385–393

11.

Fueston JC, Gloster HM, Mutasim DF (2006) Primary cutaneous adenoid cystic carcinoma: a case report and literature review. Cutis 77:157–160

12.

Rismiller K, Knackstedt TJ (2018) Aggressive digital papillary adenocarcinoma: population-based analysis of incidence, demographics, treatment, and outcomes. Dermatol Surg 44:911–917

13.

Owen JL, Kibbi N, Worley B et al (2019) Sebaceous carcinoma: evidence-based clinical practice guidelines. Lancet Oncol 20:e699–e714

14.

Worley B, Owen JL, Barker CA et al (2019) Evidence-based clinical practice guidelines for microcystic adnexal carcinoma: informed by a systematic review. JAMA Dermatol 155(9):1059–1068. https://doi.org/10.1001/jamadermatol.2019.1251

15.

Alsaad KO, Obaidat NA, Ghazarian D (2007) Skin adnexal neoplasms-—part 1: an approach to tumours of the pilosebaceous unit. J Clin Pathol 60:129–144

16.

Obaidat NA, Alsaad KO, Ghazarian D (2007) Skin adnexal neoplasms—part 2: an approach to tumours of cutaneous sweat glands. J Clin Pathol 60:145–159

17.

Goyal A, Marghitu T, Goyal N et al (2020) Surgical management and lymph-node biopsy of rare malignant cutaneous adnexal carcinomas: a population-based analysis of 7591 patients. Arch Dermatol Res. https://doi.org/10.1007/s00403-020-02143-5

18.

Wittekind C (2020) TNM – Klassifikation maligner Tumoren. Wiley-VCH, Weinheim

19.

Martinez SR, Barr KL, Canter RJ (2011) Rare tumors through the looking glass: an examination of malignant cutaneous adnexal tumors. Arch Dermatol 147:1058–1062

20.

Bernárdez C, Requena L (2018) Treatment of malignant cutaneous Adnexal neoplasms. Actas Dermosifiliogr 109:6–23

21.

Belin E, Ezzedine K, Stanislas S et al (2011) Factors in the surgical management of primary eccrine porocarcinoma: prognostic histological factors can guide the surgical procedure. Br J Dermatol 165:985–989

22.

Hardisson D, Linares MD, Cuevas-Santos J et al (2001) Pilomatrix carcinoma: a clinicopathologic study of six cases and review of the literature. Am J Dermatopathol 23:394–401

23.

Lazar AJ, Calonje E, Grayson W et al (2005) Pilomatrix carcinomas contain mutations in CTNNB1, the gene encoding beta-catenin. J Cutan Pathol 32:148–157

24.

Kyriazanos ID, Stamos NP, Miliadis L et al (2011) Extra-mammary Paget's disease of the perianal region: a review of the literature emphasizing the operative management technique. Surg Oncol 20:e61–e71

25.

Chung PH, Leong JY, Voelzke BB (2019) Surgical experience with genital and perineal extramammary Paget's disease. Urology 128:90–95

26.

Wollina U, Goldman A, Bieneck A et al (2018) Surgical treatment for extramammary Paget's disease. Curr Treat Options Oncol 19:27

27.

Dokic Y, Nguyen QL, Orengo I (2020) Mohs micrographic surgery: a treatment method for many non-melanocytic skin cancers. Dermatol Online J 26(4):13030/qt8zr4f9n4

28.

Wang LS, Handorf EA, Wu H et al (2017) Surgery and adjuvant radiation for high-risk skin Adnexal carcinoma of the head and neck. Am J Clin Oncol 40:429–432

29.

Snast I, Sharon E, Kaftory R et al (2020) Nonsurgical treatments for extramammary Paget disease: a systematic review and meta-analysis. Dermatology 236(6):493–499. https://doi.org/10.1159/000506832

30.

Nagasawa T, Hirata A, Niiyama S et al (2019) Successful treatment of porocarcinoma with maxacalcitol and imiquimod. Dermatol Ther 32:e12830

31.

Jo JH, Ko HC, Jang HS et al (2005) Infiltrative trichilemmal carcinoma treated with 5 % imiquimod cream. Dermatol Surg 31:973–976

32.

Borgognoni L, Pescitelli L, Gerlini G et al (2020) Efficacy of electrochemotherapy in the treatment of cutaneous melanoma metastases and rare non-melanoma skin cancer. Anticancer Res 40:6485–6492

33.

Borgognoni L, Pescitelli L, Urso C et al (2014) A rare case of anal porocarcinoma treated by electrochemotherapy. Future Oncol 10:2429–2434

34.

Ribero S, Baduel ES, Brizio M et al (2016) Metastatic sebaceous cell carcinoma, review of the literature and use of electrochemotherapy as possible new treatment modality. Radiol Oncol 50:308–312

35.

Wakabayashi A, Tanese K, Yamamoto K et al (2010) Extraocular sebaceous carcinoma expressing oestrogen receptor alpha and human epidermal growth factor receptor 2. Clin Exp Dermatol 35:546–548

36.

Tanese K, Wakabayashi A, Suzuki T et al (2010) Immunoexpression of human epidermal growth factor receptor‑2 in apocrine carcinoma arising in naevus sebaceous, case report. J Eur Acad Dermatol Venereol 24:360–362

37.

Ohi Y, Kosuge H, Tanese K (2015) Case of syringomatous carcinoma: Positive immunohistochemical staining of c‑KIT and phosphorylated-extracellular signal-regulated kinase 1/2. J Dermatol 42:1191–1192

38.

Hiatt KM, Pillow JL, Smoller BR (2004) Her‑2 expression in cutaneous eccrine and apocrine neoplasms. Mod Pathol 17:28–32

39.

Duverger L, Osio A, Cribier B et al (2019) Heterogeneity of PD-L1 expression and CD8 tumor-infiltrating lymphocytes among subtypes of cutaneous adnexal carcinomas. Cancer Immunol Immunother 68:951–960

40.

Soni A, Bansal N, Kaushal V et al (2015) Current management approach to hidradenocarcinoma: a comprehensive review of the literature. Ecancermedicalscience 9:517

41.

Johnson EP, Keyes J, Zayat V et al (2020) Malignant hidradenocarcinoma of the Axilla. Cureus 12:e7091

42.

Robson A, Greene J, Ansari N et al (2001) Eccrine porocarcinoma (malignant eccrine poroma): a clinicopathologic study of 69 cases. Am J Surg Pathol 25:710–720

43.

Nazemi A, Higgins S, Swift R et al (2018) Eccrine porocarcinoma: new insights and a systematic review of the literature. Dermatol Surg 44:1247–1261

44.

Herrmann JL, Allan A, Trapp KM et al (2014) Pilomatrix carcinoma: 13 new cases and review of the literature with emphasis on predictors of metastasis. J Am Acad Dermatol 71:38–43.e32

45.

Leiter U, Heppt MV, Steeb T et al (2020) S3-Leitlinie "Aktinische Keratose und Plattenepithelkarzinom der Haut" – Kurzfassung, Teil 2: Epidemiologie, chirurgische und systemische Therapie des Plattenepithelkarzinoms, Nachsorge, Prävention und Berufskrankheit. J Dtsch Dermatol Ges 18:400–413

46.

Mehregan AH, Hashimoto K, Rahbari H (1983) Eccrine adenocarcinoma. A clinicopathologic study of 35 cases. Arch Dermatol 119:104–114

47.

Marone U, Caracò C, Anniciello AM et al (2011) Metastatic eccrine porocarcinoma: report of a case and review of the literature. World J Surg Oncol 9:32

48.

Kurokawa M, Amano M, Miyaguni H et al (2001) Eccrine poromas in a patient with mycosis fungoides treated with electron beam therapy. Br J Dermatol 145:830–833

49.

Shaw M, Mckee PH, Lowe D et al (1982) Malignant eccrine poroma: a study of twenty-seven cases. Br J Dermatol 107:675–680

50.

Song SS, Wu LW, Hamman MS et al (2015) Mohs micrographic surgery for eccrine porocarcinoma: an update and review of the literature. Dermatol Surg 41:301–306

51.

Snow SN, Reizner GT (1992) Eccrine porocarcinoma of the face. J Am Acad Dermatol 27:306–311

52.

Ahn CS, Sangüeza OP (2019) Malignant sweat gland tumors. Hematol Oncol Clin North Am 33:53–71

53.

Nguyen A, Nguyen AV (2014) Eccrine porocarcinoma: a report of 2 cases and review of the literature. Cutis 93:43–46

54.

Tsunoda K, Onishi M, Maeda F et al (2019) Evaluation of sentinel lymph node biopsy for eccrine porocarcinoma. Acta Derm Venereol 99:691–692

55.

Salih AM, Kakamad FH, Baba HO et al (2017) Porocarcinoma; presentation and management, a meta-analysis of 453 cases. Ann Med Surg 20:74–79

56.

Bogner PN, Fullen DR, Lowe L et al (2003) Lymphatic mapping and sentinel lymph node biopsy in the detection of early metastasis from sweat gland carcinoma. Cancer 97:2285–2289

57.

Khaja M, Ashraf U, Mehershahi S et al (2019) Recurrent metastatic eccrine porocarcinoma: a case report and review of the literature. Am J Case Rep 20:179–183

58.

Godillot C, Boulinguez S, Riffaud L et al (2018) Complete response of a metastatic porocarcinoma treated with paclitaxel, cetuximab and radiotherapy. Eur J Cancer 90:142–145

59.

Lee KA, Cioni M, Robson A et al (2019) Metastatic porocarcinoma achieving complete radiological and clinical response with pembrolizumab. BMJ Case Rep 12(9):e228917. https://doi.org/10.1136/bcr-2018-228917

60.

Sa HS, Rubin ML, Xu S et al (2019) Prognostic factors for local recurrence, metastasis and survival for sebaceous carcinoma of the eyelid: observations in 100 patients. Br J Ophthalmol 103:980–984

61.

Roberts ME, Riegert-Johnson DL, Thomas BC et al (2014) A clinical scoring system to identify patients with sebaceous neoplasms at risk for the Muir-Torre variant of Lynch syndrome. Genet Med 16:711–716

62.

Kibbi N, Worley B, Owen JL et al (2020) Sebaceous carcinoma: controversies and their evidence for clinical practice. Arch Dermatol Res 312:25–31

63.

Carroll P, Goldstein GD, Brown CW Jr. (2000) Metastatic microcystic adnexal carcinoma in an immunocompromised patient. Dermatol Surg 26:531–534

64.

Rütten A (2018) Tumoren der Hautadnexe. In: Plewig G, Ruzicka T, Kaufmann R, Hertl M (Hrsg) Braun-Falco's Dermatologie, Venerologie und Allergologie. Springer Reference Medizin. Springer, Berlin, Heidelberg https://doi.org/10.1007/978-3-662-49544-5_10
Ethics declarations
Interessenkonflikt
Gemäß den Richtlinien des Springer Medizin Verlags werden Autoren und Wissenschaftliche Leitung im Rahmen der Manuskripterstellung und Manuskriptfreigabe aufgefordert, eine vollständige Erklärung zu ihren finanziellen und nichtfinanziellen Interessen abzugeben.
Autoren
J.S. Utikal: A. Finanzielle Interessen: Forschungsförderung zur persönlichen Verfügung: DFG, Dt. Krebshilfe, Bundesministerium für Forschung (BMBF), Deutsches Zentrum für Herz-Kreislauf-Forschung (DZHK), Baden Württemberg-Stiftung, Heidelberg Karlsruhe Research Partnership (HEiKA), ZIM-Kooperationsprojekte, Reliable Cancer Therapies, Bundesministerium für Forschung. – Referentenhonorar oder Kostenerstattung als passiver Teilnehmer, bezahlter Berater/interner Schulungsreferent/Gehaltsempfänger o. Ä.: Amgen, Bristol-Myers Squibb, GSK, LEO Pharma, Merck Sharp and Dohme, Novartis, Pierre Fabre, Roche, Sanofi. – Aktien: Biontech, Pfizer, Moderna, Sanofi, GSK. – B. Nichtfinanzielle Interessen: Leiter der Hautkrebseinheit, DKFZ, Universitätsmedizin Mannheim | Mitgliedschaften: DDG, ADO, ADF. P. Nagel: A. Finanzielle Interessen: P. Nagel gibt an, dass kein finanzieller Interessenkonflikt besteht. – B. Nichtfinanzielle Interessen: Doktorandin, Klinische Kooperationseinheit für Dermatoonkologie des Deutschen Krebsforschungszentrums (DKFZ) Heidelberg, Mannheim, Doktorandin, Klinik für Dermatologie, Venerologie und Allergologie und Exzellenzzentrum Dermatologie Mannheim des Landes Baden-Württemberg, Universitätsmedizin Mannheim, Ruprecht-Karls-Universität Heidelberg, Mannheim, Studentin der Humanmedizin und wissenschaftliche Hilfskraft, Medizinische Fakultät Mannheim, Ruprecht-Karls-Universität Heidelberg, Mannheim. V. Müller: A. Finanzielle Interessen: Referentenhonorar oder Kostenerstattung als passiver Teilnehmer: AbbVie, Janssen-Cilag, Merck Sharp and Dohme, Novartis, Pierre Fabre, Sanofi. – Bezahlter Berater/interner Schulungsreferent/Gehaltsempfänger o. Ä.: Pierre Fabre, Roche. – Aktien: Biontech, CureVac. – B. Nichtfinanzielle Interessen: Fachärztin für Dermatologie, Funktionsoberärztin, Universitätsmedizin Mannheim | Mitgliedschaften: DDG, ADO, DGDC.
Wissenschaftliche Leitung
Die vollständige Erklärung zum Interessenkonflikt der Wissenschaftlichen Leitung finden Sie am Kurs der zertifizierten Fortbildung auf www.springermedizin.de/cme.
Der Verlag
erklärt, dass für die Publikation dieser CME-Fortbildung keine Sponsorengelder an den Verlag fließen.
Für diesen Beitrag wurden von den Autoren keine Studien an Menschen oder Tieren durchgeführt. Für die aufgeführten Studien gelten die jeweils dort angegebenen ethischen Richtlinien. Für Bildmaterial oder anderweitige Angaben innerhalb des Manuskripts, über die Patienten zu identifizieren sind, liegt von ihnen und/oder ihren gesetzlichen Vertretern eine schriftliche Einwilligung vor.
Additional information
Wissenschaftliche Leitung
E. Gaffal, Magdeburg
S. Ständer, Münster
R.-M. Szeimies, Recklinghausen
A. Zink, München
CME-Fragebogen
CME-Fragebogen
Welche Aussage zu den malignen Adnextumoren der Haut ist richtig?
Die malignen Adnextumoren der Haut bestehen nur aus einer Gruppe von verschiedenen Entitäten mit ekkriner oder apokriner Differenzierung.
Maligne Adnextumoren der Haut können auch im Rahmen von tumorassoziierten Genodermatosen entstehen.
Am häufigsten werden Entitäten mit einer sebozytären Differenzierung diagnostiziert.
Die meisten malignen Adnextumoren der Haut entwickeln sich aus ihren benignen Pendants.
Maligne Adnextumoren treten typischerweise im jungen Lebensalter auf.
Welche der folgenden Entitäten kann synonym für das epidermotrope ekkrine Karzinom stehen?
Porokarzinom
Spiradenokarzinom
Hidradenokarzinom
Zylindrokarzinom
Mikrozystisches Adnexkarzinom
Eine 71-jährige Patientin stellt sich bei Ihnen zur Abklärung einer Hautveränderung an der rechten Schulter vor. Die Patientin berichtet, dass ihr an dieser Stelle bereits vor 5 Jahren einmal ein Tumor entfernt wurde. Sie wisse allerdings nicht mehr genau, wie der Hautarzt die Neubildung genau genannt hat, es sei aber wohl eine bösartige Zubildung der Schweißdrüsen gewesen. Da der Tumor damals vollständig entfernt wurde und sonst keine Hautprobleme bestanden haben, war sie seitdem nicht mehr beim Hautarzt. Welche Informationen bezüglich ihrer Erkrankung geben Sie der Patientin?
Rezidive von malignen Adnextumoren der Haut sind unabhängig von der Entität meist mit einer sehr schlechten Prognose verbunden.
Da das Schweißdrüsenkarzinom damals vollständig exzidiert wurde, ist ein Rezidiv des Tumors nahezu ausgeschlossen.
Neben einer Probebiopsie der Läsion ist in jedem Fall auch die Entnahme eines Sentinellymphknotens indiziert.
Da das Risiko für das Vorliegen weiterer epithelialer Tumoren bei dieser Patientin erhöht ist, sollten diese im Rahmen der weiteren Diagnostik ausgeschlossen werden.
Sollte es sich bei der Läsion um ein Rezidiv des bekannten Schweißdrüsenkarzinoms handeln, wäre eine primäre Radiotherapie Therapie der Wahl.
Ein 67-jähriger Patient stellt sich bei Ihnen mit einem 2 cm durchmessenden, rötlichen Knoten am rechten Unterschenkel vor. Eine Probebiopsie ergibt den Befund eines Porokarzinoms mit einer Tumoreindringtiefe von 9 mm und einer lymphovaskulären Invasion. Welche Antwort geben Sie dem Patienten bezüglich seiner Prognose?
Die Wahrscheinlichkeit für das Auftreten von Lymphknotenmetastasen ist sehr gering.
Auch beim Vorliegen einer Lymphknotenmetastasierung ist die Prognose für den Patienten relativ gut.
Die lymphovaskuläre Invasion stellt einen Risikofaktor für eine Metastasierung des Porokarzinoms dar.
Erst ab einer Tumoreindringtiefe von 15 mm wäre von einem erhöhten Metastasierungsrisiko auszugehen.
Die Lokalisation des Tumors ist mit einer geringeren Wahrscheinlichkeit einer bereits vorliegenden Metastasierung assoziiert als Tumoren im Kopf-Hals-Bereich.
Bei einem 88-jährigen Patienten wurde nach Probeexzision eines 2,5 cm durchmessenden Nodus am Rücken rechts paravertebral auf Höhe TH2/TH3 ein Porokarzinom diagnostiziert. Der Patient erkundigt sich bei der Befundbesprechung nach den Behandlungsoptionen für seine Erkrankung. Welche allgemeine Auskunft über die Therapie von Porokarzinomen können Sie dem Patienten geben?
Bei fortgeschrittenen Stadien ist aufgrund der guten Ansprechraten ein Anthracylin-basiertes Therapieregime indiziert.
Eine mikrographisch kontrollierte Exzision ist der konventionellen chirurgischen Exzision des Tumors als Therapieoption unterlegen.
Unabhängig vom Tumorstadium sollte bei Porokarzinomen eine Radiatio des Tumors sowie des Lymphabflussgebietes erfolgen.
Eine Lymphknotendissektion ist bei Porokarzinomen auch ohne Hinweise auf eine Metastasierung indiziert.
Therapie der Wahl ist in den meisten Fällen die lokale Exzision des Porokarzinoms mit Entnahme eines Sicherheitsabstandes.
Bei einer 83-jährigen Frau wird ein Lokalrezidiv eines Talgdrüsenkarzinoms an der rechten Schulter diagnostiziert. Klinisch besteht außerdem der Verdacht auf eine Metastasierung in regionäre Lymphknoten. Es gibt keinen Anhalt für das Vorliegen von Fernmetastasen. Wie klären Sie die Patientin über das weitere therapeutische Vorgehen auf?
Sollte sich der Verdacht einer Lymphknotenmetastasierung bestätigen, wäre aufgrund des fortgeschrittenen Alters der Patientin eine alleinige Radiotherapie in palliativer Intention indiziert.
Eine platinbasierte Chemotherapie ist bei dieser Patientin Therapie der Wahl, da diese den größten Effekt auf das krankheitsspezifische Überleben bei Patient*innen mit Lymphknoten- und Fernmetastasen hat.
Bei extraokulären Talgdrüsenkarzinomen wird beim Vorliegen einer klinischen Lymphknotenmetastasierung aufgrund der deutlichen Verbesserung des Gesamtüberlebens keine Lymphknotendissektion empfohlen.
Bei der Patientin kann eine adjuvante Radiotherapie nach einer mikrographisch kontrollierten Exzision des Tumorrezidivs mit einer Dosis von 70 Gy à 2 Gy-Fraktionen erwogen werden.
Es gibt bereits gute Evidenzen für den Nutzen von Checkpointinhibitoren bei metastasierten extraokulären Talgdrüsenkarzinomen, weshalb diese in solchen Fällen als Therapie der ersten Wahl gelten.
Welche Aussage zur Diagnostik von Talgdrüsenkarzinomen ist korrekt?
Die Entnahme einer Sentinellymphknotenbiopsie ist bei periokulären Talgdrüsenkarzinomen erst ab einem T4-Stadium nach UICC (Union internationale contre le cancer) zu erwägen.
Vor allem bei jungen Patient*innen sollte auch immer an ein Auftreten des Karzinoms in Assoziation mit einem Brooke-Spiegler-Syndrom gedacht werden.
Besonders periokuläre Talgdrüsenkarzinome können neben anderen epithelialen Malignomen auch benigne Läsionen und entzündliche Prozesse imitieren.
Aufgrund des aggressiven Verhaltens von extraokulären Talgdrüsenkarzinomen wird die Entnahme einer Sentinellymphknotenbiopsie empfohlen.
Ein Screening zur Identifizierung von Patient*innen mit periokulärem Talgdrüsenkarzinom, bei denen eine genetische Untersuchung durchgeführt werden sollte, muss mittels Mayo-Roberts-Risikoscore erfolgen.
Eine 49-jährige Grundschullehrerin stellt sich bei Ihnen mit einem Tumor an der rechten Wange vor. Sie entnehmen eine Probebiopsie und erhalten wenige Tage später den histopathologischen Befund mit der Diagnose "mikrozystisches Adnexkarzinom". Was ist nun zu tun?
Sie klären die Patientin über ihre schlechte Prognose auf, da diese Tumorentität häufig und früh metastasiert.
Da mikrozystische Adnexkarzinome erst bei Patient*innen über 60 Jahre vorkommen, ist die Diagnose grundsätzlich anzuzweifeln. Sie entnehmen eine erneute Probebiopsie.
Aufgrund der für diese Entität untypischen Lokalisation raten Sie der Patientin zu einer neoadjuvanten Monochemotherapie mit Daunorubicin.
Sie empfehlen der Patientin eine Radiotherapie mit einer Dosis von 50 Gy à 2 Gy-Fraktionen.
Aufgrund des lokal aggressiven Wachstumsverhaltens dieser Entität raten Sie zu einer mikrographisch kontrollierten Exzision des Tumors.
Welche Aussage zur Therapie von malignen Adnextumoren der Haut in fortgeschrittenen Stadien ist korrekt?
Bei der Therapie von fortgeschrittenen malignen Adnextumoren der Haut sollten multimodale Therapieregimes in Erwägung gezogen werden.
Eine Radiotherapie ist in fortgeschrittenen Stadien bei malignen Adnextumoren der Haut keine relevante Therapieoption.
Da maligne Adnextumoren der Haut nur in seltenen Fällen PD-L1 ("programmed cell death 1 ligand 1") exprimieren, ist der Einsatz von Checkpointinhibitoren meist nicht sinnvoll.
Für viele Entitäten konnte eine gute Wirksamkeit einer Chemotherapie nach ECF(Epirubicin, Cisplatin, 5‑Fluoruracil)-Schema bei Metastasierung nachgewiesen werden.
Bei malignen Adnextumoren der Haut ist auch in fortgeschrittenen Stadien eine alleinige operative Therapie in der Regel kurativ.
Bei einem 75-jährigen Patienten mit Talgdrüsenkarzinom ist bereits eine Therapie erfolgreich abgeschlossen. Worüber klären Sie den Patienten bezüglich der Nachsorge nun auf?
In den Jahren 1 bis 2 werden Nachsorgeuntersuchungen alle 12 Monate durchgeführt.
In den ersten 3 Jahren sollte alle 3 Monate eine Thoraxröntgenaufnahme in 2 Ebenen erfolgen.
Eine Lymphknotensonographie im Rahmen der Nachsorge ist für Patient*innen mit Talgdrüsenkarzinomen obsolet.
Eine besondere Nachsorge ist nach 1 Jahr nicht mehr notwendig.
Weiterführende bildgebende Maßnahmen wie etwa eine Computertomographie sollten risikoadaptiert veranlasst werden.
About this article
Cite this article
Nagel, P., Müller, V. & Utikal, J. Management von malignen Adnextumoren der Haut. Hautarzt 72, 619–632 (2021). https://doi.org/10.1007/s00105-021-04829-x
Accepted:

Published:

Issue Date:
Schlüsselwörter
Malignom

Porokarzinom

Talgdrüsenkarzinom

Mikrozystisches Adnexkarzinom

Histopathologie
Keywords
Malignancy

Porocarcinoma

Sebaceous gland neoplasms

Microcystic adnexal carcinoma

Histopathology