Zusammenfassung
Hyaluronsäure (Hyaluron; HA) ist eine wichtige Komponente der extrazellulären Matrix, die einen altersabhängigen Konzentrationsabfall zeigt. Während unvernetzte HA rasch abgebaut wird, zeigen Filler mit vernetzter HA Halbwertszeiten von 6 bis 12 Monaten. Diese Filler erfreuen sich zunehmender Beliebtheit in der ästhetischen Medizin und erlauben einen vielfältigen Einsatz. Obwohl HA-Filler Fibroblasten aktivieren können, ist dies für die langfristigen Effekte von untergeordneter Relevanz. Durch die Platzierung der Filler im subkutanen Fettgewebe kommt der Wechselwirkung mit somatischen Stammzellen und reifen Adipozyten eine größere Bedeutung zu. Tatsächlich führt vernetzte HA zur Proliferation von Präadipozyten, fördert die Differenzierung in reife Adipozyten und vermindert Seneszenz, Apoptose und Lipolyse reifer Adipozyten. Hieraus ergeben sich neue Perspektiven für die Entwicklung von Fillern für die ästhetische Medizin in der Zukunft.
Abstract
Hyaluronic acid (hyaluron; HA) is an important constituent of the extracellular matrix and has an age-dependent decrease in tissue concentration. While natural HA is rapidly degraded, filler cross-linked HA achieve a half-life of 6–12 months. Such fillers enjoy increasing popularity in esthetic medicine and are versatile tools. Although HA fillers can activate fibroblasts it is of minor importance for long-term results. Fillers are injected into subcutaneous adipose tissue. Their interaction with somatic stem cells and mature adipocytes has gained increasing interest. Cross-linked HA can indeed support proliferation of pre-adipocytes, stimulate their differentiation into mature adipocytes and protect the mature cells from senescence, apoptosis and lipolysis. This view offers a new perspective on the development of future fillers for esthetic medicine.
Access options
Buy single article
Instant access to the full article PDF.
US$ 39.95
Tax calculation will be finalised during checkout.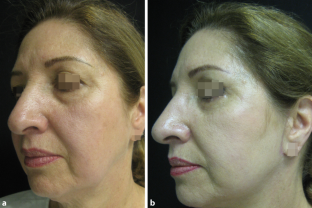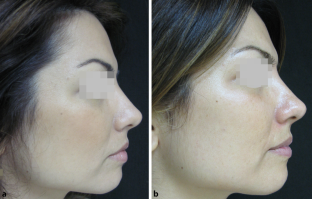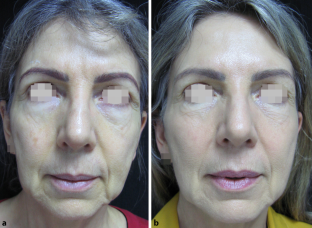 Literatur
1.

Wollina U, Goldman A (2011) Hyaluronic acid dermal fillers: safety and efficacy for the treatment of wrinkles, aging skin, body sculpturing and medical conditions. Clin Med Rev Ther 3:107–121

2.

Kablik J, Monheit GD, Yu L, Chang G, Gershkovich J (2009) Comparative physical properties of hyaluronic acid dermal fillers. Dermatol Surg 35(1):302–312

3.

La Gatta A, Salzillo R, Catalano C et al (2019) Hyaluronan-based hydrogels as dermal fillers: the biophysical properties that translate into a "volumetric" effect. PLoS ONE 14:e218287

4.

Longas MO, Russell CS, He XY (1987) Evidence for structural changes in dermatan sulfate and hyaluronic acid with aging. Carbohydr Res 159:127–136

5.

Kobayashi T, Chanmee T, Itano N (2020) Hyaluronan: metabolism and function. Biomolecules 10:E1525

6.

Bahrami SB, Tolg C, Peart T et al (2017) Receptor for hyaluronan mediated motility (RHAMM/HMMR) is a novel target for promoting subcutaneous adipogenesis. Integr Biol (Camb) 9:223–237

7.

Dokoshi T, Zhang LJ, Li F, Nakatsuji T et al (2020) Hyaluronan degradation by cemip regulates host defense against staphylococcus aureus skin infection. Cell Rep 30:61–68

8.

Burns PB, Rohrich RJ, Chung KC (2011) The levels of evidence and their role in evidence-based medicine. Plast Reconstr Surg 128:305–310

9.

Wollina U (2016) Facial rejuvenation starts in the midface: three-dimensional volumetric facial rejuvenation has beneficial effects on nontreated neighboring esthetic units. J Cosmet Dermatol 15:82–88

10.

Fan Y, Choi TH, Chung JH, Jeon YK, Kim S (2019) Hyaluronic acid-cross-linked filler stimulates collagen type 1 and elastic fiber synthesis in skin through the TGF-β/Smad signaling pathway in a nude mouse model. J Plast Reconstr Aesthet Surg 72:1355–1362

11.

Hahn HM, Lee WB, Lee IJ (2020) The effects of subcutaneously injected novel biphasic cross-linked hyaluronic acid filler: In vivo study. Aesthetic Plast Surg. https://doi.org/10.1007/s00266-020-02033-1

12.

Scarano A, Sbarbati A, Amore R et al (2020) The role of hyaluronic acid and amino acid against the aging of the human skin: a clinical and histological study. J Cosmet Dermatol. https://doi.org/10.1111/jocd.13811

13.

Wollina U, Brzezinski P (2019) Aesthetic dermatology: what's new, what's true? Dermatol Ther 32:e12623

14.

Zerbinati N, Calligaro A (2018) Calcium hydroxylapatite treatment of human skin: evidence of collagen turnover through picrosirius red staining and circularly polarized microscopy. Clin Cosmet Investig Dermatol 11:29–35

15.

Kruglikov I, Trujillo O, Kristen Q et al (2016) The facial adipose tissue: a revision. Facial Plast Surg 32:671–682

16.

Wan D, Amirlak B, Rohrich R, Davis K (2014) The clinical importance of the fat compartments in midfacial aging. Plast Reconstr Surg Glob Open 1:e92

17.

Wollina U, Goldman A, Abdel-Naser MB, Philipp-Dormston WG (2019) Adipose tissue, fillers, and skin tightening. Dermatol Ther 32:e12626

18.

Wollina U, Wetzker R, Abdel-Naser MB, Kruglikov IL (2017) Role of adipose tissue in facial aging. Clin Interv Aging 12:2069–2076

19.

Islam MT, Henson GD, Machin DR et al (2020) Aging differentially impacts vasodilation and angiogenesis in arteries from the white and brown adipose tissues. Exp Gerontol 142:111126

20.

Chang KH, Liao HT, Chen JP (2013) Preparation and characterization of gelatin/hyaluronic acid cryogels for adipose tissue engineering: in vitro and in vivo studies. Acta Biomater 9:9012–9026

21.

Xiao X, Yu L, Dong Z et al (2015) Adipose stem cell-laden injectable thermosensitive hydrogel reconstructing depressed defects in rats: filler and scaffold. J Mater Chem B Mater Biol Med 3:5635–5644

22.

Guo J, Guo S, Wang Y, Yu Y (2017) Adipose-derived stem cells and hyaluronic acid based gel compatibility, studied in vitro. Mol Med Rep 16:4095–4100

23.

Alessio N, Stellavato A, Squillaro T et al (2018) Hybrid complexes of high and low molecular weight hyaluronan delay in vitro replicative senescence of mesenchymal stromal cells: a pilot study for future therapeutic application. Aging (Albany NY) 10:1575–1585

24.

Nadra K, André M, Marchaud E et al (2020) A hyaluronic acid-based filler reduces lipolysis in human mature adipocytes and maintains adherence and lipid accumulation of long-term differentiated human preadipocytes. J Cosmet Dermatol. https://doi.org/10.1111/jocd.13794

25.

Huang SH, Lin YN, Lee SS et al (2015) New adipose tissue formation by human adipose-derived stem cells with hyaluronic acid gel in immunodeficient mice. Int J Med Sci 12:154–162

26.

Wollina U (2015) Midfacial rejuvenation by hyaluronic acid fillers and subcutaneous adipose tissue—a new concept. Med Hypotheses 84:327–330

27.

Kruglikov IL, Wollina U (2015) Soft tissue fillers as non-specific modulators of adipogenesis: change of the paradigm? Exp Dermatol 24:912–915

28.

Wollina U, Goldman A, Tchernev G (2017) Fillers and facial fat pads. Open Access Maced J Med Sci 5:403–408

29.

Rhee SM, You HJ, Han SK (2014) Injectable tissue-engineered soft tissue for tissue augmentation. J Korean Med Sci 29(3):S170–S175

30.

Giatsidis G, Succar J, Waters TD et al (2019) Tissue-engineered soft-tissue reconstruction using noninvasive mechanical preconditioning and a shelf-ready allograft adipose matrix. Plast Reconstr Surg 144:884–895

31.

Stellavato A, La Noce M, Corsuto L et al (2017) Hybrid complexes of high and low molecular weight hyaluronans highly enhance HASCs differentiation: implication for facial bioremodelling. Cell Physiol Biochem 44:1078–1092

32.

Kruglikov IL, Zhang Z, Scherer PE (2019) Caveolin‑1 in skin aging—from innocent bystander to major contributor. Ageing Res Rev 55:100959
Ethics declarations
Interessenkonflikt
U. Wollina und A. Goldman geben an, dass kein Interessenkonflikt besteht.
Für diesen Beitrag wurden von den Autoren keine Studien an Menschen oder Tieren durchgeführt. Für die aufgeführten Studien gelten die jeweils dort angegebenen ethischen Richtlinien. Für Bildmaterial oder anderweitige Angaben innerhalb des Manuskripts, über die Patienten zu identifizieren sind, liegt von ihnen und/oder ihren gesetzlichen Vertretern eine schriftliche Einwilligung vor.
About this article
Cite this article
Wollina, U., Goldman, A. Paradigmenwechsel im Verständnis der Wirkung von Hyaluronsäurefillern. Hautarzt (2021). https://doi.org/10.1007/s00105-021-04780-x
Schlüsselwörter
Ästhetische Medizin

Kollagen

Adipozyten

Seneszenz

Apoptose
Keywords
Esthetic medicine

Hyaluron

Fillers

Collagen

Adipocytes