Zusammenfassung
Die seltenen genetischen Tumorsyndrome zeichnen sich in der Regel durch ein familiär gehäuftes Auftreten von Tumorerkrankungen aus. Der Verdacht auf das Vorliegen eines genetischen Tumorsyndroms sollte gestellt werden, wenn es zu einer familiären Häufung bestimmter Krebsformen kommt oder Personen in jüngerem Alter erkranken. Einige der bisher bekannten genetischen Tumorsyndrome gehen mit typischen Hautveränderungen einher, die dem Kliniker bei der Diagnose helfen können. So finden sich z. B. bei dem Birt-Hogg-Dubé-Syndrom die charakteristischen Fibrofollikulome, beim Gardner-Syndrom unter anderem Epidermalzysten, Talgdrüsenzysten, Neurofibrome und beim Muir-Torre-Syndrom Talgdrüsenneoplasien oder Keratoakanthome. Bei Verdacht sollten eine molekulargenetische Diagnostik und eine genetische Beratung erfolgen. Letztere sollte auch für Familienmitglieder empfohlen werden. Die betroffenen Personen müssen sich in der Regel engmaschig interdisziplinär zu spezifischen Vorsorgeuntersuchungen vorstellen. Eine kausale Therapie von hereditären Tumorsyndromen besteht bisher nicht, sodass die Früherkennung in diesem Personenkreis den größten Stellenwert hat.
Abstract
Hereditary tumor syndromes are characterized by a familial occurrence of tumors/cancer. A hereditary tumor syndrome should be suspected if a familial occurrence of cancer is seen and/or persons at younger age are affected. Some of the currently known tumor syndromes are associated with specific skin symptoms that can aid the physician in establishing the correct diagnosis. Examples are fibrofolliculoma in Birt–Hogg–Dubé syndrome, epidermal cysts, sebaceous cysts, neurofibroma in Gardner syndrome and sebaceous neoplasms or keratoacanthoma in Muir–Torre syndrome. If a genetic tumor syndrome is suspected, genetic testing and counselling should be performed in the index patient and is also recommended for family members. Affected patients should be offered regular clinical surveillance by the appropriate medical disciplines. Since curative therapy does not exist so far, preventive screening is of great importance.
Access options
Buy single article
Instant access to the full article PDF.
US$ 39.95
Tax calculation will be finalised during checkout.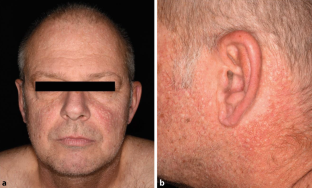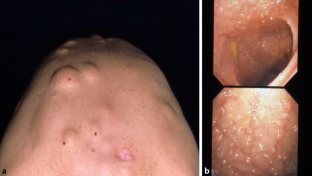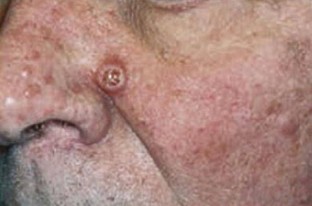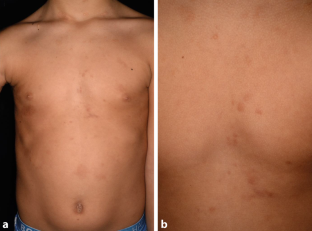 Literatur
1.

Karalis A, Tischkowitz M, Millington GW (2011) Dermatological manifestations of inherited cancer syndromes in children. Br J Dermatol 164(2):245–256

2.

Plewig G, Ruzicka Th, Kaufmann R, Hertl M (2018) Braun-Falco's Dermatologie, Venerologie und Allergologie, 7. Aufl. Springer, Heidelberg

3.

Napolitano G et al (2020) A substrate-specific mTORC1 pathway underlies Birt-Hogg-Dube syndrome. Nature 585(7826):597–602

4.

Daccord C et al (2020) Birt-Hogg-Dube syndrome. Eur Respir Rev 29(157). https://doi.org/10.1183/16000617.0042-2020

5.

Steinlein OK et al (2018) Birt-Hogg-Dube-Syndrom: ein zu selten diagnostiziertes erbliches Tumorsyndrom. J Dtsch Dermatol Ges 16(3):278–284

6.

Sattler EC et al (2020) Genetic risk factors for spontaneous pneumothorax in Birt-Hogg-Dube syndrome. Chest 157(5):1199–1206

7.

Sattler EC, Reithmair M, Steinlein OK (2018) Kidney cancer characteristics and genotype-phenotype-correlations in Birt-Hogg-Dube syndrome. PLoS ONE 13(12):e209504

8.

Hornstein OP, Knickenberg M (1975) Perifollicular fibromatosis cutis with polyps of the colon—a cutaneo-intestinal syndrome sui generis. Arch Dermatol Res 253(2):161–175

9.

Nahorski MS et al (2010) Investigation of the Birt-Hogg-Dube tumour suppressor gene (FLCN) in familial and sporadic colorectal cancer. J Med Genet 47(6):385–390

10.

Sattler EC et al (2018) Cutaneous melanoma in Birt-Hogg-Dube syndrome: part of the clinical spectrum? Br J Dermatol 178(2):e132–e133

11.

Menko FH et al (2009) Birt-Hogg-Dube syndrome: diagnosis and management. Lancet Oncol 10(12):1199–1206

12.

Sattler EC, Steinlein OK (1993) Birt-Hogg-Dube Syndrome. In: Adam MP et al (Hrsg) GeneReviews((R)). GeneReviews((R)), Seattle

13.

Charifa A, Jamil RT, Zhang X (2020) Gardner syndrome. StatPearls, Treasure Island

14.

Jasperson KW, Patel SG, Ahnen DJ (1993) APC-Associated Polyposis Conditions. In: Adam MP et al (Hrsg) GeneReviews((R)). GeneReviews((R)), Seattle

15.

Punatar SB et al (2012) Thyroid cancer in Gardner's syndrome: case report and review of literature. South Asian J Cancer 1(1):43–47

16.

Abbas O, Mahalingam M (2009) Cutaneous sebaceous neoplasms as markers of Muir-Torre syndrome: a diagnostic algorithm. J Cutan Pathol 36(6):613–619

17.

Hare HH et al (2008) Muir-Torre syndrome: a rare but important disorder. Cutis 82(4):252–256

18.

Bhaijee F, Brown AS (2014) Muir-Torre syndrome. Arch Pathol Lab Med 138(12):1685–1689

19.

Cohen PR, Kohn SR, Kurzrock R (1991) Association of sebaceous gland tumors and internal malignancy: the Muir-Torre syndrome. Am J Med 90(5):606–613

20.

Spielvogel RL, DeVillez RL, Roberts LC (1985) Oral isotretinoin therapy for familial Muir-Torre syndrome. J Am Acad Dermatol 12(3):475–480

21.

Salem OS, Steck WD (1983) Cowden's disease (multiple hamartoma and neoplasia syndrome). A case report and review of the English literature. J Am Acad Dermatol 8(5):686–696

22.

Pilarski R (2009) Cowden syndrome: a critical review of the clinical literature. J Genet Couns 18(1):13–27

23.

Tan MH et al (2012) Lifetime cancer risks in individuals with germline PTEN mutations. Clin Cancer Res 18(2):400–407

24.

Bowen S et al (2005) Mutations in the CYLD gene in Brooke-Spiegler syndrome, familial cylindromatosis, and multiple familial trichoepithelioma: lack of genotype-phenotype correlation. J Invest Dermatol 124(5):919–920

25.

Young AL et al (2006) CYLD mutations underlie Brooke-Spiegler, familial cylindromatosis, and multiple familial trichoepithelioma syndromes. Clin Genet 70(3):246–249

26.

Pizinger K, Michal M (2000) Malignant cylindroma in Brooke-Spiegler syndrome. Dermatology 201(3):255–257

27.

Antonescu CR, Terzakis JA (1997) Multiple malignant cylindromas of skin in association with basal cell adenocarcinoma with adenoid cystic features of minor salivary gland. J Cutan Pathol 24(7):449–453

28.

Vandersteen A et al (2009) Cutaneous signs are important in the diagnosis of the rare neoplasia syndrome Carney complex. Eur J Pediatr 168(11):1401–1404

29.

Young WF Jr. et al (1989) Familial Cushing's syndrome due to primary pigmented nodular adrenocortical disease. Reinvestigation 50 years later. N Engl J Med 321(24):1659–1664

30.

Stratakis CA, Kirschner LS, Carney JA (2001) Clinical and molecular features of the Carney complex: diagnostic criteria and recommendations for patient evaluation. J Clin Endocrinol Metab 86(9):4041–4046

31.

Wilkes D, McDermott DA, Basson CT (2005) Clinical phenotypes and molecular genetic mechanisms of Carney complex. Lancet Oncol 6(7):501–508

32.

Correa R, Salpea P, Stratakis CA (2015) Carney complex: an update. Eur J Endocrinol 173(4):M85–97
Ethics declarations
Interessenkonflikt
L.H. Frommherz, O.K. Steinlein, L.E. French und E.C. Sattler geben an, dass kein Interessenkonflikt besteht.
Für diesen Beitrag wurden von den Autoren keine Studien an Menschen oder Tieren durchgeführt. Für die aufgeführten Studien gelten die jeweils dort angegebenen ethischen Richtlinien. Für Bildmaterial oder anderweitige Angaben innerhalb des Manuskripts, über die Patienten zu identifizieren sind, liegt von ihnen und/oder ihren gesetzlichen Vertretern eine schriftliche Einwilligung vor.
About this article
Cite this article
Frommherz, L.H., Steinlein, O.K., French, L.E. et al. Tumorassoziierte Genodermatosen. Hautarzt 72, 288–294 (2021). https://doi.org/10.1007/s00105-021-04779-4
Accepted:

Published:

Issue Date:
Schlüsselwörter
Hereditäre Tumorsyndrome

Muir-Torre-Syndrom

Cowden-Syndrom

Carney-Komplex

Birt-Hogg-Dubé-Syndrom
Keywords
Hereditary tumor syndrome

Birt-Hogg-Dubé syndrome

Muir-Torre syndrome

Cowden syndrome

Carney complex