Zusammenfassung
Die Haut ist bei neuroendokrinen paraneoplastischen Syndromen (PNS) häufig Zielorgan. Durch in der Haut exprimierte Rezeptoren, teils auch indirekt, werden hierbei Schlüsselsymptome hervorgerufen, die für die Diagnose eines PNS in einem frühen Stadium richtungsweisend sein können. So kommt es bei der Akromegalie durch die aktivierte Wachstumshormon-Insulin-like-growth-Faktor-1-Achse zu trophischen Störungen an den Akren und Schleimhäuten inklusive Cutis verticis gyrata. Die Hautsymptome eines nichtiatrogenen Cushing-Syndroms sind ident mit den Veränderungen einer protrahierten Glukokortikoideinnahme: zentripetale Fettumverteilung, Plethora und Striae distensae. Anfallsartiger Flush des Gesichts und oberen Rumpfes (in Verbindung mit explosionsartiger Diarrhö) ist dagegen das Schlüsselsymptom bei sekretorischen Karzinoiden, seltener kommt es nicht nur am Herzen und im Peritonealraum, sondern auch in der Haut zu fibrotischen Umbauprozessen durch die Wirkung von 5‑Hydroxytryptamin (Serotonin, 5‑HT) an HT2B-Rezeptoren in Fibroblasten. Bei Androgen produzierenden Tumoren kommt es ebenfalls rezeptorvermittelt zu kutanen Leitsymptomen des peripheren Hyperandrogenismus an der Haut: Seborrhö, Akne, Hirsutismus und androgenetische Alopezie, während die Pathogenese des nekrolytischen migratorischen Erythems bei Glukagonomen immer noch unzureichend verstanden und eine Hypoaminoazidämie vermutet wird. Die vorliegende Übersicht schildert die Klinik neuroendokriner PNS mit Hautbeteiligung, erläutert die zugrunde liegende Pathophysiologie, nennt Differenzialdiagnosen und skizziert das diagnostische und prinzipielle therapeutische Procedere. Ein interdisziplinäres Patientenmanagement ist essenziell für die optimale Betreuung aller Patienten mit neuroendokrinen PNS.
Abstract
Skin is commonly affected by neuroendorine paraneoplastic syndromes (PNS). This is due to the expression of receptors in the skin by which abnormally secreted neuroendocrine hormones and mediators elicit directly, and indirectly, cutaneous key signs and thus facilitate early diagnosis of these diseases. In acromegaly, induction of the growth hormone-insulin-like growth factor‑1 axis results in trophic changes of the acral portions of the skin and mucosal membranes including cutis verticis gyrata. The skin signs of non-iatrogenic Cushing syndrome are identical with those of exogenous prolonged intake of glucocorticoids: centripetal accumulation of adipose tissue, plethora and striae distensae. Episodic flushing of the face and trunk (together with explosive diarrhea) is a key feature of carcinoid tumors. Fibrotic remodeling of the heart and retroperitoneal space, and less commonly of the skin, are important complications mediated by abnormally secreted 5‑hydroxytryptamine (serotonin, 5‑HT), the latter eliciting profibrotic responses on HT2B-receptor-expressing fibroblasts. Androgen-secreting tumors lead to well-established receptor-mediated cutaneous signs of peripheral hyperandrogenisms: seborrhea, acne, hirsutism, and androgenetic alopecia. In contrast, the pathogenesis of necrolytic migratory erythema as a key feature of glucagonoma remains incompletely understood and is thought to be related to hypoaminoacidemia. This review summarizes the clinical features of neuroendocrine PNS with skin involvement, elucidates its underlying pathophysiology, lists differential diagnoses, and explains key diagnostic steps and principal therapeutic options. An interdisciplinary approach is essential to provide the best care of all patients with neuroendocrine PNS.
Access options
Buy single article
Instant access to the full article PDF.
US$ 39.95
Tax calculation will be finalised during checkout.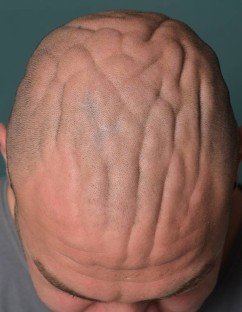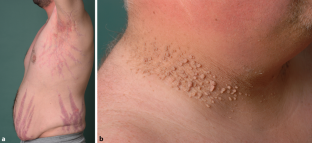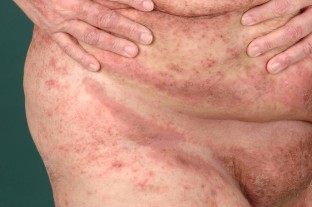 Literatur
1.

Abreu Velez AM, Howard MS (2010) Diagnosis and treatment of cutaneous paraneoplastic syndromes. Dermatol Ther 23:662–675

2.

Amitai BD, Lurie R, Laron Z (2006) I‑GF‑1 signalling controls the hair growth cycle and the differentiation of hair shafts. J Invest Dermatol 126:2135

3.

Böhm M (2020) Melanocortin peptides: Fundamentals, translational research, clinical dermatology, and future perspectives. Hautarzt 71:741–751

4.

Clement D, Ramage J, Srirajaskanthan R (2020) Update on pathophysiology, treatment and complications of carcinoid syndrome. J Oncol. https://doi.org/10.1155/2020/8341426

5.

Dees C, Akhmetshina A, Zerr P, Reich N, Palumbo K, Horn A, Jüngel A, Beyer C, Krönke G, Zwerina J, Reiter R, Alenina N, Maroteaux L, Gay S, Schett G, Distler O, Distler JH (2011) Platelet-derived serotonin links vascular disease and tissue fibrosis. J Exp Med 208:961–972

6.

Deihim T, Rad NK, Abbaszadeh M, Reyhan SK (2019) Facial hyperpigmentation: any link to cancer? Adv J Emergency Med 3:e9

7.

Foitzik K, Krause K, Conrad F, Nakamura M, Funk W, Paus R (2006) Human scalp hair follicles are both a target and a source of prolactin, which serves as an autocrine and/or paracrine promoter of apoptosis-driven hair follicle regression. Am J Pathol 168:748–756

8.

Guilmette J, Nosé V (2019) Paraneoplastic syndromes and other systemic disorders associated with neuroendocrine neoplasms. Semin Diagn Pathol 36:229–223

9.

Holst JJ, Wewer Albrechtsen NJ, Pedersen J, Knop FK (2017) Glucagon and amino acids are linked in a mutual feedback cycle: the liver-alpha-cell axis. Diabetes 66:235–240

10.

John AM, Schwartz RA (2016) Glucagenoma syndrome: a review and update of treatment. J Eur Acad Dermatol Venereol 30:2016–2022

11.

Kanaka-Gantenbein C, Kogla C, Abdel-Naser MB, Chrousos GP (2016) Skin manifestatoations of growth hormone-induced diseases. Rev Endocrinol Metab Disord 17:259–267

12.

Koch K, Grayson W (2019) Carcinoid syndrome-induced scleroderma-like disease. Dermatopathology 6:99–104

13.

Makrantonaki E, Zouboulis CC (2020) Hyperandrogenism, adrenal dysfunction, and hirsutism. Hautarzt 71:752–761

14.

McDonell JE, Gild ML, Clifton-Bligh RJ, Robinson BG (2019) Multiple endocrine neoplasia: an update. Int Med J 49:954–961

15.

Orfanos CE, Adler YD, Zouboulis CC (2000) The SAHA syndrome. Horm Res 54:251–258

16.

de Celis Ferrari RAC, Glasberg J, Riechelmann RP (2018) Carcoid syndrome: update on the pathophysiology and treatment. Clinics 73(suppl 1):e490s

17.

Schernthaner-Reiter MH, Trivellin G, Stratakis CA (2016) MEN1, MEN4, and Carney complex: patholoy and molecular genetics. Neuroendocrinology 103:18–31

18.

Winther-Sørensen M, Galsgaard KD, Santos A, Trammell SAJ, Sulek K, Kuhre RE, Pedersen J, Andersen DB, Hassing AS, Dall M, Treebak JT, Gillum MP, Torekov SS, Windeløv JA, Hunt JE, Kjeldsen SAS, Jepsen SL, Vasilopoulou CG, Knop FK, Ørskov C, Werge MP, Bisgaard HC, Eriksen PL, Vilstrup H, Gluud LL, Holst JJ, Wewer Albrechtsen NJ (2020) Glucagon acutely regulates hepatic amino acid catabolism and the effect may be disturbed by steatosis. Mol Metab 42:101080

19.

Schunter JA, Metze D, Böhm M (2017) Is IGF‑1 a key player in the pathogenesis of acromegaly-associated cutis verticis gyrata? Exp Dermatol 26:85–86

20.

Tolliver S, Graham J, Kaffenberger BJ (2018) A review of cutaneous manifestations within glucagonoma syndrome: necrolytic migratory erythema. Int J Dermatol 57:642–645

21.

Vilar L, Vilar CF, Lyra R, Lyra R, Naves LA (2017) Acromegaly: clinical features at diagnosis. Pituitary 20:22–32

22.

Ye L, Li X, Kong X, Wang W, Bi Y, Hu L, Cui B, Li X, Ning G (2005) Hypomethylation in the promoter region of POMC gene correlates with ectopic overexpression in thymic carcinoids. J Endocrinol 185:337–334

23.

Zhang C, Jin J, Xie J, Ye L, Su T, Jiang L, Zhou W, Jiang Y, Wu L, Wang T, Zhong X, Ning G, Shen B, Wang W (2020) The clinical features and molecular mechanisms of ACTH-secreting pancreatic neuroendocrine tumors. J Clin Endocrinol Metab 105:dgaa507
Ethics declarations
Interessenkonflikt
M. Böhm und R. Gellner geben an, dass kein Interessenkonflikt besteht.
Für diesen Beitrag wurden von den Autoren keine Studien an Menschen oder Tieren durchgeführt. Für die aufgeführten Studien gelten die jeweils dort angegebenen ethischen Richtlinien. Für Bildmaterial oder anderweitige Angaben innerhalb des Manuskripts, über die Patienten zu identifizieren sind, liegt von ihnen und/oder ihren gesetzlichen Vertretern eine schriftliche Einwilligung vor.
About this article
Cite this article
Böhm, M., Gellner, R. Neuroendokrine paraneoplastische Syndrome. Hautarzt 72, 299–306 (2021). https://doi.org/10.1007/s00105-021-04778-5
Accepted:

Published:

Issue Date:
Schlüsselwörter
Akromegalie

Cushing-Syndrom

Karzinoid

Glukagonom

Virilisierung
Keywords
Acromegaly

Cushing syndrome

Carcinoid

Glucagonoma

Virilization