Zusammenfassung
Hintergrund
Hyperplasie-assoziierte obligate kutane Paraneoplasien stellen eine wichtige Differenzialdiagnose im klinischen Alltag dar. Durch eine frühzeitige Diagnosestellung der zugrunde liegenden Tumorerkrankung kann die Prognose des Patienten entscheidend verbessert werden.
Pathogenese
Die Hyperplasie ist wahrscheinlich vor allem zytokinvermittelt. Der Primärtumor und/oder die Metastasen schütten Wachstumsfaktoren und Transkriptionsfaktoren aus, die über Bindung an epidermale Rezeptoren zu Hyperproliferation von Keratinozyten führen.
Acanthosis nigricans maligna
Auffallend sind symmetrische, vor allem intertriginöse Hyperpigmentierungen mit teilweise verrukösen Hyperplasien und Lichenifikation meist in Assoziation mit Adenokarzinomen des Magens. Sonderformen sind die floride kutane Papillomatose und "tripe palms". Abzugrenzen ist die Pseudoacanthosis nigricans bei Stoffwechsel- und hormonellen Störungen.
Leser-Trélat-Syndrom
Es kommt zu einem eruptiven Auftreten von Verrucae seborrhoicae assoziiert mit viszeralen Tumoren.
Acrokeratosis Bazex
Charakteristisch sind Erythem und Schuppung an den initialen Prädilektionsstellen Nasenrücken, Ohrhelix und Akren mit späterer Ausbreitung bei Tumoren des oberen Aerodigestivsystems. Klinisch ist die Acrokeratosis Bazex von einer Psoriasis abzugrenzen.
Therapie
Entscheidend ist die Behandlung des Primärtumors, wodurch es auch zum Rückgang der Hautsymptome kommt. Rekurrenz spricht für ein Tumorrezidiv.
Abstract
Background
Hyperplasia-associated cutaneous paraneoplasia is an important differential diagnosis in everyday clinical practice. An early diagnosis of the underlying tumor disease can significantly improve the patient's prognosis.
Pathogenesis
Hyperplasia is probably mainly cytokine-mediated. The primary tumor and/or the metastases release growth factors and transcription factors which, via epidermal growth factors, lead to hyperproliferation of keratinocytes.
Acanthosis nigricans maligna
Symmetrical mainly intertriginous hyperpigmentation with partially verrucous hyperplasia and lichenification mostly in association with gastric adenocarcinoma. Special forms are florid cutaneous papillomatosis and tripe palms. Pseudoacanthosis nigricans is to be distinguished (metabolic and hormonal disorders).
Leser–Trélat syndrome
Eruptive occurrence of seborrheic keratosis associated with visceral tumors.
Acrokeratosis Bazex
Erythema and scaling initially at the bridge of the nose, ear helix and acra with later spread, associated with tumors of the upper aerodigestive system. It should be clinically differentiated from psoriasis.
Therapy
The treatment of the primary tumor is decisive, which also leads to a decrease of cutaneous symptoms. Reappreance suggests tumor recurrence.
Access options
Buy single article
Instant access to the full article PDF.
US$ 39.95
Tax calculation will be finalised during checkout.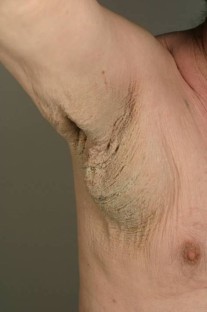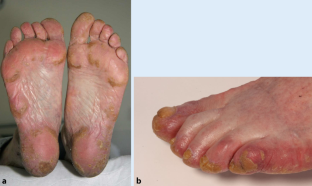 Literatur
1.

Ackerman AB, Lantis LR (1967) Acanthosis nigricans associated with Hodgkin's disease. Concurrent remission and exacerbation. Arch Dermatol 95:202–205

2.

Bazex A, Griffiths A (1980) Acrokeratosis paraneoplastica—a new cutaneous marker of malignancy. Br J Dermatol 103:301–306

3.

Bolognia JL, Brewer YP, Cooper DL (1991) Bazex syndrome (acrokeratosis paraneoplastica). An analytic review. Medicine (Baltimore) 70:269–280

4.

Braun-Falco O, Plewig G, Wolff HH et al (2005) Dermatologie und Venerologie

5.

Chiba T, Shitomi T, Nakano O et al (1996) The sign of Leser-Trelat associated with esophageal carcinoma. Am J Gastroenterol 91:802–804

6.

Coffey RJ Jr, Derynck R, Wilcox JN et al (1987) Production and auto-induction of transforming growth factor-alpha in human keratinocytes. Nature 328:817–820

7.

Curth HO (1948) Acanthosis nigricans and its association with cancer. Arch Derm Syphilol 57:158–170

8.

Ehst BD, Minzer-Conzetti K, Swerdlin A et al (2010) Cutaneous manifestations of internal malignancy. Curr Probl Surg 47:384–445

9.

Ellis DL, Kafka SP, Chow JC et al (1987) Melanoma, growth factors, acanthosis nigricans, the sign of Leser-Trélat, and multiple acrochordons. A possible role for alpha-transforming growth factor in cutaneous paraneoplastic syndromes. N Engl J Med 317:1582–1587

10.

Fritsch P, Schwartz T (2018) Dermatologie Venerologie. Spinger, Berlin, Heidelberg

11.

Funakawa T, Fujishiro N (1994) Colon cancer with the sign of Leser-Trélat. Ryoikibetsu Shokogun Shirizu 6:42–44

12.

Heaphy MR Jr, Millns JL, Schroeter AL (2000) The sign of Leser-Trélat in a case of adenocarcinoma of the lung. J Am Acad Dermatol 43:386–390

13.

Holdiness MR (1988) On the classification of the sign of Leser-Trélat. J Am Acad Dermatol 19:754–757

14.

Holländer E (1900) Beiträge zur Frühdiagnose des Darmcarcinoms (Hereditätsverhältnisse und Hautveränderungen). Dtsch Med Wochenschr 26:483–485

15.

Jepsen RK, Skov AG, Skov BG (2014) Leser-Trélat syndrome in malignant mesothelioma and pulmonary adenocarcinoma: Is the EGFR pathway part of the syndrome? Virchows Arch 464:117–120

16.

Koyama S, Ikeda K, Sato M et al (1997) Transforming growth factor-alpha (TGF alpha)-producing gastric carcinoma with acanthosis nigricans: an endocrine effect of TGF alpha in the pathogenesis of cutaneous paraneoplastic syndrome and epithelial hyperplasia of the esophagus. J Gastroenterol 32:71–77

17.

Krawczyk M, Mykała-Cieśla J, Kołodziej-Jaskuła A (2009) Acanthosis nigricans as a paraneoplastic syndrome. Case reports and review of literature. Pol Arch Med Wewn 119:180–183

18.

Lenzner U, Raumsauer J, Petzoldt W et al (1998) Acanthosis nigricans maligna Fallbeschreibung und Literaturübersicht. Hautarzt 49:41–47

19.

McCrary ML, Davis LS (1998) Sign of Leser-Trélat and mycosis fungoides. J Am Acad Dermatol 38:644

20.

Millard LG, Gould DJ (1976) Hyperkeratosis of the palms and soles associated with internal malignancy and elevated levels of immunoreactive human growth hormone. Clin Exp Dermatol 1:363–368

21.

Mutasim DF, Meiri G (1999) Bazex syndrome mimicking a primary autoimmune bullous disorder. J Am Acad Dermatol 40:822–825

22.

Pipkin CA, Lio PA (2008) Cutaneous manifestations of internal malignancies: an overview. Dermatol Clin 26:1–15

23.

Popa ML, Popa AC, Tanase C et al (2019) Acanthosis nigricans: to be or not to be afraid. Oncol Lett 17:4133–4138

24.

Schwartz RA, Burgess GH (1978) Florid cutaneous papillomatosis. Arch Dermatol 114:1803–1806

25.

da Silva JA, de Carvalho Mesquita K, de Souza Machado Igreja AC et al (2013) Paraneoplastic cutaneous manifestations: concepts and updates. An Bras Dermatol 88:9–22

26.

Stieler W, Plewig C (1986) Acanthosis nigricans maligna and Leser-Trélat Zeichen bei Doppelmalignom von Mamma und Magen. Z Hautkr 62:344–366

27.

Stuart CA, Driscoll MS, Lundquist KF et al (1998) Acanthosis nigricans. J Basic Clin Physiol Pharmacol 9:407–418

28.

Tahara E (1990) Growth factors and oncogenes in human gastrointestinal carcinomas. J Cancer Res Clin Oncol 116:121–131

29.

Torley D, Bellus GA, Munro CS (2002) Genes, growth factors and acanthosis nigricans. Br J Dermatol 147:1096–1101

30.

Yamamoto T, Yokoyama A (1996) Hereditary onset of multiple seborrheic keratoses: a variant of Leser Trélat sign? J Dermatol 23:191–195
Ethics declarations
Interessenkonflikt
M.F. Schmidt, M. Schaller und L.C. Schmitt geben an, dass kein Interessenkonflikt besteht.
Für diesen Beitrag wurden von den Autoren keine Studien an Menschen oder Tieren durchgeführt. Alle Patienten, die über Bildmaterial oder anderweitige Angaben innerhalb des Manuskripts zu identifizieren sind, haben hierzu ihre schriftliche Einwilligung gegeben.
About this article
Cite this article
Schmidt, M.F., Schaller, M. & Schmitt, L.C. Hyperplasie-assoziierte obligate Paraneoplasien der Haut. Hautarzt 72, 295–298 (2021). https://doi.org/10.1007/s00105-021-04777-6
Accepted:

Published:

Issue Date:
Schlüsselwörter
Kutane Paraneoplasien

Acanthosis nigricans maligna

Leser-Trélat-Syndrom

Acrokeratosis

Bazex-Syndrom
Keywords
Cutaneous paraneoplasia

Acanthosis nigricans maligna

Leser-Trélat syndrome

Acrokeratosis

Bazex syndrome