Zusammenfassung
Es ist der Aufbau einer berufsdermatologischen Kohorte am Universitätsklinikum Heidelberg vorgesehen. In einer 3‑jährigen prospektiven multizentrischen Kohortenstudie wird ein neues Diagnostikum, der sog. molekulare Klassifikator, bei mindestens 262 berufsdermatologischen Patienten eingesetzt, um Psoriasis und Ekzem zu differenzieren. Als Kontrollgruppe dient eine Kohorte von 282 berufsdermatologischen Patienten, bei denen die gleiche Verdachtsdiagnose gestellt, aber nicht der molekulare Klassifikator eingesetzt worden war. In 5 Nachbefragungen über 3 Jahre werden insbesondere Daten zu Diagnosen, Krankheitsverlauf und -schwere, Zeiten der Arbeitsunfähigkeit, Berufsverbleib und Lebensqualität erhoben. Es soll gezeigt werden, dass eine frühzeitige Diagnosestellung insbesondere die Auswahl der Therapie, den Krankheitsverlauf, die Anzahl der Fehltage beeinflusst. Die Studie wird von der Deutschen Gesetzlichen Unfallversicherung (DGUV) gefördert.
Abstract
A cohort of occupational dermatology patients will be set up at the University Hospital Heidelberg, Germany. In a 3-year prospective cohort study, the so-called molecular classifier will be applied in 262 patients to better differentiate between eczema and psoriasis. A retrospective cohort of 282 occupational health patients with the same suspected diagnosis but no molecular classifier designation was used as a control group. In 5 follow-up visits during 3 years, data will be obtained on diagnoses, disease course and severity, absence from work, occupation and quality of life. The research questions address whether early diagnoses will help to better identify the efficient treatment, disease course, absence from work and continuance of occupation. The study is sponsored by the public statutory employers' liability insurance (Deutsche Gesetzliche Unfallversicherung [DGUV]).
Access options
Buy single article
Instant access to the full article PDF.
US$ 39.95
Tax calculation will be finalised during checkout.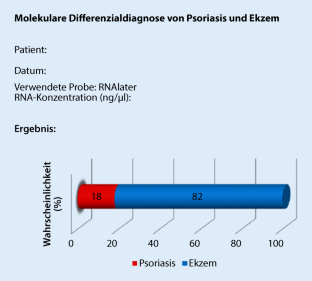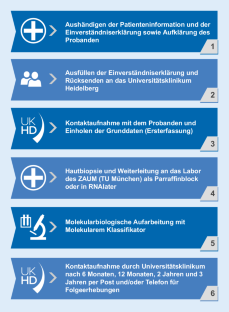 Literatur
1.

Ofenloch R, Weisshaar E (2019) Epidemiologie des Handekzems in Deutschland: Ein Rückblick auf die letzten 10 Jahre Handekzemforschung in Deutschland. Hautarzt 70:766–772

2.

Kolesnik M, Franke I, Lux A, Quist SR, Gollnick HP (2018) Eczema in psoriatico: an important differential diagnosis between chronic allergic contact dermatitis and psoriasis in palmoplantar localization. Acta Derm Venereol 98(1):50–58

3.

Skudlik C, Weisshaar E, Scheidt R, Elsner P, Wulfhorst B, Schönfeld M, John SM, Diepgen TL, ROQ Study Group (2012) First results from the multicentre study rehabilitation of occupational skin diseases-optimization and quality assurance of inpatient management (ROQ). Contact Derm 66(3):140–147

4.

Berthold E, Weisshaar E (2019) Therapie des Handekzems. Hautarzt 70:790–796

5.

Mahler V, Diepgen TL, Becker D, Dickel H, Fartasch M, Geier J, Häberle M, Hillen U, Krohn S, John SM, Weisshaar E, Werfel T, Zagrodnik F (2014) Psoriasis als anlagebedingte Hauterkrankung in der Berufsdermatologie. J Dtsch Dermatol Ges 12(6):519–529

6.

Weisshaar E, Gazorz-Stark N, Eyerich K (2018) Ekzem oder Psoriasis? Eine spezielle Herausforderung in der Berufsdermatologie. Dermatosen Beruf Umw 66(3):113–119

7.

Quaranta M, Knapp B, Garzorz N, Mattii M, Pullabhatla V, Pennino D, Andres C, Traidl-Hoffmann C, Cavani A, Theis FJ, Ring J, Schmidt-Weber CB, Eyerich S, Eyerich K (2014) Intraindividual genome expression analysis reveals a specific molecular signature of psoriasis and eczema. Sci Transl Med 6:244ra90

8.

Garzorz N, Krause L, Lauffer F, Atenhan A, Thomas J, Stark SP, Franz R, Weidinger S, Balato A, Mueller AS, Theis FJ, Ring J, Schmidt-Weber CB, Biedermann T, Eyerich S, Eyerich K (2016) A novel molecular disease classifier for psoriasis and eczema. Exp Dermatol 25(10):767–774

9.

Garzorz-Stark N, Eyerich K (2019) Molekulare Diagnostik des Handekzems. Hautarzt 70:760–765

10.

Ofenloch RF, Weisshaar E, Apfelbacher C (2020) New evidence for construct validity and interpretability of the German Quality of Life in Hand Eczema Questionnaire (QOLHEQ). Contact Derm 83(3):189–195
Förderung
Die vorgestellte Studie wird von der Deutschen Gesetzlichen Unfallversicherung (DGUV) als Forschungsprojekt FB 323 unterstützt.
Ethics declarations
Interessenkonflikt
P. Bentz, K. Eyerich, K. Weber, L. Kluge, R. Ofenloch und E. Weisshaar geben an, dass kein Interessenkonflikt besteht.
About this article
Cite this article
Bentz, P., Eyerich, K., Weber, K. et al. Kohortenstudie zur Langzeitbeobachtung von Patienten, bei denen der sog. "molekulare Klassifikator" zur Unterscheidung von Ekzem und Psoriasis eingesetzt wurde. Hautarzt 72, 354–357 (2021). https://doi.org/10.1007/s00105-021-04774-9
Accepted:

Published:

Issue Date:
Schlüsselwörter
Berufsdermatologie

Handekzem

Lebensqualität

Diagnostikum

Krankheitsverlauf
Keywords
Occupational dermatology

Hand eczema

Quality of life

Differential diagnosis

Disease progression