Zusammenfassung
Die optische Kohärenztomographie (OCT) und die konfokale Lasermikroskopie (KLM) ermöglichen eine nichtinvasive bildgebende Diagnostik der Haut. Gerade weil bei Kindern die Indikation für eine Hautbiopsie eher zurückhaltend gestellt wird, können OCT und KLM für die Abklärung von kindlichen Hautveränderungen hilfreich sein. Außerdem stellen Biopsien immer nur eine Momentaufnahme eines kleinen Bezirkes der Haut dar, während die nichtinvasiven Methoden ermöglichen, mehrere Lokalisationen im Zeitverlauf zu untersuchen, sodass auch dynamische Veränderungen und Therapieverläufe sichtbar gemacht werden können. In der pädiatrischen Dermatologie eignen sie sich insbesondere zur Abklärung atypischer Pigmentläsionen, bei infektiösen Dermatosen wie Skabies oder Tinea und zur Diagnostik entzündlicher und degenerativer Dermatosen.
Abstract
Optical coherence tomography (OCT) and reflectance confocal laser microscopy (RCM) allow noninvasive imaging diagnostics of the skin. Since the indication for a biopsy in children is generally made cautiously, OCT and KLM can be helpful in the clarification of pediatric skin lesions. In addition, biopsies only represent a snapshot of a small area of the skin, while noninvasive methods allow several locations to be examined over time, so that dynamic changes and the course of therapy can also be determined. In pediatric dermatology, these diagnostic methods are particularly suitable for the clarification of atypical pigment lesions, for infectious dermatoses such as scabies or tinea, and for the diagnosis of inflammatory and degenerative dermatoses.
Access options
Buy single article
Instant access to the full article PDF.
US$ 39.95
Tax calculation will be finalised during checkout.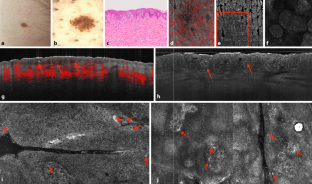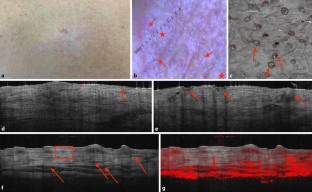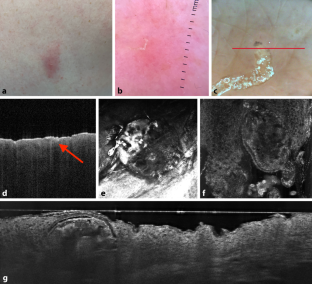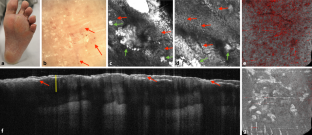 Literatur
1.

Abuzahra F, Spöler F, Först M, Brans R, Erdmann S, Merk HF, Obrigkeit DH (2010) Pilot study: optical coherence tomography as a non-invasive diagnostic perspective for real time visualisation of onychomycosis. Mycoses 53:334–339

2.

Banzhaf CA, Themstrup L, Ring HC, Welzel J, Mogensen M, Jemec GB (2013) In vivo Imaging of Sarcoptes scabiei infestation using optical coherence tomography. Case Rep Dermatol 5:156–162

3.

Cinotti E, Labeille B, Cambazard F, Biron AC, Chol C, Leclerq A, Jaffelin C, Perrot JL (2016) Videodermoscopy compared to reflectance confocal microscopy for the diagnosis of scabies. J Eur Acad Dermatol Venereol 30:1573–1577

4.

Ferrari C, Longo C, Stanganelli I, Magi S, Mazzoni L, Pellacani G, Argenziano G, Ribero S, Moscarella E (2017) Evolution of Spitz naevi: a dermoscopic and confocal follow-up of 26 cases. Br J Dermatol 176:1098–1100

5.

Francisco G, Eilers S, Haroon A, Virmani P, Cha J, Pappert A, Rao B (2018) No wonder it itches: quick bedside visualization of a scabies infestation using reflectance confocal microscopy. J Cutan Pathol 45:877–879

6.

Fustà-Novell X, Morgado-Carrasco D, Alejo B, Riera-Monroig J, Puig S (2020) Diagnosis and treatment response monitoring of scabies with reflectance confocal microscopy: a diagnostic pearl. Indian J Dermatol Venereol Leprol 86:101–103

7.

Guida S, Pellacani G, Cesinaro AM, Moscarella E, Argenziano G, Farnetani F, Bonamonte D, Longo C (2016) Spitz naevi and melanomas with similar dermoscopic patterns: can confocal microscopy differentiate? Br J Dermatol 174:610–616

8.

Iriarte C, Rao B, Haroon A, Kirkorian AY (2018) Acral pigmented Spitz nevus in a child with transepidermal migration of melanocytes: Dermoscopic and reflectance confocal microscopic features. Pediatr Dermatol 35:e99–e102

9.

Jacquemus J, Debarbieux S, Depaepe L, Amini M, Balme B, Thomas L (2016) Reflectance confocal microscopy of extra-genital lichen sclerosus atrophicus. Skin Res Technol 22:255–258

10.

Kreuter A, Gambichler T, Sauermann K, Jansen T, Altmeyer P, Hoffmann K (2002) Extragenital lichen sclerosus successfully treated with topical calcipotriol: evaluation by in vivo confocal laser scanning microscopy. Br J Dermatol 146:332–333

11.

Lacarrubba F, Pellacani G, Verzì AE, Pippione M, Micali G (2015) Extragenital lichen sclerosus: clinical, dermoscopic, confocal microscopy and histologic correlations. J Am Acad Dermatol 72:S50–S52

12.

Lallas A, Apalla Z, Ioannides D, Lazaridou E, Kyrgidis A, Broganelli P, Alfano R, Zalaudek I, Argenziano G (2017) International Dermoscopy Society. Update on dermoscopy of Spitz/Reed naevi and management guidelines by the International Dermoscopy Society. Br J Dermatol 177:645–655

13.

Liansheng Z, Xin J, Cheng Q, Zhiping W, Yanqun L (2013) Diagnostic applicability of confocal laser scanning microscopy in tinea corporis. Int J Dermatol 52:1281–1282

14.

Mandel VD, Manfredini M, Giusti F, Pellacani G, Alessandrini A, Piraccini BM, Starace M (2019) The importance of reflectance confocal microscopy for the diagnosis and the follow-up of tinea capitis. G Ital Dermatol Venereol 154:591–593

15.

Mazzilli S, Giunta A, Galluzzo M, Garofalo V, Campione E, Di Prete M, Orlandi A, Ardigò M, Bianchi L (2019) Therapeutic monitoring of male genital lichen sclerosus: usefulness of reflectance confocal microscopy. G Ital Dermatol Venereol. https://doi.org/10.23736/S0392-0488.19.06292-8

16.

Pellacani G, Cesinaro AM, Grana C, Seidenari S (2004) In vivo confocal scanning laser microscopy of pigmented Spitz nevi: comparison of in vivo confocal images with dermoscopy and routine histopathology. J Am Acad Dermatol 51:371–376

17.

Pellacani G, Longo C, Ferrara G, Cesinaro AM, Bassoli S, Guitera P, Menzies SW, Seidenari S (2009) Spitz nevi: In vivo confocal microscopic features, dermatoscopic aspects, histopathologic correlates, and diagnostic significance. J Am Acad Dermatol 60:236–247

18.

Pimenta R, Leal-Filipe P, Oliveira A (2019) Reflectance confocal microscopy for the noninvasive diagnosis of cutaneous juvenile xanthogranuloma. Skin Res Technol 25:106–107

19.

Ring HC, Mogensen M, Hussain AA, Steadman N, Banzhaf C, Themstrup L, Jemec GB (2015) Imaging of collagen deposition. J Eur Acad Dermatol Venereol 29:890–898

20.

Rothmund G, Sattler EC, Kaestle R, Fischer C, Haas CJ, Starz H, Welzel J (2013) Confocal laser scanning microscopy as a new valuable tool in the diagnosis of onychomycosis—comparison of six diagnostic methods. Mycoses 56:47–55

21.

Ruini C, Schuh S, Pellacani G, French L, Welzel J, Sattler E (2020) In vivo imaging of sarcoptes scabiei infestation using Line-field Confocal Optical Coherence Tomography. J Eur Acad Dermatol Venereol. https://doi.org/10.1111/jdv.16671

22.

Schuh S, Drechsel C, Welzel J (2020) Pilze suchen – was hilft? Akt Dermatol 46:1–6

23.

Veasey JV, Meneses OMS, da Silva FO (2019) Reflectance confocal microscopy of tinea capitis: comparing images with results of dermoscopy and mycological exams. Int J Dermatol 58(7):849–851

24.

Verne SH, Chen L, Shah V, Nouri K, Tosti A (2018) Optical coherence tomography features of Dermatophytoma. JAMA Dermatol 154:225–227
Ethics declarations
Interessenkonflikt
S. Schuh, A.B. Weins und J. Welzel geben an, dass kein Interessenkonflikt besteht.
Für diesen Beitrag wurden von den Autoren keine Studien an Menschen oder Tieren durchgeführt. Für die aufgeführten Studien gelten die jeweils dort angegebenen ethischen Richtlinien.
About this article
Cite this article
Schuh, S., Weins, A.B. & Welzel, J. Nichtinvasive bildgebende Diagnostik bei Hauterkrankungen im Kindesalter. Hautarzt 72, 199–206 (2021). https://doi.org/10.1007/s00105-020-04753-6
Accepted:

Published:

Issue Date:
Schlüsselwörter
Optische Kohärenztomographie

Konfokale Lasermikroskopie

Optische Biopsie

Pädiatrische Dermatologie

Therapiemonitoring
Keywords
Optical coherence tomography

Reflectance confocal laser microscopy

Optical biopsy

Pediatric dermatology

Treatment monitoring