Zusammenfassung
Wir beschreiben 3 Fälle, bei denen Arthroderma (A.) crocatum in Deutschland von menschlicher Haut isoliert wurde. Die Charakteristika und Epidemiologie dieses seltenen geophilen und vermutlich zumeist nicht pathogenen Dermatophyten werden dargestellt, insbesondere seine Gymnothecienbildung. Die Kombination aus Nativpräparat, Kultur und genetischer Analyse bietet die beste Grundlage für klinisch aussagekräftige Ergebnisse. Möglicherweise wird das Vorkommen von A. crocatum bislang unterschätzt.
Abstract
We report on three cases in which Arthroderma (A.) crocatum was isolated from human skin in Germany. The characteristics and epidemiology of this rare geophilic and probably mostly apathogenic dermatophyte are described paying special attention to its gymnothecia. The combination of KOH mount, culture and genetic analysis is the foundation for clinically meaningful conclusions. It is likely that the prevalence of A. crocatum is currently underestimated.
Access options
Buy single article
Instant access to the full article PDF.
US$ 39.95
Tax calculation will be finalised during checkout.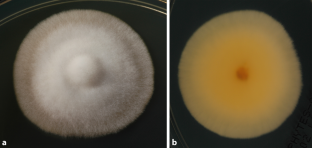 Literatur
1.

Brasch J (2004) Bewährte und neue Verfahren zur Differenzierung von Dermatophyten. Hautarzt 55:136–142

2.

Brasch J, Beck-Jendroschek V, Voss K, Yurkov A, Gräser Y (2019) Arthroderma chiloniense sp. nov. isolated from human stratum corneum: description of a new Arthroderma species. Mycoses 62:73–80

3.

Brasch J, Gläser R (2019) Dynamische Vielfalt der Dermatophyten. Hautarzt 70:575–580

4.

Hainsworth S, Hubka V, Lawrie AC, Carter D, Vanniasinkam T, Grando D (2020) Predominance of Trichophyton interdigitale revealed in podiatric nail dust collections in Eastern Australia. Mycopathologia 185:175–185

5.

Hainsworth S, Kučerová I, Sharma R, Cañete-Gibas CF, Hubka V (2020) Three-gene phylogeny of the genus Arthroderma: basis for future taxonomic studies. Med Mycology. https://doi.org/10.1093/mmy/myaa057

6.

Takashio M (1972) Sexual reproduction of some Arthroderma and Nannizzia on diluted sabouraud agar with or without salts. Mykosen 15:11–17

7.

Udagawa S, Kubo H, Shibaki H (1988) A new species of Arthroderma from Japanese soil. Mykotaxon 33:283–289

8.

Uhrlass S, Rimek D, Hubka V, Schroedl W, Reuschel M, Muetze H, Koch D, Krueger C, Graeser Y, Nenoff P (2019) First report on the isolation of five new geophilic Arthroderma species in hedgehogs. J Fungi 95:271–272
Danksagung
Frau M. Baumgärtel sei für ihre exzellente fotografische Dokumentation der Kulturen gedankt.
Ethics declarations
Interessenkonflikt
J. Brasch hat einen Dozentenvertrag mit der Firma EUROIMMUN und erhielt von dieser ein Vortragshonorar und Reisekostenerstattung. A. Achenbach erhielt Vortragshonorare und Reisekostenerstattungen von der Firma Sanofi. M. Harder ist Mitarbeiterin der Firma EUROIMMUN. V. Beck-Jendroscheck, K. Voss, H.-G. Berger, Y. Gräser und T. Schwarz geben an, dass kein Interessenkonflikt besteht.
Für diesen Beitrag wurden von den Autoren keine Studien an Menschen oder Tieren durchgeführt. Für die aufgeführten Studien gelten die jeweils dort angegebenen ethischen Richtlinien. Für Bildmaterial oder anderweitige Angaben innerhalb des Manuskripts, über die Patienten zu identifizieren sind, liegt von ihnen und/oder ihren gesetzlichen Vertretern eine schriftliche Einwilligung vor.
About this article
Cite this article
Brasch, J., Beck-Jendroschek, V., Voss, K. et al. Arthroderma crocatum auf menschlicher Haut. Hautarzt 72, 267–270 (2021). https://doi.org/10.1007/s00105-020-04752-7
Accepted:

Published:

Issue Date:
Schlüsselwörter
Dermatophyten

Diagnostik

Sequenzierung

Pathogenität

Epidemiologie
Keywords
Dermatophytes

Diagnostics

Sequencing

Pathogenicity

Epidemiology