Access options
Buy single article
Instant access to the full article PDF.
US$ 39.95
Tax calculation will be finalised during checkout.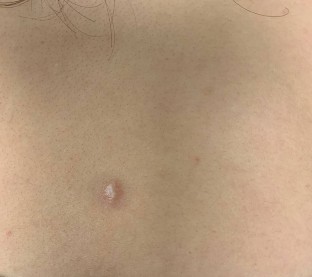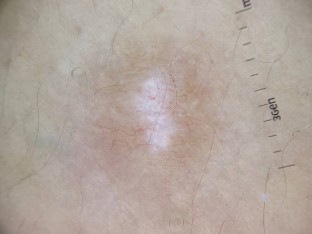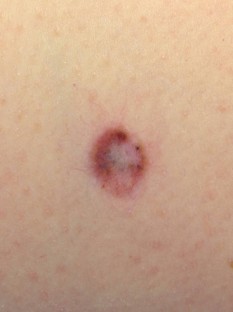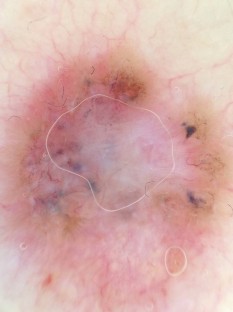 Literatur
1.

Zaballos P, Puig S, Llambrich A, Malvehy J (2008) Dermoscopy of dermatofibromas: a prospective morphological study of 412 cases. Arch Dermatol 144(1):75–83

2.

Espasandín-Arias M, Moscarella E, Mota-Buçard A, Moreno-Moreno C, Lallas A, Longo C, Argenziano G (2015) The dermoscopic variability of dermatofibromas. J Am Acad Dermatol 72(1 Suppl):S22–S24

3.

Şenel E, Yuyucu Karabulut Y, Doğruer Şenel S (2015) Clinical, histopathological, dermatoscopic and digital microscopic features of dermatofibroma: a retrospective analysis of 200 lesions. J Eur Acad Dermatol Venereol 29(10):1958–1966

4.

Genc Y, Akay BN, Okcu Heper A, Rosendahl C, Erdem C (2020) Dermatopathological characteristics of dermatofibromas from dermatoscopic clues. Int J Dermatol 59(1):66–75

5.

Blum A, Siggs G, Marghoob AA et al (2017) Collision skin lesions-results of a multicenter study of the International Dermoscopy Society (IDS). Dermatol Pract Concept 7(4):51–62

6.

Agero AL, Taliercio S, Dusza SW, Salaro C, Chu P, Marghoob AA (2006) Conventional and polarized dermoscopy features of dermatofibroma. Arch Dermatol 142:1431–1437

7.

Blum A, Bauer J (2003) Atypical dermatofibroma-like pattern of a melanoma in dermoscopy. Melanoma Res 13:633–634

8.

Marcucci C, Sabban EC, Friedman P, Peralta R, Marull RS, Cabo H (2015) Dermoscopic findings in a collision tumor composed of a dermatofibroma and a melanocytic nevus mimicking melanoma. Dermatol Pract Concept 5(4):47–49

9.

Rapini RP, Golitz LE (1989) Sclerotic fibromas of the skin. J Am Acad Dermatol 20(2 Pt 1):266–271

10.

Ebadian M, Citarella L, Collins D, Diaz-Cano S, Pozo-Garcia L (2018) Dermoscopy of a solitary storiform collagenoma. Dermatol Pract Concept 8(2):120–122

11.

Kim JH, Shin CH, Kim DC, Paik SY, Lee CK (2020) Solitary sclerotic fibroma on the thigh. Arch Craniofac Surg 21(5):323–325

12.

Lira-Valero FJ, Carrillo-Cisneros ER, Pulido-Díaz N, Quintal-Ramírez MDJ, Godínez-Aldrete L (2020) Circumscribed storiform collagenoma, an unusual tumor. Dermatol Online J 26(10):16

13.

Al-Daraji WI, Ramsay HM, Ali RBM (2007) Storiform collagenoma as a clue for Cowden disease or PTEN hamartoma tumor syndrome. J Clin Pathol 60(7):840–842

14.

Blum A, Maltagliati-Holzner P, Deinlein T, Hofmann-Wellenhof R (2018) Kollisionstumoren in der Dermatoskopie. Eine neue Herausforderung. Hautarzt 69(9):776–779

15.

Gulin SJ, Loncaric D, Rados J (2019) Basal cell carcinoma overlying a dermatofibroma: a rare collision tumor. Dermatol Pract Concept 10(1):e2020015

16.

Braga JC, Scope A, Klaz I, Mecca P, Spencer P, Marghoob AA (2008) Melanoma mimicking seborrheic keratosis: an error of perception precluding correct dermoscopic diagnosis. J Am Acad Dermatol 58:875–880

17.

Sawyers EA, Wigle DT, Marghoob AA, Blum A (2020) Dermoscopy training effect on diagnostic accuracy of skin lesions in Canadian family medicine physicians using the triage amalgamated dermoscopic algorithm. Dermatol Pract Concept 10(2):e2020035
Ethics declarations
Interessenkonflikt
A. Blum, E.A. Sawyers und R. Hofmann-Wellenhof geben an, dass kein Interessenkonflikt besteht.
Für diesen Beitrag wurden von den Autoren keine Studien an Menschen oder Tieren durchgeführt. Für die aufgeführten Studien gelten die jeweils dort angegebenen ethischen Richtlinien. Für Bildmaterial oder anderweitige Angaben innerhalb des Manuskripts, über die Patienten zu identifizieren sind, liegt von ihnen und/oder ihren gesetzlichen Vertretern eine schriftliche Einwilligung vor.
Additional information
Redaktion
A. Blum, Konstanz
R. Hofmann-Wellenhof, Graz
About this article
Cite this article
Blum, A., Sawyers, E.A. & Hofmann-Wellenhof, R. Differenzialdiagnose Dermatofibrom. Hautarzt (2021). https://doi.org/10.1007/s00105-020-04745-6