Zusammenfassung
Die Skabies oder Krätze ist aktuell in Deutschland und darüber hinaus eine häufige Dermatose, der schon allein aus gesundheitspolitischer Perspektive Aufmerksamkeit geschenkt werden sollte. Betroffen ist ein Querschnitt der Gesellschaft unter Einbeziehung aller Altersstufen, vom Säugling bis zum Greis. Einheimische und Menschen mit Migrationshintergrund leiden in gleicher Weise unter der mit übermäßigem, vorzugsweise nächtlich auftretendem Juckreiz einhergehenden hochkontagiösen Ektoparasitose. Die Diagnostik stellt aufgrund der vielfältigen differenzialdiagnostisch ins Kalkül zu ziehenden Dermatosen auch für den erfahrenen Dermatologen eine Herausforderung dar. Nach wie vor ist nicht geklärt, ob das allerorten zu beobachtende Therapieversagen auf einer In-vitro- und In-vivo-Resistenz des Erregers Sarcoptes scabiei gegenüber Permethrin oder auch Ivermectin beruht. Therapiefehler – unzureichende Behandlungen – scheinen aber zumindest für Rezidive eine Rolle zu spielen. So werden oft nicht alle direkten Kontaktpersonen erfasst und antiskabiös behandelt. Sie bilden das Reservoir für Reinfektionen. Bei mehrfachem Nichtansprechen auf die topische (Permethrin) und/oder orale antiskabiöse Behandlung, sollte auf die alternativen topischen Präparate – Benzylbenzoat oder Crotamiton – ausgewichen werden. Eine Kombination mit Ivermectin ist dann zwingend.
Abstract
Scabies or mange is currently a common dermatosis in Germany and other countries, and should be more important in health policy. It affects a cross-section of society, including all age groups, from infants to the aged. Locals and people with a migration background both suffer from this highly contagious ectoparasite infection with excessive, predominately nocturnal itching. Clinical diagnosis represents a challenge for the experienced dermatologist due to the variety of dermatosis to be considered in the differential diagnosis. It is still unclear whether treatment failure or the recurrences observed everywhere are due to in vitro and in vivo resistance of the pathogen agent Sarcoptes scabiei against permethrin or ivermectin. Therapeutic errors seem to play a role as often not all direct contact persons are recorded and treated with antiscabious treatment. They form the reservoir for reinfections. In the event of repeated nonresponse to topical (permethrin) and/or oral antiscabious treatment, alternative topical preparations—benzyl benzoate or crotamiton—should be used. Combination with ivermectin is mandatory.
Access options
Buy single article
Instant access to the full article PDF.
US$ 39.95
Tax calculation will be finalised during checkout.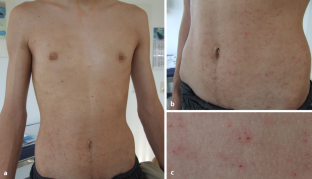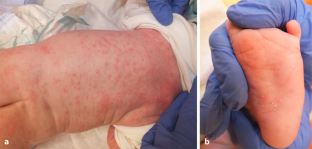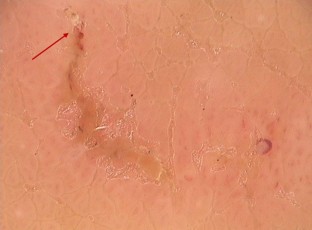 Literatur
1.

Ahn CS, Culp L, Huang WW et al (2017) Adherence in dermatology. J Dermatolog Treat 28(2):94–103

2.

Altmeyer P, Baur J, Große-Büning S (2018) Skabies. In: Altmeyers Enzyklopädie. https://www.enzyklopaedie-dermatologie.de/dermatologie/scabies-ubersicht-3713. Zugegriffen: 30. Dez. 2018

3.

Arora P, Rudnicka L, Sar-Pomian M et al (2020) Scabies: a comprehensive review and current perspectives. Dermatol Ther 33:e13746

4.

Bae M, Kim JY, Jung J et al (2020) Diagnostic value of the molecular detection of Sarcoptes scabiei from a skin scraping in patients with suspected scabies. PLoS Negl Trop Dis 14(4):e8229

5.

Barkwell R, Shields S (1997) Deaths associated with ivermectin treatment of scabies. Lancet 349(9059):1144–1145

6.

Bécourt C, Marguet C, Balguerie X et al (2013) Treatment of scabies with oral ivermectin in 15 infants: a retrospective study on tolerance and efficacy. Br J Dermatol 169(4):931–933

7.

Delaunay P, Hérissé AL, Hasseine L et al (2019) Scabies polymerase chain reaction with standardized dry swab sampling: an easy tool for cluster diagnosis of human scabies. Br J Dermatol 24:12

8.

Dressler C, Rosumeck S, Sunderkötter C et al (2016) The treatment of scabies—a systematic review of randomizes controlled trials. Dtsch Arztebl Int 113(45):757–762

9.

Engelman D, Yoshizumi J, Hay RJ et al (2020) The 2020 international alliance for the control of scabies consensus criteria for the diagnosis of scabies. Br J Dermatol. https://doi.org/10.1111/bjd.18943

10.

Fölster-Holst R, Sunderkötter C (2016) Skabies im Kindes- und Jugendalter. Hautarzt 67(12):1007–1020

11.

Fölster-Holst R, Höger P, Kobbe R et al (2018) Skabies. In: Berner R, Bialek R, Forster J, Härtel C, Heininger U, Huppertz HI, Liese JG, Nadal D, Simon A (Hrsg) DGPI Handbuch: Infektionen bei Kindern und Jugendlichen. Thieme, Stuttgart, S 733–738

12.

Fölster-Holst R (2019) Skabies. Editorial. J Dtsch Dermatol Ges 17(6):583–584

13.

Gaber B, Mansour R, Finster C et al (2015) Dermatologische Erkrankungen von Flüchtlingen/Asylbewerbern aus dem Zeltlager in der Bremer Straße 25 in Dresden (23.07. 2015 bis 09.10. 2015). DDG-DermaKompakt-Tagung, Leipzig (Poster-Abstract)

14.

Haustein UF, Hlawa B (1989) Treatment of scabies with permethrin versus lindane and benzyl benzoate. Acta Derm Venereol 69(4):348–351

15.

Hoffmann JC, Mößner R, Schön MP et al (2019) Topical scabies therapy with permethrin is effective and well tolerated in infants younger than two months. J Dtsch Dermatol Ges 17(6):597–600

16.

https://www.embryotox.de/arzneimittel/details/crotamiton/. Zugegriffen: 30. Apr. 2020

17.

https://www.embryotox.de/arzneimittel/details/permethrin. Zugegriffen: 29. Dez. 2018

18.

https://www.google.com/search?client=firefox-b-d&q=USB+Mikroskopie+%28auch+WLAN%29+. Zugegriffen: 2. Mai 2020

19.

https://www.rote-liste.de Zugegriffen: 30. Apr. 2020

20.

Infectoscab Creme Rote Liste Eintrag. https://www.rote-liste.de Zugegriffen: 30.4.2020

21.

Ivermectin Fachinformation Scabioral 3 mg Tabletten. https://www.infectopharm.com/images/newsletter/1216/fi-scabioral.pdf. Zugegriffen: 30. Dez. 2018

22.

Kämmerer E (2018) Skabies. Erfahrungen aus der Praxis. Dtsch Arztebl 115(15):A700–702

23.

Khalil S, Abbas O, Kibbi AG et al (2017) Scabies in the age of increasing drug resistance. PLoS Negl Trop Dis 11(11):e5920

24.

Kortas AZ, Polenz J, von Hayek J et al (2017) Screening for infectious diseases among asylum seekers newly arrived in Germany in 2015: a systematic single-centre analysis. Public Health 153:1–8

25.

Hillienhof A (2018) Krätze. Arzneimittelverordnungen sprunghaft angestiegen. Dtsch Arztebl 115(12):A 510

26.

Levi A, Mumcuoglu KY, Ingber A et al (2012) Detection of living Sarcoptes scabiei larvae by reflectance mode confocal microscopy in the skin of a patient with crusted scabies. J Biomed Opt 17(6):60503

27.

Levy M, Martin L, Bursztejn A‑C et al (2020) Ivermectin safety in infants and children under 15 kg treated for scabies: a multicentric observational study. Br J Dermatol 182(4):1003–1006

28.

Mertens E (2020) Die Krätze ist auf dem Vormarsch. https://www.aekn.de/index.php?id=100&L=0&q=skabies. Zugegriffen: 15. Apr. 2020

29.

Middleton J, Walker SL, House T et al (2019) Ivermectin for the control of scabies outbreaks in the UK. Lancet 394(10214):2068–2069

30.

Montag A (2017) Skabies-Massenausbruch in einem Altenheim für Demenzkranke. Fallbeschreibung und kritische Würdigung. Akt Dermatol 43(08/09):354–356

31.

Mounsey KE, Pasay CJ, Arlian LG et al (2010) Increased transcription of glutathione S‑transferases in acaricide exposed scabies mites. Parasit Vectors 3:43

32.

Pallesen K, Lassen JA, Munk NT et al (2020) In-vitro survival of scabies mites. Clin Exp Dermatol 45:712–715

33.

Robert Koch-Institut RKI-Ratgeber Skabies (Krätze). https://www.rki.de/DE/Content/Infekt/EpidBull/Merkblaetter/Ratgeber_Skabies.html. Zugegriffen: 10. Dez. 2018

34.

Röhrborn W (2018) Skabies. Unterschätzt. Dtsch Arztebl 115(20-21):A 1016

35.

Romani L, Whitfeld MJ, Koroivueta J et al (2019) Mass drug administration for scabies—2 years of follow-up. N Engl J Med 381(2):186–187

36.

Salavastru CM, Chosidow O, Boffa MJ et al (2017) European guideline for the management of scabies. J Eur Acad Dermatol Venereol 31(8):1248–1253

37.

Schulze C (2018) Skabies. Schlechte Datenlage. Dtsch Arztebl 115(20-21):A 1016

38.

Staubach P, Melhorn S (2017) Antiseptische Wirkstoffe in Topika. Hautarzt 68(10):835–851

39.

Stienstra Y, Beeres DT, Phillips R et al (2019) The public health control of scabies: priorities for research and action. Lancet 394(10214):2068

40.

Sunderkötter C, Feldmeier H, Fölster-Holst R et al (2016) S1-Leitlinie zur Diagnostik und Therapie der Skabies. J Dtsch Dermatol Ges 14:818–826

41.

Sunderkötter C, Aebischer A, Neufeld M et al (2019) Increase of scabies in Germany and development of resistant mites? Evidence and consequences. J Dtsch Dermatol Ges 17(1):15–23

42.

Walton SF, Myerscough MR, Currie BJ (2000) Studies in vitro on the relative efficacy of current acaricides for Sarcoptes scabiei var. hominis. Trans R Soc Trop Med Hyg 94(1):92–96

43.

WHO (2019) Model list of essential medicines: 21st list 2019. https://www.who.int/selection_medicines/list/en/ Zugegriffen: 30.7.2020

44.

Wollina U (2019) Scabies hominis – ein Update zur Krätze. Arztebl Sachsen 7:29–33
Ethics declarations
Interessenkonflikt
P. Nenoff weist auf folgende Beziehungen hin: Honorare für Vorträge von Almirall Hermal, Beiersdorf, Galderma, MSD; Im Advisory Board von Galderma und Aktienbesitz von Pfizer und Sanofi SA. A. Süß, I. Schulze, L. Meißner, C. Fritsch, B. Schulz, S. Hennig, M. Borte, M. Zurek und G. Ginter-Hanselmayer geben an, dass kein Interessenkonflikt besteht.
Für diesen Beitrag wurden von den Autoren keine Studien an Menschen oder Tieren durchgeführt. Für die aufgeführten Studien gelten die jeweils dort angegebenen ethischen Richtlinien. Für Bildmaterial oder anderweitige Angaben innerhalb des Manuskripts, über die Patienten zu identifizieren sind, liegt von ihnen und/oder ihren gesetzlichen Vertretern eine schriftliche Einwilligung vor.
Additional information
Diese Arbeit basiert in Teilen auf der Publikation Der Tag geht – der Juckreiz kommt. "Gepflegte" Skabies wird oft verkannt. Von Nenoff P, Handrick W, Paasch U in der Zeitschrift Der Hausarzt 2011; 16:56–60.
About this article
Cite this article
Nenoff, P., Süß, A., Schulze, I. et al. Skabies – Renaissance einer Ektoparasitose. Hautarzt 72, 125–136 (2021). https://doi.org/10.1007/s00105-020-04729-6
Schlüsselwörter
Sarcoptes scabiei varietas hominis

Übertragung

Resistenz

Rückfall

Chronisch rezidivierender Verlauf
Keywords
Sarcoptes scabiei varietas hominis

Transmission

Resistance

Relapse

Chronic recalcitrant course