Zusammenfassung
Erworbene Lymphgefäßtumoren sind selten. Das progressive Lymphangiom tritt üblicherweise als kleinere, meist umschriebene Plaque auf und ist durch eine langsame Größenzunahme gekennzeichnet. Bei dem vorgestellten 13-jährigen Jungen zeigte sich hingegen eine sehr ausgedehnte singuläre Veränderung mit klinisch stärkerer Induration ohne extrakutane Beteiligung. Die eingeleitete Systemtherapie mit Kortikosteroiden und Methotrexat zeigte eine Befundverbesserung. In Abhängigkeit vom Erscheinungsbild und der Beschwerdesymptomatik kann bei vergleichbaren Befunden auch eine Therapie mit mTOR-Inhibitoren diskutiert werden.
Abstract
Acquired tumors of lymphatic vessels are rare. Clinically, progressive lymphangioma usually appears as circumscribed plaques of small to medium size. In contrast, our case of a 13-year-old boy demonstrates a case of progressive lymphangioma with a solitary large indurated plaque. No extracutaneous manifestation was found. Systemic therapy with corticosteroids and methotrexate resulted in an improvement of the patient's condition. Dependent on clinical course and appearance of the disease, therapy with mTOR inhibitors may be considered as a therapeutic option.
Access options
Buy single article
Instant access to the full article PDF.
US$ 39.95
Tax calculation will be finalised during checkout.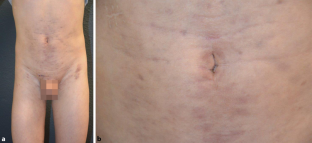 Literatur
1.

Gomez CS, Calonje E, Ferrar DW, Browse NL, Fletcher CD (1995) Lymphangiomatosis of the limbs. Clinicopathologic analysis of a series with a good prognosis. Am J Surg Pathol 19:125–133

2.

Hägerling R, Drees D, Scherzinger A, Dierkes C, Martin-Almedina S, Butz S, Gordon K, Schäfers M, Hinrichs K, Ostergaard P, Vestweber D, Goerge TM, Mansour S, Jiang X, Mortimer PS, Kiefer F (2017) VIPAR, a quantitative approach to 3D histopathology applies to lymphatic malformations. JCI Insight 17:e93424

3.

Paik AP, Lee PHA, O'Grady TC (2007) Acquired progressive lymphangioma in an HIV-positive patient. J Cutan Pathol 34:882–885

4.

Requena L, Kutzner H, Mentzel T, Durán R, Rodriguez-Peralto JL (2002) Benign vascular proliferations in irradiated skin. Am J Surg Pathol 26:328–337

5.

Revelles JM, Díaz JL, Angulo J, Santonja C, Kutzner H, Requena L (2012) Giant benign lymphangioendothelioma. J Cutan Pathol 39:950–995

6.

Rosso R, Gianelli U, Carnevali L (1995) Acquired progressive lymphangioma of the skin following radiotherapy for breast carcinoma. J Cutan Pathol 22:164–167

7.

Sevila A, Botella-Estrada R, Sanmartín O, Serra V, Cabadas P, Aliaga A, Guillén C (2000) Benign lymphangioendothelioma of the thigh simulationg a low-grade angiosarcoma. Am J Dermatopathol 22:151–154

8.

Tadaki T, Aiba S, Masu S, Tagami H (1988) Acquired progressive lymphangioma as a flat erythematous patch on the abdominal wall of a child. Arch Dermatol 124:699–701

9.

Wiegand S, Wichmann G, Dietz A (2018) Treatment of lymphatic malformations with the mTOR inhibitor sirolimus: a systematic review. Lymphat Res Biol 16:330–339

10.

Jones WE, Winkelmann RK, Zachary CB, Reda AM (1990) Benign lymphangioendothelioma. J Am Acad Dermatol 23:229–235

11.

Zhu WY, Penneys NS, Reyes B, Khatib Z, Schachner L (1991) Acquired progressive lymphangioma. J Am Acad Dermatol 24:813–815
Danksagung
Dr. B. Völker ist für die Unterstützung bei der WT-1-Färbung gedankt.
Ethics declarations
Interessenkonflikt
M. Tronnier, K. Lommel und D. Haselbusch geben an, dass kein Interessenkonflikt besteht.
Für diesen Beitrag wurden von den Autoren keine Studien an Menschen oder Tieren durchgeführt. Für die aufgeführten Studien gelten die jeweils dort angegebenen ethischen Richtlinien. Für Bildmaterial oder anderweitige Angaben innerhalb des Manuskripts, über die Patienten zu identifizieren sind, liegt von ihnen und/oder ihren gesetzlichen Vertretern eine schriftliche Einwilligung vor.
About this article
Cite this article
Tronnier, M., Lommel, K. & Haselbusch, D. Erworbenes progressives Lymphangiom bei einem 13‑jährigen Jungen. Hautarzt (2020). https://doi.org/10.1007/s00105-020-04728-7
Schlüsselwörter
Lymphangioendotheliom

Podoplanin

Lymphgefäßtumoren

Kortikosteroide

Methotrexat
Keywords
Lymphangioendothelioma

Podoplanin

Lymphatic vessel tumors

Corticosteroids

Methotrexate