Zusammenfassung
Ein 69-jähriger Patient stellte sich mit einer 12-monatigen Anamnese von einseitigen ekzematösen Veränderungen der linken Brustwarze und des Warzenhofs ohne systemische Entzündungszeichen vor. Seine Hauptsymptome waren milder, zeitweiliger Juckreiz und gelegentlich lokale Schmerzen oder Brennen. Eine externe Erstbehandlung mit topischen Kortikosteroiden in Kombination mit Desinfektionsmitteln/Antibiotika führte zu keiner Besserung. Auslösende Faktoren oder andere Zustände, die die Diagnose beeinflussen könnten, konnten nicht eruiert werden. Die histologische Untersuchung der bei der Aufnahme durchgeführten Biopsie aus der linken Brustwarze bestätigte die Verdachtsdiagnose eines Morbus Paget. Eine radikale linke Mastektomie wurde durchgeführt, und der Patient befindet sich in regelmäßiger Nachsorge.
Abstract
A 69-year-old man presented with a 12-month history of unilateral eczematous changes of the left nipple and areola without any signs of systemic inflammation. His main complaints were mild, intermittent itching, and occasionally local pain or burning. An external initial treatment with topical corticosteroids combined with disinfectants/antibiotics did not lead to an improvement. Triggering factors or any other conditions that could affect the diagnosis could not be detected. Histopathological examination of a biopsy from the left nipple performed at admission confirmed the suspected diagnosis of Paget disease. Radical left breast mastectomy was performed and the patient is under regular follow-up.
Access options
Buy single article
Instant access to the full article PDF.
US$ 39.95
Tax calculation will be finalised during checkout.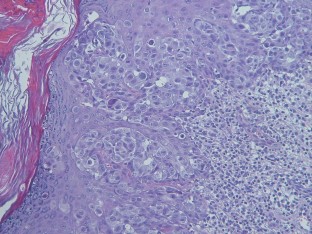 Literatur
1.

Sandoval-Leon AC, Drews-Elger K, Gomez-Fernandez CR et al (2013) Paget's disease of the nipple. Breast Cancer Res Treat 141:1–12

2.

Kanitakis J (2007) Mammary and extramammary Paget's disease. J Eur Acad Dermatol Venereol 21:581–590

3.

Lopes Filho LL, Lopes IM, Lopes LR et al (2015) Mammary and extramammary Paget's disease. An Bras Dermatol 90:225–231

4.

Adams SJ, Kanthan R (2016) Paget's disease of the male breast in the 21st century: a systematic review. Breast 29:14–23

5.

Liu XK, Li J (2018) Erosive patches on bilateral nipples. JAMA Dermatol 154:719–720

6.

Gu X, Wang G, Wu R et al (2015) Erosive adenomatosis of the nipple in a man. Indian J Dermatol Venereol Leprol 81:68–70

7.

Calonje E (2016) Tumours of skin appendages. In: Griffiths C, Barker J, Bleiker T, Chalmers R, Creamer D (Hrsg) Rook's textbook of dermatology, 9. Aufl. Wiley-Blackwell, Hoboken, S 138.1–138.48

8.

Zheng S, Liu J, Xu XG et al (2014) Primary syphilis presenting as bilateral nipple-areola eczematoid lesions. Acta Derm Venereol 94:617–618

9.

Hoover A, Hoover A, Ashack K, Khachemoune A (2019) Extramammary Paget disease. Dermatol Online J 25:13030
Ethics declarations
Interessenkonflikt
A.G. Vaiopoulos, G. Nikolakis, M. Brunner, A. Altenburg und C.C. Zouboulis geben an, dass kein Interessenkonflikt besteht.
Für diesen Beitrag wurden von den Autoren keine Studien an Menschen oder Tieren durchgeführt. Für die aufgeführten Studien gelten die jeweils dort angegebenen ethischen Richtlinien. Für Bildmaterial oder anderweitige Angaben innerhalb des Manuskripts, über die Patienten zu identifizieren sind, liegt von ihnen und/oder ihren gesetzlichen Vertretern eine schriftliche Einwilligung vor.
About this article
Cite this article
Vaiopoulos, A.G., Nikolakis, G., Brunner, M. et al. Persistierendes unilaterales Ekzem der Mamille bei einem Mann. Hautarzt (2020). https://doi.org/10.1007/s00105-020-04724-x
Schlüsselwörter
Morbus Paget

Erosive Adenomatose der Mamille

Biopsie

Histologie

Mastektomie
Keywords
Paget disease

Erosive adenomatosis of the nipple

Biopsy

Histology

Mastectomy