Access options
Buy single article
Instant access to the full article PDF.
US$ 39.95
Tax calculation will be finalised during checkout.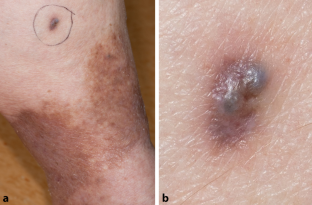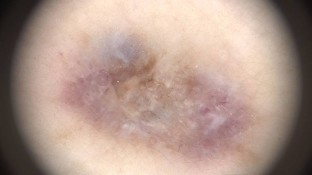 Literatur
1.

Acar EM, Tad M, Kilitci A et al (2018) Hemosiderotic dermatofibroma mimicking melanoma in a 12-year-old boy: a case report. Clin Case Rep 6:1006

2.

Alves JVP, Matos DM, Barreiros HF et al (2014) Variants of dermatofibroma—a histopathological study. An Bras Dermatol 89:472–477

3.

Blum A, Jaworski S, Metzler G et al (2004) Lessons on dermoscopy: dermoscopic pattern of hemosiderotic dermatofibroma. Dermatol Surg 30:1354–1355

4.

Diss MJBSFDS (1938) Histiocytome hémosidérinique pseudomélanique de la peau. Bull Soc Fr Dermatol Syphiligr 45:1903–1908

5.

Fitzpatrick TB, Gilchrest BA (1977) Dimple sign to differentiate benign from malignant pigmented cutaneous lesions. N Engl J Med 296:1518

6.

Kelati A, Aqil N, Baybay H et al (2017) Beyond classic dermoscopic patterns of dermatofibromas: a prospective research study. J Med Case Rep 11:266

7.

Kilinc Karaarslan I, Gencoglan G, Akalin T et al (2007) Different dermoscopic faces of dermatofibromas. J Am Acad Dermatol 57:401–406

8.

Laureano A, Fernandes C, Cardoso J (2015) Hemosiderotic dermatofibroma: clinical and dermoscopic presentation mimicking melanoma. J Dermatol Case Rep 9:39

9.

Menzies SW, Moloney FJ, Byth K et al (2013) Dermoscopic evaluation of nodular melanoma. JAMA Dermatol 149:699–709

10.

Pegas JR (2010) Aneurysmatic dermatofibroma.Surg Cosmet Dermatol 2(2):225–227

11.

Puig S, Romero D, Zaballos P et al (2005) Dermoscopy of dermatofibroma. Arch Dermatol 141:122–122

12.

Scalvenzi M, Balato A, De Natale F et al (2007) Hemosiderotic dermatofibroma: report of one case. Dermatology 214:82–84

13.

Soyer HP, Argenziano G, Zalaudek I et al (2004) Three-point checklist of dermoscopy. Dermatology 208:27–31

14.

Surprenant D, Novice K, Dreifke M et al (2016) Hemosiderotic dermatofibroma: unique clinical presentation and dermoscopic findings of A rare dermatofibroma variant: poster. J Cutan Pathol 386:43

15.

Villarreal DJV, Luz AT, Buçard AM et al (2017) Hemosiderotic dermatofibroma. An Bras Dermatol 92:92–94

16.

Zaballos P, Llambrich A, Ara M et al (2006) Dermoscopic findings of haemosiderotic and aneurysmal dermatofibroma: report of six patients. Br J Dermatol 154:244–250

17.

Zaballos P, Puig S, Llambrich A et al (2008) Dermoscopy of dermatofibromas: a prospective morphological study of 412 cases. Arch Dermatol 144:75–83

18.

Zelger B, Zelger BG, Burgdorf WH (2004) Dermatofibroma—a critical evaluation. Int J Surg Pathol 12:333–344
Ethics declarations
Interessenkonflikt
J.K. Winkler, A. Keller, O. Bochnig, A.H. Enk, F. Toberer und H.A. Haenssle geben an, dass kein Interessenkonflikt besteht.
Für diesen Beitrag wurden von den Autoren keine Studien an Menschen oder Tieren durchgeführt. Für die aufgeführten Studien gelten die jeweils dort angegebenen ethischen Richtlinien. Für Bildmaterial oder anderweitige Angaben innerhalb des Manuskripts, über die Patienten zu identifizieren sind, liegt von ihnen und/oder ihren gesetzlichen Vertretern eine schriftliche Einwilligung vor.
About this article
Cite this article
Winkler, J.K., Keller, A., Bochnig, O. et al. Bräunlich-blauer Knoten am Unterschenkel einer Melanompatientin mit chronisch venöser Insuffizienz. Hautarzt (2020). https://doi.org/10.1007/s00105-020-04714-z