Zusammenfassung
Wir präsentieren den Fall einer 46-jährigen Patientin, die an einer entzündlich aktiven Alopecia areata universalis leidet. Nach frustranem Einsatz von topischen und systemischen Glukokortikoiden, einer Creme-PUVA-Therapie und Dithranol in aufsteigender Dosierung wurde die Patientin mit 2‑mal 5 mg pro Tag Tofacitinib per os behandelt. Nach ca. 4 bis 6 Monaten zeigte die Patientin ein Haarwachstum, das bei guter Verträglichkeit bis zum 18. Therapiemonat zur vollständigen Wiederbehaarung geführt hat. Der Fall zeigt eindrucksvoll, dass die Off-label-Anwendung von Tofacitinib eine potenzielle therapeutische Option in der Indikation Alopecia areata darstellen kann.
Abstract
We present a case of a 46-year-old woman suffering from active inflammatory alopecia areata universalis. After frustrating use of topical and systemic glucocorticoids, cream PUVA (psoralen and ultraviolet A) therapy and dithranol in increasing dosage, the patient was treated with 2 × 5 mg per day tofacitinib per os. After about 4–6 months, hair growth commenced, which led to full regrowth of scalp hair over the 18 months of therapy, which was well tolerated. The case shows impressively that the off-label application of tofacitinib is a therapeutic option for alopecia areata.
Access options
Buy single article
Instant access to the full article PDF.
US$ 39.95
Tax calculation will be finalised during checkout.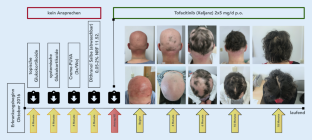 Literatur
1.

Betz RC, Petukhova L, Ripke S et al (2015) Genome-wide meta-analysis in alopecia areata resolves HLA associations and reveals two new susceptibility loci. Nat Commun 6:5966

2.

Biran R, Zlotogorski A, Ramot Y (2015) The genetics of alopecia areata: new approaches, new findings, new treatments. J Dermatol Sci 78:11–20

3.

Craiglow BG, King BA (2014) Killing two birds with one stone: oral tofacitinib reverses alopecia universalis in a patient with plaque psoriasis. J Invest Dermatol 134:2988–2990

4.

De Oliveira AB, Alpalhao M, Filipe P et al (2019) The role of Janus kinase inhibitors in the treatment of alopecia areata: a systematic review. Dermatol Ther 32:e13053

5.

Guo L, Feng S, Sun B et al (2020) Benefit and risk profile of tofacitinib for the treatment of alopecia areata: a systemic review and meta-analysis. J Eur Acad Dermatol Venereol 34:192–201

6.

Mcdonagh AJ, Tazi-Ahnini R (2002) Epidemiology and genetics of alopecia areata. Clin Exp Dermatol 27:405–409

7.

Migacz-Gruszka K, Branicki W, Obtulowicz A et al (2019) What's new in the pathophysiology of alopecia areata? The possible contribution of skin and gut microbiome in the pathogenesis of alopecia—big opportunities, big challenges, and novel perspectives. Int J Trichology 11:185–188

8.

Paus R, Bertolini M (2013) The role of hair follicle immune privilege collapse in alopecia areata: status and perspectives. J Investig Dermatol Symp Proc 16:S25–27

9.

Petukhova L, Christiano AM (2016) Functional interpretation of genome-wide association study evidence in alopecia areata. J Invest Dermatol 136:314–317

10.

Solimani F, Meier K, Ghoreschi K (2019) Emerging topical and systemic JAK inhibitors in dermatology. Front Immunol 10:2847
Ethics declarations
Interessenkonflikt
J. Wohlrab hat für Vorträge, Beratungsleistungen, für wissenschaftliche Projekte und für die Durchführung klinischer Studien von der Pfizer Pharma GmbH finanzielle Zuwendungen erhalten. A. Maksimow und D. Stintzing geben keine Interessenkonflikte an.
Für diesen Beitrag wurden von den Autoren keine Studien an Menschen oder Tieren durchgeführt. Für die Verwendung des Bildmaterials in diesem Manuskript liegt eine schriftliche Einwilligung der Patientin vor.
About this article
Cite this article
Maksimow, A., Stintzing, D. & Wohlrab, J. Alopecia areata mit gutem Ansprechen auf Tofacitinib. Hautarzt (2020). https://doi.org/10.1007/s00105-020-04704-1
Schlüsselwörter
Haarwachstum

Januskinaseinhibitor

Immunpathogenese

Effluvium

Haarverlust
Keywords
Hair growth

Janus kinase inhibitors

Immunopathogenesis

Hair loss

Baldness