Zusammenfassung
Es wird über einen Fall von therapieresistenten Ulzera im Gesichtsbereich mit Verlust des Nasenknorpels als seltene Differenzialdiagnose einer chronischen fazialen Wunde berichtet. Wir diagnostizierten ein neurotrophes Trigeminussyndrom als Spätkomplikation einer Herpes-zoster-Infektion. Die Aufklärung zur Vermeidung von Selbstmanipulation und eine okklusive Lokaltherapie in Kombination mit einer neuromodulierenden medikamentösen Therapie stehen an erster Stelle der therapeutischen Maßnahmen. Weitere operativ-plastische Verfahren können zurückhaltend bei therapieresistenten Fällen eingesetzt werden.
Abstract
This article presents the case of refractory facial ulcers with loss of ala nasi as a rare differential diagnosis of chronic facial wounds. We diagnosed trigeminal trophic syndrome as a late complication of a herpes zoster infection. Education to avoid self-manipulation and an occlusive local therapy in combination with neuromodulating drug therapy are at the forefront of therapeutic measures. Further surgical plastic procedures can be used with restraint in therapy-resistant cases.
Access options
Buy single article
Instant access to the full article PDF.
US$ 39.95
Tax calculation will be finalised during checkout.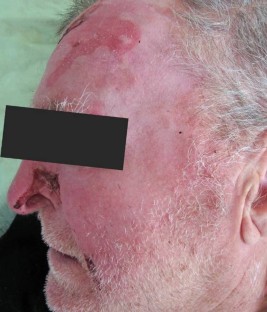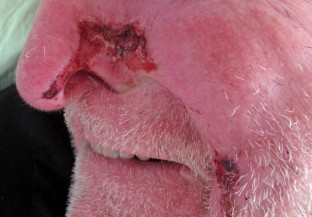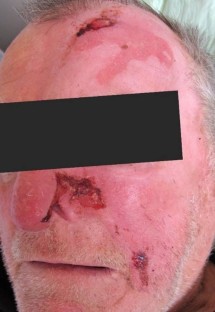 Literatur
1.

Bhatti AF, Soggiu D, Orlando A (2008) Trigeminal trophic syndrome: diagnosis and management difficulties. Plast Reconstr Surg 121(1):1e–3e

2.

Curtis AR, Oaklander AL, Johnson A, Yosipovitch G (2012) Trigeminal trophic syndrome from stroke: an under-recognized central neuropathic itch syndrome. Am J Clin Dermatol 13(2):125–128

3.

Fredeking AE, Silverman RA (2008) Successful treatment of trigeminal trophic syndrome in a 6-year-old boy with negative pressure wound therapy. Arch Dermatol 144(8):984–986

4.

Litschel R, Winkler H, Dazert S, Sudhoff H (2003) Herpes zoster-associated trigeminal trophic syndrome: a case report and review. Eur Arch Otorhinolaryngol 260(2):86–90

5.

Loveman AB (1933) An unusual dermatosis following section of the fifth cranial nerve. Arch Derm Syphilol 28(3):369–375

6.

McLean NR, Watson AC (1982) Reconstruction of a defect of the ala nasi following trigeminal anaesthesia with an innervated forehead flap. Br J Plast Surg 35(2):201–203

7.

Sawada T, Asai J, Nomiyama T, Masuda K, Takenaka H, Katoh N (2014) Trigeminal trophic syndrome: report of a case and review of the published work. J Dermatol 41(6):525–528

8.

Spillane JD, Urich H (1976) Trigeminal neuropathy with nasal ulceration: report of two cases and one necropsy. J Neurol Neurosurg Psychiatry 39(2):105–113

9.

Walton S, Keczkes K (1985) Trigeminal neurotrophic ulceration—a report of four patients. Clin Exp Dermatol 10(5):485–490

10.

Weintraub E, Soltani K, Hekmatpanah J, Lorincz AL (1982) Trigeminal trophic syndrome. A case and review. J Am Acad Dermatol 6(1):52–57

11.

Westerhof W, Bos JD (1983) Trigeminal trophic syndrome: a successful treatment with transcutaneous electrical stimulation. Br J Dermatol 108(5):601–604
Ethics declarations
Interessenkonflikt
S.J. Pecher, K.M. Kaune und M. Zutt geben an, dass kein Interessenkonflikt besteht.
Für diesen Beitrag wurden von den Autoren keine Studien an Menschen oder Tieren durchgeführt. Für die aufgeführten Studien gelten die jeweils dort angegebenen ethischen Richtlinien. Für Bildmaterial oder anderweitige Angaben innerhalb des Manuskripts, über die Patienten zu identifizieren sind, liegt von ihnen und/oder ihren gesetzlichen Vertretern eine schriftliche Einwilligung vor.
About this article
Cite this article
Pecher, S.J., Kaune, K.M. & Zutt, M. Neurotrophes Trigeminussyndrom. Hautarzt (2020). https://doi.org/10.1007/s00105-020-04698-w
Schlüsselwörter
Ulkus

Herpes zoster

Dysästhesie

Nervenschädigung

Therapieresistenz
Keywords
Skin ulcer

Herpes zoster

Dysesthesia

Nerve damage

Therapy resistance