Zusammenfassung
Unsere 21-jährige Patientin zeigte Symptome von chronisch spontaner Urtikaria mit Angioödem und cholinergischer Urtikaria sowie von atopischer Dermatitis. Die Therapie mit dem Ig(Immunglobulin)E-Antikörper Omalizumab resultierte in der Besserung der Urtikaria, jedoch kam es zu Rezidiven der atopischen Dermatitis. Der Einsatz des monoklonalen IL(Interleukin)-4/13-Rezeptor-Antikörpers Dupilumab führte zur kompletten Abheilung der atopischen Dermatitis bei vollständiger Remission der chronisch spontanen Urtikaria und des Angioödems und zufriedenstellender Kontrolle der cholinergischen Schübe über einen Beobachtungszeitraum von 26 Wochen.
Abstract
Our 21-year-old woman presented with symptoms of chronic spontaneous urticaria with angioedema and of cholinergic urticaria as well as of atopic dermatitis. Treatment with the IgE antibody omalizumab resulted in an improvement of urticaria; however, relapses of the atopic dermatitis occurred. The use of the monoclonal IL-4/13 receptor antibody dupilumab resulted in complete healing of the atopic dermatitis, complete remission of the chronic spontaneous urticaria with angioedema, and the satisfactory control of cholinergic flare ups over a follow-up period of 26 weeks.
Access options
Buy single article
Instant access to the full article PDF.
US$ 39.95
Tax calculation will be finalised during checkout.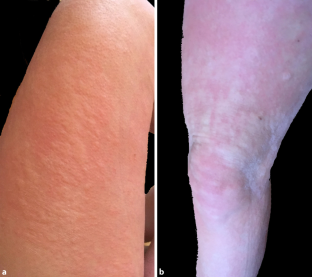 Literatur
1.

Maurer M, Zuberbier T, Siebenhaar F et al (2018) Chronische Urtikaria – Was bringt die neue Leitlinie? J Dtsch Dermatol Ges 16:584–593

2.

Sanchez J, Amaya E, Acevedo A et al (2017) Prevalence of inducible urticaria in patients with chronic spontaneous urticaria: associated risk factors. J Allergy Clin Immunol Pract 5:464–470

3.

Grobe W, Bieber T, Novak N (2019) Pathophysiologie der atopischen Dermatitis. J Dtsch Dermatol Ges 17:433–440

4.

Mellerowicz E, Weller K, Zuberbier T et al (2019) Therapie von Patienten mit cholinergischer Urtikaria im Alltag in deutschsprachigen Ländern. J Dtsch Dermatol Ges 17:1141–1149

5.

Ghanzafar MN, Kibsgaard L, Thomsen SF et al (2020) Risk of comorbidities in patients diagnosed with chronic urtikaria: a nationwide registry-study. World Allergy Organ J 13:100097

6.

Le Floc'h A, Alline J, Nagashima K (2019) Dual blockade of IL‑4 and IL-13 with dupilumab, an IL-4Rα antibody, is required to broadly inhibit type 2 inflammation. Allergy. https://doi.org/10.1111/all.14151

7.

Hendricks AJ, Yosipovitch G, Shi VY (2019) Dupilumab use in dermatologic conditions beyond atopic dermatitis—a systemic review. J Dermatolog Treat 12:1–10

8.

Lee JK, Simpson RS (2019) Dupilumab as a novel therapy for difficult to treat chronic spontaneous urticaria. J Allergy Clin Immunol Pract 7:1659–1661

9.

Bieber T (2019) Neuartige Therapien auf der Grundlage der Pathophysiologie der atopischen Dermatitis. J Dtsch Dermatol Ges 17:1150–1161

10.

Ferruci S, Benzevry V, Berti E et al (2020) Rapid disappearance of both severe atopic dermatitis and cold urticaria following dupilumab treatment. Clin Exp Dermatol 45:345–346

11.

Wollenberg A, Ariens L, Thurau S et al (2018) Conjunctivitis occurring in atopic dermatitis patients treated with dupilumab—clinical characteristics and treatment. J Allergy Clin Immunol Pract 6:1778–1780
Ethics declarations
Interessenkonflikt
S. Jahn hat mehrjährig im Pharmaunternehmen Sanofi gearbeitet und die Markteinführung von Dupilumab als Leiter Medical Affairs begleitet. J. Föhr und M. Herbst geben an, dass kein Interessenkonflikt besteht.
Für diesen Beitrag wurden von den Autoren keine Studien an Menschen oder Tieren durchgeführt. Für die aufgeführten Studien gelten die jeweils dort angegebenen ethischen Richtlinien. Für Bildmaterial oder anderweitige Angaben innerhalb des Manuskripts, über die die Patientin zu identifizieren sein könnte, liegt von ihr eine schriftliche Einwilligung vor. Die Anwendung der hier beschriebenen Biologika erfolgte gemäß Fachinformation. Die Patientin wurde sorgfältig über das Nutzen-Risiko-Verhältnis aufgeklärt und hat eine Einwilligung unterzeichnet.
About this article
Cite this article
Föhr, J., Herbst, M. & Jahn, S. Therapie von Urtikaria und atopischer Dermatitis bei einer Patientin mit Dupilumab. Hautarzt (2020). https://doi.org/10.1007/s00105-020-04675-3
Schlüsselwörter
Chronisch spontane Urtikaria

Cholinergische Urtikaria

Ekzem

Immunglobulin-E-Antikörper

Interleukin-4/13-Rezeptor-Antikörper
Keywords
Chronic spontaneous urticaria

Cholinergic urticaria

Eczema

Immunoglobulin E antibody

Interleukin-4/13 receptor antibody