Zusammenfassung
Eine bullöse Manifestation einer Tinea corporis ist selten und wird in der Regel durch zoophile Dermatophyten verursacht. Eine 20-jährige Patientin stellte sich ambulant mit einer schmerzhaften, juckenden, bullösen Hautveränderung am linken Unterarm vor. Klinisch zeigte sich eine etwa 4 × 3 cm durchmessende, scharf begrenzte symmetrische erythematöse Plaque mit peripherer Bläschenbildung und serösen Krusten. Histologisch stellte sich eine ausgeprägte spongiotische Dermatitis mit Nachweis von Pilzelementen dar. Mikrobiologisch wurde mittels Kultur, Polymerasekettenreaktion (PCR) und Sequenzierung Trichophyton (T.) tonsurans nachgewiesen. Unseres Wissens nach handelt es sich hier um den ersten publizierten Fall einer bullösen Tinea corporis durch T. tonsurans.
Abstract
Blister formation in tinea corporis is rare. Bullous tinea is usually evoked by zoophilic dermatophytes. A 20-year-old woman presented in our out-patient department with a painful pruritic bullous skin eruption at the left forearm. Clinically, a 4 × 3 cm symmetrical plaque with sharp borders and peripheral versiculation and serous crusts was seen. Histologically there was a marked spongiotic dermatitis with fungal elements in periodic acid stain (PAS). By fungal culture, PCR and gene sequencing Trichophyton (T.) tonsurans was identified. To the best of our knowledge, this is the first published case of T. tonsurans as the causative agent of bullous tinea corporis.
Access options
Buy single article
Instant access to the full article PDF.
US$ 39.95
Tax calculation will be finalised during checkout.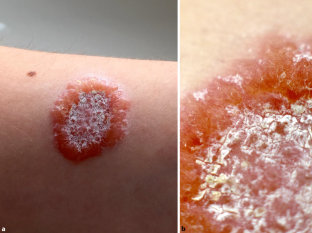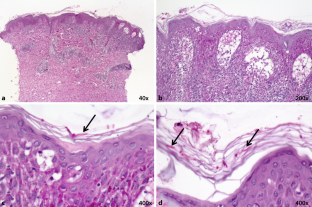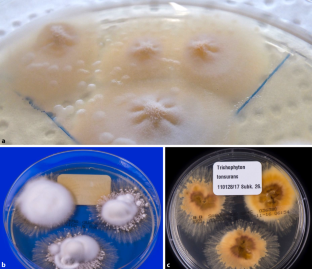 Literatur
1.

Hiruma J, Ogawa Y (2015) Trichophyton tonsurans infection in Japan. J Dermatol 42:245–249

2.

Romano C, Gaviria Morales E, Feci L, Trovato E, Fimiani M (2016) Six cases of tinea bullosa in Siena, Italy. J Eur Acad Dermatol Venereol 30(1):133–135

3.

Aste N, Pau M, Aste N (2005) Tinea manuum bullosa. Mycoses 48(1):80–81

4.

Sahu P, Dayal S, Mawlong PG, Punia P, Sen R (2020) Tinea corporis bullosa secondary to trichophyton verrucosum: a newer etiological agent with literature review. Indian J Dermatol 65(1):76–78

5.

Gebauer S, Uhrlaß S, Koch D et al (2018) Schmerzhafte umschriebene bullöse Dermatose an der linken Hand nach Kontakt zu afrikanischen Weißbauchigeln. J Dtsch Dermatol Ges 16(6):787–790

6.

Terragni L, Marelli MA, Oriani A, Cecca E (1993) Tinea corporis bullosa. Mycoses 36(3–4):135–137

7.

Aalfs AS, Jonkman MF (2012) Tinea corporis bullosa due to microsporum canis mimicking linear IgA bullous dermatosis. Eur J Dermatol 22(6):805–806

8.

Veraldi S, Scarabelli G, Oriani A, Vigo GP (1996) Tinea corporis bullosa anularis. Dermatology 192(4):349–350

9.

Mareş M, Năstasă V, Apetrei IC, Suditu GC (2012) Tinea corporis bullosa due to Trichophyton schoenleinii: case report. Mycopathologia 174(4):319–322

10.

Nenoff P, Petter G, Klonowski E, Koch D, Wittig F, Krüger C, Uhrlaß S (2019) Tinea pedis bullosa durch Nannizzia persicolor – Patientenbeschreibung und Übersicht über die Literatur. Derm Prakt Dermatol 25(4):481–492
Ethics declarations
Interessenkonflikt
V. Fäßler, P. Nenoff, S. Uhrlaß und M.J. Köhler geben an, dass kein Interessenkonflikt besteht.
Für diesen Beitrag wurden von den Autoren keine Studien an Menschen oder Tieren durchgeführt. Für die aufgeführten Studien gelten die jeweils dort angegebenen ethischen Richtlinien. Für Bildmaterial oder anderweitige Angaben innerhalb des Manuskripts, über die Patienten zu identifizieren sind, liegt von ihnen und/oder ihren gesetzlichen Vertretern eine schriftliche Einwilligung vor.
About this article
Cite this article
Fäßler, V., Nenoff, P., Uhrlaß, S. et al. Bericht des ersten Falls einer bullösen Tinea corporis durch Trichophyton tonsurans . Hautarzt 72, 153–156 (2021). https://doi.org/10.1007/s00105-020-04670-8
Schlüsselwörter
Tinea bullosa

Zoophile Dermatophyten

Spongiotische Dermatitis

Erregeridentifikation

Polymerasekettenreaktion
Keywords
Bullosa tinea

Zoophilic dermatophytes

Spongiotic dermatitis

Pathogen identification

Polymerase chain reaction