Zusammenfassung
Das sebaziöse Carcinoma in situ (SCIS) stellt eine seltene intraepidermale Neoplasie dar, die am häufigsten im Augenlid- und Gesichtsbereich vorkommt. Während eine umfangreiche Literatur über invasive Talgdrüsenkarzinome und gutartige sebaziöse Tumoren existiert, lassen sich nur relativ wenige Artikel über SCIS finden. Wir berichten über den Fall einer 78-jährigen Frau mit SCIS-Befall der linken Wange, der sich klinisch als eine erythematöse Hauteffloreszenz manifestierte. Die Histologie der Hautbiopsie zeigte eine intraepidermale und intraadnexale Ausdehnung der atypischen Zellen mit feinschaumigem Zytoplasma und mit immunhistochemischer Adipophilin‑, CK7- und EMA-Positivität der Tumorzellen.
Abstract
Sebaceous carcinoma in situ (SCIS) is a rare intraepidermal neoplasia, mostly occurring on the eyelid and the face. Despite abundant literature on invasive sebaceous carcinoma, there are relatively few articles about SCIS. We report the case of 78-year-old woman suffering from SCIS of the left cheek, presenting as an erythematous skin lesion. The histological examination revealed intraepidermal and intraadnexal population of atypical cells with foamy cytoplasm and with immunohistochemical adipophilin-, cytokeratin-7- and EMA-positivity in the tumor cells.
Access options
Buy single article
Instant access to the full article PDF.
US$ 39.95
Tax calculation will be finalised during checkout.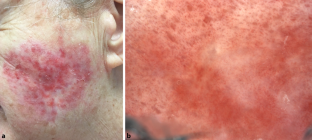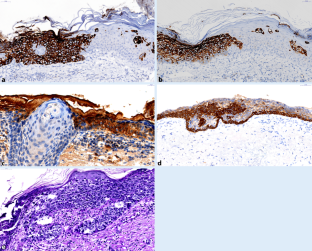 Literatur
1.

Ahmed TSS, Del Priore J, Seykora JT (2009) Tumors of the epidermal appendages. In: Elder DE, Elenitas R, Johnson BL, Murphy GF, Xu X (Hrsg) Lever's histopathology of the skin, 10. Aufl. Wolters Kluwer, Philadelphia, S 875–876

2.

Aung PP, Batrani M, Mirzabeigi M, Goldberg LJ (2014) Extraocular sebaceous carcinoma in situ: report of three cases and review of the literature. J Cutan Pathol 41(7):592–596

3.

Baldovini C, Betts CM, Reggiani C, Reggiani M, Foschini MP (2015) Ultrastructural examination of a case of pagetoid Bowen disease exhibiting immunohistochemical features in common with extramammary Paget disease. Am J Dermatopathol 37(7):e83–e86

4.

Cohen PR, Kohn SR, Kurzrock R (1991) Association of sebaceous gland tumors and internal malignancy: the Muir-Torre syndrome. Am J Med 90:606–613

5.

Currie GP, Plaza JA, Harris GJ (2014) Intraepithelial sebaceous carcinoma: a case report of an unusual occurrence. Am J Dermatopathol 36(8):673–676

6.

Elder DE, Elenitsas R, Johnson BL, Murphy FG (2009) Lever's Histopathology of the Skin, 9th Edition. Lippincott Williams & Wilkins, Philadelphia

7.

Froehlich H, Plaza JA (2016) Immunohistology and molecular studies of epithelial tumors. In: Plaza JA, Prieto VG (Hrsg) Applied immunohistochemistry in the evaluation of skin neoplasms. Springer, Basel, S 10–13

8.

Ishida M, Iwai M, Yoshida K, Kagotani A, Okabe H (2013) Sebaceous carcinoma associated with Bowen's disease: a case report with emphasis on the pathogenesis of sebaceous carcinoma. Int J Clin Exp Pathol 6(12):3029–3032

9.

Kacerovska D, Drlik L, Slezakova L, Michal M, Stehlik J, Sedivcova M, Hadravsky L, Kazakov DV (2016) Cutaneous sebaceous lesions in a patient with MUTYH-associated polyposis mimicking Muir-Torre syndrome. Am J Dermatopathol 38(12):915–923

10.

Kazakov DV, Kutner H, Spagnolo DV, Rütten A, Mukensnabl P, Michal M (2009) Discordant architectural and cytologic features in cutaneous sebaceous neoplasms—a classification dilemma: report of 5 cases. Am J Dermatopathol 31(1):31–36

11.

Kazakov DV, Kutzner H, Spagnolo DV, Rütten A, Mukensnabl P, Michal M (2010) What is extraocular cutaneous sebaceous carcinoma in situ? Am J Dermatopathol 32(8):857–858

12.

Kazakov DV, Kacerovska D, Michal M, McKee PH (2012) Cutaneous adnexal tumors. Wolters Kluwer Health, Lippincott & Williams & Wilkins, Philadelphia, S 362–368

13.

Komforti MK, Asgari M, Chen S (2017) Sebaceous carcinoma in situ as a concept and diagnostic entity. Dermatol Pract Concept 7(3):27–31

14.

Kramer JM, Chen S (2010) Sebaceous carcinoma in situ. Am J Dermatopathol 32(8):854–855

15.

Misago N, Kuwashiro M, Tsuruta N, Narisawa Y (2015) Sebaceous carcinoma in association with actinic keratosis: a report of two cases with an immunohistochemical study. J Cutan Pathol 42:616–620

16.

Namiki T, Miura K, Yokozeki H, Ansai SI (2018) Bowen disease with sebaceous differentiation: a case report and immunohistochemical analysis of adipophilin and cytokeratin 1. Am J Dermatopathol 40(11):841–845

17.

Ostler DA, Prieto VG, Reed JA, Deavers MT, Lazar AJ, Ivan D (2010) Adipophilin expression in sebaceous tumors and other cutaneous lesions with clear cell histology: an immunohistochemical study of 117 cases. Mod Pathol 23:567–573

18.

Tjarks BJ, Kerkvliet AM, Jassim AD (2018) Sebaceous carcinoma in situ masquerading clinically and histologically as Paget disease of the breast. S D Med 71(8):350–353

19.

Wick MR, Cree IA, Kazakov DV, Lazar AJ, Michal M, Sangüenza OP, Singh R, Wood BA, Zembowitz A (2018) Tumours with sebaceous differentiation. Sebaceous Carcinoma. In: Elder DE, Massi D, Scolyer RA, Willemze R (Hrsg) World Health Organization classification of tumours, 4. Aufl. IARC Press, Lyon, S 211–212
Förderung
Diese Kasuistik wurde von einem Forschungsprogramm der Karlsuniversität Prag PROGRES Q 28 (Onkologie) unterstützt.
Ethics declarations
Interessenkonflikt
J. Hrudka, A. Bezvodová, M. Arenbergerová, E. Sticová und D. Bandke geben an, dass kein Interessenkonflikt besteht.
Für diesen Beitrag wurden von den Autoren keine Studien an Menschen oder Tieren durchgeführt. Für die aufgeführten Studien gelten die jeweils dort angegebenen ethischen Richtlinien. Für Bildmaterial oder anderweitige Angaben innerhalb des Manuskripts, über die Patienten zu identifizieren sind, liegt von ihnen und/oder ihren gesetzlichen Vertretern eine schriftliche Einwilligung vor.
About this article
Cite this article
Hrudka, J., Bezvodová, A., Arenbergerová, M. et al. Sebaziöses Carcinoma in situ der extraokulären Haut. Hautarzt 71, 57–62 (2020). https://doi.org/10.1007/s00105-019-4464-y
Schlüsselwörter
Talgdrüsenkarzinom

Intraepidermales Karzinom

Histologie

Hautbiopsie

Kryotherapie
Keywords
Sebaceous gland neoplasms

Intraepidermal carcinoma

Histology

Skin biopsy

Cryotherapy