82/w mit intertriginösen Erythemen
Vorbereitung auf die Facharztprüfung: Folge 44
Fallschilderung für den Prüfungskandidaten
Anamnese
Seit 3 Jahren langsam progrediente, nässende und leicht brennende Rötung in den Leisten und im Genitalbereich. Bisherige Therapien mit Antimykotika und topischen Kortikosteroiden waren nicht erfolgreich. B‑Symptomatik wird verneint.
Klinische Untersuchung
Leicht schuppende, teils erosive bräunlich-rötliche Papeln und Plaques inguinal, im Genitalbereich und axillär (Abb.
1
a, b).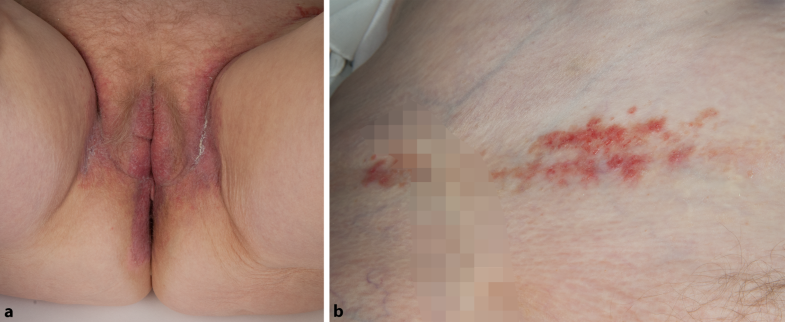 Schlüsselwörter
Langerhans-Zell-Histiozytose 
Intertrigo 
Genitale Erytheme 
Extramammärer Morbus Paget 
Genitale Neoplasien 
82-year-old female with intertriginous erythema
Preparation for the specialist examination: Part 44
Notes
Einhaltung ethischer Richtlinien
Interessenkonflikt
R.K.C. Moritz und C. Michl geben an, dass kein Interessenkonflikt besteht.
Dieser Beitrag beinhaltet keine von den Autoren durchgeführten Studien an Menschen oder Tieren. Für Bildmaterial oder anderweitige Angaben innerhalb des Manuskripts, über die Patienten zu identifizieren sind, liegt von ihnen und/oder ihren gesetzlichen Vertretern eine schriftliche Einwilligung vor.
The supplement containing this article is not sponsored by industry.
Copyright information
© Springer Medizin Verlag GmbH, ein Teil von Springer Nature 2019