Zusammenfassung
Hintergrund
Die Gesundheitsversorgung der ansteigenden Zahl von Patienten mit chronischen Erkrankungen hat sich in den letzten Jahren zur gesundheitspolitischen Herausforderung entwickelt, die sich in Flächenländern mit einer geringen Bevölkerungsdichte potenziert. Hinzu kommt steigender Ärztemangel. Für Patienten aus ländlichen Regionen ist bisher die Nachsorge sehr aufwendig.
Ziel
Das Hauptziel bestand in der Realisierung einer teledermatologischen Patientenbetreuung für die Behandlung von hauterkrankten Patienten in strukturschwachen Regionen am Beispiel von Mecklenburg-Vorpommern (MV) durch den Auf- und Ausbau telemedizinischer Strukturen. Diese sollten sowohl in der sektorübergreifenden und interdisziplinären Zusammenarbeit zwischen Haus- und Hautärzten sowie Kliniken anwendbar sein (Telekonsil).
Material und Methoden
Damit eine weitgehend flächendeckende Versorgung gewährleistet werden kann, sind die Leistungserbringer als Kooperationspartner in das Versorgungskonzept einbezogen: 10 niedergelassene Dermatologen, 95 niedergelassene Hausärzte, 10 Notaufnahmen von Krankenhäusern sowie eine Reha-Klinik in MV. Neben den medizinischen Herausforderungen waren die neuen gesetzlichen Anforderungen hinsichtlich des Datenschutzes (Datenschutz-Grundverordnung [DSGVO]) und der Digitalisierung (eHealth-Gesetz) zu berücksichtigen.
Ergebnisse
Ergebnis ist eine innovative Lösung zur Unterstützung der Betreuung von Patienten mit chronischen Hauterkrankungen oder Wunden, basierend auf Mobil- und Webanwendungen, gesteuert durch eine sichere Telematikplattform. Das Telekonsil wird bereits erfolgreich in der Praxis angewendet.
Schlussfolgerung
Teledermatologie bietet sowohl Patienten als auch Gesundheitsdienstleistern messbare Vorteile und ist problemlos in den Praxisablauf integrierbar.
Abstract
Background
Health care for the increasing number of patients with chronic illnesses has become a major challenge to the politics of public health, especially in rural areas. Follow-up care for those patients requires a great amount of resources. Apart from managing appointments, patients often have to accept long journeys and waiting times.
Objective
Implementation of teledermatology solutions, providing telemedicine care for patients with skin diseases in structurally weak regions. Using the example of the region Mecklenburg-Vorpommern (MV), the main focus was to build and expand a telemedicine structure in an area where the number of registered specialist physicians is expected to continually decline. A further objective was to intensify the cross-sectoral and interdisciplinary cooperation between physicians and dermatologists, as well as hospitals (teleconsultation module).
Methods
To ensure the highest level of comprehensive care, the project partners currently involved are: 10 dermatologists, 95 physicians, 10 emergency departments of hospitals and one rehabilitation clinic in MV. The challenge of designing a solution that incorporates complex medical data, as well as adhering to the legal requirements of data protection and data security (GDPR, eHealth law, eHealth initiative), has been met.
Results and discussion
An innovative solution to support the care of patients with chronic skin diseases or wounds has been developed and implemented. Mobile applications and web applications have been designed and are running on the secure telematics platform. The teleconsultation module is being used.
Conclusion
Teledermatolocial solutions offer measurable benefits to patients and health care providers and can be seamlessly incorporated into existing settings.
This is a preview of subscription content, log in to check access.
Access options
Buy single article
Instant access to the full article PDF.
US$ 39.95
Price includes VAT for USA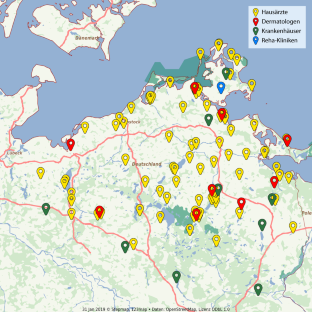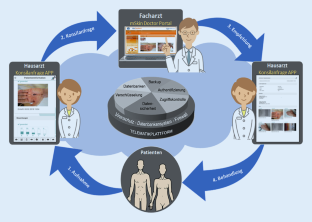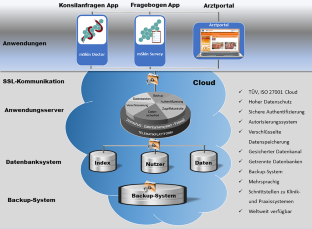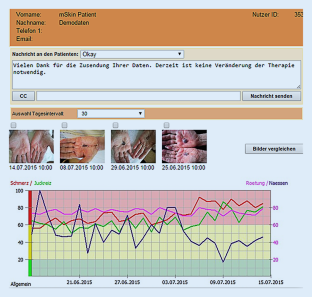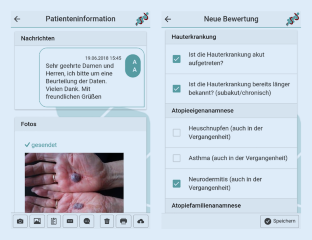 Notes
1.

Techniker Krankenkasse – Landesvertretung Mecklenburg-Vorpommern (TK), Manon Austenat-Wied (Leiterin der Landesvertretung).

2.

Klinik und Poliklinik für Hautkrankheiten der Universitätsmedizin Greifswald (UMG), Prof. Dr. Michael Jünger, Direktor.

3.

Informations- und Kommunikationsgesellschaft mbH Neubrandenburg, Rolf-Dietrich Berndt, Geschäftsführer.

4.

Institut für angewandte Versorgungsforschung GmbH, Univ.-Prof. Dr. Volker Amelung, Geschäftsführer.
Literatur
1.

EU (2018) Datenschutz-Grundverordnung DSGVO. Art. 32 DSGVO. Sicherheit der Verarbeitung. https://dsgvo-gesetz.de/art-32-dsgvo/. Zugegriffen: 11. Jan. 2019

2.

Kipker D‑K (2015) Privacy by default und privacy by design. Datenschutz Datensicherheit 39(6):410

3.

Takenga MC et al (2012) Stress and fitness monitoring embedded on a modern Telematics platform. Telemed J E Health 18(5):371–376

4.

Berndt R‑D, Takenga MC, Kuehn S, Preik P, Sommer G, Berndt S (2012) SaaS-platform for mobile health applications. In: Proceedings of the 9th International Multi-Conference on Systems, Signals and Devices (SSD) 9th International Multi-Conference on Systems, Signals and Devices (SSD), Chemnitz, Germany, 03.2012, S 1–4

5.

Berndt R‑D et al (2011) Telematics platform: Implementation of health solutions. In: Proceedings of the 9th International Forum Life Science Automation and medical automation 9th International Forum Life Science Automation and medical automation, Washington D.C., USA

6.

Haas P, Kuhn K (2011) Krankenhausinformationssysteme – Ziele, Nutzen, Topologie, Auswahl. In: Kramme R (Hrsg) Medizintechnik. Springer, Berlin, Heidelberg

7.

Gesellschaft für Telematikanwendungen der Gesundheitskarte mbH (Gematik) (2019) Telematikinfrastruktur. https://www.gematik.de/telematikinfrastruktur/. Zugegriffen: 15. Jan. 2019

8.

Qualitätsring Medizinische Software (QMS) (2019) GDT-Schnittstelle. https://www.qms-standards.de/standards/gdt-schnittstelle/. Zugegriffen: 15. Jan. 2019
Ethics declarations
Interessenkonflikt
R.-D. Berndt ist Geschäftsführer der Infokom GmbH, P. Preik und C. Takenga sind als Mitarbeiter bei der Infokom GmbH tätig.
Dieser Beitrag beinhaltet keine von den Autoren durchgeführten Studien an Menschen oder Tieren.
About this article
Cite this article
Berndt, R., Preik, P. & Takenga, C. TeleDermatologie. Hautarzt 70, 335–342 (2019). https://doi.org/10.1007/s00105-019-4375-y
Schlüsselwörter
Datenschutz

eHealth

Telekonsil

Telematikplattform

Strukturschwache Gebiete
Keywords
Data security

eHealth

Teleconsulting

Telematics platform

Structurally weak regions