Zusammenfassung
Genodermatosen sind seltene genetische Erkrankungen mit einem breiten Spektrum an kutanen und extrakutanen Manifestationen und molekulargenetischem Hintergrund. Bei Verdacht auf eine Genodermatose bleiben die klinische Bewertung durch erfahrene Spezialisten und eine sinnvolle Staffelung der Untersuchungen auch in der Ära der "Next Generation Sequencing" (NGS) unabdingbar. Der Diagnostikpfad zur molekularen Abklärung der Diagnose ist von der klinischen und genetischen Heterogenität der Krankheitsgruppe abhängig. Die Anwendung der NGS-basierten Tests führt zu einer wesentlich kürzeren Zeit der Diagnose der Genodermatosen und der Identifizierung neuer Erkrankungen und krankheitsassoziierter Gene. Die neu gewonnenen Erkenntnisse zu Genotyp-Phänotyp-Korrelationen sollten die Grundlage für eine zeitgemäße molekulargenetische Revision der Klassifikation der Genodermatosen bilden.
Abstract
Genodermatoses are rare genetic disorders with a broad spectrum of cutaneous and extracutaneous manifestations that have a genetic background. A thorough clinical examination, laboratory workup and morphological analyses of the skin remain crucial for the diagnosis in the era of next generation sequencing (NGS). The diagnostic algorithm depends on the clinical and molecular heterogeneity and should be adapted for each group of genodermatoses. In cases with uncharacteristic phenotypes which cannot be classified, NGS-based testing accelerates the time to diagnosis and leads to the identification of new disorders and new disease-associated genes. The new knowledge on genotype–phenotype correlations should enable revision of the classification of genodermatoses on a molecular basis.
Access options
Buy single article
Instant access to the full article PDF.
USD 39.95
Price includes VAT (USA)
Tax calculation will be finalised during checkout.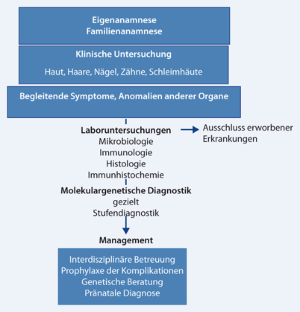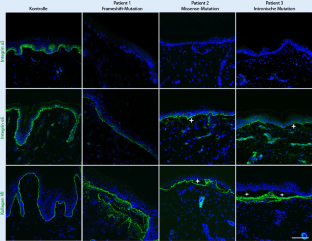 Literatur
1.

Leech SN, Moss C (2007) A current and online genodermatosis database. Br J Dermatol 156(6):1115–1148

2.

Feramisco JD, Sadreyev RI, Murray ML, Grishin NV, Tsao H (2009) Phenotypic and genotypic analyses of genetic skin disease through the Online Mendelian Inheritance in Man (OMIM) database. J Invest Dermatol 129(11):2628–2636

3.

Lemke JR, Kernland-Lang K, Hörtnagel K, Itin P (2014) Monogenic human skin disorders. Dermatology 229(2):55–64

4.

Has C, Giehl K (2014) [Rare diseases are common]. Hautarzt 65(6):488–489

5.

Has C, Bruckner-Tuderman L (2014) The genetics of skin fragility. Annu Rev Genomics Hum Genet 15:245–268

6.

Laimer M, Bauer JW, Lang R (2015) [Molecular diagnostics in genodermatoses]. Hautarzt 66(3):203–211. (quiz 212–3)

7.

Pohla-Gubo G, Cepeda-Valdes R, Hintner H (2010) Immunofluorescence mapping for the diagnosis of epidermolysis bullosa. Dermatol Clin 28(2):201–210, vii

8.

Has C, Kiritsi D (2014) [The many facets of inherited skin fragility]. Hautarzt 65(6):490–498

9.

Lehmann J, Schubert S, Emmert S (2014) Xeroderma pigmentosum: diagnostic procedures, interdisciplinary patient care, and novel therapeutic approaches. J Dtsch Dermatol Ges J Ger Soc Dermatol 12(10):867–872

10.

Lehmann J, Schubert S, Schäfer A, Laspe P, Haenssle HA, Ohlenbusch A et al (2014) A novel mutation in the XPA gene results in two truncated protein variants and leads to a severe XP/neurological symptoms phenotype. J Eur Acad Dermatol Venereol. doi:10.1111/jdv.12841

11.

Poblete-Gutiérrez P, Wiederholt T, Merk HF, Frank J (2006) [Laboratory tests and therapeutic strategies for the porphyrias]. Hautarzt 57(6):493–501

12.

Poblete-Gutiérrez P, Wiederholt T, Merk HF, Frank J (2006) The porphyrias: clinical presentation, diagnosis and treatment. Eur J Dermatol 16(3):230–240

13.

Traupe H, Fischer J, Oji V (2014) Nonsyndromic types of ichthyoses – an update. J Dtsch Dermatol Ges 12(2):109–121

14.

Raghunath M, Hennies HC, Velten F, Wiebe V, Steinert PM, Reis A et al (1998) A novel in situ method for the detection of deficient transglutaminase activity in the skin. Arch Dermatol Res 290(11):621–627

15.

Oji V, Tadini G, Akiyama M, Blanchet Bardon C, Bodemer C, Bourrat E et al (2010) Revised nomenclature and classification of inherited ichthyoses: results of the First Ichthyosis Consensus Conference in Sorèze 2009. J Am Acad Dermatol 63(4):607–641

16.

Fischer J (2009) Autosomal recessive congenital ichthyosis. J Invest Dermatol 129(6):1319–1321

17.

Israeli S, Goldberg I, Fuchs-Telem D, Bergman R, Indelman M, Bitterman-Deutsch O et al (2013) Non-syndromic autosomal recessive congenital ichthyosis in the Israeli population. Clin Exp Dermatol 38(8):911–916

18.

Tenedini E, Artuso L, Bernardis I, Artusi V, Percesepe A, De Rosa L et al (2015) Amplicon-based next-generation sequencing: an effective approach for the molecular diagnosis of epidermolysis bullosa. Br J Dermatol 173(3):731–738

19.

Scott CA, Plagnol V, Nitoiu D, Bland PJ, Blaydon DC, Chronnell CM et al (2013) Targeted sequence capture and high-throughput sequencing in the molecular diagnosis of ichthyosis and other skin diseases. J Invest Dermatol 133(2):573–576

20.

Has C, Kiritsi D, Mellerio JE, Franzke C-W, Wedgeworth E, Tantcheva-Poor I et al (2014) The missense mutation p.R1303Q in type XVII collagen underlies junctional epidermolysis bullosa resembling Kindler syndrome. J Invest Dermatol 134(3):845–849

21.

Salam A, Simpson MA, Stone KL, Takeichi T, Nanda A, Akiyama M et al (2014) Next generation diagnostics of heritable connective tissue disorders. Matrix Biol J Int Soc Matrix Biol 33:35–40

22.

Takeichi T, Liu L, Fong K, Ozoemena L, McMillan JR, Salam A et al (2015) Whole-exome sequencing improves mutation detection in a diagnostic epidermolysis bullosa laboratory. Br J Dermatol 172(1):94–100

23.

Kiritsi D, Valari M, Fortugno P, Hausser I, Lykopoulou L, Zambruno G et al (2015) Whole-exome sequencing in patients with ichthyosis reveals modifiers associated with increased IgE levels and allergic sensitizations. J Allergy Clin Immunol 135(1):280–283

24.

Campbell P, Morton PE, Takeichi T, Salam A, Roberts N, Proudfoot LE et al (2014) Epithelial inflammation resulting from an inherited loss-of-function mutation in EGFR. J Invest Dermatol 134(10):2570–2578

25.

Takeichi T, Nanda A, Aristodemou S, McMillan JR, Lee J, Akiyama M et al (2015) Whole-exome sequencing diagnosis of two autosomal recessive disorders in one family. Br J Dermatol 172(5):1407–1411

26.

Pohler E, Cunningham F, Sandilands A, Cole C, Digby S, McMillan JR et al (2015) Novel autosomal dominant mutation in loricrin presenting as prominent ichthyosis. Br J Dermatol. doi:10.1111/bjd.13895

27.

Giehl KA, Eckstein GN, Pasternack SM, Praetzel-Wunder S, Ruzicka T, Lichtner P et al (2012) Nonsense mutations in AAGAB cause punctate palmoplantar keratoderma type Buschke-Fischer-Brauer. Am J Hum Genet 91(4):754–759

28.

Blaydon DC, Lind LK, Plagnol V, Linton KJ, Smith FJD, Wilson NJ et al (2013) Mutations in AQP5, encoding a water-channel protein, cause autosomal-dominant diffuse nonepidermolytic palmoplantar keratoderma. Am J Hum Genet 93(2):330–335

29.

Samuelov L, Sarig O, Harmon RM, Rapaport D, Ishida-Yamamoto A, Isakov O et al (2013) Desmoglein 1 deficiency results in severe dermatitis, multiple allergies and metabolic wasting. Nat Genet 45(10):1244–1248

30.

McAleer MA, Pohler E, Smith FJD, Wilson NJ, Cole C, MacGowan S et al (2015) Severe dermatitis, multiple allergies, and metabolic wasting syndrome caused by a novel mutation in the N-terminal plakin domain of desmoplakin. J Allergy Clin Immunol. doi:10.1016/j.jaci.2015.05.002

31.

Happle R (2014) [How frequently does genetic mosaicism occur in the skin?]. Hautarzt 65(6):536–541

32.

Has C (2011) Mosaicism in the skin: the importance of mild or minimal skin lesions. Arch Dermatol 147(9):1094–1096

33.

Hoffman K, Hertl M, Sitaru C (2015) Molekulare Diagnostik der blasenbildenden Autoimmundermatosen. Hautarzt. doi:10.1007/s105-015-3723-9
Ethics declarations
Interessenkonflikt
C. Has und Y. He geben an, dass kein Interessenkonflikt besteht.
Dieser Beitrag beinhaltet keine Studien an Menschen oder Tieren.
About this article
Cite this article
Has, C., He, Y. Praktische Aspekte der molekularen Diagnostik bei Genodermatosen. Hautarzt 67, 53–58 (2016). https://doi.org/10.1007/s00105-015-3721-y
Schlüsselwörter
Mutation

Ichthyose

Epidermolysis bullosa

Pränatale Diagnostik

Hochdurchsatzsequenzierung
Keywords
Mutation

Ichthyosis

Epidermolysis bullosa

Prenatal diagnosis

High-throughput nucleotide sequencing