Zusammenfassung
Hintergrund/Fragestellung
In dieser Übersichtsarbeit werden diagnostische und therapeutische Prinzipien genitaler Ulzera infektiöser Genese beleuchtet. Neben häufigen ursächlichen Infektionen werden auch seltene, jedoch differenzialdiagnostisch relevante Erkrankungen besprochen.
Material und Methoden
Dieser Arbeit liegen eine Pubmed-Literaturrecherche, Leitlinien diverser Arbeitsgruppen sowie klinische Erfahrungen zugrunde.
Ergebnisse
Herpes-simplex-Virus-Infektionen gefolgt von der Syphilis sind weiterhin die häufigsten Ursachen infektiöser genitaler Ulzera. Ein endemisches Auftreten früher in Europa seltener Infektionserkrankungen wurde in den letzten Jahren beobachtet. Insbesondere Risikogruppen wie Männer, die Sex mit Männern haben (MSM), Sexarbeiter oder Sextouristen sind hiervon betroffen. Auch seltenere Lokalisationen wie die Mundhöhle oder das Rektum [z. B. Lymphogranuloma venereum (LGV)-Proktitis] und eine atypische Klinik (z. B. Unterbauchschmerzen mit pelviner Lymphadenopathie bei LGV) müssen differenzialdiagnostisch in Betracht gezogen werden.
Schlussfolgerungen
Erkrankungen durch STI (sexuell übertragbare Infektionen) nehmen seit einigen Jahren auch in den westlichen Industrienationen wieder erheblich zu. Bei allen diagnostisch unklaren Befunden im Genital- und Analbereich (aber auch in der Mundhöhle!) muss differenzialdiagnostisch wieder vermehrt an STI-Erkrankungen gedacht werden.
Abstract
Background/objectives
In this review article the diagnostic and therapeutic principles of genital ulcers of infectious etiology are highlighted. Besides frequent causative infections rare but relevant diseases in the differential diagnosis are discussed in detail.
Material and methods
A Pubmed literature search was carried out, guidelines from different task groups and clinical experiences are presented.
Results
Infections with herpes simplex virus (first) and syphilis (second) are still the most common causes of infectious genital ulcers. An endemic occurrence, previously rare in Europe, has been observed in recent years. Particular risk groups, such as men who have sex with men (MSM), sex workers or sex tourists are affected. Even less common locations, such as the mouth or the rectum, lymphogranuloma venereum (LGV) and atypical clinical symptoms (e.g. pelvic pain in pelvic lymphadenopathy with LGV) must be considered in the differential diagnosis.
Conclusion
In recent years sexually transmitted infections (STI) have shown a significant increase in western industrialized nations. In all cases with unclear findings in the genital and anal areas (and also in the oral cavity) STI diseases must be reconsidered in the differential diagnosis.
Access options
Buy single article
Instant access to the full article PDF.
US$ 39.95
Tax calculation will be finalised during checkout.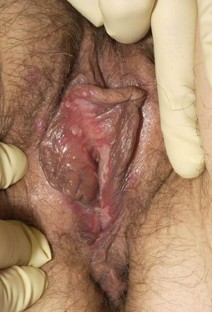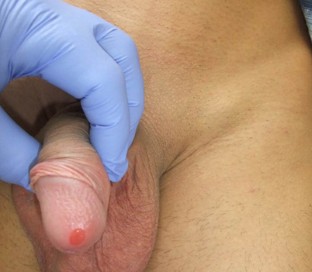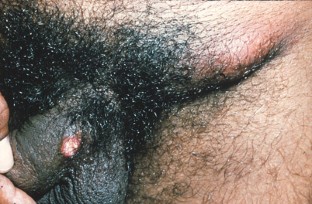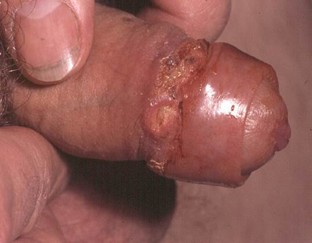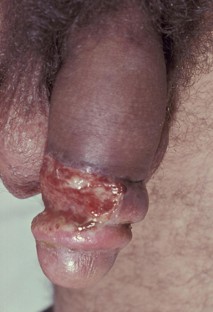 Literatur
1

Beelar VP Zimmerman HJ Manchester B (1949) Prozone phenomenon in the serodiagnosis of syphilis; a clinical study. Am J Med Sci 217:658–665

2

Belshe RB, Leone PA, Bernstein DI et al (2012) Efficacy results of a trial of a herpes simplex vaccine. N Engl J Med 366:34–43

3

Benedetti J, Corey L, Ashley R (1994) Recurrence rates in genital herpes after symptomatic first-episode infection. Ann Intern Med 121:847–854

4

Bowden FJ, Bright A, Rode JW et al (2000) Donovanosis causing cervical lymphadenopathy in a five-month-old boy. Pediatr Infect Dis J 19:167–169

5

Brandon WR, Boulos LM, Morse A (1993) Determining the prevalence of neurosyphilis in a cohort co-infected with HIV. Int J STD AIDS 4:99–101

6

Buxbaum S, Geers M, Gross G et al (2003) Epidemiology of herpes simplex virus types 1 and 2 in Germany: what has changed? Med Microbiol Immunol 192:177–181

7

Carter JS, Bowden FJ, Bastian I et al (1999) Phylogenetic evidence for reclassification of Calymmatobacterium granulomatis as Klebsiella granulomatis comb. nov. Int J Syst Bacteriol 49 Pt 4:1695–1700

8

Chen CY, Chi KH, Pillay A et al (2013) Detection of the A2058G and A2059G 23S rRNA gene point mutations associated with azithromycin resistance in Treponema pallidum by use of a TaqMan real-time multiplex PCR assay. J Clin Microbiol 51:908–913

9

Cousins DE, Taylor M, Lee V (2012) The outcome of treatment of early syphilis with different benzathine penicillin regimens in HIV-infected and -uninfected patients. Int J STD AIDS 23:632–634

10

De Vries HJ, Zingoni A, Kreuter A et al (2014) European guideline on the management of lymphogranuloma venereum. J Eur Acad Dermatol Venereol. doi: 10.1111/jdv.12461 [Epub ahead of print]

11

Dolan A, Jamieson FE, Cunningham C et al (1998) The genome sequence of herpes simplex virus type 2. J Virol 72:2010–2021

12

Freeman EE, Weiss HA, Glynn JR et al (2006) Herpes simplex virus 2 infection increases HIV acquisition in men and women: systematic review and meta-analysis of longitudinal studies. AIDS 20:73–83

13

French P, Gomberg M, Janier M et al (2009) IUSTI: 2008 European guidelines on the management of syphilis. Int J STD AIDS 20:300–309

14

Ghanem KG, Erbelding EJ, Wiener ZS et al (2007) Serological response to syphilis treatment in HIV-positive and HIV-negative patients attending sexually transmitted diseases clinics. Sex Transm Infect 83:97–101

15

Gupta R, Warren T, Wald A (2007) Genital herpes. Lancet 370:2127–2137

16

Kapoor S (2008) Re-emergence of lymphogranuloma venereum. J Eur Acad Dermatol Venereol 22:409–416

17

Kemp M, Christensen JJ, Lautenschlager S et al (2011) European guideline for the management of chancroid, 2011. Int J STD AIDS 22:241–244

18

Kharsany AB, Hoosen AA, Kiepiela P et al (1999) Phylogenetic analysis of Calymmatobacterium granulomatis based on 16S rRNA gene sequences. J Med Microbiol 48:841–847

19

Kingston M, French P, Goh B et al (2008) UK national guidelines on the management of syphilis 2008. Int J STD AIDS 19:729–740

20

Lafferty WE, Krofft S, Remington M et al (1987) Diagnosis of herpes simplex virus by direct immunofluorescence and viral isolation from samples of external genital lesions in a high-prevalence population. J Clin Microbiol 25:323–326

21

Lautenschlager S (2006) Diagnosis of syphilis: clinical and laboratory problems. J Dtsch Dermatol Ges 4:1058–1075

22

Malessa R, Agelink MW, Hengge U et al (1996) Oligosymptomatic neurosyphilis with false negative CSF-VDRL in HIV-infected individuals? Eur J Med Res 1:299–302

23

Marra CM, Maxwell Cl, Smith Sl et al (2004) Cerebrospinal fluid abnormalities in patients with syphilis: association with clinical and laboratory features. J Infect Dis 189:369–376

24

Martin IM, Alexander SA, Ison CA et al (2006) Diagnosis of lymphogranuloma venereum from biopsy samples. Gut 55:1522–1523

25

Muldoon E, Mooka B, Reidy D et al (2012) Long-term neurological follow-up of HIV-positive patients diagnosed with syphilis. Int J STD AIDS 23:676–678

26

Nahmias AJ, Lee FK, Beckman-Nahmias S (1990) Sero-epidemiological and -sociological patterns of herpes simplex virus infection in the world. Scand J Infect Dis Suppl 69:19–36

27

O'Farrell N, Moi H (2010) European guideline for the management of donovanosis, 2010. Int J STD AIDS 21:609–610

28

Peuchant O, Baldit C, Le Roy C et al (2011) First case of Chlamydia trachomatis L2b proctitis in a woman. Clin Microbiol Infect 17:E21–23

29

Rompalo AM, Joesoef MR, O'donnell JA et al (2001) Clinical manifestations of early syphilis by HIV status and gender: results of the syphilis and HIV study. Sex Transm Dis 28:158–165

30

Rompalo AM, Lawlor J, Seaman P et al (2001) Modification of syphilitic genital ulcer manifestations by coexistent HIV infection. Sex Transm Dis 28:448–454

31

Rönn MM, Ward H (2011) The association between lymphogranuloma venereum and HIV among men who have sex with men: systematic review and meta-analysis. BMC Infect Dis 11:70

32

Rosen T, Vandergriff T, Harting M (2009) Antibiotic use in sexually transmissible diseases. Dermatol Clin 27:49–61

33

Schöfer H (2004) Syphilis. Clinical aspects of Treponema pallidum infection. Hautarzt 55:112–119

34

Schöfer H, Imhof M, Thoma-Greber E et al (1996) Active syphilis in HIV infection: a multicentre retrospective survey. The German AIDS Study Group (GASG). Genitourin Med 72:176–181

35

Smith G, Holman RP (2004) The prozone phenomenon with syphilis and HIV-1 co-infection. South Med J 97:379–382

36

Somboonna N, Wan R, Ojcius DM et al (2011) Hypervirulent Chlamydia trachomatis clinical strain is a recombinant between lymphogranuloma venereum (L(2)) and D lineages. MBio 2:e00045–00011

37

Soni S, Srirajaskanthan R, Lucas SB et al (2010) Lymphogranuloma venereum proctitis masquerading as inflammatory bowel disease in 12 homosexual men. Aliment Pharmacol Ther 32:59–65

38

Stary G, Meyer T, Bangert C et al (2008) New Chlamydia trachomatis L2 strains identified in a recent outbreak of lymphogranuloma venereum in Vienna, Austria. Sex Transm Dis 35:377–382

39

Verweij SP, Ouburg S, De Vries H et al (2012) The first case record of a female patient with bubonic lymphogranuloma venereum (LGV), serovariant L2b. Sex Transm Infect 88:346–347

40

Weiss HA, Thomas Sl, Munabi SK et al (2006) Male circumcision and risk of syphilis, chancroid, and genital herpes: a systematic review and meta-analysis. Sex Transm Infect 82:101–109; discussion 110

41

White JA (2009) Manifestations and management of lymphogranuloma venereum. Curr Opin Infect Dis 22:57–66

42

Workowski KA, Berman S (2010) Sexually transmitted diseases treatment guidelines, 2010. MMWR Recomm Rep 59:1–110

43

Dicarlo RP, Martin DH (1997) The clinical diagnosis of genital ulcer disease in men. Clin Infect Dis 25:292–298

44

Langenberg AG, Corey L, Ashley Rl et al (1999) A prospective study of new infections with herpes simplex virus type 1 and type 2. Chiron HSV Vaccine Study Group. N Engl J Med 341:1432–1438

45

DSTIG (2014) Leitlinie Diagnostik und Therapie der Syphilis. Aktualisierung und Aufwertung 2014. AWMF Leitlinie 059/002. http://www.awmf.org/uploads/tx_szleitlinien/059002l_S2k_Diagnostik_Therapie_Syphilis_2014_07.pdf
Ethics declarations
Interessenkonflikt
B. Malisiewicz und H. Schöfer geben an, dass kein Interessenkonflikt besteht.
Dieser Beitrag beinhaltet keine Studien an Menschen oder Tieren.
About this article
Cite this article
Malisiewicz, B., Schöfer, H. Diagnostik und Behandlung genitoanaler Ulzera infektiöser Genese. Hautarzt 66, 19–29 (2015). https://doi.org/10.1007/s00105-014-3551-3
Schlüsselwörter
Sexuell übertragbare Infektionen

Syphilis

Herpes-simplex-Virus

Risikogruppen

Lokalisation
Keywords
Sexually transmitted diseases

Syphilis

Herpes simplex virus

Risk groups

Locations