Zusammenfassung
Ein 5-jähriges gegen Varizella-Zoster-Virus (VZV) geimpftes Mädchen stellte sich mit der Klinik eines Herpes Zoster C6 vor. Ein VZV-Direktnachweis fiel trotz Entnahme von ausreichend Zellmaterial aus frischen Blasen 3-fach negativ aus. Erst eine ergänzende genotypische Analyse zeigte einen VZV-Stamm des Genotyps 2 (Oka-Impfstamm), sodass die seltene Diagnose eines Impfzosters gestellt wurde. Die Patientin erhielt eine entsprechende Therapie, ein Immundefekt wurde ausgeschlossen. Dieser Fall zeigt, dass ein negativer VZV-Direktnachweis keineswegs das Vorliegen eines Impfzosters ausschließt.
Abstract
A five-year-old girl, vaccinated against varicella-zoster virus (VZV) presented with clinical symptoms of herpes zoster in the 6th cervical dermatome. A VZV direct immune-fluorescence assay was negative three times but additional genotypical analysis showed a VZV strain genotype 2 (Oka vaccine strain). Therefore the diagnosis of a breakthrough varicella disease with the vaccine strain was established. An immunodeficiency was ruled out and the patient responded well to the initiated therapy. This case demonstrates that a negative VZV direct immunofluorescence assay does not exclude an infection with the vaccine strain.
Access options
Buy single article
Instant access to the full article PDF.
US$ 39.95
Tax calculation will be finalised during checkout.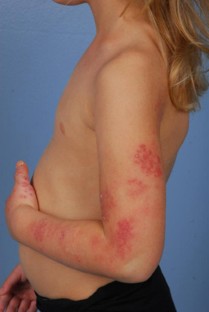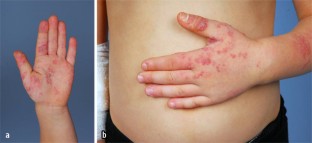 Literatur
1.

(o A) (2011) Empfehlungen der Ständigen Impfkommission (STIKO) am Robert Koch-Institut/Stand: Juli 2011. Epidemiol Bull 275–294

2.

Brisson M, Gay NJ, Edmunds WJ, Andrews NJ (2002) Exposure to varicella boosts immunity to herpes-zoster: implications for mass vaccination against chickenpox. Vaccine 20:2500–2507

3.

Brunell PA, Argaw T (2000) Chickenpox attributable to a vaccine virus contracted from a vaccinee with zoster. Pediatrics 106:E28

4.

Brunell PA, Taylor-Wiedeman J, Geiser CF et al (1986) Risk of herpes zoster in children with leukemia: varicella vaccine compared with history of chickenpox. Pediatrics 77:53–56

5.

Chan Y, Smith D, Sadlon T et al (2007) Herpes zoster due to Oka vaccine strain of varicella zoster virus in an immunosuppressed child post cord blood transplant. J Paediatr Child Health 43:713–715

6.

Civen R, Chaves SS, Jumaan A et al (2009) The incidence and clinical characteristics of herpes zoster among children and adolescents after implementation of varicella vaccination. Pediatr Infect Dis J 28:954–959

7.

Feder HM Jr, Hoss DM (2004) Herpes zoster in otherwise healthy children. Pediatr Infect Dis J 23:451–457; quiz 458–460

8.

Galea SA, Sweet A, Beninger P et al (2008) The safety profile of varicella vaccine: a 10-year review. J Infect Dis 197(Suppl 2):165–169

9.

Garnett GP, Grenfell BT (1992) The epidemiology of varicella-zoster virus infections: the influence of varicella on the prevalence of herpes zoster. Epidemiol Infect 108:513–528

10.

Gershon AA, LaRussa P, Steinberg S et al (1996) The protective effect of immunologic boosting against zoster: an analysis in leukemic children who were vaccinated against chickenpox. J Infect Dis 173:450–453

11.

Guess HA, Broughton DD, Melton LJ III, Kurland LT (1985) Epidemiology of herpes zoster in children and adolescents: a population-based study. Pediatrics 76:512–517

12.

Hardy I, Gershon AA, Steinberg SP, LaRussa P (1991) The incidence of zoster after immunization with live attenuated varicella vaccine. A study in children with leukemia. Varicella Vaccine Collaborative Study Group. N Engl J Med 325:1545–1550

13.

Kelm S, Bierbach U, Sauerbrei A, Schuster V (2010) Herpes Zoster bei einem VZV-geimpften Kleinkind mit akuter myeloischer Leukämie: Nachweis des VZV-Oka-Impfstammes in den Zoster-Hauteffloreszenzen. Kinder Jugendmed 10:141–144

14.

Liang MG, Heidelberg KA, Jacobson RM, McEvoy MT (1998) Herpes zoster after varicella immunization. J Am Acad Dermatol 38:761–763

15.

Oxman MN, Levin MJ, Johnson GR et al (2005) A vaccine to prevent herpes zoster and postherpetic neuralgia in older adults. N Engl J Med 352:2271–2284

16.

Sauerbrei A, Rubtcova E, Wutzler P et al (2004) Genetic profile of an Oka varicella vaccine virus variant isolated from an infant with zoster. J Clin Microbiol 42:5604–5608

17.

Sauerbrei A, Uebe B, Wutzler P (2003) Molecular diagnosis of zoster post varicella vaccination. J Clin Virol 27:190–199

18.

Stein M, Cohen R, Bromberg M et al (2012) Herpes zoster in a partially vaccinated pediatric population in central Israel. Pediatr Infect Dis J 31:906–909
Interessenkonflikt
Der korrespondierende Autor gibt für sich und seine Koautoren an, dass kein Interessenkonflikt besteht.
About this article
Cite this article
Fahlbusch, M., Wesselmann, U. & Lehmann, P. Herpes zoster nach Varicella-Zoster-Virus-Impfung. Hautarzt 64, 107–109 (2013). https://doi.org/10.1007/s00105-012-2477-x
Schlüsselwörter
Herpes zoster

Kinder

Impfung

Oka-Impfstamm

Direktnachweis
Keywords
Herpes zoster

Children

Vaccination

Oka vaccine strain

Direct Immunofluorescence assay