Zusammenfassung
Chronisch rezidivierende Aphthen sind die häufigsten entzündlichen Läsionen der Mundschleimhaut mit bis zu 10% in der Bevölkerung und höherer Prävalenz bei Kindern. Anamnese, klinische Morphe, Prädilektionsstellen und ein phasenhafter Ablauf sind hilfreich, um Erkrankungen, die aphthenähnlich imponieren können, zu unterscheiden. Konditionierende Grunderkrankungen sollten ausgeschlossen werden. Die Therapie soll die Schmerzhaftigkeit und die funktionellen Beeinträchtigungen sowie die Frequenz und den Schweregrad der Rezidive reduzieren. Bei leichteren Verlaufsformen stehen symptomatisch wirkende Lokalpräparate zur Verfügung. Bei schweren Verläufen einer Aphthose der Majorform oder bei Systembeteiligung kommen ebenfalls lokale Maßnahmen neben einer systemischen Therapie in Betracht, z. B. mit Colchicin, Pentoxifyllin oder Prednisolon. Im Rahmen des Morbus Admantiades-Behçet kann durch systemische Applikation immunmodulatorisch wirksamer Medikamente das Auftreten neuer Aphthen vermieden werden. Die Arbeit gibt einen Überblick über Erscheinungs- und Verlaufsformen, Differenzialdiagnosen und an Studien orientierten Therapiemöglichkeiten der Aphthen.
Abstract
Recurrent aphthous ulcers are the most common inflammatory lesions of the oral mucosa, occurring in up to 10% of the population and even more common in children. The history, morphological characteristics, predilection sides and typical stages of aphthae help to distinguish them from other diseases that may exhibit aphthous-like lesions. Underlying diseases should be excluded. The main goals of therapy are to minimize pain and functional disabilities as well as decrease frequency and severity of recurrences. Topical symptomatic relief is the standard of care for simple cases of recurrent aphthosis. In cases of major aphthosis or systemic involvement, topical therapies are still useful but should be combined with systemic therapy, such as colchicine, pentoxifylline or prednisolone. In case of Adamantiades-Behçet disease, systemic immunomodulatory drugs can inhibit the development of new lesions. This overview summarizes morphological and presentation forms of aphthae, differential diagnoses and evidence-based therapeutic possibilities.
Access options
Buy single article
Instant access to the full article PDF.
US$ 39.95
Tax calculation will be finalised during checkout.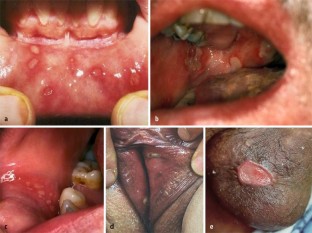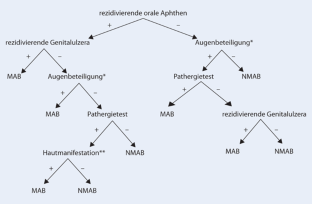 Literatur
1.

Altenburg A, Abdel-Naser MB, Seeber H et al (2007). Practical aspects of management of recurrent aphthous stomatitis. J Eur Acad Dermatol Venereol 21:1019–1026

2.

Altenburg A, Krahl D, Zouboulis CC (2008) Nicht-infektiöse exulzerierende Mundschleimhauterkrankungen. J Dtsch Dermatol Ges 7:242–257

3.

Altenburg A, Mahr A, Maldini C et al (2012) Epidemiologie und Klinik des Morbus Adamantiades-Behçet in Deutschland: Aktuelle Daten. Ophthalmologe109:531–541

4.

Altenburg A, Papoutsis N, Orawa H et al (2006) Epidemiologie und Klinik des Morbus Adamantiades-Behçet in Deutschland – Aktuelle pathogenetische Konzepte und therapeutische Möglichkeiten. J Dtsch Dermatol Ges 4:49–64

5.

Baccaglini L, Lalla RV, Bruce AJ et al (2011) Urban legends: recurrent aphthous stomatitis. Oral Dis 17:755–770

6.

Bonitsis NG, Altenburg A, Krause L et al (2009) Current concepts in the treatment of Adamantadies-Behçet's disease. Drugs Fut 34(9):749–763

7.

Bork K, Burgdorf W, Hoede N (2008). Mundschleimhaut und Lippenkrankheiten, 3. Aufl. Schattauer, Stuttgart, S 49–58

8.

Chavan M, Jain H, Diwan N et al (2012) Recurrent aphthous stomatitis: a review. J Oral Pathol Med [Epub ahead of print]

9.

Demiroglu H, Ozcebe OI, Barista I et al (2000) Interferon alfa-2b, colchicine, and benzathine penicillin versus colchicine and benzathine penicillin in Behçet's disease: a randomised trial. Lancet 355:605–609

10.

Fani MM, Ebrahimi H, Pourshahidi S et al (2012) Comparing the effect of phenytoin syrup and triamcinolone acetonide ointment on aphthous ulcers in patients with Behçet's syndrome. Iran Red Crescent Med J 14:75–78

11.

Fontes V, Machet L, Huttenberger B et al (2002) Recurrent aphthous stomatitis: treatment with colchicine. Ann Dermatol Venereol 129:1365–1369

12.

Haugeberg G, Velken M, Johnson V (2004) Successful treatment of genital ulcers with infliximab in Behçet's disease. Ann Rheum Dis 63:744–745

13.

Kleinman DV, Swango PA, Pindborg JJ (1994) Epidemiology of oral mucosal lesions in United States schoolchildren: 1986–87. Community Dent Oral Epidemiol 22:243–253

14.

Masuda K, Nakajima A, Urayama A et al (1989). Double-masked trial of cyclosporin versus colchicine and long-term open study of cyclosporin in Behçet's disease. Lancet 1:1093–1096

15.

Miller MF, Garfunkel AA, Ram CA, Ship II (1980) The inheritance of recurrent aphthous stomatitis. Observations on susceptibility. Oral Surg Oral Med Oral Pathol 49:409–412

16.

Misra R, Anderson DC (1989) Treatment of recurrent premenstrual orogenital aphthae with implants of low dose of thestosterone. BMJ 299:834

17.

Pakfetrat A, Mansourian A, Momen-Heravi F et al (2010). Comparison of colchicine versus prednisolone in recurrent aphthous stomatitis: a double-blind randomized clinical trial. Clin Invest Med 33:E189–195

18.

Sánchez-Cano D, Callejas-Rubio JL, Ruiz-Villaverde R, Ortego-Centeno N (2009) Recalcitrant, recurrent aphthous stomatitis successfully treated with adalimumab. J Eur Acad Dermatol Venereol 23:206

19.

Shim Y, Choi JH, Ahn HJ, Kwon JS (2012). Effect of sodium lauryl sulfate on recurrent aphthous stomatitis: a randomized controlled clinical trial. Oral Dis [Epub ahead of print]

20.

Vincent SD, Lilly GE (1992) Clinical, historic, and therpeutic features of aphthous stomatitis. Literature review and open clinical trial employing steroids. Oral Surg Oral Med Oral Pathol 74:79–86

21.

Zouboulis, CC (2003) Morbus Adamantiades-Behçet. In: Mrowietz U (Hrsg) Ciclosporin in der Dermatologie. Thieme, Stuttgart, S 38–51

22.

Zouboulis CC (2003) Adamantiades-Behçet's disease. In: Katsambas AD, Lotti TM (Hrsg) European handbook of dermatological treatments, 2. Aufl. Springer, Berlin, S 16–26

23.

Zouboulis CC (2012) Adamantiades-Behçet disease. In: Goldsmith LA, Katz SI, Gilchrest BA et al (Hrsg) Fitzpatrick's dermatology in general medicine, 8. Aufl. McGraw Hill, New York Chicago, S 2033–2042
Interessenkonflikt
Der korrespondierende Autor gibt für sich und seine Koautoren an, dass kein Interessenkonflikt besteht.
About this article
Cite this article
Altenburg, A., Micheli, C., Maldini, C. et al. Klinik und Therapie chronisch rezidivierender Aphthen. Hautarzt 63, 693–703 (2012). https://doi.org/10.1007/s00105-012-2354-7
Schlüsselwörter
Chronisch rezidivierende Aphthen

Prävalenz

Therapie

Lokal

Systemisch
Keywords
Recurrent aphthous ulceration

Prevalence

Therapy

Topical

Systemic