Zusammenfassung
Eine konsequente Unterscheidung zwischen Deo und Antiperspirant findet im europäischen Raum kaum statt. Insbesondere in Deutschland stellt das Wort "Deo" einen Überbegriff dar. Dabei beeinflussen ausschließlich Antiperspirantien die Aktivität der ekkrinen Schweißdrüsen. Bei der Behandlung der fokalen Hyperhidrose stehen aluminiumchloridhaltige Antiperspirantien nach wie vor an erster Stelle. Die Wirksamkeit ist in einer Vielzahl von Studien belegt. Als subjektive Nebenwirkungen können Juckreiz und – seltener – eine irritative Dermatitis auftreten, die symptomatisch behandelt werden kann und meist keinen Behandlungsabbruch erzwingt. Auch Sonderformen der fokalen Hyperhidrose wie aurikolotemporales Syndrom, Ross-Syndrom und Naevus sudoriferus sind einer Behandlung mit Aluminiumchloridlösungen zugänglich.
Abstract
In Europe often no clear distinction is made between deodorant and antiperspirant. Particularly in Germany, the labeling "deo" is used for both. Only antiperspirants are capable of influencing the activity of eccrine sweat glands. In the treatment of focal hyperhidrosis, the use of aluminum chloride solutions represents the first choice. The efficacy is well documented in a variety of studies. Subjective side effects include pruritus and – less often – irritant dermatitis, which can be treated symptomatically and usually does not require discontinuation of the treatment. Rare variants of focal hyperhidrosis like auriculotemporal syndrome, Ross syndrome and nevus sudoriferus also are suitable for treatment with topical aluminum chloride hexahydrate solutions.
Access options
Buy single article
Instant access to the full article PDF.
US$ 39.95
Tax calculation will be finalised during checkout.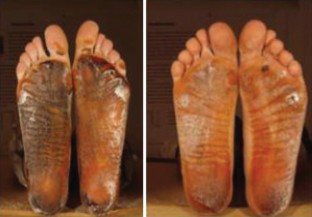 Literatur
1.

Achenbach RK (2004) Hyperhidrosis. Physiologisches und krankhaftes Schwitzen in Diagnose und Therapie. Steinkopff, Darmstadt

2.

Bechara FG (2009) Current treatment of focal hyperhidrosis. Surgical approaches. Hautarzt 60:538–545

3.

Bechara FG, Gambichler T, Bader A et al (2007) Assessment of quality of life in patients with primary axillary hyperhidrosis before and after suction-curettage. J Am Acad Dermatol 57:207–212

4.

Teagarden DL, Kozlowski JF, White JL, Hem S (1981) Aluminum chlorohydrate I: structure studies. J Pharm Sci 70:758–761

5.

Hilbrands J, Hölzle E (1994) Die Behandlung der Hyperhidrosis axillaris mit Aluminiumchlorid-Lösungen. Akt Dermatol 20:303–308

6.

Hölzle E, Kligman AM (1979) Mechanism of anti-perspirant action of aluminium salts. J Soc Cosmet Chem 30:279–295

7.

Hölzle E (1981) Wirkungsmechanismus und therapeutische Anwendung der Antiperspirantien vom Typ der Metallsalze. Hautarzt 32(Suppl V):436–436

8.

Hölzle E, Braun-Falco O (1984) Structural alterations of axillary eccrine glands in hyperhidrosis following long-term treatment with aluminium chloride hexahydrate. Br J Dermatol 110:399–403

9.

Hölzle E (2002) Topical pharmacological treatment. Curr Probl Dermatol 30:30–43

10.

Hölzle E, Neubert U (1982) Antimicrobial effects of an antiperspirant formulation containing aqueous aluminum chloride hexahydrate. Arch Dermatol Res 272(3–4):321–329

11.

Hornberger J, Grimes K, Naumann M et al (2004) Diagnosis, and treatment of primary focal hyperhidrosis. Recognition, diagnosis, and treatment of primary focal hyperhidrosis. J Am Acad Dermatol 51:274–286

12.

Reller HH, Luedders WL (1977) Pharmacologic and toxicologic effects of topically applied agents on the eccrine sweat glands. In: Marzulli FN, Maibach HI (Hrsg) Advances in modern toxicology, vol 4. Dermatotoxicology and pharmacology. Hemisphere, Washington, S 18–54

13.

Rzany B, Hund M (2003) Fokale Hyperhidrose. Hautarzt 8(54):767–778

14.

Schmidt J, Bechara FG, Altmeyer P, Zirngibl H (2006) Endoscopic thoracic sympathectomy for severe hyperhidrosis: impact of restrictive denervation on compensatory sweating. Ann Thorac Surg 81:1048–1055

15.

Streker M, Reuther T, Verst S, Kerscher M (2010) Axillary hyperhidrosis – efficacy and tolerability of an aluminium chloride antiperspirant. Prospective evaluation on 20 patients with idiopathic axillary hyperhidrosis. Hautarzt 61:139–144

16.

Streker M, Reuther T, Hagen L, Kerscher M (2012) Hyperhidrosis plantaris – a randomized, half-side trial for efficacy and safety of an antiperspirant containing different concentrations of aluminium chloride. J Dtsch Dermatol Ges 10:115–119

17.

Sommer B, Bergfeld D, Sattler G (2010) Botulinumtoxin in der ästhetischen Medizin, 4. Aufl. Georg Thieme, Stuttgart

18.

Wörle B, Rapprich S, Heckmann M (2007) Definition and treatment of primary hyperhidrosis. J Dtsch Dermatol Ges 5:625–628

19.

Draelos ZD (2001) Antiperspirants and the hyperhidrosis patient. Dermatol Ther 4:3
Interessenkonflikt
Der korrespondierende Autor gibt für sich und seinen Koautor an, dass kein Interessenkonflikt besteht.
About this article
Cite this article
Streker, M., Kerscher, M. Antiperspirantien bei der Behandlung der fokalen Hyperhidrose. Hautarzt 63, 452–455 (2012). https://doi.org/10.1007/s00105-012-2330-2
Schlüsselwörter
Hyperhidrose

Aluminiumchlorid-Hexahydrat

Schweißsekretion

Antiperspirant

Deodorant
Keywords
Hyperhidrosis

Aluminum chloride hexahydrate

Sweat secretion

Antiperspirants

Deodorants