Zusammenfassung
Die Onychomykose (OM) ist eine chronische Pilzinfektion der Nägel, am häufigsten verursacht durch Dermatophyten, meist Trichophyton rubrum, außerdem spielen Hefepilze (z. B. Candida parapsilosis), seltener Schimmelpilze (Scopulariopsis brevicaulis) eine Rolle. Im Einzelfall ist zu klären, ob es sich lediglich um eine Kontamination oder nur um sekundäres Wachstum auf pathologisch verändertem Nagelmaterial handelt. Die "Foot Check-Studie" im Rahmen des europäischen Achilles-Projektes hat für Deutschland eine bevölkerungsbezogene Punktprävalenz für die OM von 12,4% ergeben. Bislang sah man die OM nur sehr selten bei Kindern und Jugendlichen, es kommt jedoch offenbar zu einer langsamen Zunahme der Nagelpilzinfektionen auch in der Kindheit. Mehr und mehr rückt als disponierender Faktor für die Tinea pedis und Onychomykose der Diabetes mellitus in den Blickpunkt. Im Umkehrschluss muss die Onychomykose als unabhängiger und wichtiger Prädiktor eines diabetischen Fußsyndroms und Fußulkus angesehen werden. Eine Vielzahl von infektiösen und nichtinfektiösen Nagelveränderungen ist differenzialdiagnostisch auszuschließen. Die Psoriasis der Nägel stellt wahrscheinlich keinen speziellen Risikofaktor für die OM dar, jedoch muss damit gerechnet werden, dass bei Psoriasis unguium zumindest Hefe- und Schimmelpilze vermehrt isoliert werden können. Es handelt sich hierbei aber eher um ein sekundäres Wachstum. Stigmatisierung und Beeinträchtigung der Lebensqualität durch eine Onychomykose sind mittlerweile ebenfalls nachgewiesen.
Abstract
Onychomycosis describes a chronic fungal infection of the nails most frequently caused by dermatophytes, primarily Trichophyton rubrum. In addition, yeasts (e. g. Candida parapsilosis), more rarely molds (Scopulariopsis brevicaulis), play a role as causative agents of onychomycosis. However, in every case it has to be decided if these yeasts and molds are contaminants, or if they are growing secondarily on pathological altered nails. The point prevalence of onychomycosis in Germany is 12.4%, as demonstrated within the "Foot-Check-Study", which was a part of the European Achilles project. Although, onychomycosis is rarely diagnosed in children and teens, now an increase of fungal nail infections has been observed in childhood. More and more, diabetes mellitus becomes important as significant disposing factor both for tinea pedis and onychomycosis. By implication, the onychomycosis represents an independent and important predictor for development of diabetic foot syndrome and foot ulcer. When considering onychomycosis, a number of infectious and non-infectious nail changes must be excluded. While psoriasis of the nails does not represent a specific risk factor for onychomycosis, yeasts and molds are increasing isolated from patients with psoriatic nail involvement. In most cases this represents secondary growth of fungi on psoriatic nails. Recently, stigmatization and impairment of quality of life due to the onychomycosis has been proven.
Access options
Buy single article
Instant access to the full article PDF.
US$ 39.95
Tax calculation will be finalised during checkout.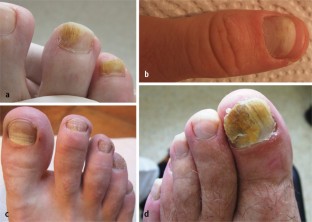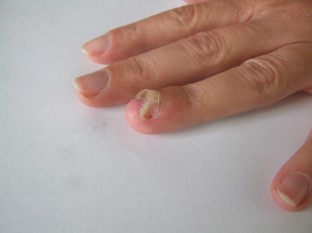 Literatur
1.

Abeck D, Haneke E, Nolting S et al (2000) Onychomykose: Aktuelle Daten zu Epidemiologie, Erregerspektrum, Risikofaktoren sowie Beeinflussung der Lebensqualität. Dtsch Arztebl 97:A 1984–A 1986

2.

Asz-Sigall D, López-García L, Vega-Memije ME et al (2010) HLA-DR6 association confers increased resistance to T. rubrum onychomycosis in Mexican Mestizos. Int J Dermatol 49:1406–1409

3.

Barber K, Barber J (2009) Onychomycosis: therapy directed by morphology and mycology. Skin Therapy Lett 14:1–2

4.

Boyko EJ, Ahroni JH, Cohen V et al (2006) Prediction of diabetic foot ulcer occurrence using commonly available clinical information: the Seattle Diabetic Foot Study. Diabetes Care 29:1202–1207

5.

Bristow IR, Spruce MC (2009) Fungal foot infection, cellulitis and diabetes: a review. Diabet Med 26:548–551

6.

Chang SJ, Hsu SC, Tien KJ et al (2008) Metabolic syndrome associated with toenail onychomycosis in Taiwanese with diabetes mellitus. Int J Dermatol 47:467–472

7.

Eckhard M, Lengler A, Liersch J et al (2006) Fungal foot infections in patients with diabetes mellitus – results of two independent investigations. Mycoses 50(Suppl 2):14–19

8.

Elewski BE, Hay RJ (1999) Novel treatment strategies for superficial mycoses: introduction. J Am Acad Dermatol 40:1–2

9.

Faergemann J, Baran R (2003) Epidemiology, clinical presentation and diagnosis of onychomycosis. Br J Dermatol 149(Suppl 65):1–4

10.

Faergemann J, Correia O, Nowicki R, Ro BI (2005) Genetic predisposition – understanding underlying mechanisms of onychomycosis. J Eur Acad Dermatol Venereol 19(Suppl 1):17–19

11.

Fletcher CL, Hay RJ, Smeeton NC (2003) Observer agreement in recording the clinical signs of nail disease and the accuracy of a clinical diagnosis of fungal and non-fungal nail disease. Br J Dermatol 148:558–562

12.

Garcia-Doval I, Cabo F, Monteagudo B et al (2010) Clinical diagnosis of toenail onychomycosis is possible in some patients: cross-sectional diagnostic study and development of a diagnostic rule. Br J Dermatol 163:743–751

13.

Ginter-Hanselmayer G, Weger W, Smolle J (2008) Onychomycosis: a new emerging infectious disease in childhood population and adolescents. Report on treatment experience with terbinafine and itraconazole in 36 patients. J Eur Acad Dermatol Venereol 22:470–475

14.

Guibal F, Baran R, Duhard E, Feuilhade de Chauvin M (2008) Epidemiology and management of onychomycosis in private dermatological practice in France. Ann Dermatol Venereol 135:561–566

15.

Gupta AK, Ahmad I, Borst I, Summerbell RC (2000) Detection of xanthomegnin in epidermal materials infected with Trichophyton rubrum. J Invest Dermatol 115:901–905

16.

Gupta AK, Gupta MA, Summerbell RC et al (2000) The epidemiology of onychomycosis: possible role of smoking and peripheral arterial disease. J Eur Acad Dermatol Venereol 14:466–469

17.

Gupta AK, Jain HC, Lynde CW et al (1997) Prevalence and epidemiology of unsuspected onychomycosis in patients visiting dermatologists' offices in Ontario, Canada – a multicenter survey of 2001 patients. Int J Dermatol 36:783–787

18.

Gupta AK, Lynde CW, Jain HC et al (1997) A higher prevalence of onychomycosis in psoriatics compared with non-psoriatics: a multicentre study. Br J Dermatol 136:786–789

19.

Hakenbeck H (1997) Zur Bedeutung von Infektionen bei Psoriasis vulgaris. Inaugural-Dissertation, Medizinische Fakultät (Charité) der Humboldt-Universität zu Berlin

20.

Hay RJ, Moore MK (1984) Clinical features of superficial fungal infections by Hendersonula toruloidea and Scytalidium hyalinum. Br J Dermatol 110:677–683

21.

Hengge UR, Bardeli V (2009) Images in clinical medicine. Green nails. N Engl J Med 360:1125

22.

Kaçar N, Ergin S, Ergin C et al (2007) The prevalence, aetiological agents and therapy of onychomycosis in patients with psoriasis: a prospective controlled trial. Clin Exp Dermatol 32:1–5

23.

Kick G, Korting HC (2001) The definition of Trichophyton rubrum syndrome. Mycoses 44:167–171

24.

Manz M, Scholz GH, Willgerodt H et al (2002) Autoimmune polyglandular syndrome (APS) type I and Candida onychomycosis. Eur J Dermatol 12:283–286

25.

Mayser P, Freund V, Budihardja D (2009) Toenail onychomycosis in diabetic patients: issues and management. Am J Clin Dermatol 10:211–220

26.

Mayser P, Ulbricht H (2009) Bedeutung von Pilzinfektionen beim diabetischen Fußsyndrom. Derm Prakt Dermatol 15:187–192

27.

Moreno-Coutinõ G, Toussaint-Caire S, Arenas R (2009) Clinical, mycological and histological aspects of white onychomycosis. Mycoses 53:144–147

28.

Nenoff P, Mügge C, Herrmann J, Keller U (2007) Tinea faciei incognito due to Trichophyton rubrum as a result of autoinoculation from onychomycosis. Mycoses 50(Suppl 2):20–25

29.

Nenoff P, Schmoranzer B, Schubert S, Haustein UF (2001) Zentrifugal wachsende erythrosquamöse Plaques nach Westafrikaaufenthalt: Tinea corporis verursacht durch Trichophyton soudanense Joyeux als importierter Erreger. Hautarzt 52:910–914

30.

Nenoff P, Wetzig T, Gebauer S et al (1999) Tinea barbae et faciei durch Trichophyton rubrum. Akt Dermatol 25:392–396

31.

Piraccini BM, Patrizi A, Sisti A et al (2009) Onychomycosis in children. Exp Rev Dermatol 4:177–184

32.

Pöhler H, Braun H, Schönborn C (1968) In vitro-Untersuchungen über Pilzwachstum auf Psoriatiker-Schuppen – eine experimentelle Studie. Mykosen 11:205–216

33.

Reinel D (2004) Onychomykose. Hautarzt 55:143–149

34.

Rodríguez-Pazos L, Pereiro-Ferreirós MM, Pereiro M Jr, Toribio J (2010) Onychomycosis observed in children over a 20-year period. Mycoses 54:450–453

35.

Roeijmans HJ, De Hoog GS, Tan CS, Figge MJ (1997) Molecular taxonomy and GC/MS of metabolites of Scytalidium hyalinum and Nattrassia mangiferae (Hendersonula toruloidea). J Med Vet Mycol 35:181–188

36.

Roseeuw D (1999) Achilles foot screening project: preliminary results of patients screened by dermatologists. J Eur Acad Dermatol Venereol 12(Suppl 1):6–9

37.

Roujeau JC, Sigurgeirsson B, Korting HC et al (2004) Chronic dermatomycoses of the foot as risk factors for acute bacterial cellulitis of the leg: a case-control study. Dermatology 209:301–307

38.

Sadahiro A, Moraes JRF, Moraes MEH et al (2004) HLA in Brazilian Ashkenazic Jews with chronic dermatophytosis caused by Trichophyton rubrum. Braz J Microbiol 35:69–73

39.

Saunte DM, Holgersen JB, Haedersdal M et al (2006) Prevalence of toe nail onychomycosis in diabetic patients. J Eur Acad Dermatol Venereol 22:279–282

40.

Seebacher C, Blaschke-Hellmessen R (1990) Mykosen, 1. Aufl. Gustav Fischer, Jena

41.

Seebacher C, Brasch J, Abeck D et al (2007) Onychomycosis. Mycoses 50:321–327

42.

Seebacher C (1968) Untersuchungen über die Pilzflora kranker und gesunder Zehennägel. Mykosen 11:893–902

43.

Shemer A, Nathansohn N, Kaplan B, Trau H (2008) Toenail abnormalities and onychomycosis in chronic venous insufficiency of the legs: Should we treat? J Eur Acad Dermatol Venereol 22:279–282

44.

Shemer A et al (2008) Onycomycosis due to artificial nails. J Eur Acad Dermatol Venereol 22:998–1000

45.

Ständer H, Ständer M, Nolting S (2001) Häufigkeit des Pilzbefalles bei Nagelpsoriasis. Hautarzt 52:418–422

46.

Svejgaard EL, Nilsson J (2004) Onychomycosis in Denmark: prevalence of fungal nail infection in general practice. Mycoses 47:131–135

47.

Szepietowski JC, Reich A (2009) Stigmatisation in onychomycosis patients: a population-based study. Mycoses 52:343–349

48.

Szepietowski JC, Reich A, Garlowska E et al (2006) Onychomycosis Epidemiology Study Group. Factors influencing coexistence of toenail onychomycosis with tinea pedis and other dermatomycoses: a survey of 2761 patients. Arch Dermatol 142:1279–1284

49.

Tosti A, Baran R, Piraccini BM, Fanti PA (1999) Endonyx onychomycosis: a new modality of nail invasion by dermatophytes. Acta Derm Venereol 79:52–53

50.

Wang YR, Margolis D (2006) The prevalence of diagnosed cutaneous manifestations during ambulatory diabetes visits in the United States, 1998–2002. Dermatology 212:229–234

51.

Zabel M (2002) Sportbedingte Mikroläsionen ermöglichen Pilzbesiedelung. In: Onychomykosen. Eine langwierige Therapie. Bericht von der Wissenschaftlichen Tagung der Deutschsprachigen Mykologischen Gesellschaft in Marburg. Dtsch Arztebl 99:A259–A260

52.

Zaias N, Tosti A, Rebell G et al (1996) Autosomal dominant pattern of distal subungual onychomycosis caused by Trichophyton rubrum. J Am Acad Dermatol 34:302–304

53.

Zhan P, Ge YP, Lu XL et al (2010) A case-control analysis and laboratory study of the two feet-one hand syndrome in two dermatology hospitals in China. Clin Exp Dermatol 35:468–472

54.

Zisova L, Valtchev V, Sotiriou E et al (2011) Onychomycosis in patients with psoriasis – a multicentre study. Mycoses [Epub ahead of print]
Interessenkonflikt
Der korrespondierende Autor gibt an, dass kein Interessenkonflikt besteht.
Additional information
Widmung
Herrn Prof. Dr. med. Uwe-Frithjof Haustein, Leipzig, zum 75. Geburtstag gewidmet.
About this article
Cite this article
Nenoff, P., Ginter-Hanselmayer, G. & Tietz, HJ. Onychomykose – ein Update. Hautarzt 63, 30–38 (2012). https://doi.org/10.1007/s00105-011-2251-5
Schlüsselwörter
Onychomykose

Prävalenz

Epidemiologie

Diabetes mellitus

Psoriasis unguium
Keywords
Onychomycosis

Prevalence

Epidemiology

Diabetes mellitus

Psoriasis unguium