Zusammenfassung
Bei der Hyperhidrose handelt es sich um eine örtlich umschriebene oder generalisiert auftretende übermäßige Schweißbildung mit Krankheitswert. Da das übermäßige Schwitzen oftmals schon im Kindesalter, meist zwischen dem 6. und 16. Lebensjahr, beginnt, stellt die Hyperhidrose eine bedeutsame Erkrankung des Kindes- und Jugendalters dar. Bei massiver Ausprägung kann es zu psychosozialen Belastungen und deutlich reduzierter Lebensqualität kommen, aufgrund derer diese Erkrankung eine besondere Relevanz erlangt. Darüber hinaus liegt häufig eine therapeutische Herausforderung vor, da die meisten handelsüblichen Therapeutika nicht für das Kindes- und Jugendalter zugelassen sind. Dennoch können bei allen Formen der Hyperhidrose bereits im Kindes- und Jugendalter wirksame Therapieoptionen zur Anwendung kommen.
Abstract
Hyperhidrosis is characterized by localized or general excessive sweating which is severe enough to be perceived as pathological. Since excessive sweating often starts in childhood and adolescence, usually in children between 6 and 16 years of age, hyperhidrosis is an important disorder for children and juveniles. This condition causes considerable disruption of both social life and educational career, leading to severe deterioration in the patient's quality of life. In addition, therapy is often challenging since many treatment modalities are not approved for children. Nonetheless, there are still effective therapeutic options for children with hyperhidrosis.
Access options
Buy single article
Instant access to the full article PDF.
US$ 39.95
Tax calculation will be finalised during checkout.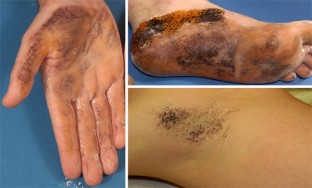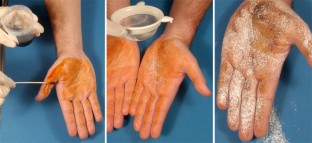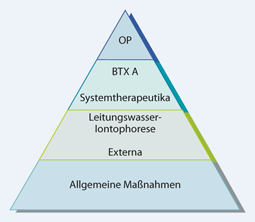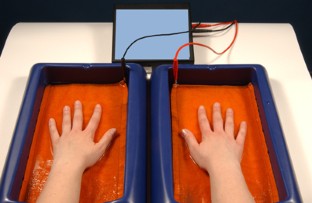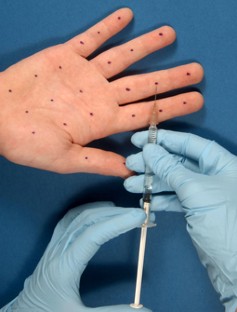 Literatur
1.

Baumgartner FJ, Bertin S, Konecny J (2009) Superiority of thoracoscopic sympathectomy over medical management for the palmoplantar subset of severe hyperhidrosis. Ann Vasc Surg 23:1–7

2.

Bechara FG, Sand M, Tomi NS et al (2007) Repeat liposuction-curettage treatment of axillary hyperhidrosis is safe and effective. Br J Dermatol 157:739–743

3.

Bellet JS (2010) Diagnosis and treatment of primary focal hyperhidrosis in children and adolescents. Semin Cutan Med Surg 29:121–126

4.

Benohanian A, Dansereau A, Bolduc C, Bloom E (1998) Localized hyperhidrosis treated with aluminium chloride in a salicylic acid gel base. Int J Dermatol 37:701–703

5.

Buraschi J (2008) Videothoracoscopic sympathicolysis procedure for primary palmar hyperhidrosis in children and adolescents. Arch Argent Pediatr 106:32–35

6.

Chu EC, Chu NS (1997) Patterns of sympathetic skin response in palmar hyperhidrosis. Clin Auton Res 7:1–4

7.

Coutinho dos Santos LH, Gomes AM, Giraldi S et al (2009) Palmar hyperhidrosis: long-term follow-up of nine children and adolescents treated with botulinum toxin type A. Pediatr Dermatol 26:439–444

8.

Flanagan KH, Glaser DA (2009) An open-label trial of the efficacy of 15% aluminium chloride in 2% salicylic acid gel base in the treatment of moderate-to-severe primary axillary hyperhidrosis. J Drugs Dermatol 8:477–480

9.

Gelbard CM, Epstein H, Hebert A (2008) Primary pediatric hyperhidrosis: a review of current treatment options. Pediatr Dermatol 25:591–598

10.

Haider A, Solish N (2005) Focal hyperhidrosis: diagnosis and management. CMAJ 172:69–75

11.

Heckmann M (2005) Erkrankungen der Schweißdrüsen. In: Braun-Falco O, Plewig G, Wolff HH et al (Hrsg) Dermatologie und Venerologie. Springer, Berlin, S 910–922

12.

Higashimoto I, Yoshiura K, Hirakawa N et al (2006) Primary palmar hyperhidrosis locus maps to 14q11.2-q13. Am J Med Genet A 140:567–572

13.

Hölzle E (1983) Physiopathologic aspects and clinical pictures in hyperhidrosis. Hautarzt 34:596–604

14.

Hölzle E (1984) Therapy of hyperhidrosis. Hautarzt 35:7–15

15.

Hölzle E, Kligman AM (1979) Mechanism of antiperspirant action of aluminium salts. J Soc Cosmet Chem 30:279–295

16.

Hölzle E, Reinauer S, Hund M, Lommel K (2004) Recommendations for standards of water iontophoresis. J Dtsch Dermatol Ges 2:956–962

17.

Hund M, Sinkgraven R, Rzany B (2004) Randomisierte, plazebokontrollierte Doppelblindstudie zur Wirksamkeitsbewertung und Sicherheit von Methantheliniumbromid (Vagantin) zur Behandlung der fokalen Hyperhidrose. J Dtsch Dermatol Ges 2:343–349

18.

Imhof M, Zacherl J, Plas EG et al (1999) Long term results of 45 thoracoscopic sympathicotomies for primary hyperhidrosis in children. J Pediatr Surg 34:1839–1842

19.

Kreyden OP, Scheidegger EP (2004) Anatomy of the sweat glands, pharmacology of botulinum toxin and distinctive syndromes associates with hyperhidrosis. Clin Dermatol 22:40–44

20.

Lawrence CM, Lonsdale Eccles AA (2006) Selective sweat gland removal with minimal skin excision in the treatment of axillary hyperhidrosis: a retrospective clinical and histological review of 15 patients. Br J Dermatol 155:115–118

21.

Li X, Chen R, Tu YR et al (2007) Epidemiological survey of primary palmar hyperhidrosis in adolescents. Chin Med J (Engl) 120:2215–2217

22.

Lowe N, Campanati A, Bodokh I et al (2004) The place of botulinum toxin type A in the treatment of focal hyperhidrosis. Br J Dermatol 151:1115–1122

23.

Reinauer S, Neusser A, Schauf G, Hölzle E (1993) Iontophoresis with alternating current offset (AC/DC iontophoresis): a new approach for the treatment of hyperhidrosis. Br J Dermatol 129:166–169

24.

Schlereth T, Dieterich M, Birklein F (2009) Hyperhidrosis – causes and treatment of enhanced sweating. Dtsch Arztebl Int 106:32–37

25.

Sonntag M, Ruzicka T (2005) Hyperhidrose – Ursachen und aktuelle Behandlungsmöglichkeiten. Psychoneuro 31:315–320

26.

Sonntag M, Ruzicka T, Bruch-Gerharz D (2007) Treating excessive sweating with poison. Lancet 369:1327

27.

Steiner Z, Cohen Z, Kleiner O et al (2008) Do children tolerate thoracoscopic sympathectomy better than adults? Pediatr Surg Int 24:343–347

28.

Swartling C, Färnstrand C, Abt G et al (2001) Side-effects of intradermal injections of botulinum A toxin in the treatment of palmar hyperhidrosis: a neurophysiological study. Eur J Neurol 8:451–456

29.

Sugimura H, Spratt EH, Compeau CG et al (2009) Thoracoscopic sympathetic clipping for hyperhidrosis: long-term results and reversibility. J Thorac Cardiovasc Surg 137:1370–1377

30.

Weber A, Heger S, Sinkgraven R et al (2005) Psychosocial aspects of patients with focal hyperhidrosis. Marked reduction of social phobia, anxiety and depression and increased quality of life after treatment with botulinum toxin A. Br J Dermatol 152:342–345

31.

Wörle B, Rapprich S, Heckmann M (2007) Definition and treatment of primary hyperhidrosis. J Dtsch Dermatol Ges 5:625–628
Interessenkonflikt
Der korrespondierende Autor gibt an, dass kein Interessenkonflikt besteht.
About this article
Cite this article
Basedow, S., Kruse, R. & Bruch-Gerharz, D. Hyperhidrose im Kindes- und Jugendalter. Hautarzt 62, 928–934 (2011). https://doi.org/10.1007/s00105-011-2225-7
Schlüsselwörter
Hyperhidrose

Kindes- und Jugendalter

Klinik

Therapie

Review
Keywords
Hyperhidrosis

Childhood

Clinical aspects

Therapy

Review