Zusammenfassung
Zellulitis ist eine sich bevorzugt an den Oberschenkeln und der Glutealregion bei nahezu allen Frauen entwickelnde Veränderung von Haut und Subkutangewebe. Makroskopisches Kennzeichen der Zellulitis ist eine Dellenbildung, die entweder spontan sichtbar oder durch Provokationsmanöver hervorzurufen ist. Während die bislang publizierten Konzepte zur Pathophysiologie der Zellulitis teilweise widersprüchlich oder unschlüssig sind, gibt es aktuell doch einige Studien, die strukturelle und anatomische Veränderungen an Dermis und Subkutangewebe gefunden oder bestätigt haben: (1) ein geschlechtsspezifischer Dimorphismus mit orthogonaler Ausrichtung der subkutanen Bindegewebssepten zur Hautoberfläche sowie Fettgewebsprotrusionen nach intradermal; (2) diese Fettgewebsprotrusionen sind nicht allein ein Dimorphismus, sondern korrelieren tatsächlich auch mit dem Vorkommen der Zellulitis; (3) eine Korrelation von Zellulitis mit der subkutanen Fettschichtdicke; (4) eine Korrelation von Zellulitis zu fokalen hypertrophen subkutanen Bindegewebssträngen und verringerter Dichte der Bindegewebssepten im Subkutangewebe insgesamt. Die Therapie der Zellulitis zielt (1) auf eine Verringerung der subkutanen Fettschicht, (2) auf eine Steigerung von Dicke und Elastizität der Dermis sowie (3) auf eine Durchtrennung hypertropher subkutaner Septen, die für die ausgeprägtesten Dellenbildungen verantwortlich sind. Von topischem Retinol bis hin zu interstitieller Anwendung von Lasern steht hier mittlerweile eine Vielzahl von Verfahren zur Verfügung.
Abstract
Cellulite is a condition affecting the dermal and subdermal compartment and developing on thighs and buttocks of almost every woman. Macroscopically, cellulite is characterized by dimpling, visible either spontaneously or after provoking maneuvers. While published concepts on the pathophysiology of cellulite are in parts inconclusive or contradictory, there are at least some recent studies describing or confirming structural and anatomic changes on dermal and subdermal tissues: (1) A gender specific dimorphism with subdermal septae oriented orthogonally towards the skin surface as well as protrusion of fat tissue into the dermis. (2) These intradermal fat protrusions additionally correlate with the presence of cellulite. (3) There is also a correlation between the thickness of the subdermal fat layer and the presence of cellulite. (4) Cellulite also correlates with focal hypertrophic subcutaneous septae and a reduced density of septae in general. Treatment of cellulite aims at (1) the reduction of the subcutaneous fat layer, (2) increase in dermal thickness and elasticity and (3) dissection of hypertrophic connective tissue septae, responsible for the most pronounced dermal indentions. A variety of treatment options have evoleved ranging from topical retinol to interstitial laser
Access options
Buy single article
Instant access to the full article PDF.
USD 39.95
Price includes VAT (USA)
Tax calculation will be finalised during checkout.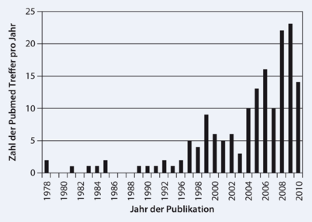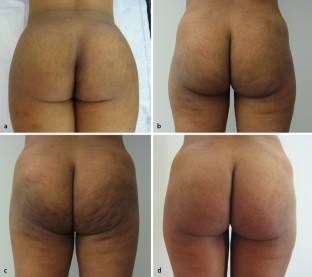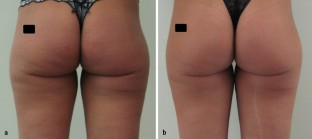 Literatur
1.

Nürnberger F, Müller G (1978) So-called cellulite: an invented disease. J Dermatol Surg Oncol 4:221–229

2.

Draelos ZD (2001) In search of answers regarding cellulite. Cosmet Dermatol 14:55–58

3.

Nuernberger F, Riedel-Pauls W, Graf KJ et al (1979) Fat protrusion of the skin and sex hormones in Klinefelter syndrome. Z Hautkr 54:47–57

4.

Rosenbaum M, Pietro V, Rudolph L, Ship A (1998) An exploratory investigation of the morphology and biochemistry of cellulite. Plast Reconstr Surg 101:1934–1939

5.

Pierard GE, Nizet JL, Pierard-Franchimont C (2000) Cellulite: from standing fat herniation to hypodermal stratch marks. Am J Dermatopathol 22:34–37

6.

Mirrashed F, Sharp JC, Krause J et al (2004) Pilot study of dermal and subcutaneous fat structures by MRI in individuals who differ in gender, BMI, and cellulite grading. Skin Res Technol 10:161–168

7.

QuerleuxB, Cornillon C, Jolivet O, Bittoun J (2002) Anatomy and physiology of subcutaneous adipose tissue by in vivo magnetic resonance imaging and spectroscopy: relationship with sex and presence of cellulite. Skin Res Technol 8:118–124

8.

Salter DC, Hanley M et al (1990) In vivo high definition ultrasound studies of subdermal fat lobules associated with cellulite. J Invest Dermatol 29:272–274

9.

Draelos Z, Marenus KD (1997) Cellulite. Etiology and purported treatment. Dermatol Surg 23:1177–1181

10.

Roncari DA, Van RL (1978) Promotion of human adipocyte precursor replication by 17-beta-estradiol in culture. J Clin Invest 62:503–508

11.

Hexsel DM, Abreu M, Rodrigues TC et al (2009) Side-by-side comparison of areas with and without cellulite depressions using magnetic resonance imaging. Dermatol Surg 35:1471–1477

12.

Khan MH, Victor F, Rao B, Sadick NS (2010) Treatment of cellulite. Part I. Pathophysiology. J Am Acad Dermatol 62:361–372

13.

Hexsel DM, Dal'forno T, Hexsel CL (2009) A validated photonumeric cellulite severity scale. J Eur Acad Dermatol Venereol 23:523–528

14.

Khan MH, Victor F, Rao B, Sadick NS (2010) Treatment of cellulite. Part II. Advances and controversies. J Am Acad Dermatol 62:373–384

15.

Wanner M, Avram M (2008) An evidence-based assessment of treatments for cellulite. J Drugs Dermatol 7:341–345

16.

Smalls LK, Hicks M, Passeretti D et al (2006) Effect of weight loss on cellulite: gynoid lypodystrophy. Plast Reconstr Surg 118:510–516

17.

Mauriège P, Imbeault P, Langin D et al (1999) Regional and gender variations in adipose tissue lipolysis in response to weight loss. J Lipid Res 40:1559–1571

18.

Collis N, Elliot LA, Sharpe C, Sharpe DT (1999) Cellulite treatment: a myth or reality: a prospective randomized, controlled trial of two therapies, endermologie and aminophylline cream. Plast Reconstr Surg 104(4):1110–1114

19.

Latrenta GS, Mick SL (2001) Endermologie after external ultrasound-assisted lipoplasty (EUAL) versus EUAL alone. Aesthet Surg J 21:128–135

20.

Coleman WP (1991) Liposuction. In: Coleman WP, Hanke CW, Alt TH (Hrsg) Cosmetic surgery of the skin: principles and practice. BC Decker, Philadelphia, S 213–238

21.

Hexsel DM, Mazzuco R (2000) Subcision: a treatment for cellulite. Int J Dermatol 39:539–544

22.

Sasaki GH, Oberg K, Tucker B, Gaston M (2007) The effectiveness and safety of topical PhotoActif phosphatidylcholine-based anti-cellulite gel and LED (red and near-infrared) light on Grade II–III thigh cellulite: a randomized, double-blinded study. J Cosmet Laser Ther 9:87–96

23.

Nootheti PK, Magpantay A, Yosowitz G et al (2006) A single center, randomized, comparative, prospective clinical study to determine the efficacy of the velaSmooth system versus the Triactive system in the treatment of cellulite. Lasers Surg Med 38:908–912

24.

Goldberg DJ, Fazeli A, Berlin AL (2008) Clinical, laboratory, and MRI analysis of cellulite treatment with a unipolar radiofrequency device. Dermatol Surg 34:204–209

25.

Moreno-Moraga J, Valero-Altés T, Riquelme AM et al (2007) Body contouring by non-invasive transdermal focused ultrasound. Lasers Surg Med 39:315–323

26.

Katz B, Mc Bean J, Cheung JS (2007) The new laser liposuction for men. Dermatol Ther 20:448–451

27.

Prado A, Andrades P, Danilla S et al (2006) A prospective, randomized, double-blind, controlled clinical trial, comparing laser-assisted lipoplasty with suction-assisted lipoplasty. Plast Reconstr Surg 118:1032–1045

28.

Kligman AM, Pagnoni A, Stoudmayer T (1999) Topical retinol improves cellulite. J Dermatolog Treat 10:119–125

29.

Lee GS (2010) Carbon dioxide therapy in the treatment of cellulite: an audit of clinical practice. Aesthetic Plast Surg 34:239–243

30.

Manstein D, Laubach H, Watanabe K et al (2008) A novel method of non-invasive fat removal. Laser Surg Med 40:595–604
Interessenkonflikt
Der korrespondierende Autor weist auf folgende Beziehungen hin: Der Autor hat mit dem Inhalt des Artikels in Zusammenhang stehende Vorträge und Workshops gegen Honorar für die Firmen Sciton, CA, USA, und Cooltouch CA, USA, gehalten.
About this article
Cite this article
Proebstle, T. Zellulitis. Hautarzt 61, 864–872 (2010). https://doi.org/10.1007/s00105-010-1986-8
Schlüsselwörter
Laser

Liposuktion

Radiofrequenz

Gewichtsreduktion

Ultraschall
Keywords
Laser

Liposuction

Radiofrequency

Weight reduction

Ultrasound