Zusammenfassung
Hintergrund
Ziel der vorliegenden Untersuchung war die Evaluierung der Wirkungs-Nebenwirkungs-Relation einer Aluminiumchloridlösung bei Hyperhidrosis axillaris.
Patienten und Methoden
In einer 42-tägigen Untersuchung wurde ein Antiperspirant (Sweat-off®, Sweat-off® GmbH, Hügelsheim) von 20 Patienten mit idiopathischer Hyperhidrosis axillaris (Alter: 26,9±4,3) angewandt. Die Evaluation der Behandlungseffekte umfasste neben der klinischen Beurteilung des Schweregrads der Hyperhidrose und der Ermittlung des Obenflächen-pH-Wertes eine quantitative und qualitative Ermittlung der Schweißsekretion mittels Gravimetrie und Schweißtest nach Minor.
Ergebnisse
Die Untersuchungen zeigten eine Abnahme des Hyperhidroseschweregrades, eine signifikante qualitative und quantitative Abnahme der Schweißsekretion sowie eine signifikante Abnahme des Hautoberflächen-pH-Wertes. Trotz leichter irritativer Hautveränderungen bei 6 Patienten, die jedoch in keinem Fall zum Abbruch der Untersuchung führten, nahm die Patientenzufriedenheit im Verlauf der Studie signifikant zu.
Schlussfolgerungen
Die Anwendung eines leicht sauren, aluminiumchloridhaltigen Antiperspirants führt zu einer deutlichen Abnahme der Schweißsekretion bei minimalen Nebenwirkungen und geringen Tagestherapiekosten.
Abstract
Background
The purpose of this study was to evaluate the efficacy and tolerability of aluminium chloride gel for treatment of axillary hyperhidrosis.
Patients and methods
A total of 20 patients aged 22–38 (mean age: 26.9±4.3) with idiopathic axillary hyperhidrosis were included and treated with an antiperspirant (Sweat-off®, Sweat-off® GmbH, Hügelsheim). Study duration was 42 days. Treatment efficacy was evaluated clinically, as well as by starch-iodine test, gravimetric analysis and evaluation of the skin surface pH.
Results
After treatment there was a significant clinical improvement accompanied by significant qualitative and quantitative reduction of sweat as well as a significant reduction of skin surface pH. Except for slight skin irritation in 6 patients, there were no other side effects. Patient satisfaction improved markedly during the study.
Conclusion
Treatment of axillary hyperhidrosis with aluminium chloride is an effective, safe and inexpensive treatment modality.
Access options
Buy single article
Instant access to the full article PDF.
US$ 39.95
Tax calculation will be finalised during checkout.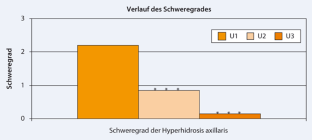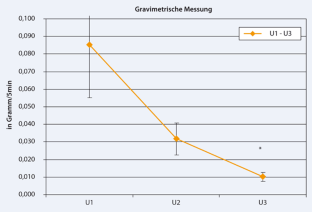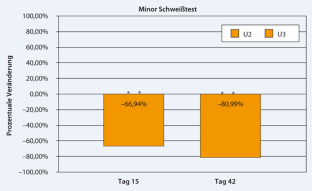 Literatur
1.

Brandrup F, Larsen PO (1978) Axillary hyperhidrosis: local treatment with aluminum chloride hexahydrate 25% in absolute ethanol. Acta Derm Venereol 58:461–465

2.

Eisenach JH, Atkinson JLD, Fealey RD (2005) Hyperhidrosis: evolving therapies for a well-established phenomenon. Mayo Clin Proc 80:657–666

3.

Emrich HM, Oelert H (1966) pH-Wert und Gesamtammoniak im menschlichen Schweiß. Pflügers Archly 290:811–314

4.

Graber W (1977) Eine einfache, wirksame Behandlung der axillären Hyperhidrose. Schweiz Rundsch Med Prax 66:1080–1084

5.

Heckmann M, Ceballos-Baumann A, Plewig G (2001) Botulinum toxin A for axillary hyperhidrosis (excissive sweating). N Engl J Med 15(344):488–493

6.

Heckmann M (2004) Evidence-based medicine and the treatment of hyperhidrosis. J Am Acad Dermatol 50:327–328

7.

Heckmann M (2005) Erkrankungen der Schweißdrüsen. In: Braun-Falko O, Plewig G, Wolff HH (Hrsg) Dermatologie und Venerologie. Springer, Berlin Heidelberg New York Tokyo, S 910–922

8.

Hölzle E, Braun-Falco O (1984) Structural alterations of axillary eccrine glands in hyperhidrosis following long-term treatment with aluminium chloride hexahydrate. Br J Dermatol 110:399–403

9.

Innocenzi D, Ruggero A, Francesconi L et al (2008) An open-label tolerability and efficacy study of an aluminum sesquichlorohydrate topical foam in axillary and palmar primary hyperhidrosis. Dermatol Ther 21 (Suppl 1):S27–S30

10.

Jensen O, Karlsmark T (1980) Palmoplantar hyperhidrosis. Treatment with alcohol solution of aluminium chloride hexahydrate: a simple method of transpiration measurement. Dermatology 161:133–135

11.

Naumann M, Bergmann I, Hofmann U et al (1998) Botulinum toxin for focal hyperhidrosis: technical considerations and improvements in application. Br J Dermatol 139:1123–1124

12.

Naumann M (2001) Evidence-based medicine: botulinum toxin in focal hyperhidrosis. J Neurol 248 (Suppl 1):31–33

13.

Nyamekye IK (2004) Current therapeutic options for treating primary hyperhidrosis. Eur J Vasc Endovasc Surg 27:571

14.

Minor V (1928) Ein neues Verfahren zu der klinischen Untersuchung der Schweissabsonderung. Dtsch Z Nervenheilk 101:302–308

15.

Rayner CR, Ritchie ID, Stark GP (1980) Axillary hyperhidrosis, 20% aluminum chloride hexahydrate, and surgery. Br Med J 10(280):1168

16.

Rzany B, Hund M (2003) Fokale Hyperhidrose. Hautarzt 8(54):767–778

17.

Wörle B, Rapprich S, Heckmann M (2007) Definition and treatment of primary hyperhidrosis. J Dtsch Dermatol 5:625–628
Interessenkonflikt
Der korrespondierende Autor gibt an, dass kein Interessenkonflikt besteht.
About this article
Cite this article
Streker, M., Reuther, T., Verst, S. et al. Hyperhidrosis axillaris – Effektivität und Verträglichkeit eines aluminiumchloridhaltigen Antiperspirants. Hautarzt 61, 139–144 (2010). https://doi.org/10.1007/s00105-009-1841-y
Schlüsselwörter
Hyperhidrosis axillaris

Antiperspirant

Aluminiumchloridlösung

Hautoberflächen-pH-Wert

Schweißsekretion
Keywords
Axillary hyperhidrosis

Antiperspirant

Aluminum chloride solution

Skin surface pH

Sweat secretion