Zusammenfassung
Anale Dysplasien sind häufig bei HIV-Infizierten, besonders bei HIV-positiven Männern die Sex mit Männern (MSM) haben. Hochgradige Dysplasien können in invasive Analkarzinome übergehen. Wie beim Zervixkarzinom besteht auch beim Analkarzinom eine kausale Assoziation zu Infektionen mit humanen Papillomviren (HPV), insbesondere mit Hochrisikotypen wie HPV16. Von Experten werden für das Analkarzinom Vorsorgeuntersuchungen mittels Analzytologie vorgeschlagen. Die klinische Untersuchung, probebioptische Sicherung und Therapie analer Dysplasien erfolgt mittels hochauflösender Anoskopie. Analkarzinome werden in Analrandkarzinome und Analkanalkarzinome unterteilt. Analrandkarzinome früher Stadien werden wie Plattenepithelkarzinome der exponierten Haut primär chirurgisch exzidiert, während Analkanalkarzinome mit kombinierter Radiochemotherapie behandelt werden. HIV-positive haben eine vergleichbares Ansprechen auf die kombinierte Radiochemotherapie wie HIV-negative Personen, HIV-Positive haben jedoch deutlich schwerere Nebenwirkungen, insbesondere akute toxische Hautschäden durch die Radiatio, frühere Rezidive und damit verbunden höhere Raten an abdominoperianalen Rektumamputationen. Im Bereich HIV/AIDS tätige Ärzte sollten HIV-infizierte MSM regelmäßig auf das Vorliegen von analen Dysplasien und Analkarzinomen untersuchen. Basisdiagnostik ist neben der klinischen Inspektion der Perianalregion die digitale rektale Untersuchung und Analzytologie.
Abstract
Anal dysplasia is common in HIV patients, especially in HIV-positive men having sex with men (MSM). High-grade anal dysplasia can progress to invasive anal cancer. As in cervical carcinoma, there is a cause and effect relationship between anal cancer and human papillomavirus (HPV) infection, especially with high-risk types such as HPV16. Several experts have recommended screening programs for anal cancer, including anal cytology along the lines of the Pap smear in women. Such screenings should only be performed if pathological findings result in further diagnostic steps and, if necessary, appropriate treatment. Clinical inspection, lesion biopsy, and treatment of anal dysplasia are performed under high-resolution anoscopy. Anal cancer is divided into cancer of the anal margin and cancer of the anal canal. This classification is important because of the difference in treatment regimens. Early cancer of the anal margin is excised akin to squamous cell cancer of the exposed skin, whereas cancer of the anal canal is treated by radiochemotherapy. HIV-positive and HIV-negative patients have similar response rates to combined radiochemotherapy. However, side effects, especially acute post-irradiation skin toxicity, early local recurrences, and abdominoperineal rectal excision are more common in HIV-positive patients. Physicians working in the field of HIV/AIDS should regularly screen their patients for the presence of anal dysplasia and anal cancer. Basic diagnostic workup includes clinical inspection of the perianal area, digital rectal examination, and anal cytology.
Access options
Buy single article
Instant access to the full article PDF.
US$ 39.95
Tax calculation will be finalised during checkout.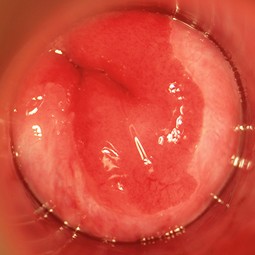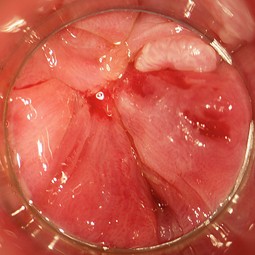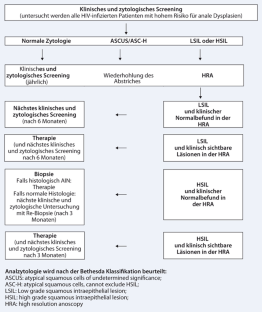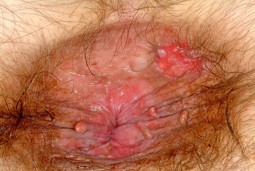 Literatur
1.

Abbasakoor F, Boulos PB (2005) Anal intraepithelial neoplasia. Br J Surg 92:277–290

2.

Abramowitz L, Benabderrahmane D, Ravaud P et al (2007) Anal squamous intraepithelial lesions and condyloma in HIV-infected heterosexual men, homosexual men and women: prevalence and associated factors. AIDS 21:1457–1465

3.

Ajani JA, Winter KA, Gunderson LL et al (2008) Fluorouracil, mitomycin, and radiotherapy vs fluorouracil, cisplatin, and radiotherapy for carcinoma of the anal canal: a randomized controlled trial. JAMA 299:1914–1921

4.

Arends MJ, Benton EC, McLaren KM et al (1997) Renal allograft recipients with high susceptibility to cutaneous malignancy have an increased prevalence of human papillomavirus DNA in skin tumours and a greater risk of anogenital malignancy. Br J Cancer 75(5):722–728

5.

Berry JM, Palefsky JM, Welton ML (2004) Anal cancer and its precursors in HIV-positive patients: perspectives and management. Surg Oncol Clin N Am 13:355–373

6.

Chiao EY, Giordano TP, Palefsky JM et al (2006) Screening HIV-infected individuals for anal cancer precursor lesions: a systematic review. Clin Infect Dis 43:223–233

7.

Chin-Hong PV, Palefsky JM (2002) Natural history and clinical management of anal human papillomavirus disease in men and women infected with human immunodeficiency virus. Clin Infect Dis 35:1127–1134

8.

Chin-Hong PV, Berry JM, Cheng SC et al (2008) Comparison of patient- and clinician-collected anal cytology samples to screen for human papillomavirus-associated anal intraepithelial neoplasia in men who have sex with men. Ann Intern Med 149:300–306

9.

Clark MA, Hartley A, Geh JI (2004) Cancer of the anal canal. Lancet Oncol 5:149–157

10.

Cranston RD, Hirschowitz SL, Cortina G, Moe AA (2008) A retrospective clinical study of the treatment of high-grade anal dysplasia by infrared coagulation in a population of HIV-positive men who have sex with men. Int J STD AIDS 19:118–120

11.

Daling JR, Weiss NS, Hislop TG et al (1987) Sexual practices, sexually transmitted diseases, and the incidence of anal cancer. N Engl J Med 317:973–977

12.

Daling JR, Madeleine MM, Johnson LG et al (2004) Human papillomavirus, smoking, and sexual practices in the etiology of anal cancer. Cancer 101:270–280

13.

Deans GT, McAleer JJ, Spence RA (1994) Malignant anal tumours. Br J Surg 81:500–508

14.

Fenger C, Nielsen VT (1981) Dysplastic changes in the anal canal epithelium in minor surgical specimens. Acta Pathol Microbiol Immunol Scand 89:463–465

15.

Hessol NA, Pipkin S, Schwarcz S et al (2007) The impact of highly active antiretroviral therapy on non-AIDS-defining cancers among adults with AIDS. Am J Epidemiol 165:1143–1153

16.

Hoots BE, Palefsky JM, Pimenta JM, Smith JS (2009) Human papillomavirus type distribution in anal cancer and anal intraepithelial lesions. Int J Cancer 124:2375–2383

17.

Johnson LG, Madeleine MM, Newcomer LM et al (2004) Anal cancer incidence and survival: the surveillance, epidemiology, and end results experience, 1973–2000. Cancer 101:281–288

18.

Kreuter A, Brockmeyer NH, Hochdorfer B et al (2005) Clinical spectrum and virologic characteristics of anal intraepithelial neoplasia in HIV infection. J Am Acad Dermatol 52:603–608

19.

Kreuter A, Potthoff A, Brockmeyer NH et al (2008) Imiquimod leads to a decrease of human papillomavirus DNA and to a sustained clearance of anal intraepithelial neoplasia in HIV-infected men. J Invest Dermatol 128:2078–2083

20.

Kreuter A, Brockmeyer NH, Altmeyer P, Wieland U (2008) Anal intraepithelial neoplasia in HIV infection. J Dtsch Dermatol Ges 6:925–934

21.

Kreuter A, Wieland U (2009) Human papillomavirus-associated diseases in HIV-infected men who have sex with men. Curr Opin Infect Dis 22:109–114

22.

Oehler-Jänne C, Huguet F, Provencher S et al (2008) HIV-specific differences in outcome of squamous cell carcinoma of the anal canal: a multicentric cohort study of HIV-positive patients receiving highly active antiretroviral therapy. J Clin Oncol 26:2550–2557

23.

Palefsky JM, Holly EA, Efirdc JT et al (2005) Anal intraepithelial neoplasia in the highly active antiretroviral therapy era among HIV-positive men who have sex with men. AIDS 19:1407–1414

24.

Palefsky JM (2009) Anal cancer prevention in HIV-positive men and women. Curr Opin Oncol 21:433–438

25.

Patel P, Hanson DL, Sullivan PS et al (2008) Incidence of types of cancer among HIV-infected persons compared with the general population in the United States, 1992–2003. Ann Intern Med 148:728–736

26.

Stier EA, Goldstone SE, Berry JM et al (2008) Infrared coagulator treatment of high-grade anal dysplasia in HIV-infected individuals: an AIDS malignancy consortium pilot study. J Acquir Immune Defic Syndr 47:56–61

27.

Watson AJ, Smith BB, Whitehead MR et al (2006) Malignant progression of anal intra-epithelial neoplasia. ANZ J Surg 76:715–717

28.

Wright TC Jr, Cox JT, Massad LS et al (2002) 2001 Consensus guidelines for the management of women with cervical cytological abnormalities. JAMA 287:2120–2129

29.

Wieland U, Brockmeyer NH, Weissenborn SJ et al (2006) Imiquimod treatment of anal intraepithelial neoplasia in HIV-positive men. Arch Dermatol 142:1438–1444

30.

Zbar AP, Fenger C, Efron J et al (2002) The pathology and molecular biology of anal intraepithelial neoplasia: comparisons with cervical and vulvar intraepithelial carcinoma. Int J Colorectal Dis 17:203–215

31.

American Joint Committee on Cancer (1997) AJCC cancer staging manual, 5th edn. Lippincott-Raven Publishers, Philadelphia
Interessenkonflikt
Der korrespondierende Autor gibt an, dass kein Interessenkonflikt besteht.
Additional information
__Förderung____
Der Beitrag wurde vom deutschen Kompetenznetz HIV/AIDS gefördert.
About this article
Cite this article
Kreuter, A., Brockmeyer, N. & Wieland, U. Anale intraepitheliale Neoplasie und Analkarzinom. Hautarzt 61, 21–26 (2010). https://doi.org/10.1007/s00105-009-1810-5
Schlüsselwörter
Anale intraepitheliale Neoplasie

Analkarzinom

HIV-Infektion

Humanes Papillomvirus

Anoskopie
Keywords
Anal intraepithelial neoplasia

Anal cancer

HIV infection

Human papillomavirus

Anoscopy