Zusammenfassung
Wir berichten über einen Patienten mit einer selten auftretenden anaphylaktischen Reaktion nach dem Verzehr roher Paprika. Die allergologische Diagnostik zeigte ein komplexes Sensibilisierungsmuster, u. a. auf Gräser und Birke mit Hinweisen auf eine pollenassoziierte Nahrungsmittelallergie. Am ehesten führen wir die Reaktion auf eine Bet-v-1-bedingte Kreuzreaktion zurück. Im Westernblot zeigte sich eine Bindung des Patientenserums an ein 11-kDa-Protein, bei dem es sich möglicherweise um ein bisher unbekanntes Allergen der Paprikapflanze handelt oder um ein Fragment des Bet-v-1-homologen Paprikaproteins.
Abstract
We report on a patient with rare anaphylaxis after ingestion of raw bell pepper. A complex cluster of sensitization including grass and birch pointed out a possible pollen-associated food allergy. We suggest that the severe reaction is due to cross-reactivity towards Bet v 1. Western blot showed binding of the patient's serum to an 11 kDa protein, which has not been described yet and might be a new allergenic structure of the bell pepper plant or a fragment of the Bet v 1-homologous bell pepper protein.
Access options
Buy single article
Instant access to the full article PDF.
US$ 39.95
Tax calculation will be finalised during checkout.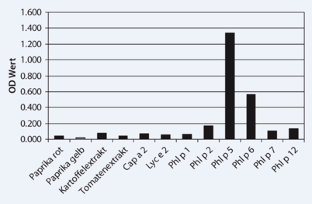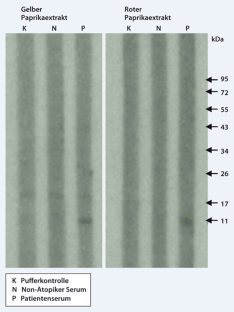 Literatur
1.

Bonds RS, Midoro-Horiuti T, Goldblum R (2008) A structural basis for food allergy: the roll of cross-reactivity. Curr Opin Allergy Clin Immunol 8:82–86

2.

Botton A, Lezzer P, Dorigoni A et al (2008) Genetic and environmental factors affecting allergen-related gene expression in apple fruit (Malus domestica L. Borkh). J Agric Food Chem 56:6707–6716

3.

Breiteneder H, Radauer C (2004) A classification of plant food allergens. J Allergy Clin Immunol 114(1):127–130

4.

Bublin M, Radauer C, Wilson IB et al (2003) Cross-reactive N-glycans of Api g 5, a high molecular weight glycoprotein allergen from celery, are required for immunoglobulin E binding and activation of effector cells from allergic patients. FASEB J 17(12):1697–1699

5.

Bublin M, Radauer C, Knulst A et al (2008) Effects of gastrointestinal digestion and heating on the allergenicity of the kiwi allergens Act d 1, actinidin and Act d 2, a thaumatin-like protein. Mol Nutr Food Res 52(10):1130–1139

6.

Dooms-Goossens A, Dubelloy R, Degreef H (1990) Contact and systemic contact-type dermatitis to spices. Dermatol Clin 8(1):89–93

7.

Ghunaim N, Grönlund H, Krongvist M et al (2005) Antibody profiles and self-reported symptoms to pollen-related food allergens in grass pollen-allergic patients from northern Europe. Allergy 60:185–191

8.

Groenewoud GC, de Groot H, van Wijk RG (2006) Impact of occupational and inhalant allergy on rhinitis-specific quality of life in employees of bell pepper greenhouses in the Netherlands. Ann Allergy Asthma Immunol 96(1):92–97

9.

Groenewoud GC, de ng NW, van Oorschot-van Nes AJ et al (2002) Prevalence of occupational allergy to bell pepper pollen in greenhouses in the Netherlands. Clin Exp Allergy 32(3):434–440

10.

Jensen-Jarolim E, Santner B, Leitner A (1998) Bell peppers (Capsicum annuum) express allergens (profilin, pathogenesis-related protein P23 and Bet v 1) depending on the horticultural strain. Int Arch Allergy Immunol 116(2):103–109

11.

Kleine-Tebbe J, Herold DA (2003) Cross-reactive allergen clusters in pollen-associated food allergy. Hautarzt 54(2):130–137

12.

Pastorello EA, Robino AM (2004) Clinical role of lipid transfer proteins in food allergy. Mol Nutr Food Res 48(5):356–362

13.

Ballmer-Weber BK, Vieths S (2008) Soy allergy in perspective. Curr Opin Allergy Clin Immunol 8(3):270–275

14.

Treudler R, Werner M, Thiery J et al (2008) High risk of immediate type reactions to soy drinks in 50 patients with birch pollinosis. J Investig Allergol Clin Immunol 18(6):482–495

15.

Vega de la Osada (1998) Sensitization to paprika: anaphylaxis after intake and rhinoconjunctivitis after contact through airways. Med Clin (Barc) 111(7):263–266

16.

Wagner S, Radauer C, Hafner C et al (2004) Characterization of cross-reactive bell pepper allergens involved in the latex-fruit syndrome. Clin Exp Allergy 34(11):1739–1746

17.

Willerroider M, Fuchs H, Ballmer-Weber BK et al (2003) Cloning and molecular and immunological characterisation of two new food allergens, Cap a 2 and Lyc e 1, profilins from bell pepper (Capsicum annuum) and Tomato (Lycopersicon esculentum). Int Arch Allergy Immunol 131(4):245–255
Interessenkonflikt
Der korrespondierende Autor gibt an, dass kein Interessenkonflikt besteht.
About this article
Cite this article
Rüger, R., Wagner, S., Simon, J. et al. Schwere Soforttypallergie nach Verzehr roher Paprika. Hautarzt 61, 339–342 (2010). https://doi.org/10.1007/s00105-009-1776-3
Schlüsselwörter
Paprika

Anaphylaxie

Nahrungsmittelallergie

Bet v 1

11-kDa-Protein
Keywords
Bell pepper

Anaphylaxis

Food allergy

Bet v 1

11 kDa protein