Zusammenfassung
Die menschliche Haut ist von einer Vielzahl von Mikroorganismen besiedelt, der sog. Hautmikroflora. Diese bildet ein komplexes Netzwerk von Interaktionen der Keime untereinander und mit den Zellen der Haut. Moderne molekularbiologische Analysemethoden haben neue Einblicke in die komplexe Vielfalt der nur teilweise kultivierbaren mikrobiellen Organismen eröffnet. Die Mehrzahl der residenten Keime auf gesunder Haut mit einer ausbalancierten Mikroflora ist unschädlich, in der Regel vermitteln sie sogar eine Schutzfunktion. Insbesondere im Fall milder Formen mikrobieller Ungleichgewichte wie unreiner Haut/milder Akne oder trockener Haut/milder atopischer Dermatitis stellen prä- und probiotische Konzepte eine wirksame Alternative zu strikt antibakteriellen Produkten dar. Präbiotische Wirkstoffe bringen die Hautmikroflora wieder in ihr natürliches Gleichgewicht. Probiotische Applikationen bestehen bevorzugt aus inaktivierten Präparationen schutzvermittelnder Bakterien. Eine Reihe erfolgreicher In-vivo-Studien illustriert dieses aus dem Lebensmittelsektor abgeleitete, neuartige Prinzip einer schonenden Kosmetik, für das bereits erste kommerzielle Produkte im Markt erhältlich sind.
Abstract
The human skin provides a habitat for a variety of microorganisms, the skin microflora. There is a complex network of interactions between the microbes and cells of the epidermis. Modern analytical methods in molecular biology have revealed new insights into this complex diversity of partially unculturable microbial organisms. Most of the resident microbes on healthy skin can be regarded as being harmless or even beneficial to skin. In the case of diseases with some imbalance in microorganisms, such as impure skin/mild acne or dry skin/mild atopic dermatitis, pre- and probiotic concepts represent an effective alternative to strictly antibacterial products. Prebiotic actives rebalance the skin microflora while probiotic approaches predominantly consist of applying an inactivated microbial biomass of beneficial bacteria. Several examples of successful in vivo studies illustrate this new principle for gentle cosmetics derived from the food sector.
Access options
Buy single article
Instant access to the full article PDF.
US$ 39.95
Tax calculation will be finalised during checkout.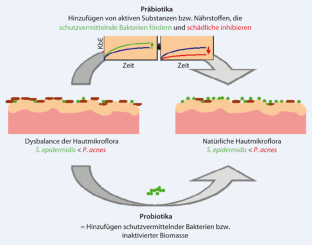 Literatur
1.

Akiyama H, Yamasaki O, Tada J, Arata J (2000) Adherence characteristics and susceptibility to antimicrobial agents of Staphylococcus aureus strains isolated from skin infections and atopic dermatitis. J Dermatol Sci 23:155–160

2.

Bockmuehl D, Jassoy C, Nieveler S et al (2006) Prebiotic cosmetics: an alternative to antibacterial products. IFSCC magazine 9:1–5

3.

Bojar RA, Holland KT (2002) Review: The human cutaneous microflora and factors controlling colonisation. World J Microbiol Biotechnol 18:889–903

4.

Braff MH, Bardan A, Nizet V, Gallo RL (2005) Cutaneous defense mechanisms by antimicrobial peptides. J Invest Dermatol 125:9–13

5.

Carolan H, Watkins S, Bradshaw D (2008) The prebiotic concept-a novel aproach for skin health. Euro Cosmetics 7/8:22–27

6.

Cogen AL, Nizet V, Gallo RL (2008) Skin microbiota: a source of disease or defence? Br J Dermatol 158:442–455

7.

Donnarumma G, Paoletti I, Buommino E et al (2004) Malassezia furfur induces the expression of β-defensin-2 in human keratinocytes in a protein kinase C-dependent manner. Arch Dermatol Res 295:474–481

8.

Donnarumma G, Buommino E, Baroni A et al (2007) Effects of AV119, a natural sugar from avocado, on Malassezia furfur invasiveness and on the expression of HBD-2 and cytokines in human keratinocytes. Exp Dermatol 16:912–919

9.

Fierer N, Hamady M, Lauber CL, Knight R (2008) The influence of sex, handedness and washing on the diversity of hand surface bacteria. Proc Natl Acad Sci USA 105:17994–17999

10.

Frohm M, Agerberth B, Ahangari G et al (1997) The expression of the gene coding for the antibacterial peptide LL-37 is induced in human keratinocytes during inflammatory disorders. J Biol Chem 272:15258–15263

11.

Gao Z, Tseng C, Pei Z, Blaser MJ (2007) Molecular analysis of human forearm superficial skin bacterial biota. Proc Natl Acad Sci USA 104:2927–2932

12.

García JR, Krause A, Schulz S et al (2001) Human beta-defensin 4: a novel inducible peptide with a specific salt-sensitive spectrum of antimicrobial activity. FASEB J 15:1819–1821

13.

Gibson GR, Roberfroid MB (1995) Dietary modulation of the human colonic microbiota: introducing the concept of prebiotics. J Nutr 125:1401–1412

14.

Grice EA, Kong HH, Renaud G et al (2008) A diversity profile of the human skin microbiota. Genome Res 18:1043–1050

15.

Grice EA, Kong HH, Conlan S et al (2009) Topographical and temporal diversity of the human skin microbiome. Science 324:1190–1192

16.

Gueniche A, Knaudt B, Schuck E et al (2008) Effects of nonpathogenic gram-negative bacterium Vitreoscilla filiformis lysate on atopic dermatitis: a prospective, randomized, double-blind, placebo-controlled clinical study. Br J Dermatol 159:1357–1363

17.

Guéniche A, Cathelineau A, Bastien P et al (2008) Vitreoscilla filiformis biomass improves seborrheic dermatitis. J Eur Acad Dermatol Venereol 22:1014–1015

18.

Harder J, Schröder J (2002) RNase 7, a novel innate immune defense antimicrobial protein of healthy human skin. J Biol Chem 277:46779–46784

19.

Harder J, Bartels J, Christophers E, Schröder J (2001) Isolation and characterization of human β-defensin-3, a novel human inducible peptide antibiotic. J Biol Chem 276:5707–5713

20.

Hartley G, McKenzie C, Greenman J et al (1999) Tongue microbiota and malodour: effects of metronidazole mouthrinse on tongue microbiota and breath odour. Microb Ecol Health Dis 11:226–233

21.

Heldermann M, Van der Hoeven H (2007) Probiotic active for the skin – helps your skin stay in balance. Household Personal Care Today 1:8–9

22.

Holland KT, Bojar RA (2002) Cosmetics: What is their influence on the skin microflora? 3:445–449

23.

Iovieno A, Lambiase A, Sacchetti M et al (2008) Preliminary evidence of the efficacy of probiotic eye-drop treatment in patients with vernal keratoconjunctivitis. Graefes Arch Clin Exp Ophthalmol 246:435–441

24.

Janssen F, Waldmann-Laue M (2009) Efficacy of a prebiotic product combination against skin impurities. IFSCC Congress

25.

Katsuyama M, Wachi Y, Ikezawa Z et al (1997) Correlation between the population of Staphylococcus aureus on the skin and severity of a score of dry type atopic dermatitis conditions. Nippon Hifuka Gakkai Zasshi 107:1103–1111

26.

Kozuka T (2002) Patch testing to exclude allergic contact dermatitis caused by povidone-iodine. Dermatology 204:96–98

27.

Krutmann J (2009) Pre- and probiotics for human skin. J Dermatol Sci 54:1–5

28.

Lang C, Veen M, Budde E et al (2007) Microorganisms inhibiting the formation of axillary malodor. U.S. patent WO 2007/031300

29.

Lang C, Heilmann A, Veen M et al (2006) Methods and means for protecting the skin against pathogenic bacteria. U.S. patent WO 2006/136420 A2

30.

Larson EL, Gomez-Duarte C, Lee LV et al (2003) Microbial flora of hands of homemakers. Am J Infect Control 31:72–79

31.

Leyden JJ, McGinley KJ, Holzle E (1981) The microbiology of the human axilla and its relationship to axillary odor. J Invest Dermatol 77:413–416

32.

Masako K, Hideyuki I, Shigeyuki O, Zenro I (2005) A novel method to control the balance of skin microflora: Part 1. Attack on biofilm of Staphylococcus aureus without antibiotics. J Dermatol Sci 38:197–205

33.

Masako K, Yusuke K, Hideyuki I et al (2005) A novel method to control the balance of skin microflora: Part 2. A study to assess the effect of a cream containing farnesol and xylitol on atopic dry skin. J Dermatol Sci 38:207–213

34.

Midorikawa K, Ouhara K, Komatsuzawa H et al (2003) Staphylococcus aureus susceptibility to innate antimicrobial peptides, β-defensins and CAP18, expressed by human keratinocytes. Infect Immun 71:3730–3739

35.

Ogawa T, Katsuoka K, Kawano K, Nishiyama S (1994) Comparative study of staphylococcal flora on the skin surface of atopic dermatitis patients and healthy subjects. J Dermatol 21:453–460

36.

Ouwehand AC, Batsman A, Salminen S (2003) Probiotics for the skin: A new area of potential application? Lett Appl Microbiol 36:327–331

37.

Pancholi P, Healy M, Bittner T et al (2005) Molecular characterization of hand flora and environmental isolates in a community setting. J Clin Microbiol 43:5202–5207

38.

Pernet I, Reymermier C, Guezennec A et al (2005) An optimized method for intensive screening of molecules that stimulate β-defensin 2 or 3 (hBD2 or hBD3) expression in cultured normal human keratinocytes 27:161–170

39.

Philpott MP (2003) Defensins and acne. Mol Immunol 40:457–462

40.

Rogers KL, Rupp ME, Fey PD (2008) The presence of icaABCDis detrimental to the colonization of human skin by Staphylococcus epidermidis. Appl Environ Microbiol 74:6155–6157

41.

Schröder J-, Harder J (1999) Human beta-defensin-2. Int J Biochem Cell Biol 31:645–651

42.

Trebesius K, Banowski B, Beimfohr C et al (2006) Gender-specific composition of the human axillary microbiota. Biospektrum Sonderausgabe VAAM-Jahrestagung, S 75

43.

Williams REA, Gibson AG, Aitchison TC et al (1990) Assessment of a contact-plate sampling technique and subsequent quantitative bacterial studies in atopic dermatitis. Br J Dermatol 123:493–501

44.

Ziebuhr W, Hennig S, Eckart M et al (2006) Nosocomial infections by Staphylococcus epidermidis: how a commensal bacterium turns into a pathogen. Int J Antimicrob Agents 28:14–20
Interessenonflikt
Der korrespondierende Autor gibt an, dass kein Interessenkonflikt besteht.
About this article
Cite this article
Simmering, R., Breves, R. Prä- und probiotische Kosmetik. Hautarzt 60, 809–814 (2009). https://doi.org/10.1007/s00105-009-1759-4
Schlüsselwörter
Präbiotische Kosmetik

Probiotische Kosmetik

Mikrobielles Ungleichgewicht

Milde Akne

Milde atopische Dermatitis
Keywords
Prebiotic cosmetics

Probiotic cosmetics

Microbial imbalance

Mild acne

Mild atopic dermatitis