Zusammenfassung
Die eosinophile Fasziitis ist eine seltene Erkrankung, die mit Ödemen, schmerzhaften Indurationen und progredienter Muskelschwäche einhergeht. Meist sind davon die Extremitäten betroffen. Wir berichten über den Fall einer 22-jährigen Frau, die sich bei reduziertem Allgemeinzustand mit progredienter Muskelschwäche beider Hände und Füße vorstellte. Zusätzlich waren symmetrische derbe Schwellungen der Extremitäten mit schmerzhafter Bewegungseinschränkung der Gelenke aufgetreten. Die systemische Glukokortikosteroidtherapie sowie Physiotherapie und manuelle Lymphdrainage führten zu einer Befundbesserung. Zu Beginn der Erkrankung kann aufgrund ähnlicher Symptomatik die Differenzierung zu Sklerodermie, Eosinophilie-Myalgie-Syndrom oder Pseudosklerodermie schwierig sein. Goldstandard für die Diagnose ist, wie in unserem Fall, die tiefe Hautbiopsie bis zur Faszie. Bildgebende Verfahren wie die MRT können die Diagnose stützen.
Abstract
Eosinophilic fasciitis is a rare disease characterized by edema, painful indurations, and progressive muscle weakness. Mainly the extremities are involved. We report on a 22-year-old woman with eosinophilic fasciitis presenting with progressive muscle weakness of both hands and feet and a reduced general condition. She showed symmetrical and firm swelling of the extremities with painful restriction of joint movement. Systemic treatment with glucocorticosteroids as well as physiotherapy and manual lymphatic drainage led to continuous improvement of her symptoms. The differentiation from other diseases, such as systemic scleroderma, eosinophilia-myalgia syndrome, and pseudoscleroderma, might be difficult at the beginning of the disease. The gold standard for diagnosis is – as was done in our case – a deep skin-to-muscle biopsy. Further imaging, especially magnetic resonance imaging, can support the diagnostic procedure.
This is a preview of subscription content, log in to check access.
Access options
Buy single article
Instant access to the full article PDF.
US$ 39.95
Price includes VAT for USA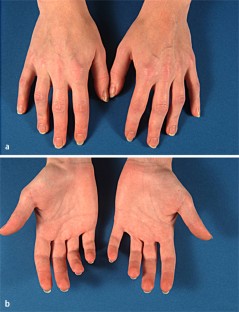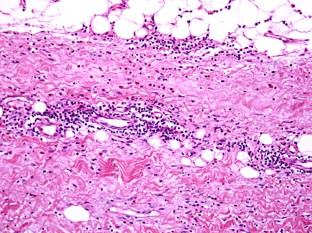 Literatur
1.

Bischoff L, Derk CT (2008) Eosinophilic fasciitis: Demographics, disease pattern and response to treatment: Report of 12 cases and review of the literature. Int J Dermatol 47:29–35

2.

Horacek E, Sator PG, Gschnait F (2007) 'Venous furrowing': A clue to the diagnosis of eosinophilic fasciitis. A case of eosinophilic fasciitis ultimately treated with oral PUVA therapy. Dermatology 215:89–90

3.

Fabri M, Hunzelmann N (2007) Differential diagnosis of scleroderma and pseudoscleroderma. JDDG 5:977–984

4.

Mosconi S, Streit M, Brönimann M, Braathen LR (2002) Eosinophilic fasciitis (Shulman syndrome). Dermatology 205:204–206

5.

Shulman LE (1974) Diffuse fasciitis with hypergammaglobulinemia and eosinophilia in a new syndrome. J Rheumtol 1 (suppl):46
Interessenkonflikt
Keine Angaben
About this article
Cite this article
Akanay-Diesel, S., Richter, J., Schneider, M. et al. Shulman-Syndrom (Eosinophile Fasziitis). Hautarzt 60, 278–281 (2009). https://doi.org/10.1007/s00105-009-1741-1
Schlüsselwörter
Indurationen

Muskelschwäche

Tiefe Hautbiopsie

Entzündliches Infiltrat

Fasziitis
Keywords
Indurations

Muscle weakness

Skin-to-muscle biopsy

Inflammatory infiltrate

Fasciitis