Zusammenfassung
Condylomata acuminata sind die weltweit am häufigsten diagnostizierte sexuell übertragbare virale Erkrankung der Genitoanalregion. Die Grundlage für die erfolgreiche Therapie ist die korrekte Diagnosestellung. Zahlreiche Differenzialdiagnosen erschweren die häufig geübte Blickdiagnostik und machen die Absicherung über eine Biopsie und histologische Untersuchung erforderlich. Der vorliegende Beitrag befasst sich mit der Diagnostik und Differenzialdiagnostik der Condylomata acuminata. Mit der um die histologische Beurteilung erweiterten Diagnostik wird eine Verbesserung der aktuellen Therapieergebnisse angestrebt.
Abstract
Condylomata acuminata are the most frequently diagnosed sexually transmitted disease of the anogenital area worldwide. The basis of successful therapy is the correct diagnosis. There are numerous differential diagnostic considerations, many of which can only be confirmed with histological examination. The diagnosis and differential diagnosis of condylomata acuminata is reviewed. Combining histologic evaluation into the diagnostic approach should improve the therapeutic results.
Access options
Buy single article
Instant access to the full article PDF.
USD 39.95
Price excludes VAT (USA)
Tax calculation will be finalised during checkout.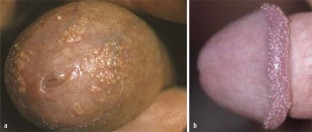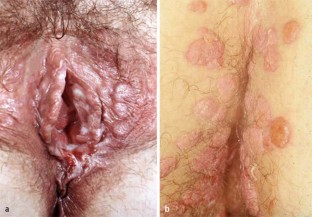 Literatur
Brown DR, Schroeder JM, Bryan JT (1999) Detection of multiple human papillomavirus types in Condylomata acuminata lesions from otherwise healthy and immunosuppressed patients. J Clin Microbiol 37:3316–3322

Ewald K, Gross G (2008) Perianal Hailey-Hailey disease: an unusual differential diagnosis of condylomata acuminata. Int J STD AIDS 9(11):791–792

Gieseking F, Petry KU, Hillemanns P et al (2005) Incidence, prevalence and costs of treating genital warts in the pre-HPV vaccine era in Germany. Value Health 8:64–65

Gieseking F (2007) Direkte und indirekte Kosten der Behandlung von Genitalwarzen in Deutschland, 2005. Abstract für das 2. Münchner Symposium für Kinder- und Jugendgynäkologie. 8.–10. März, München

Glastetter E, Kaufmann AM (2007) Humorale und zelluläre Immunantwort im Rahmen der HPV-Impfung. Hautarzt 58:493–500

Gross G, Ikenberg H, Gissmann L, Hagedorn M (1985) Papillomavirus infection of the anogenital region: correlation between histology, clinical picture, and virus type. Proposal of a new nomenclature. J Invest Dermatol 85:147–152

Gross G, Barrasso R (1997) Human papillomavirus infection. A clinical atlas. Ullstein, Mosby

Gross G, Rogoszinski T, Schöfer H et al (1998) Recombinant interferon-beta gel as an adjuvant in the treatment of recurrent genital warts: results of a placebo-controlled double blind study in 120 patients. Dermatology 196:330–334

Gross G (2001) HPV-Infektionen der Vulva. Gynäkologe 34:883–897

Gross G, Pfister H (2004) Role of human papillomavirus in penile cancer, penile intraepithelial squamous cell neoplasias and in genital warts. Med Microbiol Immunol (Berl) 193:35–44

Gross G (2007) Condylomata acuminata und andere HPV-assoziierte Krankheitsbilder von Genitale, Anus und Harnröhre. Leitlinie der Deutschen STD-Gesellschaft in Zusammenarbeit mit der Deutschen Dermatologischen Gesellschaft und der Paul-Ehrlich-Gesellschaft. Hautarzt 58:179–186

Gross G (2007) Bedeutung der prophylaktischen HPV Vakzine für die Dermatologie und Venerologie. Hautarzt 58:507–514

http://www.hpa.org.uk/infections/topics_az/hiv_andstiarts/epidemiology/epidemiology.htm

Ingram DL, Everett VD, Lyma PR (1992) Epidemiology of adult sexually transmitted disease agents in children being evaluated for sexual abuse. Pediatr Infect Dis J 11:945–950

Insinga RP, Dasbach EJ, Myers ER (2003) The health and economic burden of genital warts in a set of private health plans in the United States. Clin Infect Dis 1397–1403

Johnston A, Fernando D, MacBride-Stewart G (2005) Sexually transmitted infections in New Zealand in 2003. N Z Med J 118:U1347

Kirnbauer R (2007) HPV-Vakzine. Prophylaktischer Spaltimpfstoff aus "virus-like particles" (VLP). Hautarzt 58:489–492

Kjaer SK, Tran TN, Sparen P et al (2007) The burden of genital warts: a study of nearly 70,000 women from the general female population in the 4 Nordic countries. J Infect Dis 15, 196(10):1447–1454

Lacey CJ (2005) Therapy for genital human papillomavirus-related disease. J Clin Virol 32 (Suppl 1):S82–S90, review

Lacey CJ, Lowndes CM, Shah KV (2006) Chapter 4: Burden and management of non-cancerous HPV-related conditions: HPV-6/11 disease. Vaccine 24 (Suppl 3):S35–S41

Manhart LE, Koutsky LA (2002) Do condoms prevent genital HPV infection, external genital warts, or cervical neoplasia? A metaanalysis. Sex Transm Dis 29:725–735

Müller M, Gissmann L (2007) Prophylaktische und therapeutische HPV-Impfstoffe. Hautarzt 58:483–488

Nordenvall C, Chang ET, Adami HO, Ye W (2006) Cancer risk among patients with condylomata acuminata. Int J Cancer 119:888–893

Pathirana D, Hillemanns P, Petry K-U et al (2008) S3-Leitlinie der Arbeitsgruppe HPV-Management Forum der Paul-Ehrlich-Gesellschaft für Chemotherapie e.V. "Impfprävention HPV-assoziierter Neoplasien". Chemotherapie J 17:120–171

Petry KU (2007) Was bedeutet die HPV-Impfung für die gynäkologische Krebsvorsorge. Hautarzt 58:501–506

Petzoldt D, Gross G (2001) Diagnostik und Therapie sexuell übertragbarer Krankheiten. Leitlinien der Deutschen STD-Gesellschaft, Springer, Berlin Heidelberg New York Tokyo

Silverberg MJ, Ahdieh L, Munoz A et al (2002) The impact of HIV infection and immunodeficiency on human papillomavirus type 6 or 11 infection and on genital warts. Sex Transm Dis 29:427–435

(o A) (2007) Ständige Impfkommission (STIKO). Epid Bull 12:97–103

UK Health Protection Agency (2001) Sexually transmitted infections quarterly report: anogenital warts and HSV infection in England and Wales. CRD Weekly 11:1–15

Van den Eeden SK, Habel LA, Sherman KJ et al (1998) Risk factors for incident and recurrent condylomata acuminata among men. A population-based study. Sex Transm Dis 25:278–284

Vandepapeliere P, Barrasso R, Meijer CJ et al (2005) Randomized controlled trial of an adjuvant human papillomavirus (HPV) type 6 L2E7 vaccine: infection of external anogenital warts with multiple HPV types and failure of therapeutic vaccination. J Infect Dis 192:2099–2107

Von Krogh G, Lacey CJ, Gross G et al (2000) European Course on HPV associated pathology: guidelines for primary care physicians for the diagnosis and management of anogenital warts. Sex Transm Infect 76:162–168
Interessenkonflikt
Der korrespondierende Autor gibt an, dass kein Interessenkonflikt besteht.
About this article
Cite this article
Gross , G. Differenzialdiagnostik anogenitaler Condylomata acuminata. Hautarzt 60, 465–471 (2009). https://doi.org/10.1007/s00105-008-1694-9
Published:

Issue Date:

DOI: https://doi.org/10.1007/s00105-008-1694-9
Schlüsselwörter
Keywords