Zusammenfassung
Beim Lepidopterismus (Lepidopterae = Schmetterlinge) handelt es sich um meist toxisch irritative, selten allergische Reaktionen, die durch Ausschüttung von Histamin, Thaumetopoein und weiteren Kininen aus den Haaren von Schmetterlingen sowie deren Raupen hervorgerufen werden können. In Mitteleuropa kommen der Eichenprozessionsspinner sowie der Pinienprozessionsspinner als Auslöser eines Lepidopterismus in Betracht. Neben rein kutanen Reaktionen kann es nach Kontakt auch zu einer Konjunktivitis, Bronchitis sowie zu anaphylaktischen Reaktionen kommen. Anhand von 2 Patientenberichten möchten wir die Hautreaktionen beim Lepidopterismus vorstellen.
Abstract
Caterpillar dermatitis or lepidopterism (Lepidoptera = butterflies) is a toxic-irritant, or rarely allergic, reaction triggered by the release of histamine, thaumetopoein and other kinins from the hairs of butterflies and caterpillars. In Central Europe, the two main causes of caterpillar dermatitis are the oak and pine processionary caterpillar. In addition to cutaneous reactions, patients may develop conjunctivitis, bronchitis and even anaphylactic reactions. We describe the cutaneous aspects of caterpillar dermatitis based on two case reports.
Access options
Buy single article
Instant access to the full article PDF.
USD 39.95
Price excludes VAT (USA)
Tax calculation will be finalised during checkout.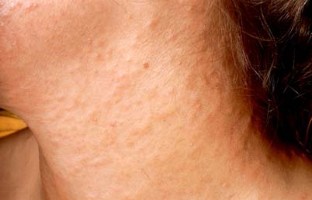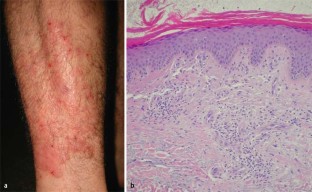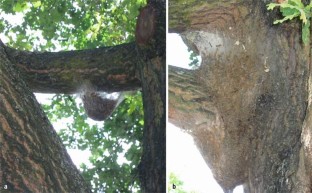 Literatur
Diaz JH (2005) The evolving global epidemiology, syndromic classification, management, and prevention of caterpillar envenoming. Am J Trop Med Hyg 72: 347–357

Günter Ebert (1994) Die Schmetterlinge Baden-Württembergs Band 4 – Nachtfalter II. ISBN 978-3-8001-3474-8

Werno J, Lamy M, Vincendeau P (1993) Caterpillar hairs as allergens. Lancet 342: 936–937

Moneo I, Vega JM, Caballero ML et al. (2003) Isolation and characterization of Tha p 1, a major allergen from the pine processionary caterpillar Thaumetopoea pityocampa. Allergy 58: 34–37

Vega J, Vega JM, Moneo I et al. (2004) Occupational immunologic contact urticaria from pine processionary caterpillar (Thaumetopoea pityocampa): experience in 30 cases. Contact Dermatitis 50: 60–64

Rosen T (1990) Caterpillar dermatitis. Dermatol Clin 8: 245–252

Maier H, Spiegel W, Kinaciyan T, Honigsmann H (2004) Caterpillar dermatitis in two siblings due to the larvae of Thaumetopoea processionea L, the oak processionary caterpillar. Dermatology 208: 70–73

Maier H, Spiegel W, Kinaciyan T et al. (2003) The oak processionary caterpillar as the cause of an epidemic airborne disease: survey and analysis. Br J Dermatol 149: 990–997

Spiegel W, Maier H, Maier M (2004) A non-infectious airborne disease. Lancet 363: 1438

Gottschling S, Meyer S (2006) An epidemic airborne disease caused by the oak processionary caterpillar. Pediatr Dermatol 23: 64–66

Gottschling S, Meyer S, Dill-Mueller D et al. (2007) Outbreak report of airborne caterpillar dermatitis in a kindergarten. Dermatology 215: 5–9

Redd JT, Voorhees RE, Torok TJ (2007) Outbreak of lepidopterism at a Boy Scout camp. J Am Acad Dermatol 56: 952–955

Rodriguez-Morales AJ, Arria M, Rojas-Mirabal J et al. (2005) Lepidopterism due to exposure to the moth Hylesia metabus in northeastern Venezuela. Am J Trop Med Hyg 73: 991–993

Quero C, Bau J, Guerrero A et al. (2003) Sex pheromone of the oak processionary moth Thaumetopoea processionea. Identification and biological activity. J Agric Food Chem 51: 2987–2991
Interessenkonflikt
Keine Angaben.
About this article
Cite this article
Utikal, J., Booken, N., Peitsch, W. et al. Lepidopterismus. Hautarzt 60, 48–50 (2009). https://doi.org/10.1007/s00105-008-1567-2
Published:

Issue Date:

DOI: https://doi.org/10.1007/s00105-008-1567-2
Schlüsselwörter
Keywords