Zusammenfassung
Angioödeme können Anaphylaxien begleiten und v. a. bei Patienten, die akut aus gesundheitlichem Wohlbefinden einen anaphylaktischen Schock erleiden, bedrohlicher sein als die Kreislaufreaktion. Sie können im Rahmen allergischer IgE- und histaminabhängiger Reaktionen sowie bei Analgetikaintoleranz bei Störungen des Arachidonsäurestoffwechsels auftreten. Manifestieren sich Angioödeme ohne Urtikaria oder weitere Symptome der Anaphylaxie, sind sie vornehmlich durch vermehrte Bradykininbildung (HANE, EANE) oder verminderten Abbau des Bradykinins (z. B. ACE-Hemmer) bedingt. Diese Erkenntnisse haben zu neuen therapeutischen Optionen v. a. des HANE geführt. So hemmt das Icatibant den Bradykininrezeptor 2 (BR-2) und reduziert das durch das vermehrt gebildete Bradykinin entstandene Angioödem bei HANE. Wie weit dieses Prinzip auch bei anderen Angioödemformen – z. B. dem durch ACE-Hemmer ausgelösten Angioödem – wirksam ist, müssen zukünftige Untersuchungen zeigen.
Abstract
Angioedema can be a symptom of anaphylaxis; it may be more hazardous that the circulatory collapse in otherwise healthy patients. Angioedema can be part of IgE- and histamine-mediated allergic reactions or part of NSAID-induced hypersensitivity with disturbances in arachidonic acid metabolism. If angioedema occurs without urticaria or other symptoms of anaphylaxis, it is usually mediated by increased bradykinin synthesis (HANE, EANE) or reduced metabolism (ACE inhibitors). These observations have led to new therapeutic approaches in HANE. Icatibant is a bradykinin-receptor-2 antagonist and blocks bradykinin-induced angioedema in HANE. How applicable this will be to ACE-inhibitor angioedema remains to be seen.
Access options
Buy single article
Instant access to the full article PDF.
USD 39.95
Price includes VAT (USA)
Tax calculation will be finalised during checkout.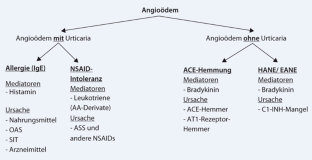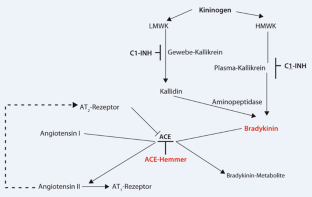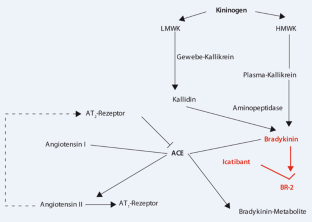 Literatur
1.

Bas M, Adams V, Suvorava T et al. (2007) Nonallergic angioedema: role of bradykinin. Allergy 62: 842–856

2.

Bas M, Hoffmann TK, Bier H, Kojda G (2005) Increased C-reactive protein in ACE-inhibitor-induced angioedema. Br J Clin Pharmacol 59: 233–238

3.

Binkley KE, Davis A (2000) Clinical, biochemical, and genetic characterization of a novel estrogen-dependent inherited form of angioedema. J Allergy clin Immunol 106: 546–550

4.

Bork K, Frank J, Grundt B et al. (2007) Treatment of acute edema attacks in hereditary angioedema with a bradykinin receptor-2 antagonist (Icatibant). J Allergy Clin Immunol 119: 1497–1503

5.

Bork K, Gül D, Dewald G (2006) Hereditary angioedema with normal C1 inhibitor in a family with affected women and men. Br J Dermatol 154: 542–545

6.

Bork K, Meng G, Straubach P, Hardt J (2006) Hereditary angioedema due to C1 inhibitor deficiency: new findings concerning symptoms, affected organs, and course of disease. Am J Med 119: 267–274

7.

Bork K (2004) Current treatment of HAE and future treatment options. J Allergy clin Immunol 114: S94–96

8.

Bowen T, Cicardi M, Farkas H et al. (2004) Canadian 2003 International Consensus Algorithm For the Diagnosis, Therapy, and Management of Hereditary Angioedema. J Allergy Clin Immunol: 114(3): 629–637

9.

Campbell DJ, Krumm H, Esler MD (2005) Losartan increses bradykinin levels in hypertensive humans. Circulation 111: 315–320

10.

Cicardi M, Zingale L, Zanichelli A et al. (2005) C1 inhibitor: molecular and clinical aspects. Springer Semin Immunopathol 27(3): 286–298

11.

Dewald G, Bork K (2006) Missense mutations in the coagulation factor XII (Hageman factor) gene in hereditary angioedema with normal C1 inhibition. Biochem Biophys Res Commun 343: 1286–1289

12.

Doorn van MBA, Burggraf J, Dam van T, Eerenberg A et al. (2005) A phase I study of recombinant human C1 inhibitor in asymptomatic patients with hereditary angioedema. J Allergy Clin Immunol 116: 876–883

13.

Duan QL, Nikpoor B, Dube MP et al. (2005) A variant in XPNPEP2 is associated with angioedema induced by angiotensin I-converting enzyme inhibitors. Am J Hum Genet 77(4): 617–626

14.

Göring HD, Bork K, Späth PJ et al. (1998) Untersuchungen zum hereditären Angioödem im deutschsprachigen Raum Hautarzt 49: 114–122

15.

Greaves MW, Kaplan AP (2004) Urticaria and angioedema. Marcel Dekker, New York

16.

Han ED, MacFarlane RC, Mulligan AN et al. (2002) Increased vascular permeability in C1 inhibitor-deficient mice mediated by the bradykinin type 2 receptor. J Clin Invest 109: 1057–1063

17.

Harada M, Kumemura H, Yanagimoto C, Sata M (2005) Vascular endothelial growth factor is involved in angioedema associated with eosinophilia. Kurume Med J 52(3): 89–91

18.

Hellebrand MC, Kojda G, Hoffmann TK, Bas M (2006) Kasuistiken Angioödeme durch ACE-Hemmer und AT1-Rezeptorblocker Hautarzt 57: 808–810

19.

Kaplan AP, Greaves MW (2005) Angioedema. J Am Acad Dermatol 53: 373–388

20.

Kostis JB, Kim HJ, Rusnak J et al. (2005) Incidence and characteristics of angioedema associated with enalapril. Arch Intern Med 165(14): 1637–1642

21.

Laubinger R, Guthke K, Erdmann U, Klein U (2007) Kasuistiken Angioneurotisches orolinguales Ödem nach rt-PA-Lyse eines Schlaganfalls Anaesthesist (in press)

22.

Merk HF, Ott H (2008) Allergie-Taschenbuch. Für Studium und Praxis. ABW Wissenschaftsverlag, Berlin (in press)

23.

Möller R, Paul E (1996) Acetylsalicylsäure als Augmentationsfaktor einer Nahrungsmittel-Allergie Hautarzt 47: 281–283

24.

Schneider L, Lumry W, Vegh A et al. (2007) Critical role of kallikrein in hereditary angioedema pathogenesis: a clinical trial of ecallantide, a novel kallikrein inhibitor. J Allergy Clin Immunol 120: 416–422

25.

Stüttgen G (1977) Mediatorenmechanismen in der menschlichen Haut. Pharmakoanalyse und therapeutische Aspekte. Hautarzt 28: 277–287
Interessenkonflikt
Keine Angaben.
About this article
Cite this article
Merk, H. Angioödem. Hautarzt 58, 1041–1045 (2007). https://doi.org/10.1007/s00105-007-1440-8
Schlüsselwörter
Angioödem

Bradykinin

Icatibant

ACE-Hemmer

Anaphylaxie
Keywords
Angioedema

Bradykinin

Icatibant

ACE-Inhibitors

Anaphylaxis