Zusammenfassung
Hintergrund
Bei chronischem, therapieresistenten Pruritus versagen häufig konventionelle Therapiemaßnahmen und neue Therapieansätze sind gefragt. Kürzlich wurde die Expression von Cannabinoidrezeptoren auf kutanen sensorischen Nervenfasern beschrieben, und der Einsatz von Cannabinoidagonisten zur Therapie von Pruritus scheint rational.
Patienten
In einer offenen Anwendungsbeobachtung erhielten 22 Patienten mit Prurigo, Lichen simplex und Pruritus eine N-Palmitoylethanolamin- (PEA-)haltige Pflegecreme.
Ergebnisse
Bei 14/22 Patienten konnte ein guter bis sehr guter antipruritischer Effekt dokumentiert werden. Im Mittel war eine signifikante Juckreizreduktion um 86,4% zu verzeichnen. Die Therapie wurde von allen Patienten gut toleriert; es traten keine unangenehmen Sensationen wie Brennschmerz oder Kontaktekzeme auf.
Schlussfolgerungen
Die Ergebnisse zeigen, dass topische Cannabinoidagonisten eine effektive Therapie mit guter Verträglichkeit bei therapierefraktärem Juckreiz verschiedenster Ursache darstellen. Es darf spekuliert werden, dass Cremes mit einer höheren Konzentration an Wirkstoffen zu einem noch besseren Ansprechen des Pruritus mit breiterem Indikationsgebiet führen werden.
Abstract
Background
Chronic, therapy-resistant pruritus often fails to respond to standard measures so new therapeutic approaches are needed. Recently, the expression of cannabinoid receptors on cutaneous sensory nerve fibers was described, so cannabinoid agonists seem a rational therapeutic option for pruritus.
Patients
In an open application observation 22 patients with prurigo, lichen simplex and pruritus applied an emollient cream containing N-palmitoyl ethanolamine (PEA).
Results
In 14/22 patients a good antipruritic effect could be documented. The average reduction in itch was 86.4%. The therapy was well-tolerated by all patients; neither burning burn nor contact dermatitis was observed.
Conclusions
Topical cannabinoid agonists represent an new effective and well-tolerated therapy for refractory itching of various origins. Creams with a higher concentration may be even more effective with broader indications.
This is a preview of subscription content, log in to check access.
Access options
Buy single article
Instant access to the full article PDF.
US$ 39.95
Price includes VAT for USA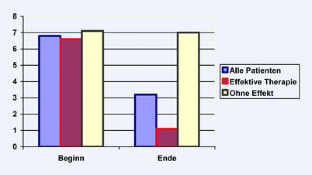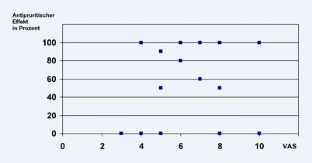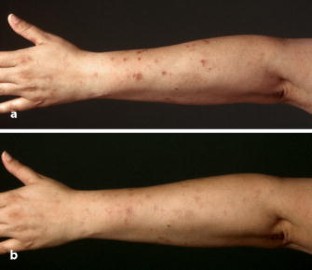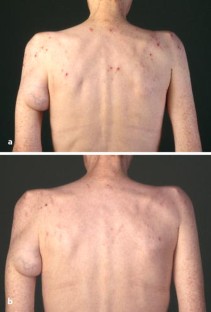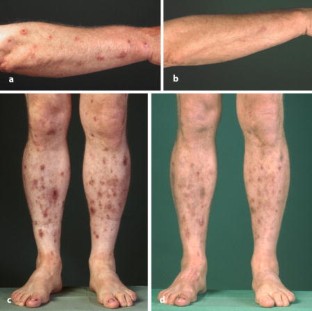 Literatur
1.

Berdyshev EV, Boichot E, Germain N et al. (1997) Influence of fatty acid ethanolamides and delta9-tetrahydrocannabinol on cytokine and arachidonate release by mononuclear cells. Eur J Pharmacol 330: 231–240

2.

Bouaboula M, Rinaldi M, Carayon P et al. (1993) Cannabinoid-receptor expression in human leukocytes. Eur J Biochem 214: 173–180

3.

Devane WA, Dysarz FA III, Johnson MR et al. (1988) Determination and characterization of a cannabinoid receptor in rat brain. Mol Pharmacol 34: 605–613

4.

Di Marzo V, Bisogno T, De Petrocellis L et al. (1999) Cannabimimetic fatty acid derivatives: the anandamide family and other endocannabinoids. Curr Med Chem 6: 721–744

5.

Dvorak M, Watkinson A, McGlone F, Rukwied R (2003) Histamine induced responses are attenuated by a cannabinoid receptor agonist in human skin. Inflamm Res 52: 238–245

6.

Facci L, Dal Toso R, Romanello S et al. (1995) Mast cells express a peripheral cannabinoid receptor with differential sensitivity to anandamide and palmitoylethanolamide. Proc Natl Acad Sci USA 92: 3376–3380

7.

Gallily R, Breuer A, Mechoulam R (2000) 2-Arachidonylglycerol, an endogenous cannabinoid, inhibits tumor necrosis factor-alpha production in murine macrophages, and in mice. Eur J Pharmacol 406: R5–7

8.

Kemény L (2005) Comparative study of S236 cream and hydrocortisone 1% in patients with atopic dermatitis. JAAD 52: P68 (Abstr.)

9.

Klegeris A, Bissonnette CJ, McGeer PL (2003) Reduction of human monocytic cell neurotoxicity and cytokine secretion by ligands of the cannabinoid-type CB2 receptor. Br J Pharmacol 139: 775–786

10.

Lambert DM, Vandevoorde S, Jonsson KO, Fowler CJ (2002) The palmitoylethanolamide family: a new class of anti-inflammatory agents? Curr Med Chem 9: 663–674

11.

Matsuda LA (1997) Molecular aspects of cannabinoid receptors. Crit Rev Neurobiol 11: 143–166

12.

Munro S, Thomas KL, Abu-Shaar M (1993) Molecular characterization of a peripheral receptor for cannabinoids. Nature 365: 61–65

13.

Pertwee RG (1999) Evidence for the presence of CB1 cannabinoid receptors on peripheral neurones and for the existence of neuronal non-CB1 cannabinoid receptors. Life Sci 65: 597–605

14.

Ralevic V (2003) Cannabinoid modulation of peripheral autonomic and sensory neurotransmission. Eur J Pharmacol 472: 1–21

15.

Ralevic V, Kendall DA (2001) Cannabinoid inhibition of capsaicin-sensitive sensory neurotransmission in the rat mesenteric arterial bed. Eur J Pharmacol 418: 117–125

16.

Ross RA, Coutts AA, McFarlane SM et al. (2001). Actions of cannabinoid receptor ligands on rat cultured sensory neurones: implications for antinociception. Neuropharmacology 40: 221–32

17.

Rukwied R, Watkinson A, McGlone F, Dvorak M (2003) Cannabinoid agonists attenuate capsaicin-induced responses in human skin. Pain 102: 283–288

18.

Ständer S, Schmelz M, Metze D et al. (2005) Distribution of cannabinoid receptor 1 (CB1) and 2 (CB2) on sensory nerve fibers and adnexal structures in human skin. J Dermatol Sci 38: 177–188

19.

Ständer S, Weisshaar E, Steinhoff M, Luger TA, Metze D (2003) Pruritus – Pathophysiologie, Klinik und Therapie – Eine Übersicht. JDDG 1: 105–118

20.

Szepietowski JC, Szepietowski T, Reich A (2005) Efficacy and local tolerance of S236 Cream in patients undergoing maintenance hemodialysis suffering from uremic pruritus. JAAD 52: P69 (Abstr.)
Interessenkonflikt
Der korrespondierende Autor weist auf eine Verbindung mit folgender Firma/Firmen hin: Herr H. W. Reinhardt ist Mitarbeiter der Firma Stiefel Laboratorium GmbH. Die Untersuchung wurde finanziell durch eine Förderung von Stiefel Laboratorium GmbH unterstützt.
About this article
Cite this article
Ständer, S., Reinhardt, H.W. & Luger, T.A. Topische Cannabinoidagonisten. Hautarzt 57, 801–807 (2006). https://doi.org/10.1007/s00105-006-1180-1
Schlüsselwörter
Cannabinoidrezeptoren

Pruritus

Prurigo

Endocannabinoide

Lichen simplex
Keywords
Cannabinoid receptors

Pruritus

Prurigo

Endocannabinoids

Lichen simplex