Zusammenfassung
Ärzte befinden sich bei ihren Therapieentscheidungen oft in einem Spannungsverhältnis zwischen ethischen und berufs-, haftungs-, sozial- und leistungsrechtlichen Verpflichtungen. Dies ist vor allem dann schwierig, wenn auf Medikamente außerhalb ihres Zulassungsbereiches—Off-Label—zurückgegriffen werden muss, weil alle bestehenden Therapiemöglichkeiten ausgeschöpft sind. Diese Option ist durch das Bundessozialgerichtsurteil vom März 2002 erheblich erschwert worden. Seitdem darf Off-Label nur noch unter sehr eingeschränkten Bedingungen verordnet werden. Um für den Einzelfall eine bessere Entscheidungsgrundlage zu schaffen, ist unter Moderation des BMGS eine Expertenkommission für die Onkologie gegründet worden. Dies schafft aber für die Vielzahl höchst seltener und anders als mit Off-Label nicht behandelbarer dermatologischer Erkrankungen keine angemessene Perspektive.
Abstract
When making therapeutic decisions, doctors often find themselves faced with a dilemma regarding ethical, professional, legal liability, social and service aspects of their duties. These conflicts may be enhanced when medications have to be prescribed for non-approved usages, known as off-label prescribing, because existing therapy options have been exhausted. This option become considerably more difficult since the German Federal Social Court decision of March 2002 which limited off-label use to a number of very strictly defined circumstances. In order to clarify the basis for taking decisions in a given situation, an oncology expert commission has been formed under the coordination of the Department of Health and Social Security. However, this is no solution for the great variety of uncommon dermatological diseases which often require off-label medication usage.
Access options
Buy single article
Instant access to the full article PDF.
USD 39.95
Price excludes VAT (USA)
Tax calculation will be finalised during checkout.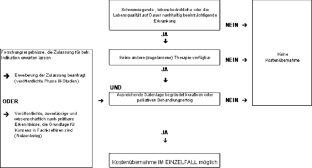 Literatur
Altmeyer P, Bacharach-Buhles M. (2002) Dermatologie, Allergologie und Umweltmedizin. Springer, Berlin Heidelberg New York Tokyo

Brockmeyer NH, Reimann G, Heidelmann U (2003) Off-Label-Use in der HIV-Therapie. Retrovir Bull 3:4–6

Burgardt C (2002) Off-Label-Use von Arzneimitteln in der GKV. Forum DKG Sonderheft der Deutschen Krebsgesellschaft e.V. 2

Butler ML, Karst KR (2001) Orphan drugs: subsetting and sameness. Curr Drug Discovery 12:48–51

Deutsch E (1999): Medizinrecht, Band-Nr. 887, 4. Aufl. Springer, Berlin Heidelberg New York Tokyo

Drake LA, Dinehart SM, Farmer ER (1996) Guidelines of care for cutaneous lupus erythematosus. J Am Acad Dermatol 34:830–836

Gil-Robles JM, Müller W (1999) Decision Nr. 1295/1999/EC of the European Parliament and of the Council (1999). Official Journal of the European Communities EN 22.6.1999:L155/1

Glaeske G, Dierks C (2002) Off-Label-Use Weichenstellung nach dem BSG-Urteil 2002. München

Kloesel A, Cyran W (2002) Kommentar zum Arzneimittelrecht, Anmerkung 11 zu II § 84 AMG; aus: Arzneimittelrecht, 81. Lieferung. Dt. Apotheker Verlag

de Korte J, Sprangers MA, Mombers FM, Bos JD (2004) J Quality of life in patients with psoriasis: a systematic literature review. Investig Dermatol Symp Proc 9:140–147

Kozianka W, Millarg I (2002) Endlich Klarheit beim Off-Label-Use? Zur Pressemitteilung des Bundessozialgerichts zum Urteil vom 19.3.2002 (Az.: B 1 KR 37/00 R). PharmR 6:212–216

Krieger G (2002) Rechtsfolgen des "Off-Label-Use"—Dokumentierte Aufklärung schützt vor Schadenersatzansprüchen. Dtsch Dermatologe 11:708–710

Nahnhauer A (2003) Off Label-Use bei Arzneimitteln—verordnungsfähig in der Gesetzlichen Krankenversicherung? Retrovir Bull 3:3

Picard D, Carvalho P, Bonnavia C et al. (2003) Ensemble des Consultant de la Clinique Dermatologique du CHU de Rouen. Ann Dermatol Venerol 130:507–510

Rote Liste (2004) Service GmbH (Hrsg.) Frankfurt/Main

Sander A (2001) Kommentar zum Arzneimittelrecht, Anmerkung 13 zu § 84 AMG; aus: Arzneimittelrecht, 38. Lieferung. Kohlhammer

Schloebe A, Daun T, Augustin M (2003), Off-Label-Use in der Dermatologie—Häufigkeit und Stellenwert. J Dtsch Dermatol Gesellschaft 1:S92, FV8.44

Zylka-Menhorn V (2001) Off-Label-Therapie: Den Schwarzen Peter hat der Arzt. Dtsch Ärztebl 98:51–52:A-3413/B-2877/C-2673
Interessenkonflikt:
Der korrespondierende Autor versichert, dass keine Verbindungen mit einer Firma, deren Produkt in dem Artikel genannt ist, oder einer Firma, die ein Konkurrenzprodukt vertreibt, bestehen.
About this article
Cite this article
Brunne, V., Mertins, G., Reimann, G. et al. Off-Label-Use in der Dermatologie. Hautarzt 55, 727–734 (2004). https://doi.org/10.1007/s00105-004-0764-x
Issue Date:

DOI: https://doi.org/10.1007/s00105-004-0764-x
Schlüsselwörter
Keywords