Zusammenfassung
Hintergrund
Zur Refinanzierung des Mehraufwandes beim Einsatz minimal-invasiver Operationsverfahren wurden in der Vergangenheit in erster Linie Einsparungen bei der postoperativen Verweildauer angeführt. Mit Ausgliederung der Pflegekosten durch das Pflegepersonalstärkungsgesetz (PPSG) ist diese Argumentation grundsätzlich infrage zu stellen.
Methodik
Am Beispiel der rechtsseitigen Hemikolektomie erfolgte eine retrospektive Fallanalyse, in der verweildauerassoziierte Einsparungen vor und nach Einführung der aG-DRGs (ausgegliederte "German diagnosis-related groups") gegenübergestellt und mit dem Sach- und Personalkostenmehraufwand verrechnet wurden.
Ergebnisse
Bei den untersuchten Fällen konnte bis Ende 2019 durch die Anwendung minimal-invasiver Operationsverfahren ein Erlösvorteil gegenüber den konventionell operierten Fällen erzielt werden. Nach Etablierung der aG-DRGs konnte eine verkürzte Verweildauer den Mehraufwand minimal-invasiver Operationsverfahren nicht mehr refinanzieren, sodass aus rein ökonomischer Perspektive ein Anreiz zur Anwendung offener Operationsverfahren besteht.
Diskussion
Die Ausgliederung der Pflegekosten aus den Fallpauschalen hat das Konzept der indirekten Refinanzierung moderner Operationsverfahren durch eine verkürzte Verweildauer destabilisiert. Um dem gesetzlichen Anspruch einer leistungsgerechten Vergütung gerecht zu werden, müssen dringend Nachbesserungen bei der Gruppierung minimal-invasiver Prozeduren zu den jeweiligen Fallpauschalen erfolgen.
Abstract
Background
In the past, a reduced length of postoperative hospital stay was considered a sufficient trade-off to refinance the additional costs associated with minimally invasive surgery; however, with the implementation of the Nursing Personnel Strengthening Act and disincorporation of nursing costs, this argumentation needs to be fundamentally reevaluated.
Method
Using right-sided hemicolectomy as an example, a retrospective case analysis was conducted. Cost reductions associated with the length of hospital stay were compared before and after the introduction of the revised German diagnosis-related groups (aG-DRG) and offset against the increased material and personnel costs.
Results
Among the analyzed cases, the utilization of minimally invasive surgical techniques led to a substantial cost reduction per case compared to conventional surgical treatment. After the introduction of the aG-DRGs the financial benefits of a shortened hospital stay are greatly diminished and cannot be used to refinance the expenses necessary to perform minimally invasive surgery. From a strictly economical perspective, there is a strong incentive to only perform open surgical procedures.
Conclusion
Disincorporation of nursing costs has destabilized the fragile concept of indirect refinancing of advanced operative techniques by the financial incentives associated with a shorter hospital stay. In order to comply with statutory regulations to implicate a performance-based funding, there is an urgent necessity to adjust the grouping algorithms for minimally invasive surgical procedures to the corresponding flat rates.
Access options
Buy single article
Instant access to the full article PDF.
USD 39.95
Price includes VAT (USA)
Tax calculation will be finalised during checkout.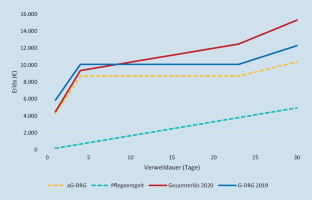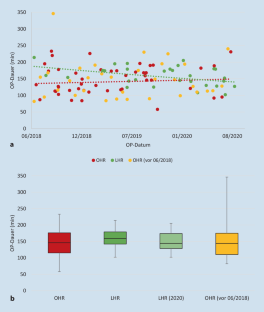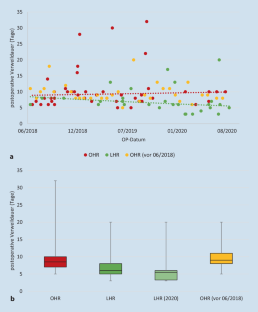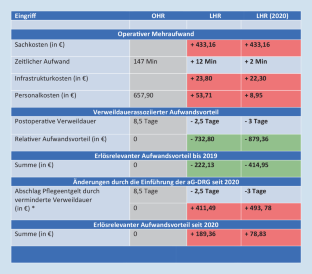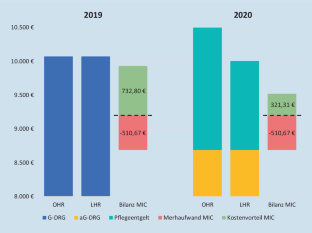 Literatur
1.

Aly O, Quayyum Z (2012) Has laparoscopic colorectal surgery become more cost-effective over time? Int J Colorectal Dis 27(7):855–860

2.

Bundesministerium für Gesundheit (2018) Spahn: "Wir haben Wort gehalten", Pressemitteilung. https://www.bundesgesundheitsministerium.de/presse/pressemitteilungen/2018/4-quartal/ppsg-pflegepersonal-staerkungsgesetz.html. Zugegriffen: 9. Nov. 2018

3.

Deijen C, Vasmel J, de Lange-de Klerk E, Cuestal M, Coene P‑P, Lange J, Meijerink W, Jakimowicz J, Jeekel J, Kazemier G, Janssen I, Påhlman L, Haglind E, Bonjer H (2017) Ten-year outcomes of a randomised trial of laparoscopic versus open surgery for colon cancer. Surg Endosc 31(6):2607–2615

4.

Deutsches Institut für Medizinische Dokumentation und Information (DIMDI) im Auftrag des Bundesministeriums für Gesundheit (BMG) unter Beteiligung der Arbeitsgruppe ICD des Kuratoriums für Fragen der Klassifikation im Gesundheitswesen (KKG) (2019) Operationen- und Prozedurenschlüssel Version 2020. Köln

5.

Deutsches Krankenhaus Institut e. V. (2020) Krankenhaus Barometer Umfrage 2020. Deutsches Krankenhaus Institut e. V., Düsseldorf

6.

Gehrman J, Angenete E, Björholt I, Lesén E, Haglind E (2020) Health economic aspects of minimally invasive surgical techniques. Surg Endosc 34(10):4403–4412

7.

Gesetz über die Entgelte für voll- und teilstationäre Krankenhausleistungen (2020) vom 23. April 2002 (BGBl. I S. 1412–1422), zuletzt geändert durch den Artikel 3a des Gesetztes vom 19. Mai 2020 (BGBl. I S. 1025–1026)

8.

Gesetz zur Reform der gesetzlichen Krankenversicherung ab dem Jahr 2000 (1999) vom 22. Dezember 1999 (BGBl. I S. 2626–2656)

9.

Gesetz zur Stärkung des Pflegepersonals (2018) vom 11. Dezember 2018 (BGBl. I S. 2394–2422)

10.

Ghadban T, Reeh M, Bockhorn M, Heumann A, Grotelueschen R, Bachmann K, Izbicki J, Perez D (2018) Minimally invasive surgery for colorectal cancer remains underutilized in Germany despite its nationwide application over the last decade. Sci Rep 8:15146

11.

Institut für das Entgeltsystem im Krankenhaus GmbH (2018) G‑DRG-Report-Browser, Version 2019.1. https://www.g-drg.de/Datenbrowser_und_Begleitforschung/G-DRG-Report-Browser/G-DRG-Report-Browser_2019. Zugegriffen: 12. Okt. 2020

12.

Institut für das Entgeltsystem im Krankenhaus GmbH (2019) aG-DRG-Report-Browser, Version 2020.2. https://www.g-drg.de/Datenbrowser_und_Begleitforschung/G-DRG-Report-Browser/aG-DRG-Report-Browser_2020. Zugegriffen: 14. Sept. 2020

13.

Institut für das Entgeltsystem im Krankenhaus GmbH (2018) G‑DRG German Diagnosis Related Groups, Version 2019 Definitionshandbuch. Institut für das Entgeltsystem im Krankenhaus GmbH, Siegburg

14.

Institut für das Entgeltsystem im Krankenhaus GmbH (2019) German Diagnosis Related Groups, aG-DRG-Version 2020 Definitionshandbuch Kompaktversion. Institut für das Entgeltsystem im Krankenhaus GmbH, Siegburg

15.

Keller D, Senagore A, Fitch K, Bochner A, Haas E (2017) A new perspective on the value of minimally invasive colorectal surgery-payer, provider, and patient benefits. Surg Endosc 31(7):2846–2853

16.

Schwenk W, Haase O, Neudecker J, Müller J (2005) Short term benefits for laparoscopic colorectal resection. Cochrane Database Syst Rev. https://doi.org/10.1002/14651858.CD003145.pub2
Ethics declarations
Interessenkonflikt
R. Winkels, S. Schad, O. Schöffski und M.H. Seelig geben an, dass kein Interessenkonflikt besteht.
Für diesen Beitrag wurden von den Autoren keine Studien an Menschen oder Tieren durchgeführt. Für die aufgeführten Studien gelten die jeweils dort angegebenen ethischen Richtlinien.
Additional information
Anmerkung
Die Daten dieser Studie wurden für eine Masterarbeit mit dem Titel "Systemimmanente ökonomische (Fehl‑)Anreize zur Anwendung minimal-invasiver Operationsverfahren in der onkologischen Viszeralchirurgie im deutschen Fallpauschalensystem" im Rahmen des Studiengangs Master of Health Business Administration (MHBA) der Friedrich-Alexander Universität Erlangen-Nürnberg erhoben.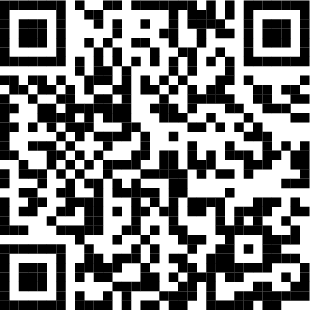 QR-Code scannen & Beitrag online lesen
About this article
Cite this article
Winkels, R., Schad, S., Schöffski, O. et al. Auswirkungen des Pflegepersonalstärkungsgesetzes auf die minimal-invasive Chirurgie am Beispiel der Hemikolektomie rechts aus ökonomischer Perspektive. Chirurg (2021). https://doi.org/10.1007/s00104-021-01523-5
Schlüsselwörter
Refinanzierung

Postoperative Verweildauer

Ausgegliederte "German diagnosis-related groups", aG-DRG

Pflegeentgelt

Kolonkarzinom
Keywords
Refinancing

Postoperative hospitalization

Diagnosis-related groups

Nursing case rate

Colon cancer