Zusammenfassung
Der Begriff Brustwandtumor fasst eine heterogene Gruppe maligner und benigner Tumoren zusammen, wobei primäre und sekundäre Brustwandtumoren unterschieden werden. Die Inzidenz sekundärer Brustwandtumoren ist höher als die primärer. Primäre Brustwandtumoren können aus jeder anatomischen Struktur der Brustwand hervorgehen. Ihre Behandlung ist gewöhnlich die Resektion. Der Resektionsstatus und die Differenzierung des Tumors sind prognoserelevant. Die Behandlung sekundärer Brustwandtumoren erfolgt in Abhängigkeit der verursachten Symptome und der Prognose der Erkrankung. Lungenkarzinome, die in die Brustwand infiltrieren, können primär oder im Rahmen multimodaler Therapiekonzepte sekundär reseziert werden. Anatomische Lungenresektionen in Kombination mit einer Brustwandresektion haben eine höhere Mortalität als Standardresektionen. Die Brustwandrekonstruktion nach Resektion hat das Ziel einer Reduktion paradoxer Atembewegungen, wobei nicht jeder Brustwanddefekt einer Rekonstruktion bedarf.
Abstract
The term chest wall tumor summarizes a heterogeneous group of malignant and benign tumors, whereby primary and secondary chest wall tumors are differentiated. The incidence of secondary chest wall tumors is higher than that of primary tumors. Primary chest wall tumors can arise from any anatomic structure of the chest wall. Surgical resection is usually the treatment of choice. Resection status and tumor differentiation are relevant prognostic factors. Treatment of secondary chest wall tumors is performed depending on the patient's symptoms and prognosis of the underlying disease. Lung carcinomas infiltrating the chest wall can be resected primarily or secondarily as part of multimodal therapeutic strategies. Anatomic lung resections combined with chest wall resection have a higher mortality than standard resections. Chest wall reconstruction after resection has the goal of reducing paradoxical respiratory motion, although not every chest wall defect requires reconstruction.
Access options
Buy single article
Instant access to the full article PDF.
US$ 39.95
Tax calculation will be finalised during checkout.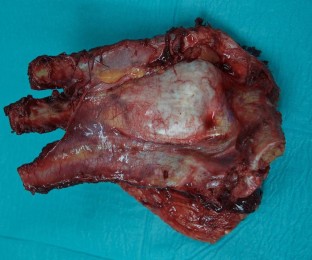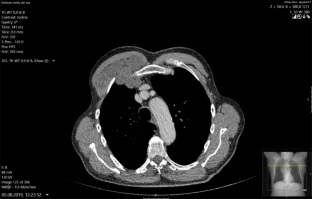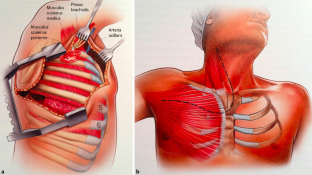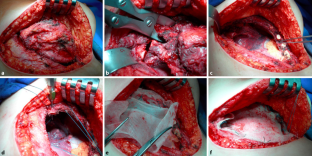 Literatur
1.

Gordon MS, Hajdu SI, Bains MS, Burt ME (1991) Soft tissue sarcomas of the chest wall. Results of surgical resection. J Thorac Cardiovasc Surg 101(5):843–854

2.

Burt M, Fulton M, Wessner-Dunlap S, Karpeh M, Huvos AG, Bains MS, Martini N, McCormack PM, Rusch VW, Ginsberg RJ (1992) Primary bony and cartilaginous sarcomas of chest wall: results of therapy. Ann Thorac Surg 54(2):226–232

3.

King RM, Pairolero PC, Trastek VF, Piehler JM, Payne WS, Bernatz PE (1986) Primary chest wall tumors: factors affecting survival. Ann Thorac Surg 41(6):597–601

4.

Hsu PK, Hsu HS, Lee HC, Hsieh CC, Wu YC, Wang LS, Huang BS, Hsu WH, Huang MH (2006) Management of primary chest wall tumors: 14 years' clinical experience. J Chin Med Assoc 69(8):377–382

5.

Ichinohe K, Takahashi M, Tooyama N (2006) Delay by patients and doctors in treatment of Pancoast tumor. Wien Klin Wochenschr 118(13–14):405–410

6.

Carter BW, Benveniste MF, Betancourt SL, de Groot PM, Lichtenberger JP 3rd, Amini B, Abbott GF (2016) Imaging evaluation of malignant chest wall neoplasms. Radiographics 36(5):1285–1306

7.

Faber LP (1999) Chest wall tumors: introduction. Semin Thorac Cardiovasc Surg 11(3):250

8.

Smith SE, Keshavjee S (2010) Primary chest wall tumors. Thorac Surg Clin 20(4):495–507

9.

Dahlin DC, Unni KK (1986) Bone tumors: General aspects and data on 8,547 cases, 4. Aufl. Charles C Thomas,

10.

Martini N, McCormack PM, Bains MS (1987) Chest wall tumors:clinical results of treatment. In: Grillo HC, Eschapasse H (Hrsg) Major Challenges. International trends in General Thoracic Surgery, Bd. 2. Saunders, Philadelphia, S 285

11.

Bedetti B, Wiebe K, Ranft A, Aebert H, Schmidt J, Jürgens H, Dirksen U (2015) Local control in Ewing sarcoma of the chest wall: results of the EURO-EWING 99 trial. Ann Surg Oncol 22(9):2853–2859

12.

Schwarz RE, Burt M (1996) Radiation-associated malignant tumors of the chest wall. Ann Surg Oncol 3(4):387–392

13.

Gronchi A, Palmerini E, Quagliuolo V et al (2020) Neoadjuvant chemotherapy in high-risk soft tissue sarcomas: final results of a randomized trial from Italian (ISG), Spanish (GEIS), French (FSG), and Polish (PSG) sarcoma groups. J Clin Oncol 38(19):2178–2186

14.

Bonvalot S, Gronchi A, Le Péchoux C et al (2020) Preoperative radiotherapy plus surgery versus surgery alone for patients with primary retroperitoneal sarcoma (EORTC-62092: STRASS): a multicentre, open-label, randomised, phase 3 trial. Lancet Oncol 21(10):1366–1377

15.

van Geel AN, Wouters MW, Lans TE et al (2011) Chest wall resection for adult soft tissue sarcomas and chondrosarcomas: analysis of prognostic factors. World J Surg 35:63–69

16.

Tsukushi S, Nishida Y, Sugiura H (2009) Soft tissue sarcomas of the chest wall. J Thorac Oncol 4:834–837

17.

Pfannschmidt J, Geisbüsch P, Muley T, Hoffmann H, Dienemann H (2005) Surgical resection of secondary chest wall tumors. Thorac Cardiovasc Surg 53(4):234–239

18.

Gross JL, Younes RN, Haddad FJ et al (2005) Soft-tissue sarcomas of the chest wall: prognostic factors. Chest 127:902–908

19.

Stoelben E, Ludwig C (2009) Chest wall resection for lung cancer: indications and techniques. Eur J Cardiothorac Surg 35(3):450–456

20.

Riquet M, Lang-Lazdunski L, Le PB, Dujon A, Souilamas R, Danel C, Manac'h D (2002) Characteristics and prognosis of resected T3 non-small cell lung cancer. Ann Thorac Surg 73(1):253–258

21.

Doddoli C, D'Journo B, Le Pimpec-Barthes F, Dujon A, Foucault C, Thomas P, Riquet M (2005) Lung cancer invading the chest wall: a plea for en-bloc resection but the need for new treatment strategies. Ann Thorac Surg 80(6):2032–2040

22.

Dienemann HC, Hoffmann H, Detterbeck C (2015) Chest Surgery. Springer, Heidelberg

23.

Deschamps C, Tirnaksiz BM, Darbandi R et al (1999) Early and long-term results of prosthetic chest wall reconstruction. J Thorac Cardiovasc Surg 117:588–592

24.

Schroeder-Finckh A, Lopez-Pastorini A, Galetin T, Defosse J, Stoelben E, Koryllos A (2020) Anterior chest wall reconstruction using polypropylene mesh: a retrospective study. Thorac Cardiovasc Surg 68(4):341–351

25.

Hu Y, McMurry TL, Wells KM, Isbell JM, Stukenborg GJ, Kozower BD (2014) Postoperative mortality is an inadequate quality indicator for lung cancer resection. Ann Thorac Surg 97(3):973–979

26.

Mansour KA, Thourani VH, Losken A et al (2002) Chest wall resections and reconstruction: a 25-year experience. Ann Thorac Surg 73:1720–1726

27.

Weyant MJ, Bains MS, Venkatraman E, Downey RJ, Park BJ, Flores RM, Rizk N, Rusch VW (2006) Results of chest wall resection and reconstruction with and without rigid prosthesis. Ann Thorac Surg 81(1):279–285 (Jan)
Ethics declarations
Interessenkonflikt
Gemäß den Richtlinien des Springer Medizin Verlags werden Autoren und Wissenschaftliche Leitung im Rahmen der Manuskripterstellung und Manuskriptfreigabe aufgefordert, eine vollständige Erklärung zu ihren finanziellen und nichtfinanziellen Interessen abzugeben.
Autoren
M. Schirren gibt nichtfinanzielle Interessen als Facharzt, Sektion Thoraxchirurgie, Klinik und Poliklinik für Chirurgie, Klinikum rechts der Isar, Technische Universität München an. B. Jefferies gibt nichtfinanzielle Interessen als Assistenzarzt, Klinik und Poliklinik für Chirurgie, Klinikum rechts der Isar, München an. S. Safi gibt nichtfinanzielle Interessen als Oberarzt, Universitätsklinikum rechts der Isar, Technische Universität München sowie Mitgliedschaften in der Deutschen Gesellschaft Thoraxchirurgie, der Deutschen Gesellschaft Chirurgie und dem Bund Deutscher Chirurgen an. K. Wörtler gibt finanzielle Interessen bezüglich der Erstattung der Reisekosten für DGMSR(Deutsche Gesellschaft für Muskuloskelettale Radiologie)-Trainingskurse und DGMSR-Jahrestagungen an. Außerdem bestehen nichtfinanzielle Interessen als angestellter Radiologe, Klinikum rechts der Isar der TU München sowie in Mitgliedschaften bei der Radiological Society of North America (RSNA), der European Society of Radiology (ESR), der European Society of Musculoskeletal Radiology (ESSR), der Cardiovascular and Interventional Radiology Society of Europe (CIRSE), der DGMSR (Vorstand), der Deutschen Röntgengesellschaft (DRG), der Deutschen Gesellschaft für Interventionelle Radiologie (DeGIR) und der AG Knochentumoren (Vorsitzender). H. Hoffmann gibt finanzielle Interessen bezüglich multipler Referentenhonorare oder Kostenerstattungen als passiver Teilnehmer an, jedoch keine mit "conflict of interest" (COI) zum Thema des Fortbildungsartikels. Des Weiteren fungiert er als bezahlter Berater/interner Schulungsreferent/Gehaltsempfänger, übt jedoch keine Tätigkeit mit COI zum Thema des Fortbildungsartikels aus.
Wissenschaftliche Leitung
Die vollständige Erklärung zum Interessenkonflikt der Wissenschaftlichen Leitung finden Sie am Kurs der zertifizierten Fortbildung auf www.springermedizin.de/cme.
Der Verlag
erklärt, dass für die Publikation dieser CME-Fortbildung keine Sponsorengelder an den Verlag fließen.
Für diesen Beitrag wurden von den Autoren keine Studien an Menschen oder Tieren durchgeführt. Für die aufgeführten Studien gelten die jeweils dort angegebenen ethischen Richtlinien.
Additional information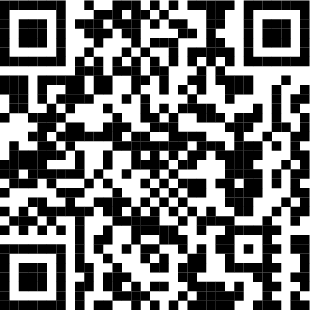 QR-Code scannen & Beitrag online lesen
Wissenschaftliche Leitung
M. Betzler, Essen
H.-J. Oestern, Celle
P. M. Vogt, Hannover
CME-Fragebogen
CME-Fragebogen
Ein 15-jähriger Patient stellt sich mit einem unklaren Tumor der lateralen Brustwand vor. Es bestehen Schmerzen sowie nächtliche Fieberepisoden. Der Tumor sei nach Aussage des Patienten innerhalb der letzten 6 Wochen entstanden. Welche Aussage trifft zu?
Differenzialdiagnostisch kommt ein Ewing-Sarkom nicht in Betracht.
Sie veranlassen eine Röntgenuntersuchung des Thorax in 2 Ebenen zur Beurteilung der lokalen Ausdehnung.
Sie veranlassen umgehend die Resektion des Befundes.
Sie veranlassen eine Biopsie und planen eine Tumorboardvorstellung.
Differenzialdiagnostisch kommt ein Osteosarkom nicht in Betracht.
Ein 70-jähriger Patient mit einem Nierenzellkarzinom in der Vorgeschichte stellt sich mit einem Brustwandtumor der VI. Rippe rechts lateral vor. In der Feinnadelbiopsie zeigen sich Infiltrate des vorbekannten Nierenzellkarzinoms. Im onkologischen Staging ergibt sich kein Hinweis für eine weitergehende Metastasierung. Welche Aussage trifft zu?
Solitäre Brustwandmetastasen von Nierenzellkarzinomen sind eine Rarität. Sie planen eine Rebiopsie.
Eine Brustwandresektion bei einem oligometastasierten Tumorstadium sollte nicht erfolgen.
Sie planen die Tumorboardvorstellung mit dem Ziel der Resektion des Brustwandtumors unter Einhaltung eines Sicherheitsabstandes von 2 cm.
Zur Festlegung des Resektionsausmaßes ist eine Röntgenzielaufnahme der betroffenen Rippe ausreichend.
Die Resektion muss en bloc mit angrenzender Brustwandmuskulatur auch bei fehlenden Zeichen der Infiltration erfolgen, da sonst keine komplette Resektion gewährleistet ist.
Eine 60-jährige Patientin mit dem zweiten Lokalrezidiv nach radikaler Mastektomie sowie Radiatio der Brustwand wird zur Brustwandresektion vorstellig. Es wird eine Brustwandresektion auf einer Fläche von 10 × 12 cm erwartet (IV. bis VI. Rippe parasternal links). Die Vitalkapazität der Patientin beträgt 2,0 l (56 % der Norm), die FEV1 ("forced expiratory pressure in 1 second") ist bei Nikotinabusus auf 1,38 l (56 %) reduziert. Welche Aussage trifft zu?
Die Patientin ist funktionell inoperabel.
Eine alloplastische Rekonstruktion der Brustwand wird mit einer erhöhten pulmonalen Morbidität verbunden sein, sodass sie nicht erfolgen sollte.
Pulmonale Komplikationen sind nicht zu erwarten.
Die Funktionsreserve der Patientin ist für die ventrale Brustwandresektion ausreichend, der Eingriff kann geplant werden.
Sie planen die Operation, besprechen jedoch mit der Patientin die Notwendigkeit einer geplanten mehrtätigen Nachbeatmung.
Bei wie viel Prozent der Lungenresektionen ist eine Brustwandresektion notwendig?
12,5 %
82 %
5 %
26 %
4 %
Der Anteil primärer Brustwandtumoren an allen thorakalen Neoplasien beträgt etwa:
2 %
12 %
5 %
8 %
10 %
Welche Aussage zu infiltrierenden Lungenkarzinomen trifft zu?
Schmerz ist kein typisches Hauptsymptom.
Die Resektion erreicht primär keine befriedigende Schmerzkontrolle.
Bei Brustwandinfiltration sind thorakoskopische Resektionen kontraindiziert.
Der Shaw-Paulson-Zugang eignet sich besonders zur Resektion von Tumoren der Unterlappen.
Bei Infiltration der Pleura parietalis muss nicht zwingend eine Brustwandresektion erfolgen.
Welche Aussage zum Resektionsabstand bei der Behandlung primärer Brustwandtumoren trifft zu?
Bei diagnostischen Resektionen eines Brustwandtumors sollte ein Mindestabstand von mindestens 4 cm eingehalten werden.
Bei der Resektion hochmaligner Knochentumoren muss die tumortragende Rippe nicht vollständig reseziert werden.
Ein unauffälliger Schnellschnittbefund der Interkostalmuskulatur ist repräsentativ für die angrenzende Rippe.
Um eine tatsächliche En-bloc-Resektion bei malignen Knochentumoren der Brustwand zu erreichen, bedarf es gewöhnlich der Resektion angrenzender Rippen.
Bei sekundären Brustwandtumoren muss immer die gesamte tumortragende Rippe reseziert werden.
Welcher der folgenden Muskeln ist für die Rekonstruktion der Brustwand ungeeignet?
M. pectoralis
M. rectus abdominis
M. latissimus dorsi
M. serratus anterior
M. deltoideus
Eine typische Komplikation nach Brustwandresektion ist:
Der Sekretverhalt mit Atelektase
Pseudarthrose
Perikarditis
Lymphödem
Rezidivierende Pneumothoraxe
Zu den primären Brustwandtumoren zählt nicht:
Osteoblastom
Fibröse Dysplasie
Maligne Nervenscheidentumoren
Schwannom
Solitärer fibröser Pleuratumor
About this article
Cite this article
Schirren, M., Jefferies, B., Safi, S. et al. Chirurgische Therapie von Brustwandtumoren. Chirurg (2021). https://doi.org/10.1007/s00104-021-01499-2
Schlüsselwörter
Brustwandtumor

Brustwandmetastasen

Brustwandinfiltration

Brustwandresektion

Brustwandrekonstruktion
Keywords
Chest wall tumors

Chest wall metastases

Chest wall infiltration

Chest wall resection

Chest wall reconstruction